My Italian Treasure Hunt Was a Great Success! Presenting Three Spectacular Just-Pressed Extra Virgin Olive Oils That Defied Mother Nature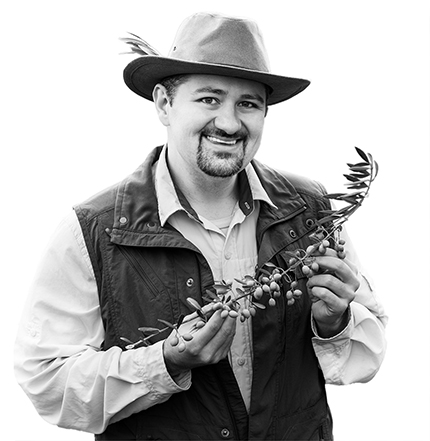 The growing season and 2018 harvest were marred by wind, rain, temperature extremes, and even pestilence. But some producers prevailed, and I found them!
Hailing from Tuscany, Sicily, and Abruzzo, these hand-selected, ultra-avorful oils are certified by an independent lab to be 100 percent extra virgin.
Introducing a Club first—olive oil pressed from Dritta olives, which grow near the Adriatic Sea. You won't find this oil—or the others, either—on supermarket or gourmet shelves. They are available no where else.
Rushed to you by jet to preserve their flavors, perfume, and healthful polyphenols. See my tasting notes, suggested food pairings, and seasonal recipes below.
---
Greetings Olive Oil Lover,
Ciao! I am writing from the road. So determined was I to secure three of the world's best fresh-pressed extra virgin olive oils for your table that I haven't slept in my own bed for weeks. But if you enjoy these extraordinary polyphenol-rich Italian olive oils as much as I think you will, it's all been worth it.
Victory was certainly not assured this quarter. (Is it ever?) With the help of my longtime friend and colleague, Roman olive oil consultant Duccio Morozzo della Rocca, I was able to monitor growing conditions in Italy starting in February. The news was not encouraging. Snow and hard frosts damaged groves.
The month of May unleashed punishing heat, scorching tender new buds and flowers. Like a tornado, Mother Nature's caprice spared some olive varietals while decimating others. Frantoio, the drupe that gives Tuscan oils their distinctive flavor profile, was especially hard hit. One of my favorite producers—Fratelli Giganti from Siena—lost their entire crop.

My Response to "the Worst Italian Harvest in 20 Years"
There were other threats to the developing olives as the year progressed. Low-lying coastal groves were plagued by the olive fly, which flourished in summer's heat and humidity. I crossed several destinations off my itinerary. (In Puglia, the region that forms the stiletto heel of the Italian boot, production is estimated to be half of what it was last year.) Early fall brought devastating rain and wind storms.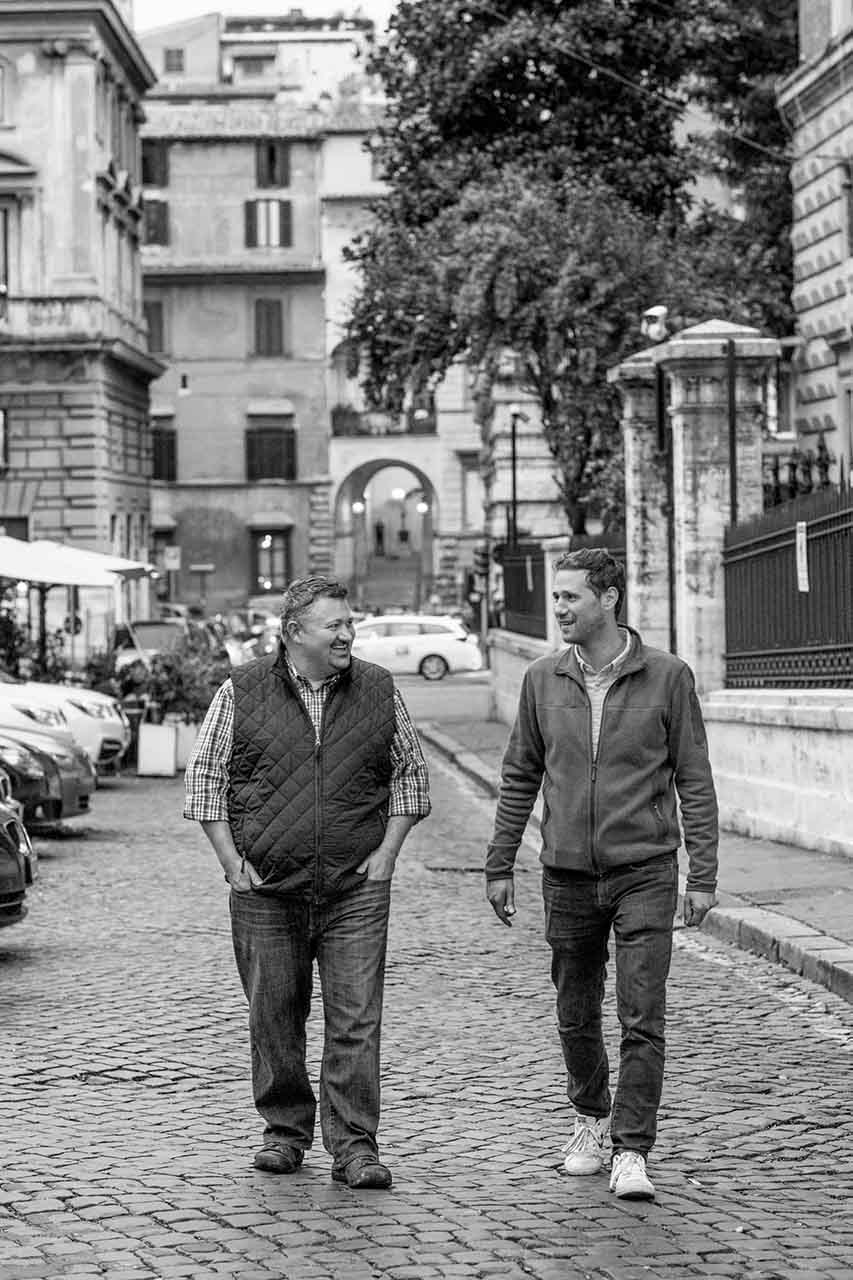 Duccio used the word "mess" during our increasingly urgent phone calls to describe the situation, noting 2018 had the potential to be the worst Italian harvest in 20 years.
But there was hope! Several producers we were in touch with were optimistic their oils would impress. (For most artisanal growers, it's a special honor to be selected for inclusion in the Club, a validation of their passion, dedication, and hard work.) And thanks to many valuable contacts in the field, we had strong leads on others.

Our strategy evolved quickly: focus on the scattered pockets of healthy olives, most of them at higher elevations; personally visit the promising groves; and supervise the pressing to optimize quality and preserve healthy polyphenols. We urgently needed to do all this before weather harmed the olives or the best producers committed their oils to other customers. (Weather did score a point against us when high winds cruelly stripped a grove of its olives just days before our planned visit.)

In a departure from past years, there would be no "Grand Tasting" of olive oil samples when I landed in Rome. We were going to have to work hard! Beat the bushes, so to speak.

Long Days, Short Nights Pay Off
And work hard we did. Days after leaving Rome, we acquired our first olive oil at Frantoi Cutrera, near the Baroque town of Chiaramonte Gulfi in southeastern Sicily. Gulfiis the Arabic word for "place of pleasure." How appropriate, as I was more than pleased to be able to offer Club members an exclusive blend featuring native olive cultivars Tonda Iblea and Nocellara del Belice. One olive oil down and two to go. We continued our quest, tirelessly traveling by car, SUV, plane, and ferry.
The tipping point of the hunt came when we met with Gionni and Paolo Pruneti in Tuscany. Their diversified groves yielded several worthy oils, including some pressed from cold-defying Moraiolo olives. Master miller Gionni helped us create a stunning well-balanced blend that satisfied my desire for a bold, beautiful oil.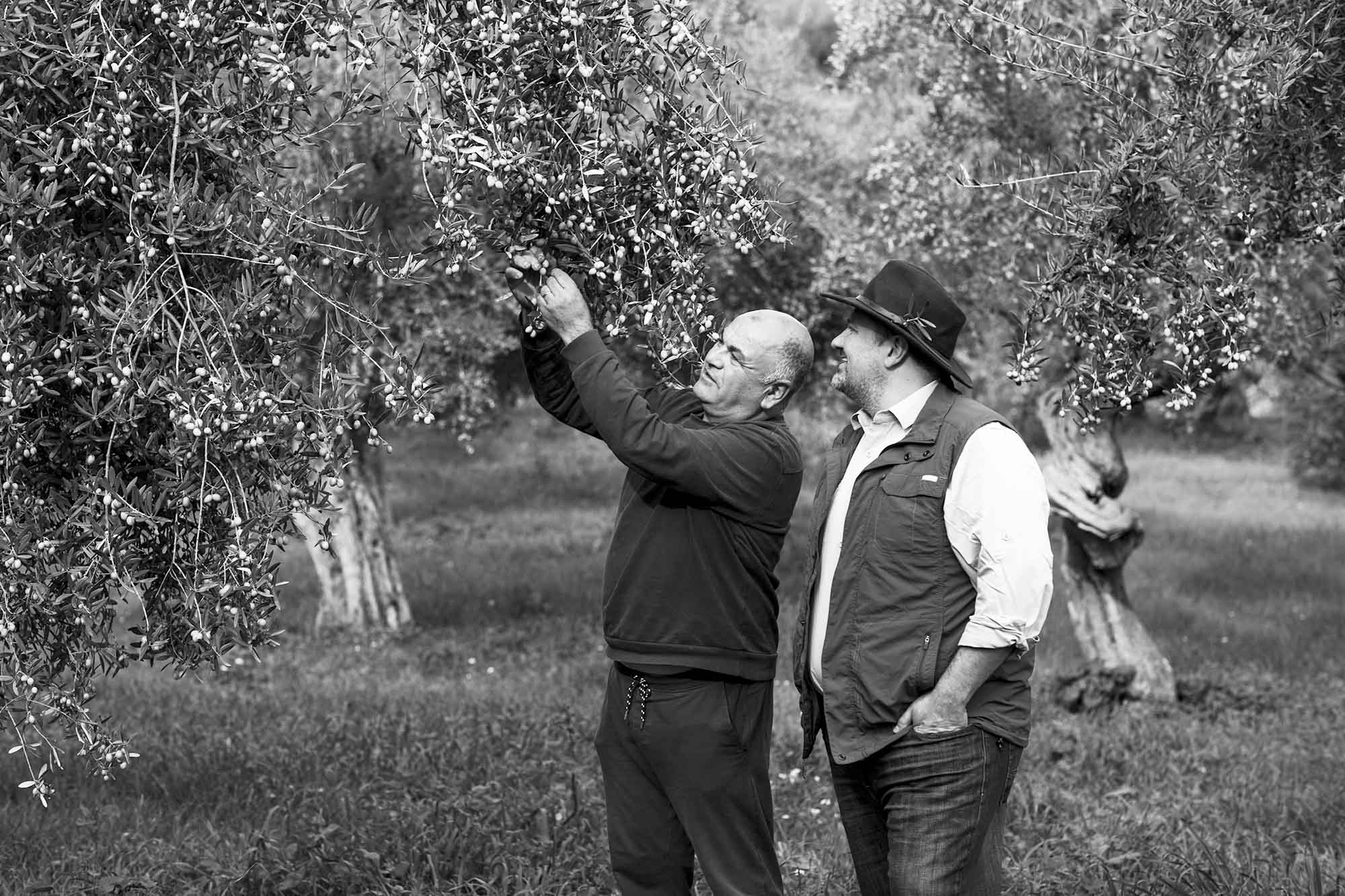 Finally, acting on a tip from Giorgio Mori (his company builds some of the most well-respected olive oil milling equipment on the planet), we set our GPS for a new destination: Abruzzo. What a delightful "first date" that turned out to be! We met the genial Claudio Di Mercurio, founder of Frantoio Hermes, and his family at their farm near the hilltop town of Penne and adjacent to a national forest. There, we were introduced to Dritta olives. (Dritta, which rhymes with Rita, is just one of 536 olive varietals grown on Italian soil.) Yay! We had our third oil, something novel and exciting that fit perfectly into the line-up. Claudio was thrilled to imagine his olive oil being boxed shoulder-to-shoulder with prestigious oils from Frantoi Cutrera and Pruneti and soon to be enjoyed—harvest-fresh!—by American aficionados like yourself.

Yes, this quarter was a nail-biter. But I know you have in your hands three of the finest olive oils in the world.

Mangia!
Though exhausting, the trip to Italy—always one of my favorite destinations—was very fulfilling for me as it proved, once again, that planning and persistence pay off. Oftentimes, it was simply filling! Oh, my…the food… Too many plates to count, and nearly all of them splashed with just-pressed extra virgin olive oil. (Yes, my team and I take our own bottles to restaurants.) Calzone-size ravioli stuffed with homemade ricotta and pork ragu served at a rough-and-tumble bar/restaurant frequented by the Polizia Provinciale is the stuff of dreams. Earthy porcini pasta. A superlative salumi platter at Ristorante Majore in Chiaramonte Gulfi. The amazing arancini(deep-fried balls of cheese-stuffed risotto) sold on the ferry. And I'll never forget Claudio's hospitality: When he learned there was a vegan lurking in the ranks of my Merry Band of Tasters, he orchestrated a homecooked plant-based feast.

As a Club member, you'll soon discover just how food-friendly these three olive oils are. To get started, see the recommended food pairings that follow my tasting notes. I've also included a dozen Italian recipes you'll want to add to your cold-weather repertoire, many of which are ideal for entertaining.

As always, I'd love to know what you think of these storied, exquisitely fresh extra virgin olive oils.

Happy drizzling!


T. J. Robinson
The Olive Oil Hunter®

Cold weather may cause cloudiness in your bottles of olive oil. Pay it no heed, as this has no effect on quality or flavor. Simply bring your oils to room temperature and most of this cloudiness should disappear. For best results, always store your oil in a cool, dark place, preferably in a cabinet away from heat and light.
---
This Quarter's First Selection
Producer: Salvatore Cutrera Exclusive Signature Selection 2018, Chiaramonte Gulfi, Ragusa, Sicily, Italy
Olive Varieties: Tonda Iblea, Nocellera del Belice
Flavor Profile: Mild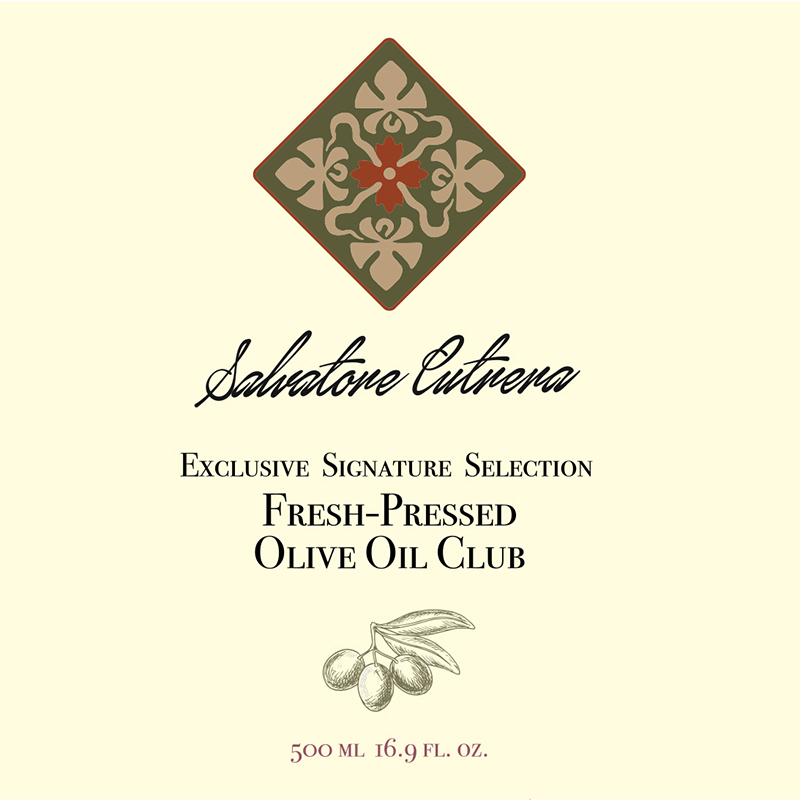 I knew I was in Sicily when…
In a scene reminiscent of a Francis Ford Coppola movie, workers poured out of Frantoi Cutrera upon hearing the megaphone-enhanced cries of the approaching produce vendor: "Pomodori.Melanzane.Zucchine…" His truck, fully loaded with some of the most beautiful fruit and vegetables I've seen anywhere, rolled to a stop before being swarmed by would-be customers (including me and my Merry Band of Tasters).
Salvatore Cutrera, who runs the family-owned olive mill near the hillside town of Chiaramonte Gulfi, palmed an orange and a banana for himself before presenting the vendor—a longtime friend, I presume—with a bottle of just-pressed olive oil. The vendor's face split into a wide grin. The barter transaction satisfactorily completed, Cutrera returned to the mill and the all-important task of pressing the 2018 crop of olives.

He knew there was no time to waste. The olives, picked from a patchwork of small farms (about 125 acres), had to be harvested and pressed at their peak. For weeks, he'd been putting in 18-hour days, anxiously watching the weather (heavy rains threatened) and keeping a close eye on every facet of the operation he oversees. I liken him to the captain of a ship who's committed to steering his vessel and its valuable cargo safely into port, come hell or high water.

You'd think Salvatore would have been exhausted. But he seemed to draw energy from his mission. His pride in this year's harvest was palpable, his passion infectious.

I first met Salvatore years ago at the Fancy Food Show in New York City. But it wasn't until last year, when I stepped up my search for Tonda Iblea, an olive cultivar native to Sicily's Ragusa province, that our paths crossed again. This talented producer's oil was such a hit with Club members that I secretly hoped for an encore.
But I remembered what he said to me in 2017: "Next year, only come for coffee. There will be no oil."

For a time, it looked as if his prediction might come true. Sicily's olive farmers, like those in other regions of Italy, struggled during the 2018 growing season with weather- related challenges and olive pests. Scouts on the ground reported there were healthy pockets of olives, but warned I would have to work hard to find them.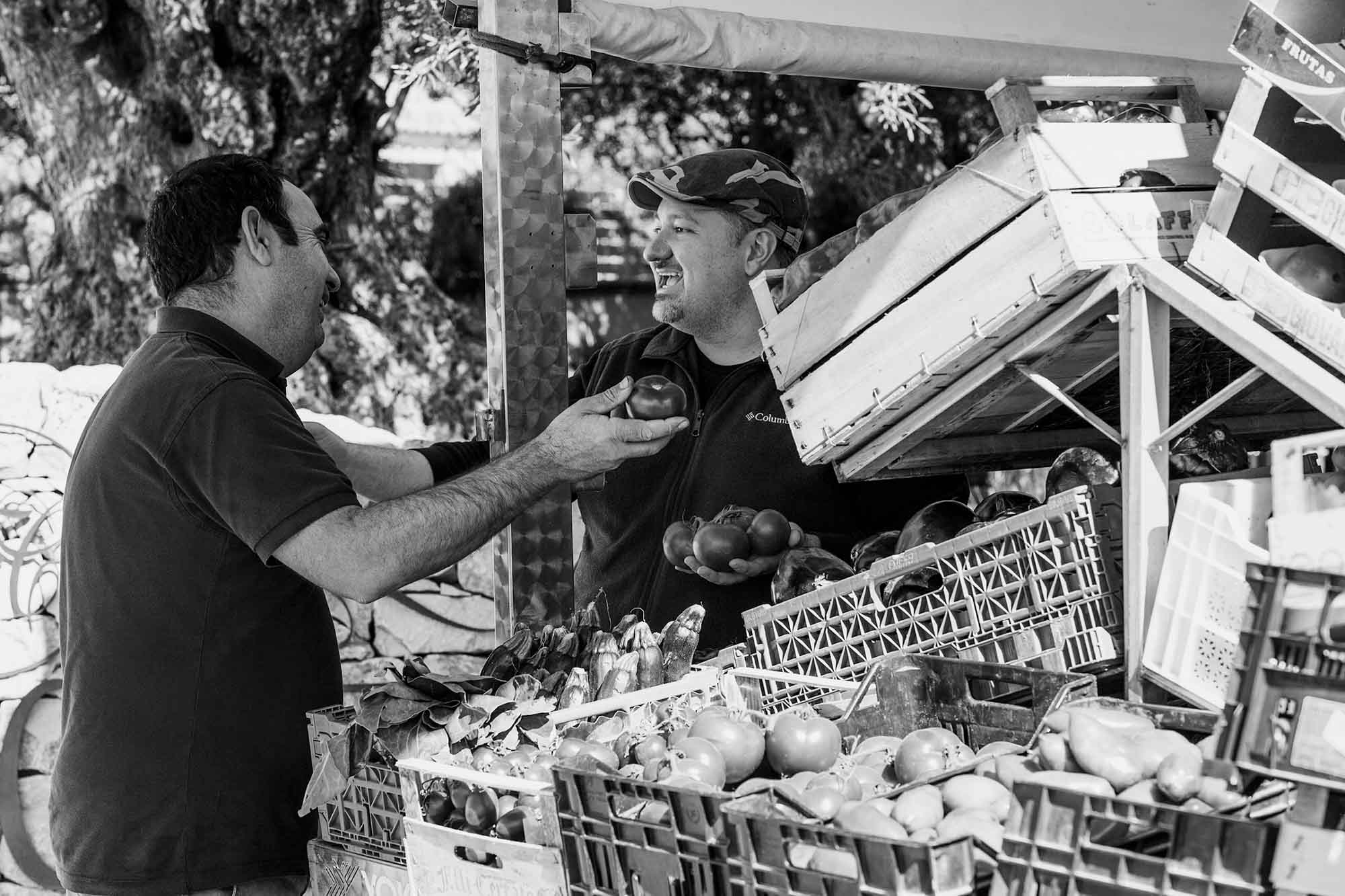 Happily, Salvatore was wrong. Though his Tonda Iblea trees did not bear as much fruit as last year, Salvatore was able to make up the shortfall with another of my favorite Sicilian olives, the plump and meaty Nocellara del Belice. (You may know it as Castelvetrano, a popular brined table olive.) The resulting 50-50 blend, a Club exclusive, is phenomenal!

A bit of background is in order here. The name Salvatore Cutrera is extremely well-known in olive oil circles: Frantoi Cutrera is one of the winningest producers in Italy, if not the world. In the past year alone, it collected 18 elite awards, from Los Angeles to Zurich. For many years, its olive oils have been named among the top 20 in the world by FlosOlei. Its offices display wall-to-wall awards, some turned into fine art.

The family has been pressing olives since 1906 near Chiaramonte Gulfi, the so-called "Balcony of Sicily."
But millstones powered by donkeys have yielded to two modern mills that are among the most technologically advanced on the island. A third mill, projected to cost $10 million, is currently under construction. It will incorporate a state-of-the-art commercial kitchen as well as a laboratory. (In addition to olive oil, Frantoi Cutrera also produces excellent jarred items like brined olives, sun-dried tomatoes, caponata, pesto, artichokes, and more, which they sell under their Segreti di Sicilia—Secrets of Sicily—brand.)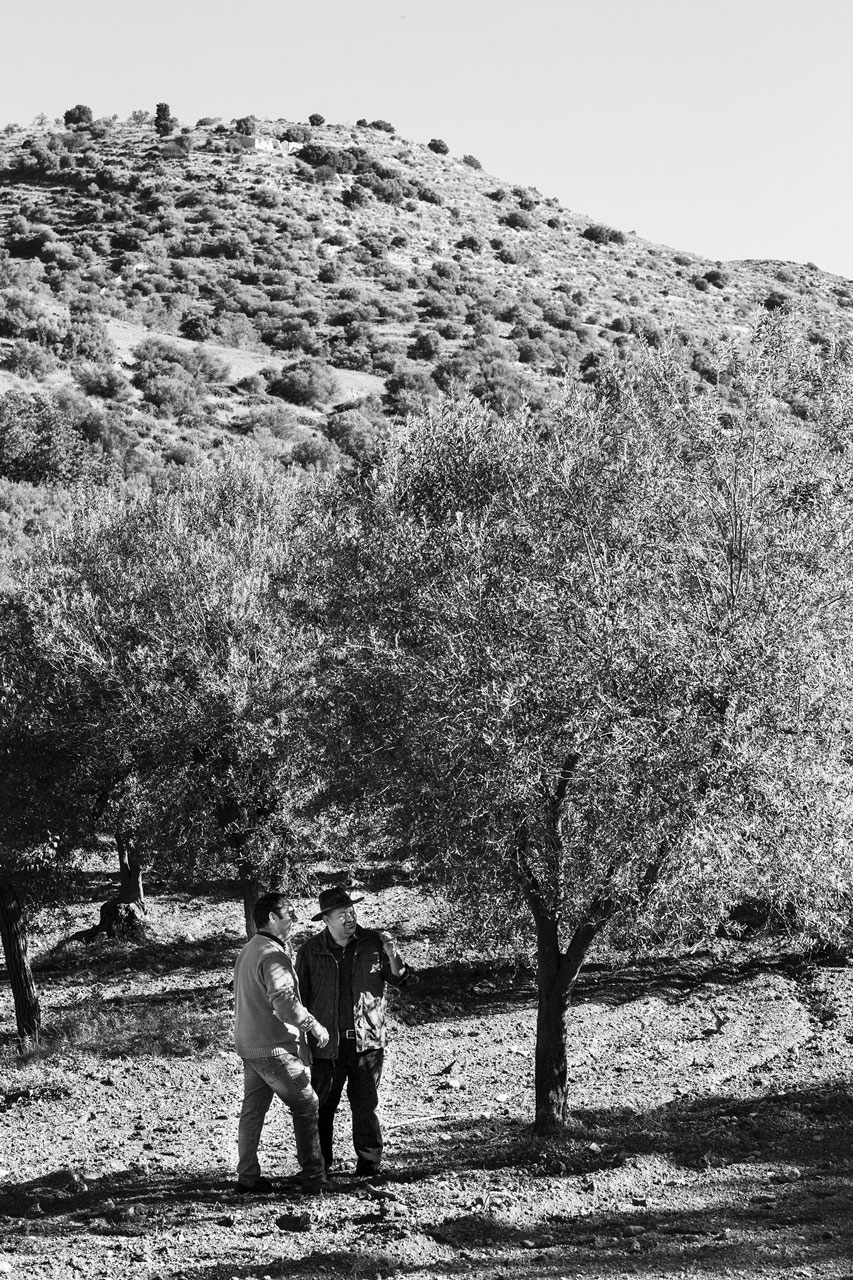 Within seconds of my arrival, Salvatore hustled me to the rear of the mill to show me his latest "toy." It was a high-tech device, completely foreign to me, that vets individual olives. All olives entering the mill have to pass its inspection. Parameters can be set by the operator for a number of variables, such as color, size, etc. Via conveyor belt, olives run a gauntlet of super-sensitive cameras that identify imperfect fruit. Those olives are almost instantaneously removed from the procession by a targeted blast of air. The process was incredibly fun to watch!
This selection machine is a game-changer. The oil you are about to taste is pressed from olives that represent the best of the best! And what a story you'll have to tell your lucky tablemates.

Impressions and Recommended Food Pairings:

A blend of two olives that are typically used as table olives, this oil's beautiful green color hints at its verdant perfume and flavor. On the nose, we detected green tomato leaf, cut grass, fresh basil, lettuce, arugula, endive, walnuts, and apple, with a whiff of fennel. Some of these aromas were echoed on the palate, specifically green tomato and fresh basil, with underpinnings of baby spinach, fresh green walnuts, and a touch of vanilla-like sweetness. Finishes with the spiciness of arugula.

Enjoy this mild oil on a wide variety of foods, including milky fresh cheeses such as ricotta and mozzarella, bread, eggs, white potatoes, creamy soups, delicate fish and shellfish, roast chicken, veal, salads made with tender lettuces, cauliflower, light pasta dishes, roasted apples or pears, yogurt, or even ice cream.
---
This Quarter's Second Selection

Producer: Frantoio Hermes, Penne, Abruzzo, Italy 2018
Olive Varieties: Dritta
Flavor Profile: Medium

The Old World is steeped in the romance and history of olive oil production— you've likely seen iconic images of sun-drenched baskets of ripe olives (actually bruised and fermenting) and mules pulling a millstone in a circle—yet I have learned over the years that the old-fashioned methods result in some pretty terrible olive oil. What makes for a charming photo op is, ironically, what the top-tier producers have been working the past three decades to overcome. (Granted, mules have been retired for nearly a century.)
Forward-thinking artisans have incorporated technologically advanced olive milling equipment to minimize contact with oxygen; refrigerated systems to maximize the aromas and flavors in the oil; and early harvesting, to optimize flavors, perfumes, and polyphenols in the oils.
To produce the finest ultra-premium olive oil, Claudio Di Mercurio knew exactly where to start. His parents had owned land in Italy's Abruzzo region, rich with olive trees, since 1964, but they had never produced olive oil. In 2009, aiming to press his own oil, Claudio wisely met with one of the greatest experts in the field: Giorgio Mori, proprietor of Mori olive mills. (You might compare the excellence of a Mori mill to that of an Illy espresso machine, or perhaps to a Maserati: simply put, the best equipment that gives the best results.) Claudio named the mill "Frantoio Hermes"—readers of classic myths and legends might make the connection with the family's surname, Di Mercurio. (Hermes is the Greek messenger god, with wings on his sandals; his Roman avatar is Mercury.)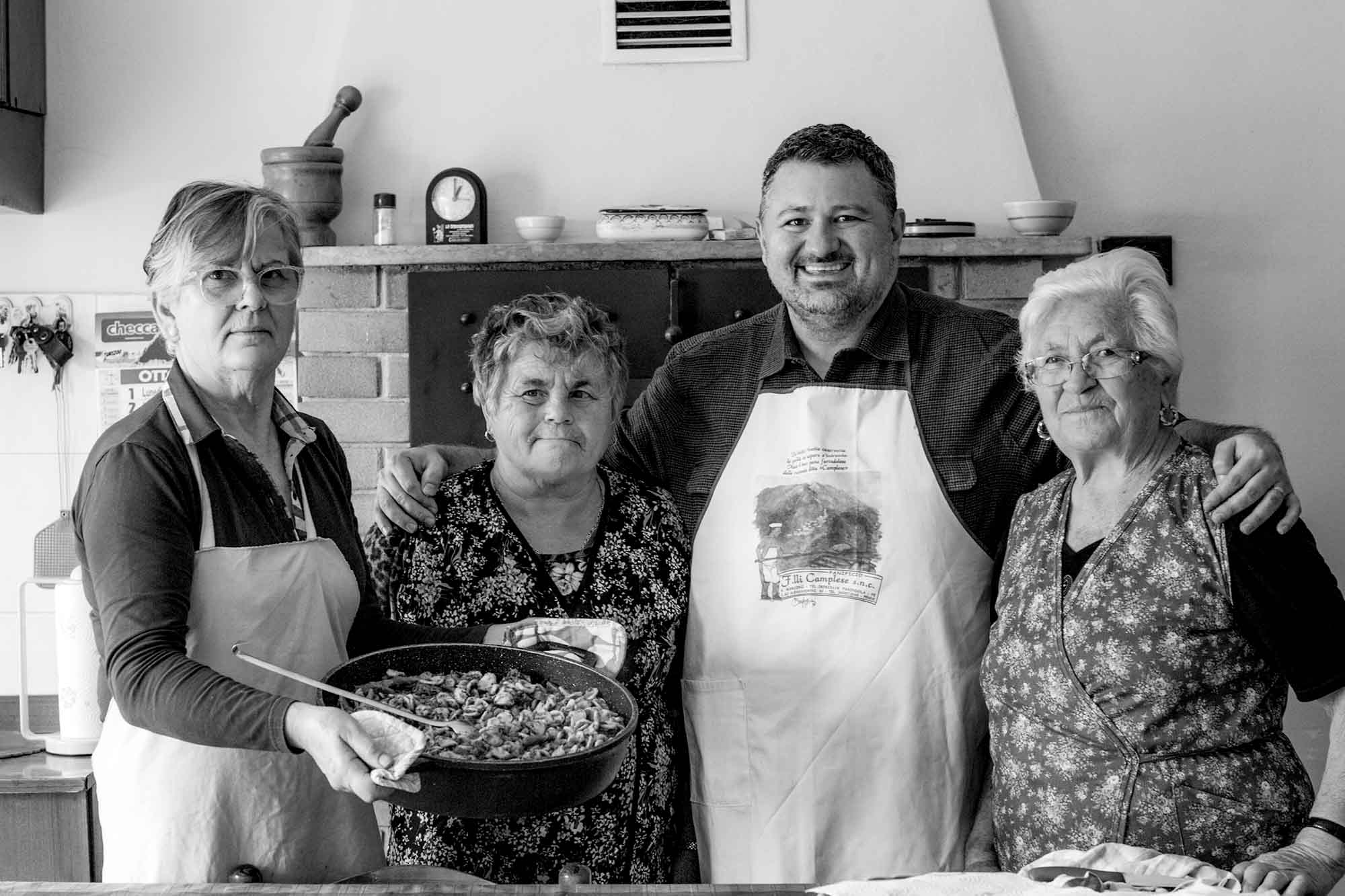 You could say that the olive oil world got the message immediately: in its first year in production, 2010, Hermes won regional awards for excellence ("beginner's luck," demurs Claudio, but olive oil experts begged to disagree), and its award- winning streak has continued ever since.
Given my extensive network of contacts in the olive oil world, I was astounded that Claudio—and his grove's sterling reputation—had eluded me up till now. At the same time, it's thrilling to think that other such discoveries await me and my tastebuds! I have logged tens of thousands of kilometers in Italy over the years, yet my hunting grounds have been located largely in Tuscany, Lazio, Calabria, and Sicily; Abruzzo has not been a primary destination. Believe me, dear Club members, that has changed! (Abruzzo lies in Italy's center, east of Rome, extending to the Adriatic Sea.)

Not only did I collaborate with a new producer, I also became smitten with a new olive variety. (New to me, that is.) Prevalent in Abruzzo, Dritta is a small, hard fruit—lower in oil yield, but bursting with flavor and perfume, and very food-friendly.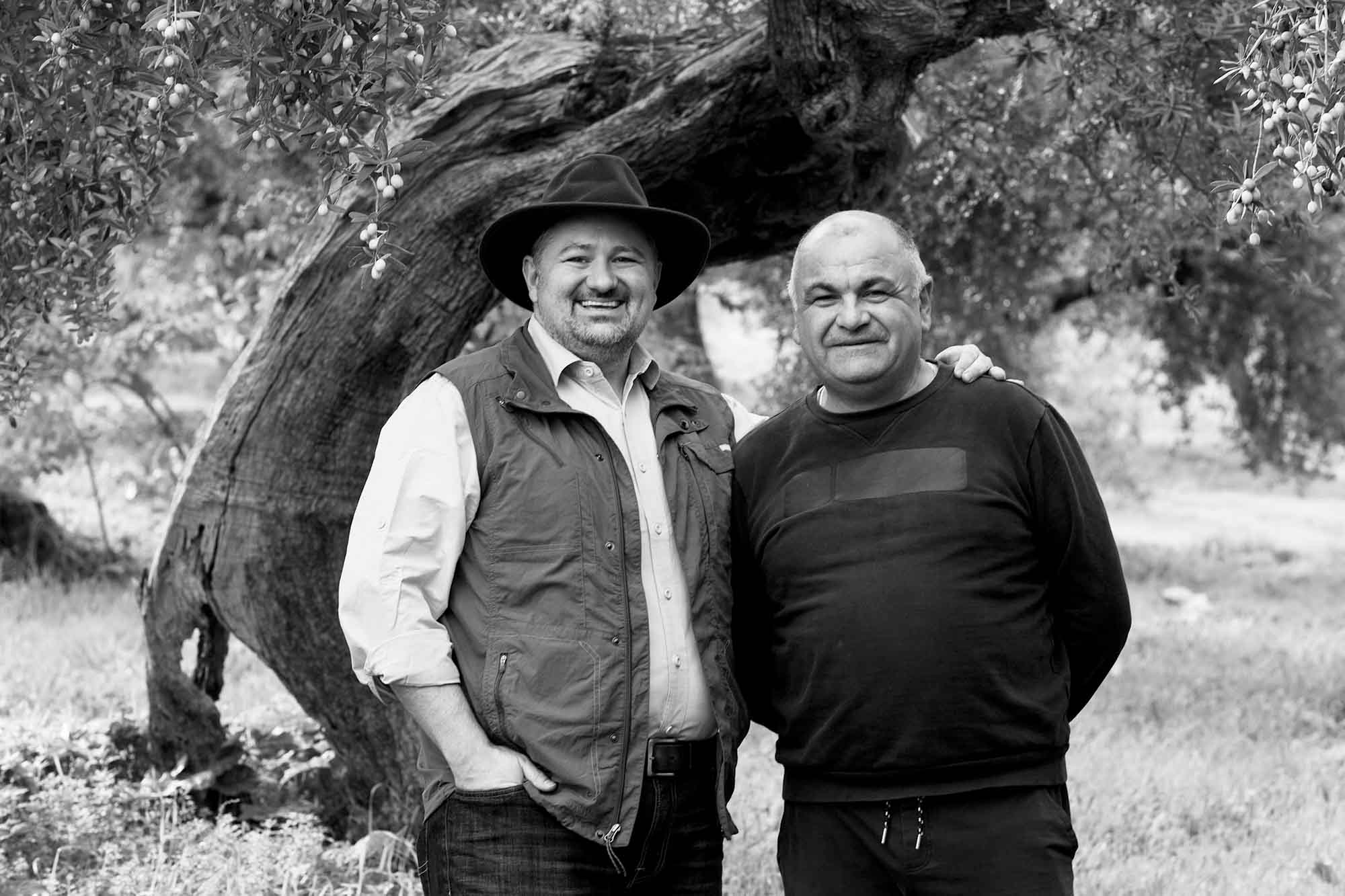 Claudio and his family employ an eclectic and personable harvest team, with workers hailing from Romania, the Ivory Coast, and Italy. Regional growers bring their olives to be pressed at the Hermes mill. "It's the best place around," one of my scouts observed. No surprise, then, that 5 of last year's top 10 olive oils in Abruzzo were produced at Hermes.

Claudio also juggles his identity as a prize-winning olive oil artisan with a career as a systems engineer. His eye for detail and mind for process have naturally shaped the developments at Frantoio Hermes; as but one example, he and his team have incorporated a special Mori knife crusher, using multiple knives in the milling process—the slicing action of the knives (different from the crushing action of a hammer) helps preserve and amplify the aromas in the resulting oil.

Dritta continues to amaze me with its enchanting perfumes, especially of almond. I'd love to hear about your own sensory impressions—I encourage you to note down the aromas you identify, swirling out of the bottle. Then, like Hermes, wing me a message to let me know what you find!

Impressions and Recommended Food Pairings:
Straddling sweet and savory elements, this golden-green oil is fresh and bright on the nose, evocative of mint, lemon verbena, almonds, green apple, cinnamon, thyme, and chopped green salad. Very green and complex in the mouth, presenting almonds, hazelnuts, and cocoa beans alternating with bitter chicory and radicchio. The spiciness of arugula and green peppercorns dominates the long finish until it yields to almonds.

Sweet, spicy, and bitter elements are all present in this intriguing oil. Foodwise, you could go many ways with it. A salad of winter greens, preferably with nuts and citrus, would be a perfect vehicle for the oil's flavors. Also try it with grains, on white beans, bruschetta, roasted cherry tomatoes, grilled meats, pork (especially heritage breeds that have dined on nuts), lamb, cruciferous vegetables like brussels sprouts and broccoli rabe, savory bread puddings, fresh sardines, kale, chicory, and yams.

---
This Quarter's Third Selection
Producer: Frantoio Pruneti, San Polo in Chianti, Tuscany, Italy 2018
Olive Varieties: Moraiolo, Leccino, Frantoio, Pendolino
Flavor Profile: Bold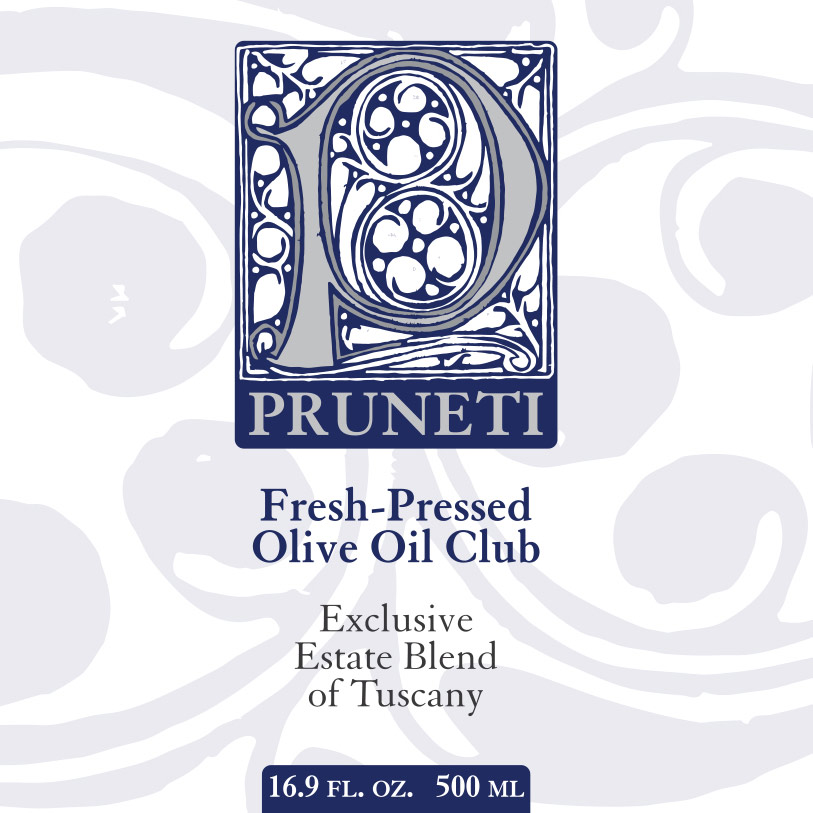 I love traversing the rolling hills of Tuscany during harvest season, as vineyards and farmland blanket both sides of the road in alternating patches of gold, purple, and scarlet, like the squares of a quilt. This is also wild boar country, so I'm constantly scanning my surroundings from the passenger seat, hoping to catch sight of one of those impressive and tasty beasts. They've eluded me so far (aside from the occasional, very delicious appearance on my plate, perfectly braised).

Almost as elusive this year were the Tuscan olives! My scouts on the ground sent early word that Tuscany's olive crop was in trouble. Unusual, damaging weather patterns—late, tree-killing frosts in the spring, then too much moisture, including storms and floods— destroyed many olive crops in Italy's north, abetted by olive pests. An important aspect of being the Olive Oil Hunter is having faith, and another part is cultivating relationships with the finest olive oil producers in the world. One of my favorite growers in Siena lamented, "No fruit this year." Several others reported the same.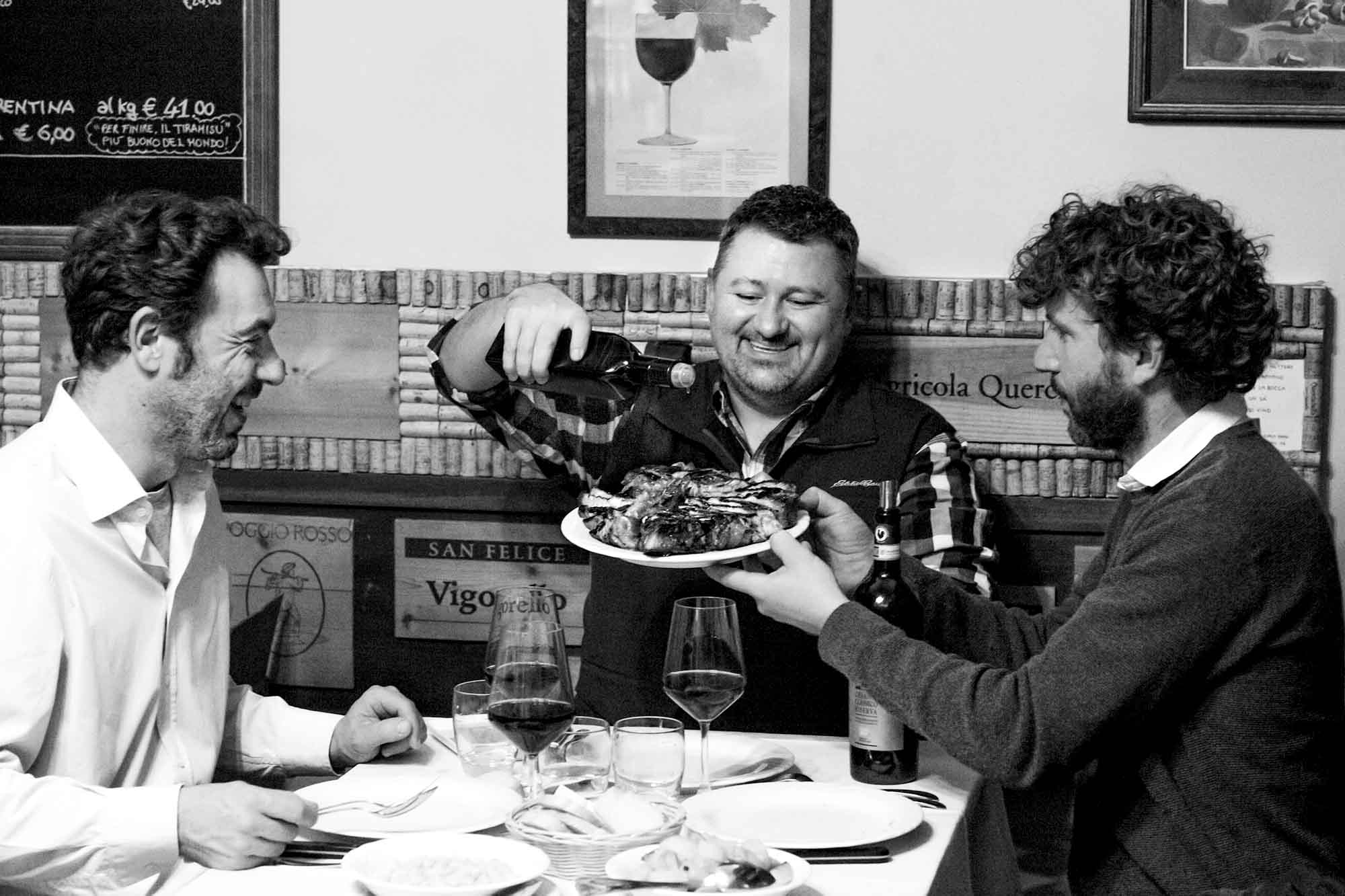 But just sixty miles from Siena, the Pruneti brothers anticipated a beautiful crop. Gionni and Paolo Pruneti are fourth-generation olive oil producers in San Polo in Chianti (that's the full name of the town, San-Polo-in-Chianti). Gionni is a master miller, while Paolo tends to the business side of production. Their grove consistently reaps the highest awards, including four appearances on the Top 20 list of Flos Olei, the connoisseur's guide to the world's best olive oils; a 2017 silver medal in the Sol d'Oro competition; and the German Feinschmeckerlist of the world's top 25 olive oils.

Perhaps it is their diversification that keeps the Prunetis striving for excellence—they also produce award-winning wines, a prized saffron crop, and about 12 acres of iris, famous for its graceful blooms but cultivated for the extract from its roots, which is used in perfume. In recent seasons the Prunetis purchased a new plot of land, acquiring more than 4,000 olive trees; they've spent two years reconditioning and pruning the trees in order to prepare the grove for optimal production.

This year the Prunetis' MVP (most viable plant) was the ultra-flavorful Moraiolo olive, which weathered cold temperatures other varieties could not withstand. Longtime friend of the Club and master miller Duccio Morozzo described it as "a special year for Moraiolo. It reacted in a good way to the cold—this intensified the flavor." He considers this Moraiolo crop possibly the best of the past 10 years.

As soon as I arrived at the Pruneti mill, Gionni and Paolo lined up about a dozen just-pressed blends on the table before me. I wanted to sample and savor every one of the pressings, as each would bring specific qualities to the nose and palate. The Prunetis knew that my aim would be to combine them in the perfect ratio to create a classic Tuscan blend— spicy, fruit-forward, and extremely food-friendly.

In the last year, Paolo announced, they've enhanced their already state-of-the-art equipment, introducing refrigeration to the crushing process to keep the olives cool as they become olive paste. This helps preserve the fresh, green perfumes in the oil.

These efforts met with sensational results, as all the pressings exhibited a rare harmony and balance. Gionni and I tinkered with many different proportions, bringing individual flavor characteristics to the fore. Finally, our eyes locked, eyebrows raised, palates humming: we had a winner! This exclusive blend of four traditional Tuscan olives is fresh, green, robust, and exquisitely well calibrated.

We celebrated our triumphant collaboration at a cozy local restaurant, Fuoripiazza, where we enjoyed first courses of a chicken terrine with pistachios and tomato sauce; crostini with Lardo di Colonatta, a special pork salumi of Tuscany; and a local dish of caramelized onion, pear, and béchamel cream. This all came before the centerpiece, Bistecca Fiorentina, descended on the table. (See us drizzling our just-pressed blend over the gorgeous steak below. The herbaceous oil melds perfectly with grilled meat juices to create a delectable sauce—try it at home!) Three bottles of the Prunetis' top-shelf wine, Chianti Classico Reserva, enhanced each and every morsel of food. You'd better believe that in the process we toasted you, my dear Club members—the Prunetis are so very pleased to be sharing the fruits of their labors with you. Buonappetito!

Impressions and Recommended Food Pairings:
Distractingly green in the glass, this beautiful oil is Tuscany in a bottle. You'll see what I mean when you open it—the scents of artichoke, black kale, almonds, spinach, lime zest, and white pepper are released. It is much the same in the mouth, but greener and more assertive. Very vegetal with the bitterness of escarole and chicory and (surprise) dark chocolate. My tasters and I also noted micro- greens, wheatgrass, lime zest, almonds (a recurring theme this quarter) and hazelnuts, before succumbing to its peppery throat-tickling finish.

This oil is extraordinarily food-friendly, despite its bold flavor profile. Pair it with grilled or long-braised meats (especially game), aged or strong-flavored cheeses, cured meats, oily fish such as mackerel, grilled octopus over bitter greens (I ate this dish recently), grilled artichokes, black kale, fennel, minestrone or broccoli soup, or pasta dishes with long-cooked sauces. Would also be wonderful paired with a bitter chocolate dessert.

---
Olive Oil and Health
Olive oil's health benefits explored at Yale School of Public Health symposium
Adapted from an article by Denise Myers, October 10, 2018.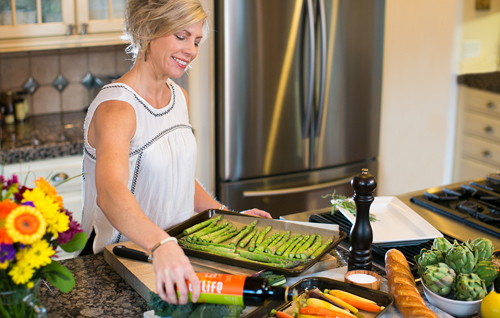 Yale's Olive Oil and Health symposium drew a deeply invested group to New Haven this month—chefs, growers, importers, scientists, and associations of producers, entrepreneurs, and business people—to celebrate this amazing fruit juice and begin mapping out a new olive institute at the Yale School of Public Health.
Olive oil is the cornerstone of Mediterranean nutrition, and speaker after speaker cited its vital role in better health outcomes throughout that region.
"There is no greater crisis in public health today than diet, diabetes, and cardiovascular diseases," Sten Vermund, dean of the Yale School of Public Health (YSPH), told the gathering in Winslow Auditorium in his opening remarks for the two-day event that began on October 3, 2018.
An olive oil institute at the Yale School of Public Health would include research in chemistry and metabolomics to develop assays and datasets to enhance further health research. "We are extremely excited about the interest from around the world in participating in an interdisciplinary and multidisciplinary institute that will fill such an important void, said Professor Vasilis Vasiliou, chair of the YSPH's Department of Environmental and Health Sciences.
Health benefits
Olive oils high in oleocanthal have high profiles for bitter taste receptors and have a peppery effect at the back of the throat. This pungency is associated with many health benefits—a reduced risk for cancer, Alzheimer's disease, and other neurodegenerative diseases and added protection against viruses, said Catherine Peyrot des Gachons of the Monell Chemical Senses Center in Philadelphia.
In addition to prevention of neurodegenerative diseases, Amal Kaddoumi, a professor at the Harrison School of Pharmacy at Auburn University in Alabama, has found that EVOO increases the activity of the drug donepezil, which is used to treat the progression of dementia.
Mary Flynn, an associate professor at the Miriam Hospital and Brown University in Rhode Island, has studied the effects of a plant-based olive oil diet since the 1980s. Albeit small in sample size, numerous comparative studies among cancer patients consistently show improved weight loss compared to National Cancer Institute diet plans, and when the patients are given the opportunity to self-select which diet to follow for the final period of the study, they largely choose the olive oil diet. Her data reflect improved weight, insulin, blood pressure, and triglyceride levels.
By shifting to more plant-based meals on this diet, Flynn also finds that the money saved on groceries ($14.36 per week) not only reduces food insecurity but also results in weight loss and reduced blood glucose. "Most Americans eat too much protein and that turns to fat," said Flynn. With the decrease in fasting blood glucose, people don't get hungry."
"We have a population in dire need of dietary correction," said Joseph Profaci of the North American Olive Oil Association in New Jersey. "If 20 percent adhered to the Mediterranean diet, we'd save $20 billion from 10 major health outcomes," he said. Currently, only 40 percent of American households regularly use olive oil.
The group that convened formed a planning group to work toward developing the mission, vision, and structure of the YSPH olive institute.
---
Kudos from Club Members
I feel like part of a larger family


Hi Folks: There was a Facebook post asking if you could have fresh pressed olive oil only one way, what would it be? I have to say in a tablespoon straight from the bottle. This is still my favorite way to enjoy our oil. Also, I was concerned about the quality during the travel restrictions due to TJ, et al, being "here" and not "there." However, when I read about the oils, I realized that Duccio Morozzo, Paco Vaño, and others are really our friends and care just as much about making our oils special. I favour the stronger oils, but the selections this year have been superb, and I feel like part of a larger family and I trust our friends overseas. It's a great feeling.

Recipes