From Italy and Greece, Three Alluring Extra Virgin Olive Oils Pressed by Award-Winning Artisanal Producers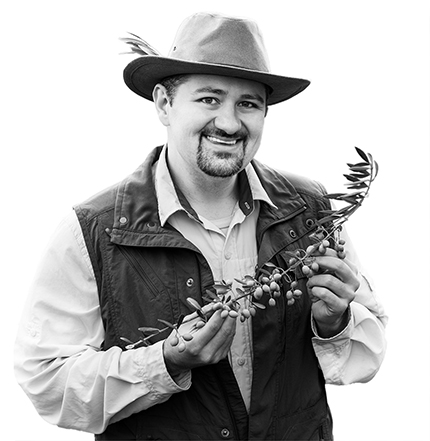 Fresh from the current harvest, this trio of hand-selected, custom-blended oils will be a splendid addition to your winter table.
Rushed to the US by jet to preserve their healthful antioxidants, these oils will stun your family and friends with their extraordinary flavors.
All have been certified by an independent lab to be 100 percent extra virgin olive oil.
All three are Club exclusives and are available nowhere else in the country.
---
Ciao! The fourth quarter of the year always finds me in the Mediterranean for the festive annual olive harvest. Italy, where my identity as the Olive Oil Hunter was forged, welcomes me back each fall like a returning son. My life literally changed when I was introduced to just-pressed extra virgin olive oil, called novello or olio nuovo ("new oil") at a harvest party on a Sicilian olive farm. As if it were yesterday (and not more than 15 years ago), I remember vividly the picturesque whitewashed barn, festooned with fuchsia-colored bougainvillea, where the family gathered to celebrate—the still-warm fresh ricotta made by the white-haired matriarch, the crusty bread, the home-cured olives, the grilled meats—all drizzled liberally with the freshest, most amazing olive oil I'd ever tasted.
I want every Club member to experience that life-changing moment of sensory discovery, the one where, like me, you realize you and your family and friends need and deserve this everyday luxury: inferior olive oils no longer satisfy you.
A "Complicated" Year
The Mediterranean Basin has always been a much-anticipated destination in my global olive oil itinerary. Archeologists trace the origins of the olive tree to this area, having found fossilized leaves of wild olives that are over 23 million years old. For millennia, mankind has viewed the olive tree as the most important fruit tree in the world, with symbolic value in religious and social rituals—rituals like the autumnal harvest.
Italy was my first stop on this trip. Cumulatively, I estimate I've spent over a year there since I founded the Club, visiting the country's premier producers and cultivating new and valuable contacts. This season, my scouts on the ground in that region predicted an unusually early harvest.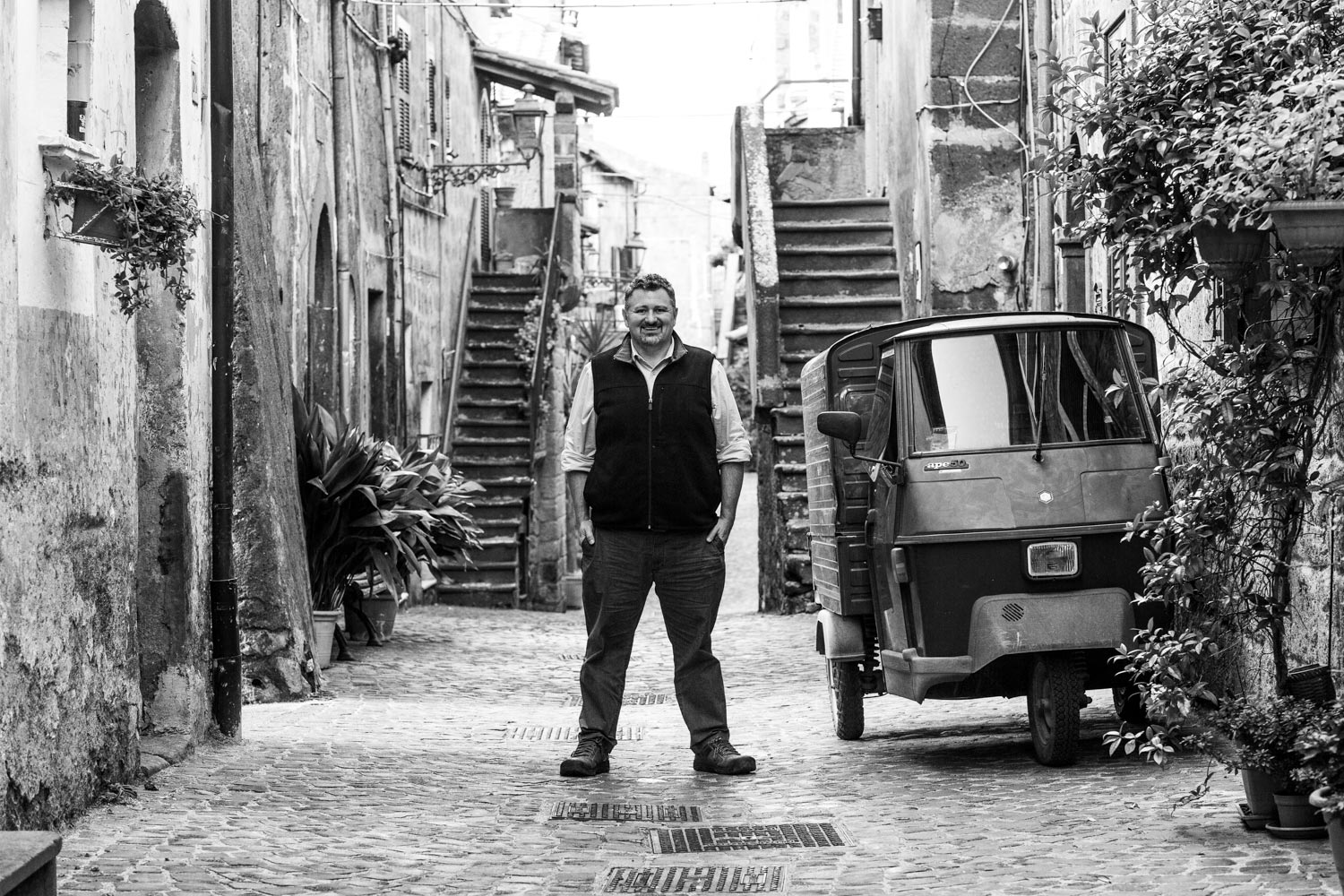 The year had been a "complicated" one for growers, said my longtime friend, master miller and olive oil expert Duccio Morozzo. In an inversion of normal patterns—brought about by cold weather in the critical month of May, when trees are beginning to bloom—farmers in southern Italy expected to harvest their crops later than farmers farther north. Early owering trees showed more promise this year, as they had already set their fruit before the cold snap. As always, Duccio said, Italy's many micro-climates would be my friend. Together, we identified groves that were positioned to enjoy exceptional harvests.
He warned that when the harvest happened, it would happen fast! The "magic window" would open and close quickly. I felt like a reman waiting for the signal to slide down the brass pole.
Maneuvering Into Position for a Jack Rabbit Start
Happily, family members—my brother-in-law, sister-in-law, and their two sons, ages 3 and 4, were planning a trip to Italy in October. My wife, Meghan, and I decided to depart the US around the same time so I could hit the ground running when the harvest got under way.
The plan worked perfectly. For me, it was a thrill to see or experience familiar things and places through the family's eyes. For example, the boys were captivated by the cartoonishly tiny vehicles Italians use to zip through the narrow stone-paved streets—making deliveries, cleaning streets, selling produce, etc. Diminutive Apes (ah-pay; the name means "bee") seemed to be buzzing everywhere. (See a photo above.) A visit to Puglia, where I visited three olive oil producers, introduced us to trulli—cylindrical huts constructed of limestone and topped with fanciful cone-shaped roofs. Built without mortar in the eighteenth century, they were designed to be disassembled quickly so that residents could avoid being taxed.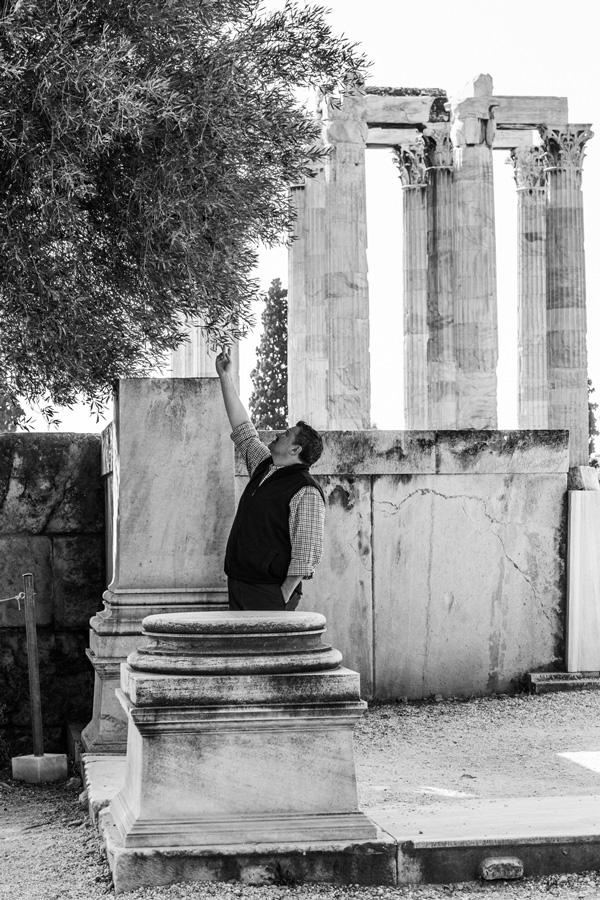 It's Go, Go, Go Time!
The day I learned the harvests were beginning in Blera, about an hour's drive north of Rome, and in Abruzzo, a region on central Italy's eastern coast, I said "addio" to the family and donned my Olive Oil Hunter hat.
Award-winning Colli Etruschi was delighted to work with the Fresh-Pressed Olive Oil Club again, our last collaboration being in 2015, the co-op's fiftieth anniversary. Nicola Fazzi, the supervisor of Colli Etruschi, was ebullient that Club members would once again savor an exclusive oil the community produces from Canino olives. Read more about Nicola and the co-op below.
Spirits were also high at the lovely Di Mercurio farm in Penne, Abruzzo. (Their mill is named Frantoio Hermes.) Claudio and his family rejoiced over another spectacular harvest—the second in a row! Veteran Club members will likely remember my excitement last year at the serendipitous discovery of the farm and its Dritta olive. Newer Club members will now have an opportunity to taste an Italian monovarietal rarely available outside the region.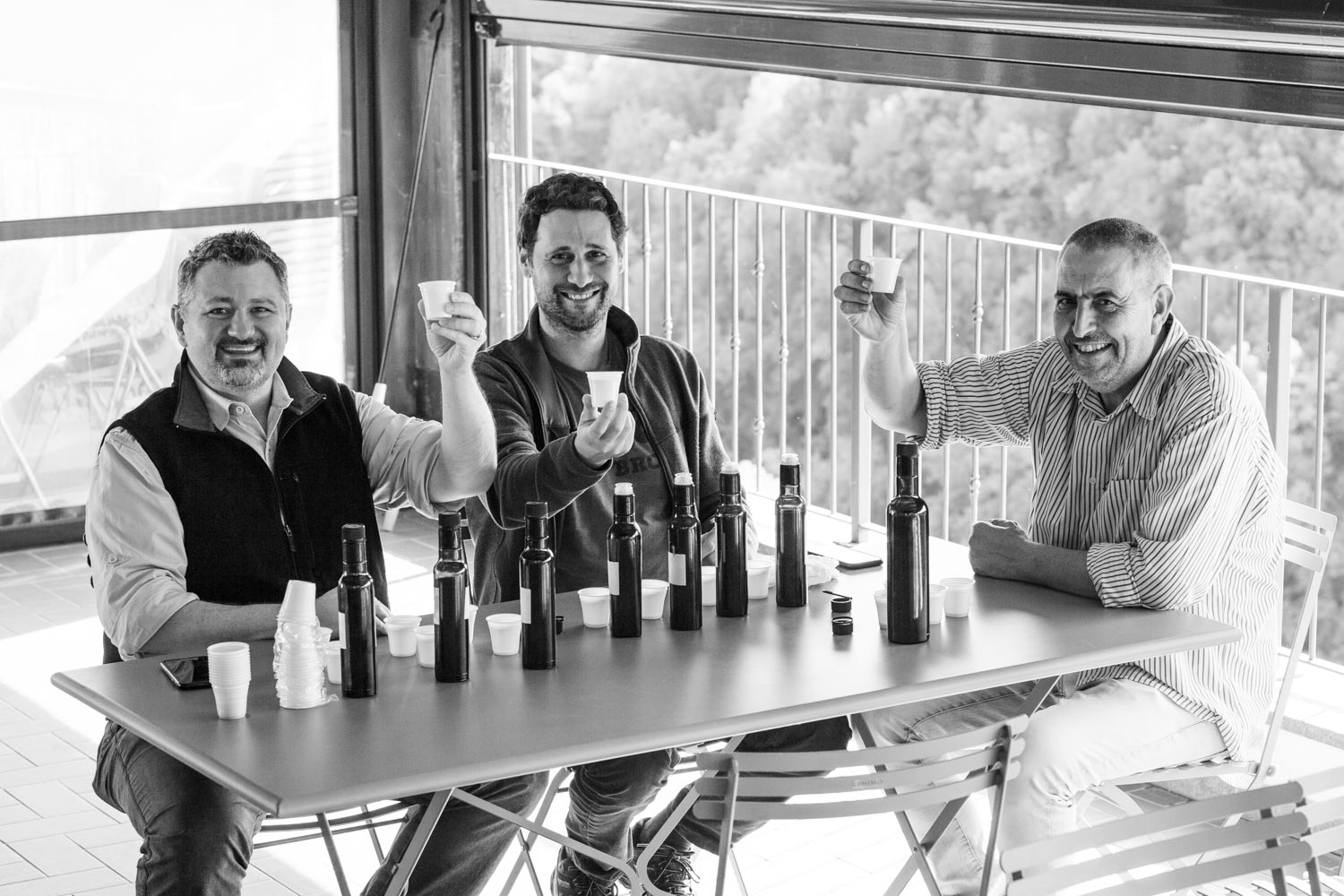 With all the advance legwork, the first two olive oils fell into place. But the third Club selection proved to be more elusive. Enter NOAN, a quality- obsessed Greek co-op I was gratified to work with in the past. Hopes were high for this year's crop of Amssa olives. The indefatigable Duccio confirmed that the harvest, which had just started, was indeed turning out to be a great one. Within 24 hours, I was on the Pelion Peninsula, tasting an intensely green olive oil I knew would dovetail beautifully with my other two selections.
Now back on American soil, I marvel at how eager I am for you to try these incredible hand-picked extra virgin olive oils. During my travels, I also collected scrumptious recipes I know will highlight the oils' best qualities and help you create lasting food memories for family and friends. Buon appetito!
Happy drizzling!


T. J. Robinson
The Olive Oil Hunter®

P.S. Cold weather may cause cloudiness in your bottles of olive oil. Pay it no heed, as this has no effect on quality or flavor. Simply bring your oils to room temperature and most of this cloudiness should disappear. For best results, always store your oil in a cool, dark place, preferably in a cabinet away from heat and light.
---
This Quarter's First Selection
Producer: NOAN, Pelion Peninsula, Greece 2019
Olive Varieties: Amfissa
Flavor Profile: Mild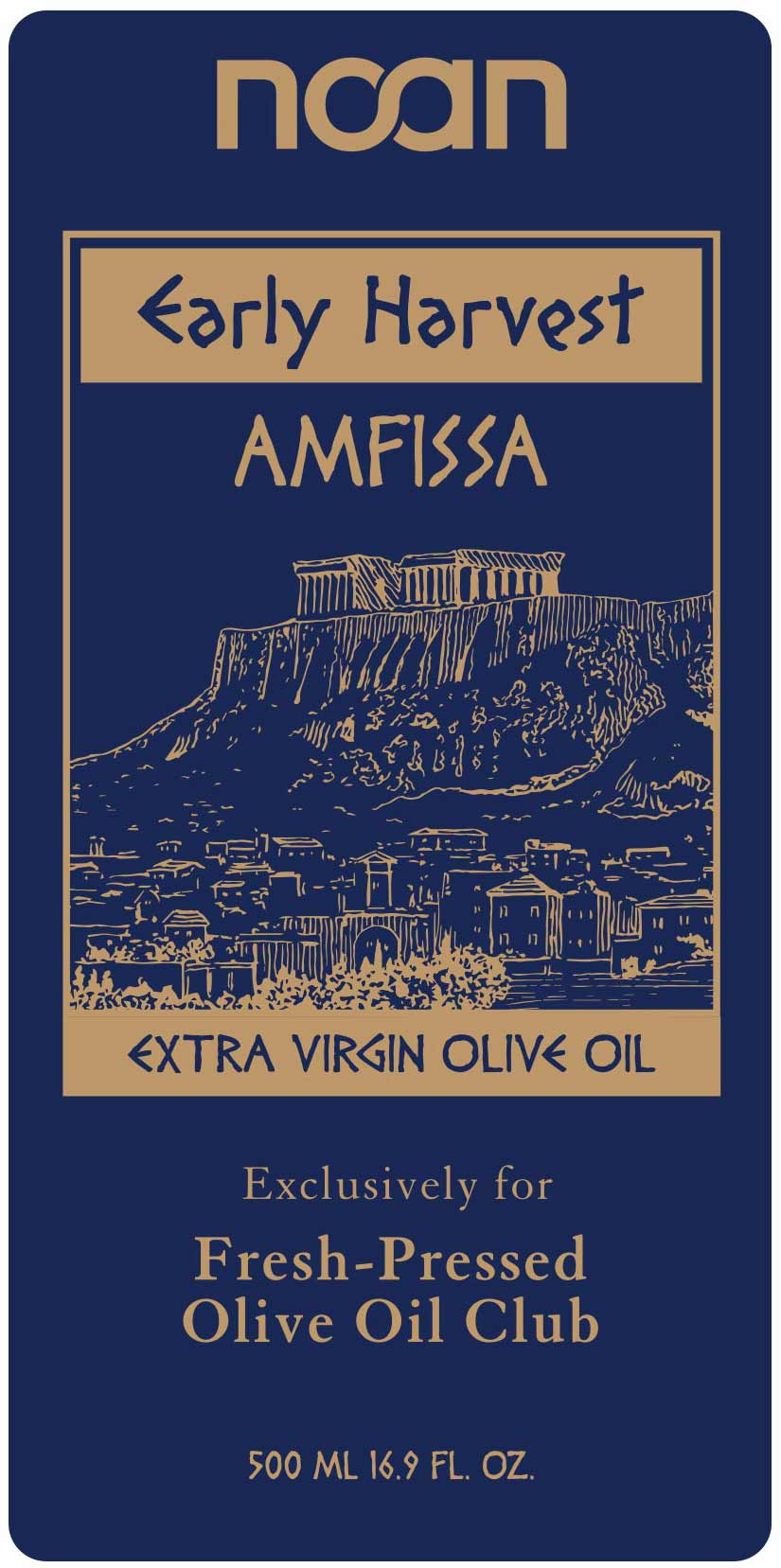 After a long but satisfying day at the NOAN groves and mill on the Pelion Peninsula, olive farmer Kostas Agrigiannis invited founder Richard "Richy" Schweger, production manager Mario Sageder, my Merry Band of Tasters, and me to his bohemian-style home for a spontaneous dinner of whatever he could forage from the fridge and eld. Being a Sunday, most businesses were closed, so a quick run to the markets was out of the question.
Sporting his signature "man bun," Kostas produced an incredible meal in the summer kitchen of the farmhouse he shares with his partner, Greek lifestyle authority and TV personality Eleni Tsihouli. A former chef, Kostas served meze of grilled bread, cured olives from the trees that surround the house, and local cheese. As I recall—though the edges of my memory were fuzzed by his potent home-brewed tsipouro (anise-flavored brandy)—there was a Greek salad and an improvised pasta containing fresh tomatoes, broccoli, onions, peppers, and shredded morsels of the stewed lamb Eleni had made earlier. We liberally doused everything, of course, with the cruet of intensely green, just-pressed olive oil we hand- carried from the mill. (You can make a simple meal out of very little when you have such wonderful olive oil on hand!)
The rustic kitchen is actually excavated from the hillside. Exposed olive tree roots protrude from the back wall, and farm cats patrol the thatched roof and earthen ridge above it. "Kostas has created his own piece of heaven," Richy remarked. If you are a veteran Club member, you may remember Kostas is part of the core group of olive farmers who has helped NOAN build its reputation as one of Greece's premier olive oil co-ops.
Richy, the former CEO of an IT company, and his wife, Margit, both from Austria, started NOAN in 2008. It has been a godsend to a part of Greece that has a bit of experience with gods (and goddesses): this peninsula was once the playground of mythological A-listers like Zeus, Athena, Aphrodite, and Achilles, whose father, Peleus, lent his name to Mount Pelion.
The Pelion Peninsula is one of the most stunning places I've seen in my travels. On the azure-colored Aegean Sea, halfway between Athens and Thessaloniki in central Greece, its hillsides are forested with fruit trees, oak, r, and chestnut as well as millions of wild olive trees that thrive in the rocky soil and many micro-climates. The latter are descended from the olive stock planted by monks centuries ago to replace timber felled by the shipbuilding industry.
The Schwegers were captivated by the region's beauty, but it was the olive trees and the potential to achieve their philanthropic goals that reeled them in. First, though, they had to address some entrenched habits. Although playing host to one of the world's unique olive varietals, the voluptuous Amssa (it resembles a tiny Granny Smith apple), local farmers seemed discouraged to the point of inaction. They'd collect the fruit once it fell to the ground, cure some (Amssa can be used as a table olive), then take the remainder to the mill for pressing into bulk oils for the export market, keeping only enough for the family's use. (Greeks consume more olive oil per year than any culture on the planet.)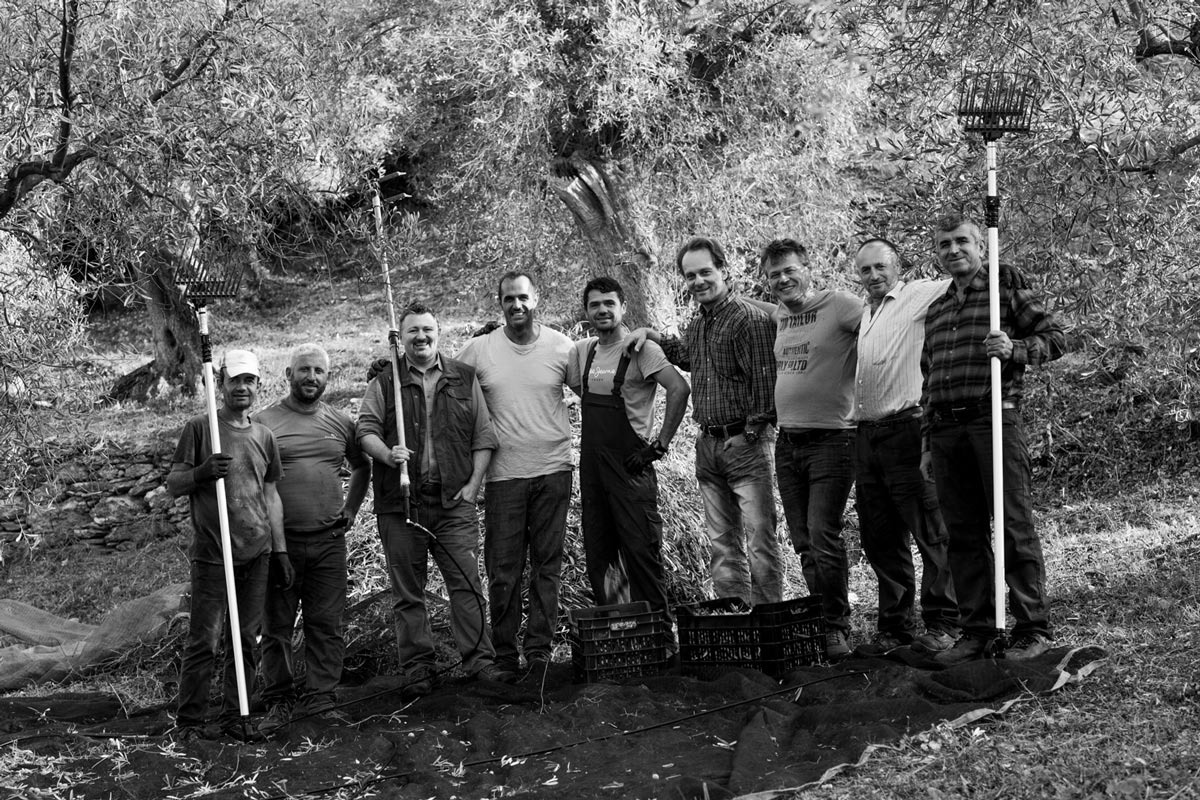 With no background in agriculture, the ambitious Schwegers masterminded the rejuvenation of some of the Peninsula's long-neglected olive groves, organized a co-op of roughly 30 quality-conscious farmers, rekindled a sense of community, and began financially supporting children's causes with proceeds from olive oil sales. Along the way, NOAN has won many awards. In 2014, it was named a "Frontier Farm" by Flos Olei, an annual guide to the world's best olive oils. (NOAN is named after the Schwegers' children, Noah and Anouk.)
It has taken time to build up trust between the co-op and the community and nurture a sense of cooperation and esprit de corps. But the involvement of locals such as miller extraordinaire Jorgo Evangelinos, who not only recruits the area's top producers to join NOAN but also coaxes award-winning oils from their olives, and Alexia Kalovidouri, who capably liaises with the farmers (she grew up with many of them) has helped bridge any cultural gaps.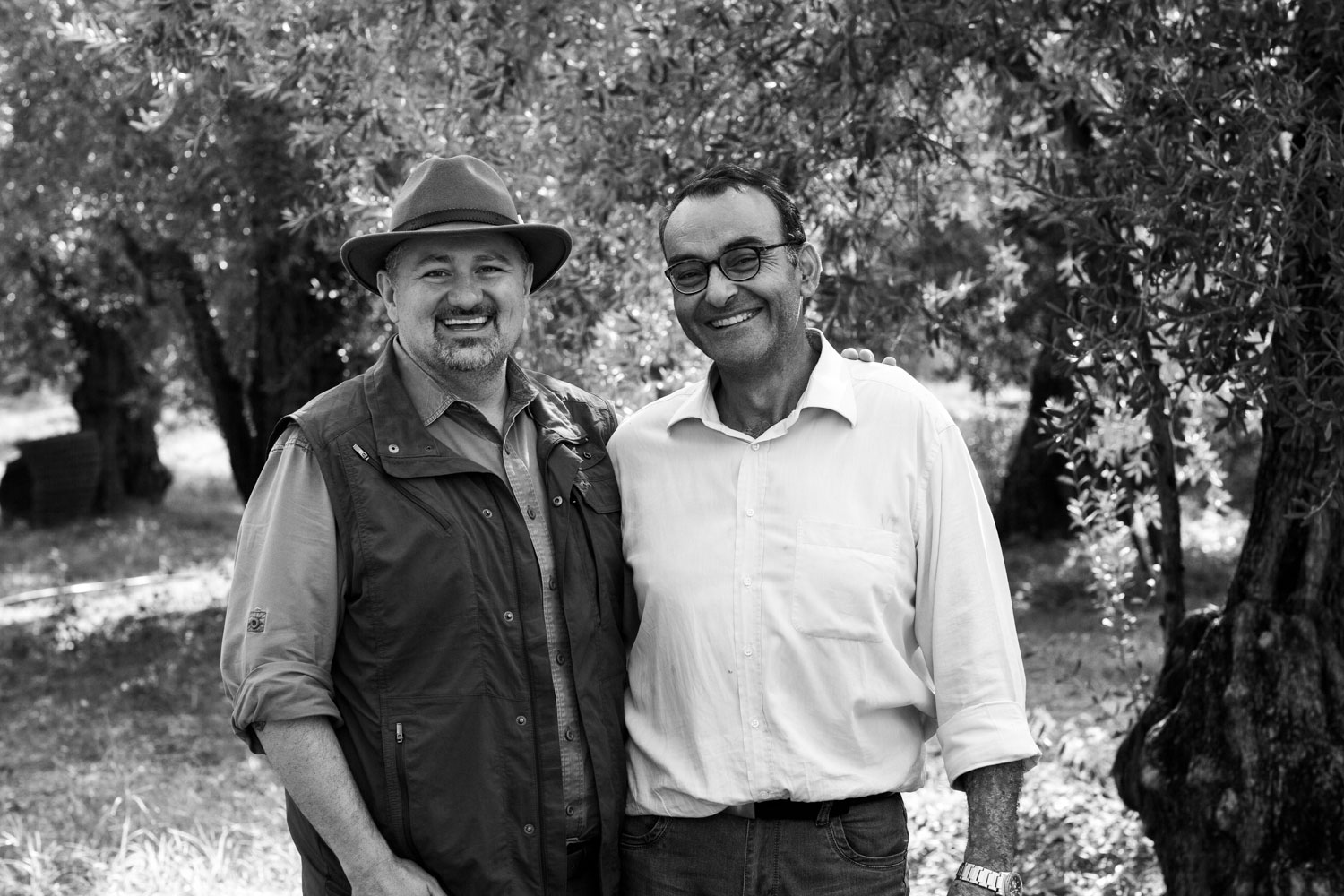 NOAN is also known for paying a fair wage for excellent fruit, for supporting local projects (especially public schools), and for lending a hand to co-op families that have suffered misfortune.
After a disappointing 2018, the just completed harvest was a very good one for the co-op. A cold and snowy winter helped suppress the olive fly population (still a scourge in some parts of the Mediterranean) and yielded to an idyllic spring with ample amounts of rain. The summer months were relatively dry. Trees were loaded with olive fruit, but ripened earlier than usual, meaning the 2019 harvest "magic" window was a tight 11 days. Seldom did Richy, Mario, or Jorgo leave the mill before 1 or 2 a.m.
Richy reminded me of a comment I'd made during one of my first visits to the co-op—that NOAN's Amssa was one of the food-friendliest olive oils I'd tasted. "It never dominates what you pair it with," he exclaimed. So true. You will love it, dear Club member.
Impressions and Recommended Food Pairings
Golden-green in color, very aromatic and elegant in the glass. We noted aromas of cut grass, artichoke, basil, mint, pea shoots, celery, baby spinach, tomato leaves, Belgian endive, chopped parsley, and white pepper.
When we sipped this beautifully calibrated oil we invoked these descriptors: artichoke; romaine lettuce; green tomato; spinach; thyme; green pepper; Belgian endive, and green walnuts, with the spiciness of celery leaf and a green tea-like bitterness.
This versatile, herbaceous, early-harvest Amssa is delicious with egg dishes, drizzled over Greek yogurt, fresh cheeses, warm pita bread, grilled halloumi, chickpeas, eggplant, potatoes, rice, simple pasta dishes, pumpkin, and butternut squash. Lovely with delicate sh, shellfish, chicken, veal, and mild pork dishes. Use it on creamy soups, asparagus, green beans, caulfliower, broccoli, and in vinaigrettes for dressing delicate salads. It's perfect for baking, too. Use in quick breads (pumpkin or banana) or biscotti.
---
This Quarter's Second Selection
Producer: Colli Etruschi, 2019, Blera, Lazio, Italy
Olive Varieties: Canino
Flavor Profile: Medium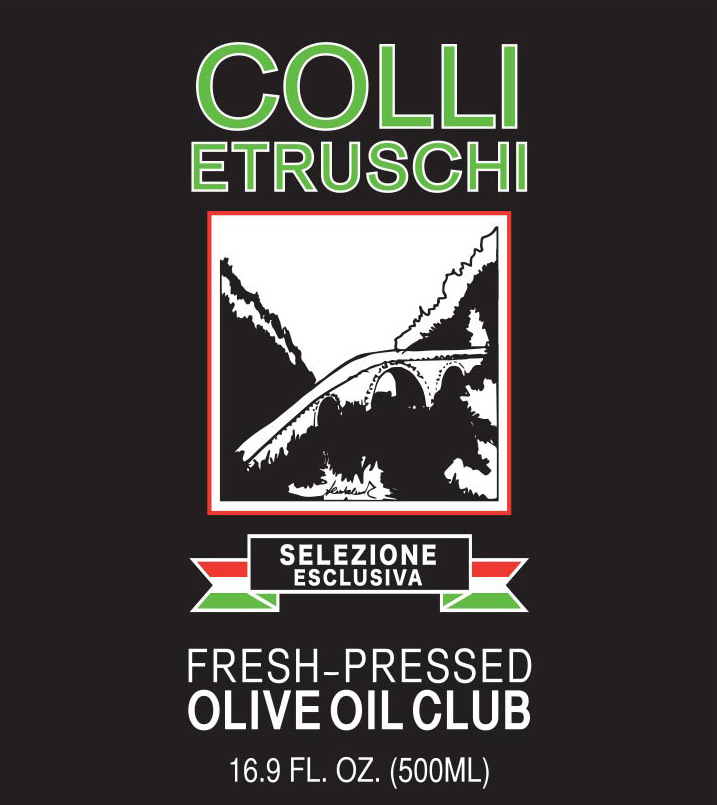 I am thrilled to feature a single-varietal EVOO from my friends at Colli Etruschi, an esteemed olive-growing cooperative about an hour's drive north of Rome, in Italy's Lazio region. This award-winning producer is named for the ancient Etruscans—"The E-who-scans?" I can hear you asking—an indigenous Italian people who controlled this region for six centuries before the Romans. Their empire, known as Etruria, extended north to Gaul and as far south as Campania (the "shin" of the modern Italian boot), and also included the island of Corsica. Etruscan culture was heavily influenced by ancient Greece, with a system of government based on city-states and a Greek-derived alphabet, which the Etruscans passed along to the Romans. The name "Rome," in fact, comes from the Etruscan language, referring to the Ruma, an Etruscan tribe.
Colli Etruschi, founded in 1965 by a dozen local farmers, is a source of deep pride for the surrounding community as well as a landmark tourist destination, noted in travel guides as a prime example of "capturing a territory through its green gold." Even as this worker-run cooperative has grown in strength to nearly 400 members, it has continued to uphold its mission of producing extraordinary extra virgin olive oil, paying its workers a living wage, covering expenses, keeping the growers happy, giving back to the community, and turning a small profit that goes back into operations.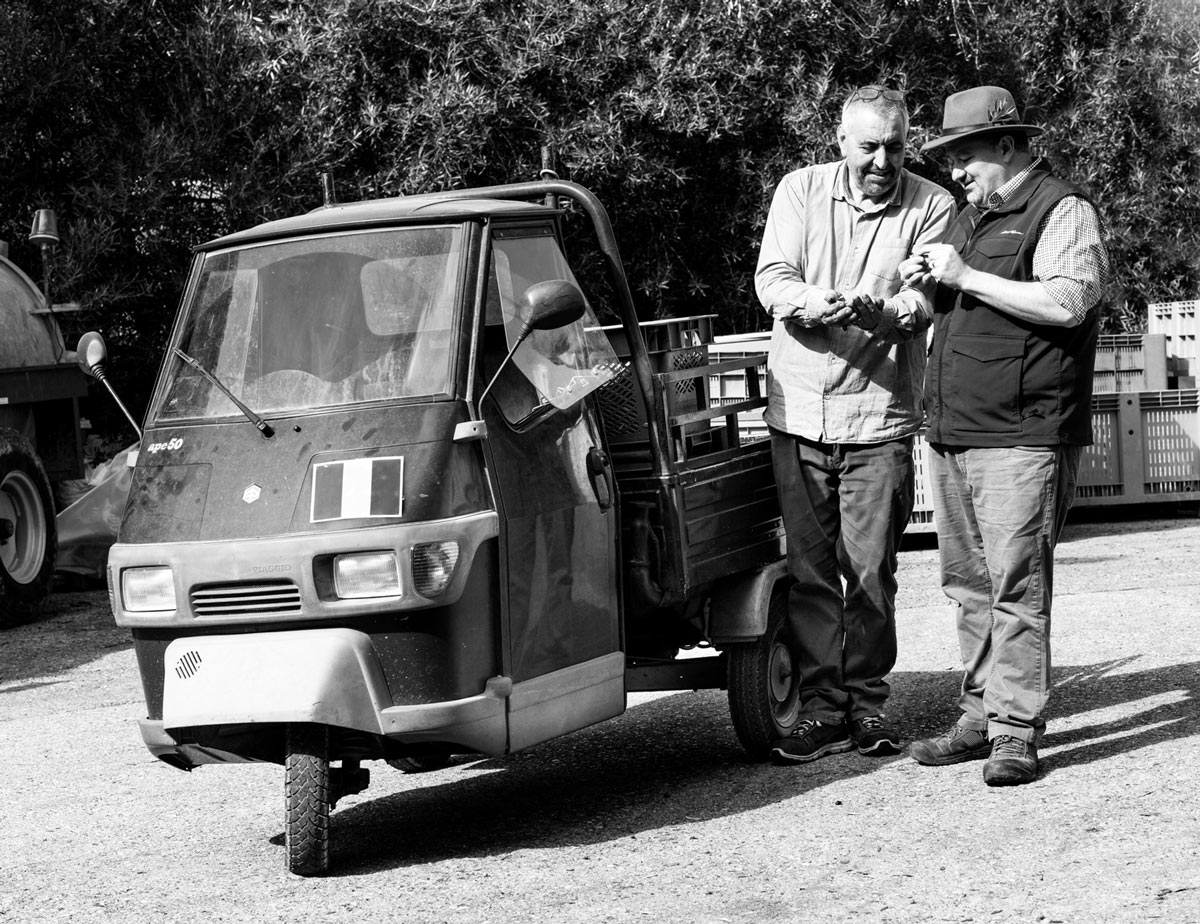 During the past two decades, the co-op has risen to the top of the international olive oil scene under the superlative leadership of Nicola Fazzi, whom I first met several years ago. Nicola, with sparkling eyes and a wry sense of humor, joined the co-op when he was fresh out of agronomy school. Immediately he set about upgrading the co-op's mill to state-of-the-art equipment and implementing rigorous quality controls. All the members adhere to the co-op's high professional standards.
Nicola's insistence on impeccable quality paved the way for one of Colli Etruschi's oils to be named "Best Extra Virgin Olive Oil of 2014" by Flos Olei. This past year, Colli Etruschi reaped the award for "Best Single Varietal Oil" from Gambero Rosso, a food-lovers' publication I'd describe as "Flos Olei for Italians." In other words, we (the rest of the world) consult Flos Olei to learn what the Italians regard as the best of the best in olive oil, and the Italians in turn consult Gambero Rosso. (In earlier times GR was focused only on ne wine, but now it reviews ultra- premium olive oils and other fine foods.)
Unlike many of the producers I work with, whose groves are planted with multiple olive varieties, the growers of Colli Etruschi cultivate a single one: Canino, its oil known as Caninese. This small, hard, feisty fruit is unique to the Lazio region, thriving in its limestone-rich, porous soil, and especially resistant to olive pests. Colli Etruschi's member farmers deliver their lovingly plucked produce in small bins, which are transported to the mill post-haste. (You can see me and Nicola inspecting the latest batch of gorgeous olives in the photo above.)
As the Canino varietal is rarely seen outside Italy, you, my dear Club members, might otherwise never have the opportunity to relish a beautifully harmonic Caninese! Although comprising a single cultivar, this EVOO is a blend of distinct pressings of Canino olives. You can witness Nicola, master miller Duccio Morozzo, and me as we test different ratios in the photo above. The oil pressed from fruit picked on the very first days of the harvest was, for instance, greener and spicier than the oil pressed from olives harvested a few days later, which revealed nuance and dimension. We tweaked our blend until it was perfectly calibrated and exceedingly food friendly.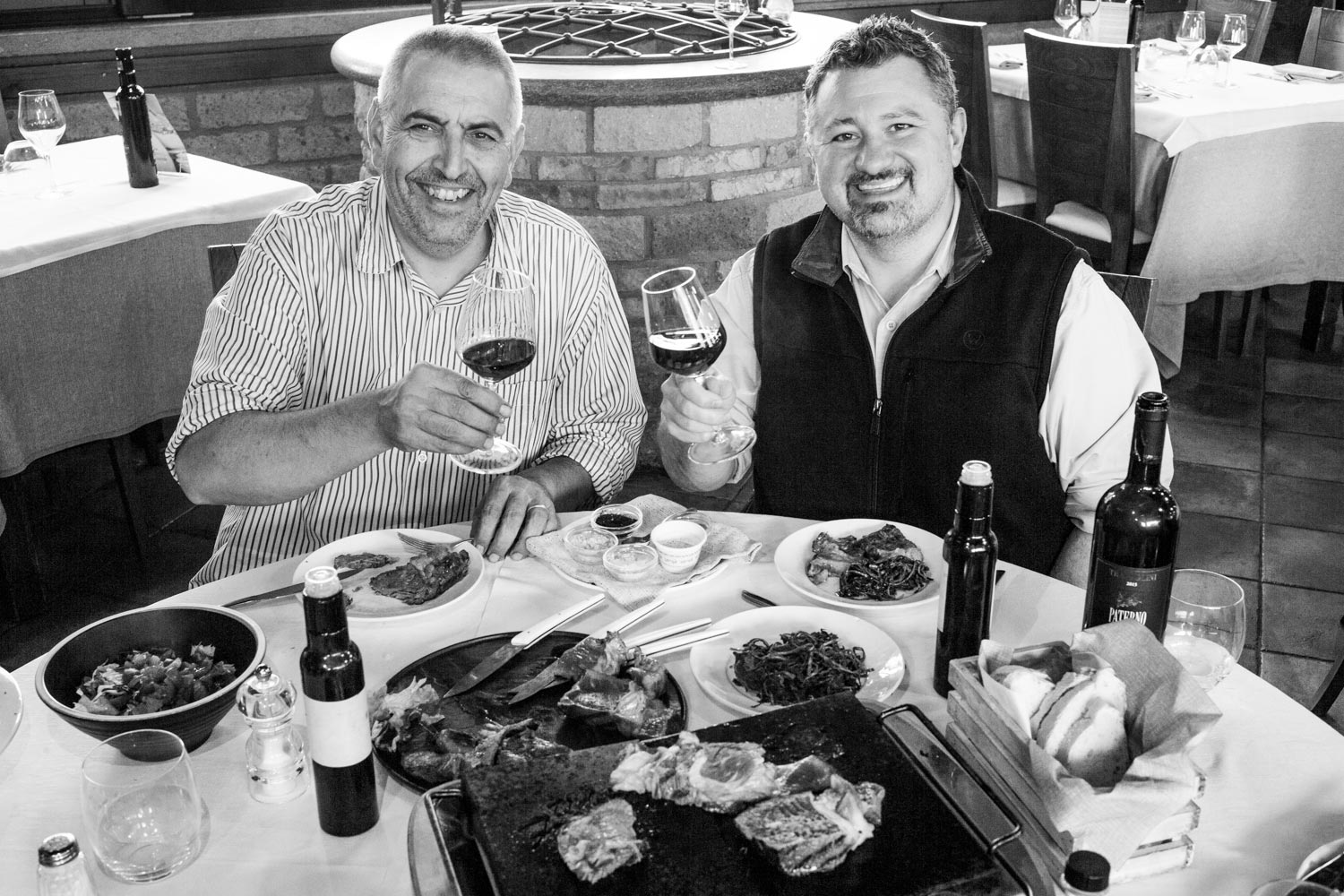 Nicola and I celebrated our triumphant collaboration at my favorite local repast, Ristorante Dal Sor Francesco, in the nearby town of Vetralla. This restaurant specializes in seasonally foraged porcini mushrooms, a celebrated rarity, and my Merry Band of Tasters and I tend to refer to it as "the porcini place." They also do an incredible bistecca— grilled on an open fire and brought sizzling to the table on a hot stone, it continues to cook while your appetite whets. We drizzled the meat and the coveted 'shrooms generously with our just-pressed Caninese and toasted you, my lucky Club members! Salute!
Impressions and Recommended Food Pairings
Dark green in color, this oil is very complex and vegetal on the nose, proffering micro-greens, juiced wheatgrass, some oral notes, and the sweetness of vanilla bean and apple. Straddling the savory and the sweet are fennel, green banana, green almond, and a touch of white pepper. Bright and voluptuous on the palate. My tasters and I detected shaved raw artichoke, Swiss chard, rubbed sage, apple peel, and hazelnuts. Slightly bitter, reminiscent of walnut skins, Belgian endive, and cocoa nibs. Expect a long, white-peppery finish.
There is hardly any dish that this richly flavored oil would not enhance: warm crusty bread, polenta, pasta, lentils, and beans; n sh such as mackerel, tuna, salmon, and sardines; kale or carrot top pesto; roasted root vegetables; cabbage or brussels sprouts; grilled or roasted chicken, turkey, or game hens; and hearty pork and beef dishes. Also lovely with aged cheeses, grilled vegetables, creamy soups, and antipasti platters.
---
This Quarter's Third Selection
Producer: Frantoio Hermes, Penne, Abruzzo, Italy 2019
Olive Varieties: Dritta, Leccio del Corno, Castiglionese, Carboncello
Flavor Profile: Bold

Lightning does indeed strike twice!
Let me rewind. Last year, I was delighted to introduce Club members to an extraordinary new producer, Frantoio Hermes, the brainchild of Claudio Di Mercurio and labor of love of the entire Di Mercurio family. Despite my extensive network of contacts in the olive oil world and Hermes's impressive record, the 2018 harvest was the first time I had even heard of this mill—thanks to one of my scouts—and in the process I encountered a luscious new olive variety. The Dritta from Frantoio Hermes that was featured as a Club selection went on to garner armfuls of awards, and the season culminated with Hermes being named "Mill of the Year" by Gambero Rosso, the influential fine food magazine.
I never expected Hermes to boast back-to-back spectacular seasons, given that olive trees usually alternate between high seasons of production and low. Yet Hermes blew me away two years in a row. How?
One major factor is the olive variety: Dritta, which translates as "direct" or "trustworthy," produces consistently every year. About 70% of the Hermes groves are planted with Dritta. It blooms early, which was a blessing this season—a spring frost doomed some later-blooming olives, but the Dritta fruit was spared, as were some other varieties. Many of the Dritta trees are 90 to 100 years old.
Another factor is Claudio's unremitting dedication to producing the nest EVOO possible. This season he added a refrigerated crusher, further improving the already technologically advanced mill. With warm weather at harvest time raising the temperature of the fruit, the cooled crusher helped preserve the precious polyphenols and perfumes in the olives.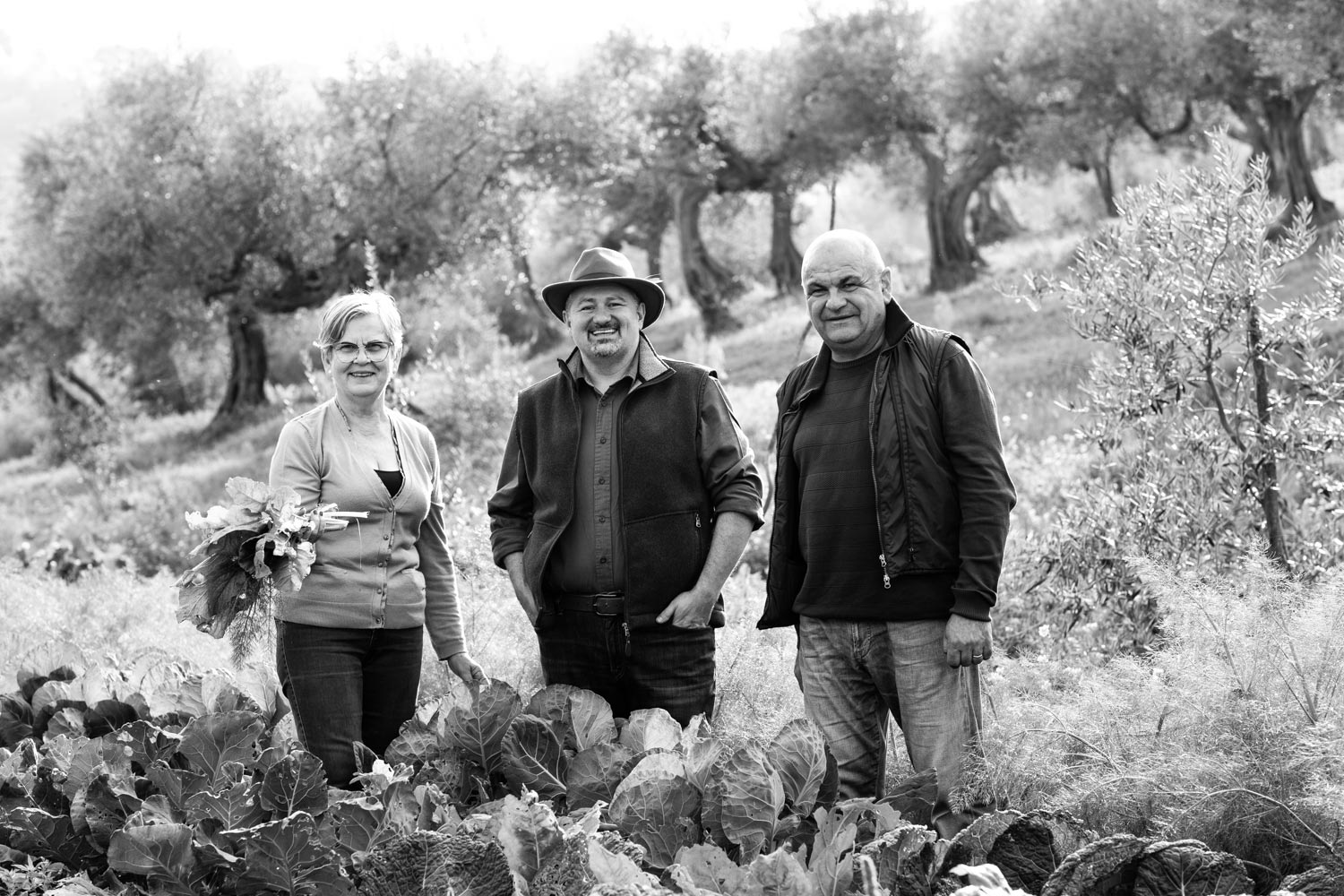 Claudio reported that the Abruzzo region experienced an early spring, with an unanticipated May frost damaging some blossoms. For the surviving olives, the summer was ideal, with just enough rain to keep the trees healthy, as well as strong hot spells, which helped intensify the flavor in the fruit.
We created a bold, intriguing blend of about 70% Dritta, with the balance apportioned among Leccio del Corno, Castiglionese, and Carboncello. This is one of the many things I love about Italy: its extensive roster of olive varieties. Every time I visit I hear names I could swear I've never heard before. Likewise, other kinds of Italian produce beguile me with their specificity. Claudio and his family raise vegetables, cure sausage (in olive oil, of course!), and prepare jams and preserves, all produced from their land. The most scrumptious figs I have ever consumed came from their garden. I am still dreaming about those figs.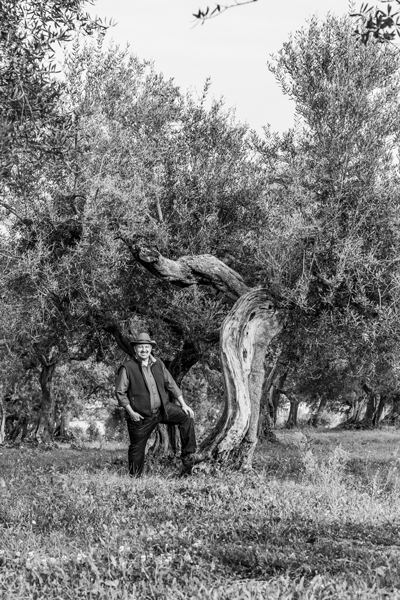 Remarkably, none of the Di Mercurio siblings has a career in agriculture—this is all a labor of love. "We all have other jobs," says Claudio, who works as a systems engineer. He founded Frantoio Hermes in 2009, a scant decade ago, with the mission of producing premium extra virgin olive oil, in spite of never having pressed a drop. Starting right at the top, Claudio consulted with Giorgio Mori, the master behind Mori olive mills, who helped put the new venture en route to brilliance. In its very rst pressing season, 2010, Frantoio Hermes earned regional medals for excellence, and the award-winning streak hasn't stopped, including the honor of being selected for my Club—as I say, lightning does strike twice. Claudio, his family, and I are so excited for you to relish this exquisite oil!
Impressions and Recommended Food Pairings
Beautiful green color, bright and aromatic on the nose. We caught the aromas of chopped baby greens, fresh-cut grass, kale, snipped culinary herbs such as thyme, oregano, and mint along with celery, Asian pear, and tomato leaf. A hint of cinnamon and black pepper.
This oil is sophisticated, verdant, and exciting on the palate, with hints of rosemary, lime zest, Tuscan kale, radicchio, hazelnuts, dark chocolate, and black pepper. On the finish, anticipate the bitterness and spiciness of arugula and the hallmark sign of abundant polyphenols—a mouth-warming, tingling sensation that lingers.
Inspired pairings with this bold, well balanced, and remarkably food-friendly oil include hearty winter soups, stews and braises, salads with sturdy greens—especially if they include nuts and fresh citrus. Generously splash this oil on white beans, chickpeas, lentils, and grains. Drizzle on bruschetta (see a recipe below); hearty tomato-based pasta dishes; or grilled or roasted meats, including pork, beef, and lamb. Also cruciferous vegetables, aged cheeses, oilier fish, kale, chicory, baked yams, and roasted eggplant. Drizzle over vanilla ice cream or pair with dark chocolate.
---
Olive Oil and Health
Study shows Mediterranean diet associated with better cognitive function in older adults
Adapted from an article for Medical Express by Fayeza Ahmed, September 11, 2019
Adherence to a Mediterranean diet has been associated with less cognitive decline over five years in older adults in the United States, according to a new study led by University of Maine and the University of South Australia researchers.
The study, conducted by researchers Alexandra Wade, Merrill Elias, and Karen Murphy and published in the journal Nutritional Neuroscience, examined the relationship between Mediterranean diet adherence and cognitive function in a sample of older adults in the Maine-Syracuse Longitudinal Study (MSLS).
MSLS, a study of aging, hypertension, cardiovascular disease, and cognitive function, was launched in 1974 by Elias. It has obtained longitudinal data from young adulthood to the elder years for 1,000 individuals, and cross-sectional data for more than 2,400 individuals initially recruited from central New York and followed throughout the U.S.
The Mediterranean diet has been associated with a range of health benefits. However, the majority of Mediterranean diet studies have been conducted in Mediterranean populations, and findings from non-Mediterranean populations are mixed.
Wade and colleagues found that participants who reported consuming a higher intake of foods associated with a Mediterranean diet, including olive oil, fruits, vegetables, legumes, fish, whole grains, and red wine, experienced moderately lower rates of cognitive decline in visual spatial organization and memory, attention and global cognitive function over a five-year period.
Causal relations cannot be inferred as the study was observational, according to the researchers. However, the findings indicate that adherence to a Mediterranean diet may be capable of delaying age and disease-related cognitive decline, one of the leading risk factors of dementia.
Future studies must examine possible associations between Mediterranean diet, such as biological factors or general good health as a positive influence on cognitive function, the researchers say.
The research reflects a longtime collaboration between researchers at the University of South Australia and the University of Maine.
Reference: Wade AT, Elias MF, Murphy KJ. Adherence to a Mediterranean diet is associated with cognitive function in an older non-Mediterranean sample: findings from the Maine-Syracuse Longitudinal Study. Nutritional Neuroscience. 2019; doi: 10.1080/1028415X.2019.1655201.
---
Kudos from Club Members
It really is the best in the world. I feel blessed to have found this club. Not only is it incredibly healthy for you, but so very delicious.

Recipes