Yellow Rice and Green Beans with Pimentón Recipes, Spotlight on Pimentón and Turmeric, Storing Spices and Your Health, and How Restricting Calories Can Boost Longevity
Want to elevate your cooking this holiday season? Grab your spices and turn dull into delicious! In this installment of my single-origin spice series, I'm focusing on two high-flavor choices that may seem exotic, yet can be used often and with tempting results.
Remember too that spices aren't just for cooking—many are great for boosting the flavor of finished dishes. So, bring some out when you set your table. You and your guests won't reach for the salt shaker as often, and that's good for your health.
Yellow Rice
Yellow Rice

Fragrant and richly hued, yellow rice takes the standard side dish and elevates it. This recipe gets another taste boost from the green peas. 

Ingredients

1 tablespoon extra virgin olive oil
1 tablespoon unsalted butter
1/4 cup minced onion
1 cup basmati or jasmine rice
1/2 teaspoon turmeric
1-1/2 cups water or chicken broth, homemade or low-sodium store bought
4 strands saffron, optional
1 cup frozen green peas, thawed

Directions

Heat a 2-quart saucepan over medium heat. When hot, add the olive oil and butter, then the onions. Cook, stirring frequently, until softened but not browned, about 3 minutes. Add the rice and turmeric, stirring to coat the grains. Add the water or broth and saffron, if using, and bring to a low boil. Reduce heat to a simmer, cover, and cook for 20 minutes, checking after 15 to see if all the liquid has been absorbed. When done, turn off the heat, fluff with a fork, fold in the peas, and cover the saucepan for 2 minutes before serving.

Yields 4 servings
Green Beans with Pimentón
Green Beans with Pimentón

Wonderful when made with thin French green beans called haricots verts, often available frozen year-round.

Ingredients

1-1/2 pounds fresh or frozen green beans
4 to 6 tablespoons extra virgin olive oil
2 red bell peppers, stemmed, seeded, and cut into strips
3 cloves garlic, coarsely chopped
1 teaspoon Pimentón or more to taste
3 ounces cured ham, preferably Serrano, cut into 1/4-inch cubes
Freshly ground black pepper, to taste
Coarse sea salt, if needed

Directions

If using fresh beans, trim the ends and steam them until tender-crisp, about 5 minutes. Immediately plunge them into a large bowl of ice water to stop the cooking and set the color. Drain and set aside. Heat a large frying pan over medium heat. When hot, add 2 tablespoons of olive oil and the bell peppers, sautéing the peppers until softened, 4 to 6 minutes. Add the garlic and sauté for 1 minute. Add 2 more tablespoons of olive oil and the pimentón, stirring well to distribute the spice. Add the ham and the steamed beans. Season with black pepper and, if needed, salt (the ham itself may add enough salt), and stir the beans with tongs to heat through. If they seem dry, add the rest of the oil. When the beans are ready, taste and add more pimentón, black pepper, and/or salt as desired.

Yields 4 servings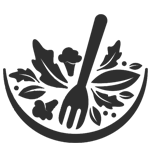 Healthy Ingredient Spotlight
Pimentón and Turmeric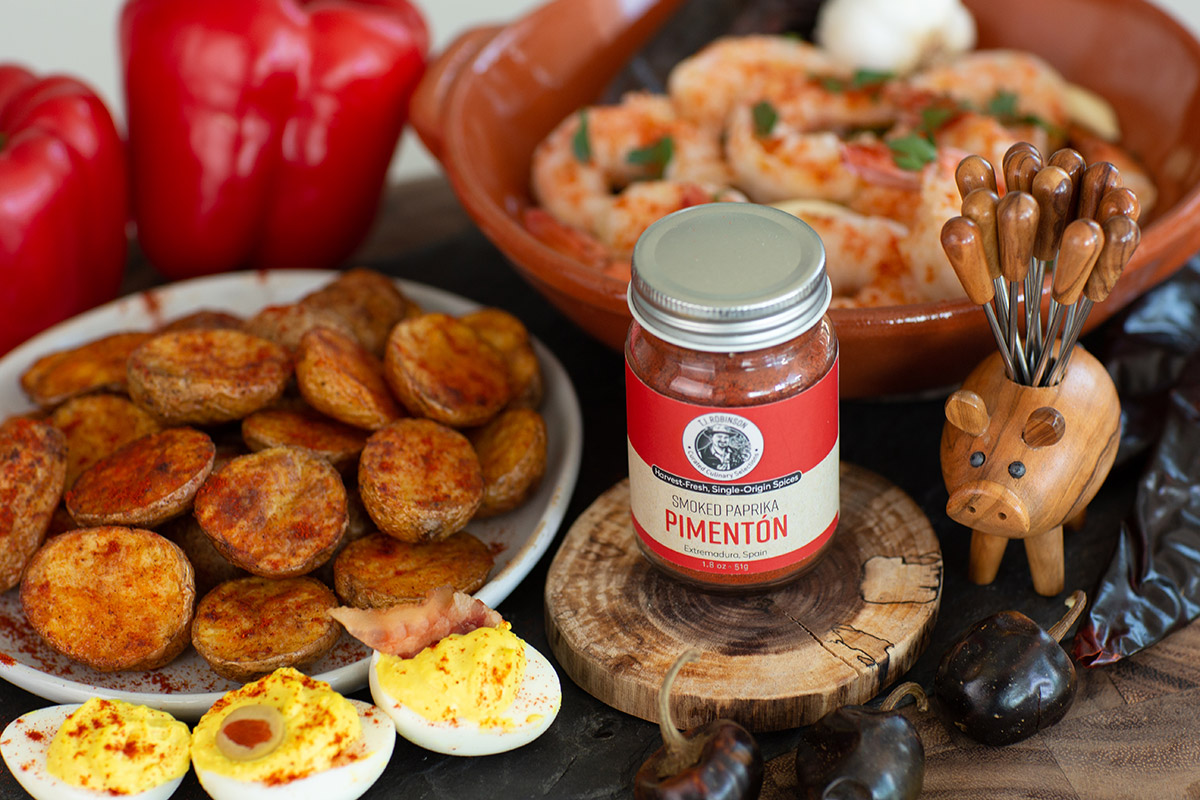 All peppers were brought to Spain from the Americas, but the peppers used to make pimentón (Capsicum annuum) have a history all their own. They were given to monks at the Yuste monastery in La Vera, an area within the region of Extremadura, by King Ferdinand and Queen Isabella. The monks dried them and turned them into a powder. Peppers later made their way to the rest of Europe, notably Hungary, where the unsmoked version of the powder became that country's classic spice, paprika.
The distinct sweet smoky aroma and flavor of pimentón come from thelocalclimate and the unique, centuries-old and labor-intensive smoking process. After being handpicked, the peppers go to a two-story smokehouse. On the first story is an oak fire that burns around the clock. The peppers are smoked on the second story—for two weeks, they're continually bathed in the aromatic heat and regularly rotated for even crispness. The spice's full name is Pimentón de La Vera DOP. DOP means "Designation of Protected Origin," a label bestowed when a specific region is recognized as producing certain foods with special local characteristics. It's pimentón that, in turn, gives the region's famed chorizo and other pork products their distinctive flavor and color.
Why you should have this spice in your kitchen: Pimentón defines many Spanish dishes, such as shrimp with pimentón and garlic,patatas bravas, and paella. It's also wonderful in deviled eggs, dry rubs, and marinades for barbecues, and, for the adventurous, homemade sausages. It marries perfectly with fresh-pressed extra virgin olive oil to add heat to any sauté or to popcorn made on the stovetop. I love it on braised greens and cooked legumes.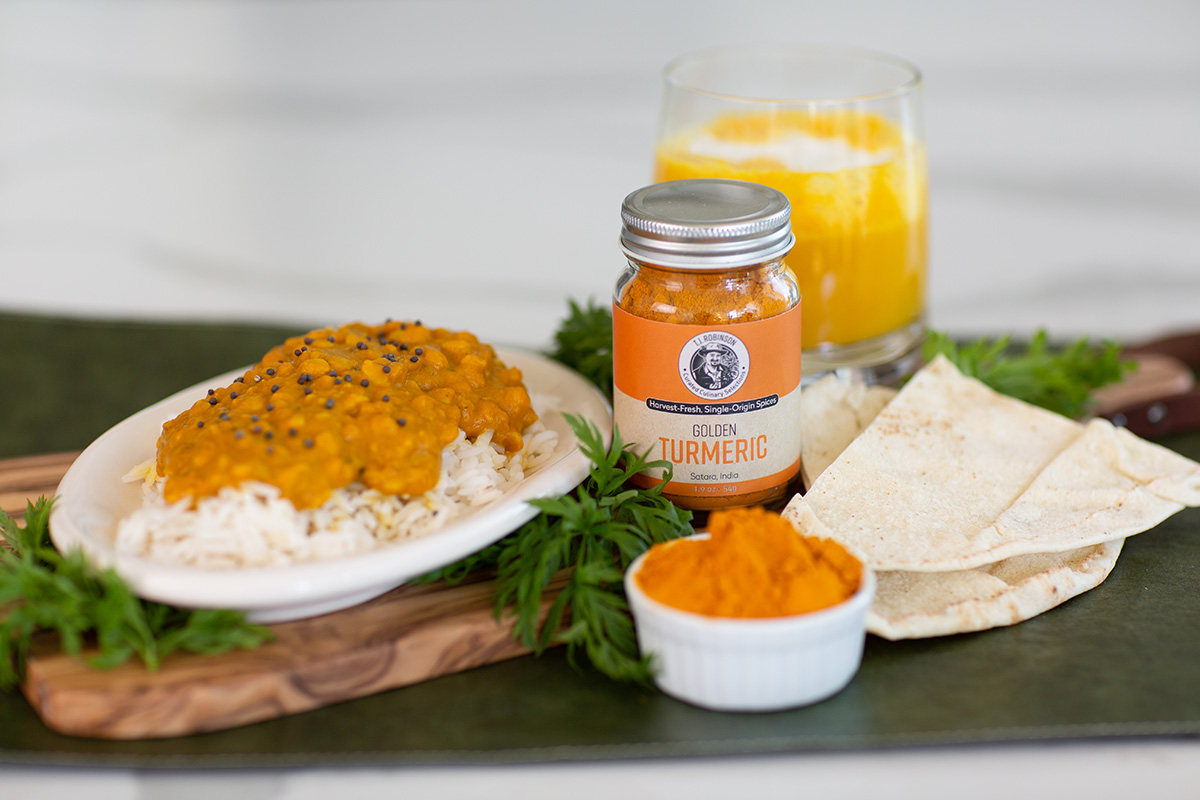 India is the land of intriguing spices, rich and deep, and none more colorful than turmeric (Curcuma longa). It belongs to the Zingiberaceae family, which also includes ginger, and you can see the similarity between them when you hold up the edible parts, the rhizomes. Also, like ginger, turmeric has been used for thousands of years, and not only in India but throughout South Asia and into the Middle East, Africa, and beyond, in both sweet and savory dishes. Besides its culinary tradition, turmeric is used in Eastern medicine, in religious ceremonies, and even as a natural coloring.
Why you should have this spice in your kitchen: Besides using turmeric in your favorite Indian dishes from kormas to dals, add it to sauces, stews, broths, salad dressings, juices, and baked goods for a depth of flavor and a jolt of color. Toss cut-up root vegetables with olive oil, sprinkle with turmeric, and roast at 400°F until soft. For a soothing brew, createa paste with turmeric, honey, cinnamon,and a healthy pinch of freshly ground black peppercorns, and whisk it into a cup of warmed milk of your choice.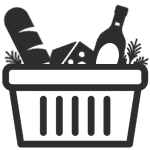 Quick Kitchen Nugget
Storing Spices
The best way to store spices isn't the handiest—they should be in tightly sealed glass containers away from light, humidity, and heat, so not above the cooktop. Keep them on a dry pantry shelf or in a drawer away from the oven, and soon it will be second nature to take them out of their new "home" as you prep ingredients and set the table with these great alternatives to salt.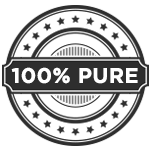 For Your Best Health
Spices and Your Health
Peppers have among the highest levels of antioxidants of any vegetable, including bioactive compounds like vitamin C, phenolics, and carotenoids (the source of their color), all strong disease fighters. The carotenoids include zeaxanthin and lutein, good for eye health, according to International Journal of Molecular Sciences. Pimentón's spiciness comes from capsaicin, a compound with anti-inflammatory properties. While the amount of all this goodness in a little pinch of the spice is small, all those little pinches can add up to help meet micronutrient needs. 
Most of the interest in turmeric comes from its powerful polyphenol curcumin, thought to have anti-inflammatory and antioxidant properties, though research done in Western countries hasn't quite been able to explain how it works. A newer concept, published in Advances in Nutrition, is that curcumin could have a direct positive effect on the GI tract and that its health benefits could emanate from there. Interestingly, we know that, on its own, curcumin has a low bioavailability, meaning the body isn't able to draw out and make the most of its nutrients. According to a report in the journal Foods, you can increase that bioavailability by having it along with black pepper, rich in the active ingredient piperine. So, every time you reach for turmeric, grab your pepper corn grinder, too. 
Get More Recipes In Your Inbox!