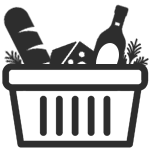 The Problems with Supermarket Olive Oils
Supermarket oils can sit on shelves for many months, growing stale, musty, even rancid.
To true olive oil lovers, this lack of freshness is unacceptable. The olive, after all, is a fruit. And just as with other fruit juices, such as orange juice, olive oil offers you its peak of flavor and nutrition when fresh-pressed.
As consumers, we insist on fresh milk, fresh eggs, fresh fish, fresh meat, fresh fruit, fresh veggies, and more. Don't we deserve fresh olive oil? Of course we do! But stores prioritize long-term shelf life over freshness and do not offer fresh-pressed olive oils.
How do fresh-pressed olive oils compare with supermarket oils?
Read what our Club members say…
read more