Good Fortune Down Under: Three Spectacular Oils from the "Best Harvest in a Decade"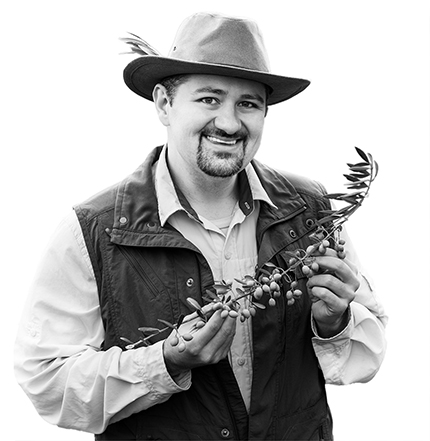 These shimmering beauties have been rushed to the US by jet (even in this time of limited travel) to preserve their exquisite flavors and nutritional content.
All three are Club exclusive blends, created expressly by yours truly.
All three have been independently lab tested to certify they are 100 percent extra virgin.
Expand your menus with the Aussie-inspired recipes featuring these vibrant, exceedingly food-friendly oils.
---
G'day, Mate!
I love Australia—its friendly people, its vibrant food culture melding international cuisines, the bustling, beautiful cities, and the stunning rural landscape. Our annual Australian olive oil quest usually begins in Melbourne and concludes in Sydney, where the Merry Band of Tasters and I regroup to celebrate before heading home. Several years ago, in 2014, the celebration took a special turn for the romantic when my then fiancée, Meghan, and I got engaged (see photo below). You can imagine why Australia has a special claim on my heart.
I held out hope that a trip to Oz would be possible this season, but ongoing travel restrictions shelved those plans. Once again, your trusty Olive Oil Hunter shifted into long-distance-logistics mode to conduct a remote hunt, drawing on the steadfast and treasured relationships I've built over the years to fulfill our mission of providing you with the finest, freshest olive oils on earth.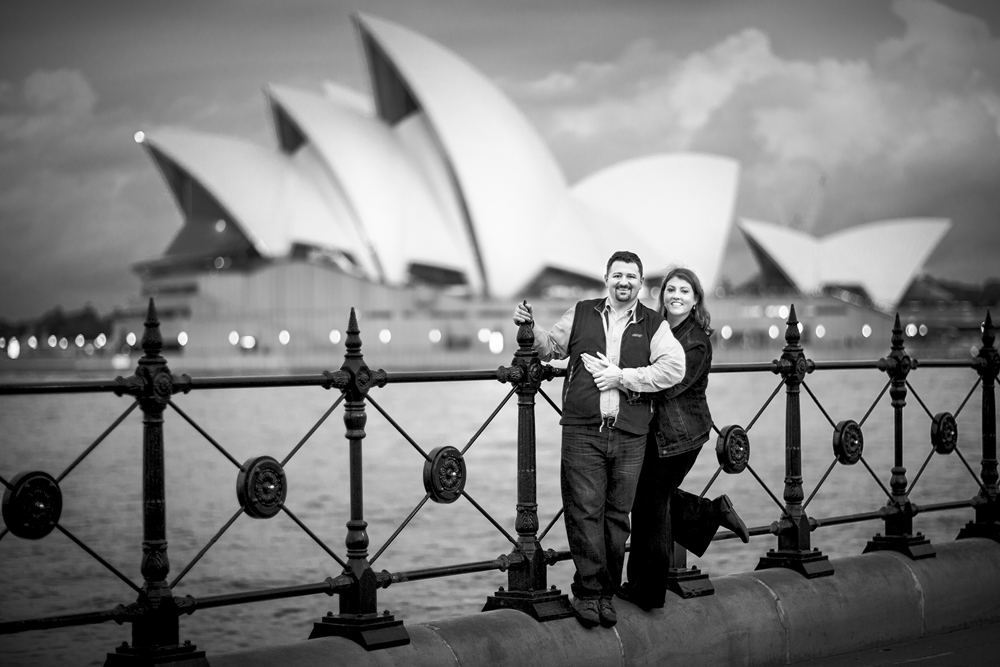 Australia: The Startup Kid
If you're new to the Club, you might be wondering, "Australia? I didn't even know they made olive oil." They do, and it's fantastic! Australia produces some of the world's most acclaimed ultra-premium olive oil, with exquisite flavors and peak polyphenol content. The antipodal olive oil scene is young, energetic, and deeply innovative—described as a "hoodie-wearing tech startup kid in a room full of suits," in contrast to the fusty approaches of many European producers. And, because Australia's seasons are the opposite of ours, at this time of year the freshest, most flavorful olive oils in the world come from the Southern Hemisphere.
This year's harvest is being hailed as the best in a decade, so, if this is your first experience of Australian olive oils, you are in for an extraordinary treat!
I've been scouting Down Under for at least 15 years. All in all, I estimate that I've spent a year of my life in Oz—after the 10,000-mile air journey from North Carolina, I make it a point to stay a while. My Merry Band and I often cover thousands of miles within Australia itself, as its land mass is 3/4 the size of the US but with about a tenth of the population. Most of my olive-growing contacts are in the southeastern state of Victoria, where traveling between farms can take several hours.
How the Olive Got Down Under
Olives were introduced to "the lucky country" by 19th-century Italian and Greek immigrants who, lore has it, cleverly smuggled olive plants into their new homeland by sewing the cuttings into the hems and lapels of their clothing. With a climate mirroring that of the Mediterranean, Australia provided a welcoming olive habitat. In 1895, industrious growers established an olive research station at Wagga Wagga, New South Wales, seeking to promote olives as a viable cash crop. But enthusiasm dwindled and the olive project was abandoned as Australia's main agricultural focus turned to cattle ranching.
A century later, in 1995, in a wave of renewed interest, the contemporary olive oil scene got a jump start with the founding of the Australian Olive Association (AOA), which established some of the world's highest standards for olive oil purity and nutritional content. Suddenly, olive groves cropped up across the Victorian countryside—tax incentives helped smaller farmers plant new groves or rehabilitate existing ones, and local fresh-pressed olive oil became a sought-after commodity at farmer's markets. Many of those growers were weekend warriors with backyard groves, but some of them have endured to develop into celebrated full-time olive oil producers, with dazzling results. In a little more than a quarter century, Australian olive oil has risen to reap top awards at international olive oil competitions and is prized at home and around the globe.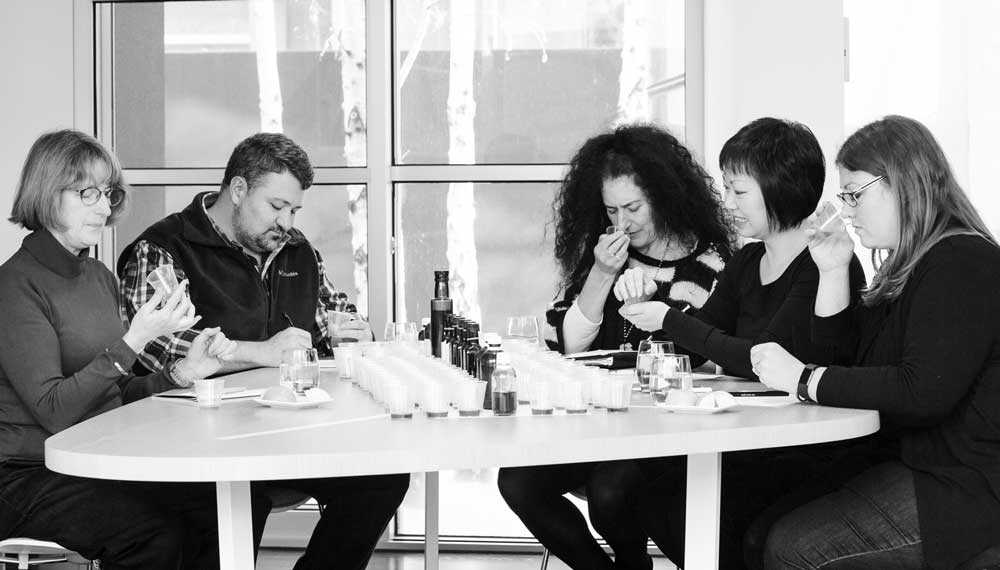 Hands Across the Water
I've forged long-lasting relationships with Aussie olive oil experts, chief among them my dear friends Leandro Ravetti and Melissa Wong, whom you'll get to know in this Pressing Report. Leandro, one of the world's leading experts on olive horticulture and olive oil production, wrote the current set of rigorous AOA standards. Melissa is my trusted "heels on the ground" with an impeccable palate, scouting the best of the Aussie season for me in advance. Traditionally, my Merry Band and I begin each Aussie quest with a grand tasting at Melissa's gracious home in the Melbourne suburb of Toorak (see photo above).
Leandro and Melissa both sent early word that this season's olive harvest was truly "once in a decade." Weather conditions were perfect and the fruit quality was fantastic. In a groundbreaking move for the Fresh-Pressed Olive Oil Club, Melissa's legwork yielded a spectacular Picual from Tasmania, the heart-shaped island about 150 miles off of Australia's southeastern coast, across the Bass Strait. Named for the Dutch explorer Abel Tasman, Tasmania is located at the same latitude as Tuscany—just flipped across the equator—and has a similar temperature range.
I fervently missed being there but was relieved that Mother Nature had allowed for a superlative harvest in light of the many logistical challenges to overcome. Leandro, Melissa, and I conducted extensive Zoom tastings and blending sessions to create the brilliant blends that you now have in hand.
I can't transport you to Australia with your soulmate (although I wish I could), but I suspect strongly that you'll fall in love when you engage with these magnificent, delightfully food-friendly oils from the opposite side of the earth!
Happy drizzling!


T. J. Robinson
The Olive Oil Hunter®
---
This Quarter's First Selection
Producer: Leandro Ravetti 2021, Boort, Victoria
Olive Varieties: Picual, Coratina
Flavor Profile: Mild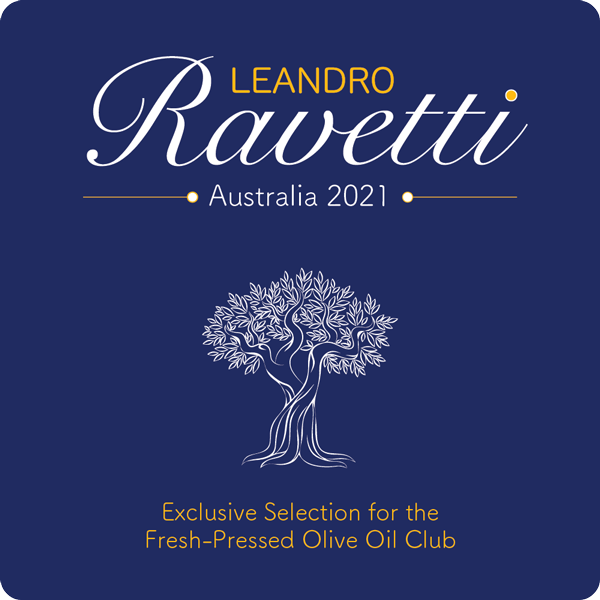 The headline, published by the Australian Broadcasting Company, confirmed what your Olive Oil Hunter already knew: "Victorian Olive Producers Revel in Best Season to Date." Not only did I have samples of premium oils from this Aussie state lined up on my table, but I'd just concluded a Zoom call with Leandro Ravetti, a valued longtime friend of my Club.
"It's been a fantastic season, the best in a decade!" Leandro crowed, confirming what my Australian scouts reported. The trees, he said, emerged strong from a wet, cool winter, flowered profusely, and set branch-bending amounts of fruit. A summer with ideal conditions followed, sparing the trees from destructive temperature spikes and bush fires. "Farmers love to complain, but we didn't have much to complain about this year," he noted with relief.
There was one peculiarity about this season's Australian harvest: the olives began ripening earlier than usual, blindsiding some producers. However, a weeks-long lull in the process occurred when cool but stable autumn air descended on Southeastern Australia. This slowdown—call it "arrested development"—effectively prolonged the harvest. The phenomenon delivered big benefits to growers and consumers.
First, extra days on the tree enabled the fruit to develop more nuanced aromas and flavors, even in the early-harvest olives I favor. You'll notice these sensory expressions when you taste the oils. And the delayed arrival of killing frosts—which quickly slam the harvest window shut on the best olives—made this a banner year for Victoria.
Second, growers had more time to react to one of this season's biggest challenges: an acute shortage of farm labor. Australia, you see, has long relied on a pool of international workers to harvest its produce. According to Olive Oil Times, as many as 200,000 backpackers were employed as farm laborers prior to the pandemic, fulfilling almost 80 percent of the country's seasonal needs. Most have returned to their
respective countries.
Leandro conceded that staffing was more difficult this year, but he managed with about 90 percent of his usual harvest crew. The team simply worked longer hours. Anecdotally, Leandro told me some growers of highly perishable produce—he mentioned peaches—were paying significantly higher hourly wages and offering signing bonuses as large as $5,000 to entice workers.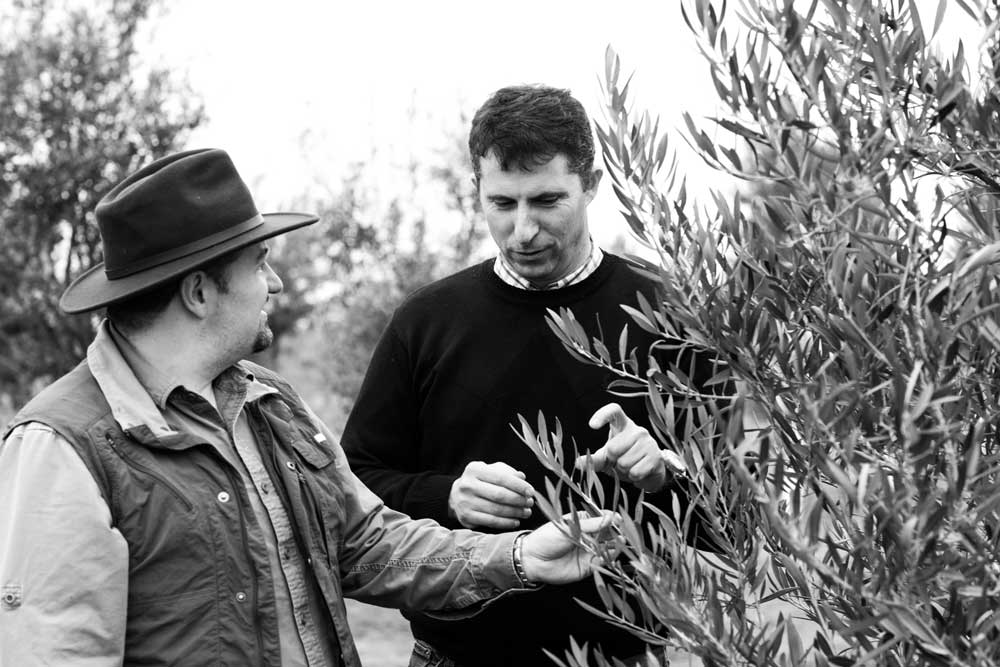 In addition to the epic Australian harvest, Leandro is celebrating his 20th year in Australia. (Originally, he intended to stay just two years.) The Argentinean graduated with honors in 1996 with a degree in agricultural engineering from the National University of Catamarca before completing post-
graduate work in Italy and Spain. In 2001, the rising star was recruited by Modern Olives of Lara, Victoria. As the technical director of the company, which offers laboratory and consulting services, Leandro quickly established himself as one of the world's most influential olive oil experts.
As comfortable in a sweatshirt as a bespoke suit (echoing his ability to diplomatically straddle the crevices between Old and New World producers), the youthful-looking Leandro marvels at the places his training has taken him. "When I came here as an agronomist, it was with the thought of improving olive oil quality standards. I only intended to stay two years. It's truly been an amazing journey." And though he recently moved to a lust-worthy waterfront apartment in Geelong, a 3-hour drive from Boort, this guy shows no signs of slowing down.
I have worked closely with Leandro for more than a decade. Our mission? To help my Club members build what we call "taste libraries" in the way wine connoisseurs who know their grapes do. Like me, he is continually refining his own sensory catalogue, and appreciates the top-tier oils I've sent him from Europe and Chile—the same oils my Club members receive. (He was very eager to try the rare Tasmanian Picual; read about it below.)
A funny story: Last year, I sent the Australian oils to Leandro's parents in Argentina, knowing they'd be proud to see his name on the label. "They were," he reported. "But my mother said she actually preferred the Nullamunjie." We had quite a laugh over that.
The exclusive Leandro Ravetti blend you just received features two incredible extra virgin oils. One is an intriguing Picual, a Spanish varietal that seldom appears in the Club's mildest selection. The second is a stunning Coratina, one of the finest he's produced, says Leandro. What a special privilege it is, dear Club member, to taste the best extra virgin olive oils in over a decade from a passionate producer a half a world away!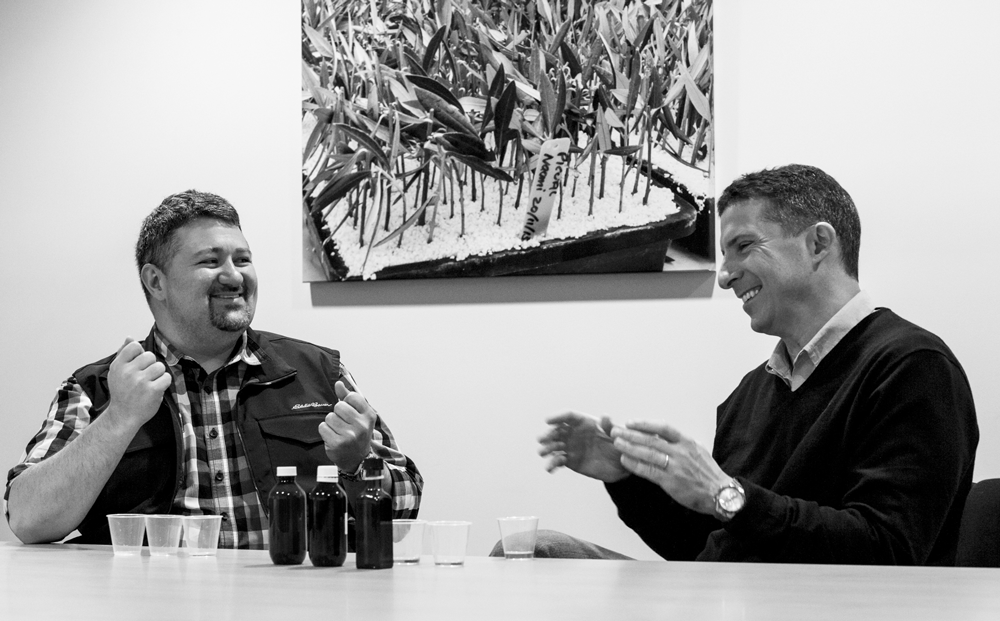 Impressions and Recommended Food Pairings
This fragrant oil shows the softer side of Picual and Coratina, typically muscular cultivars. It's a dazzling golden-green in the glass, the nose evoking green banana, endive, golden apple, and marzipan along with the green herbal notes of tomato leaf, sweet basil, and baby spinach. Rich and harmonic in the mouth, redolent of banana, green beans, and celery, with the bitterness of endive. Expect a lingering, white pepper finish.
Try this food-friendly oil with eggs or dairy (yogurt, mild cheeses, ice cream); fruit or vegetable smoothies; granola; pasta; yellow curries; potatoes; roasted yams; crudités; salads; autumn fruits; chicken, pork, and turkey; shellfish, especially lobster, or mild fin fish; baked goods including quick breads.
---
This Quarter's Second Selection
Producer: Nullamunjie 2021 Blend, Tongio, Victoria
Olive Varieties: Frantoio, Coratina, Leccino, Pendolino
Flavor Profile: Medium

The late Danish comedian and musician Victor Borge once said, "Laughter is the shortest distance between two people."
Which explains how 10,000 miles and 14 time zones seem to fall away when I speak to one of my dear friends, olive oil producer Annie Paterson, via video conferencing. Because we laugh. A lot. Ask my Merry Band of Tasters, who remember fondly all the chuckles, giggles, and gleeful moments we've shared during our many visits to Annie's hillside olive groves and mill. Hilarity has always run like a strong thread through our relationship with this remarkable woman.
The entrepreneurial fire was kindled in Annie (real name: Annetta) when she was in her early twenties. Captivated by the beautiful olive trees she saw from a tour bus en route to Delphi, Greece, Annie was convinced they would thrive in the rocky, mineral-rich soil of her family's Victorian cattle ranch. Her instincts were spot-on: Southeastern Victoria and southern Greece are roughly equidistant from the Earth's equator. Both are located near the 37th parallel and have similar climates. But olive groves were a rarity in Australia at that time, and Annie's father, perhaps trying to protect her from disappointment, declined to sell the young woman land.
She married and raised four children before realizing her dream. In 1998, Annie acquired property in East Gippsland at the base of Mt. Stawell. Part of the land's appeal was its proximity to the Tambo River and the scenic Great Alpine Road. Six hundred olive trees were planted initially, including Frantoio, Correggiola, and Leccino. All are Italian varietals that have adapted well to the microclimates of the Victorian Alps. Today, the energetic pearl-wearing grandmother oversees some 3,000 trees. From my perspective, that's an optimal number for a hands-on grove owner to manage: neither too big nor too small.
And Annie is nothing if not hands-on. In one of my favorite images of her, she is smiling broadly while wearing a hardhat and wielding a chainsaw. "I absolutely love pruning," she said. She employs a post-harvest technique called vase-pruning that she learned at a New Zealand olive oil conference. Select scaffold branches are pruned to within a foot of the trunk, maximizing sun exposure to the tree's center and maintaining the tree's overall health and compact, harvest-friendly shape.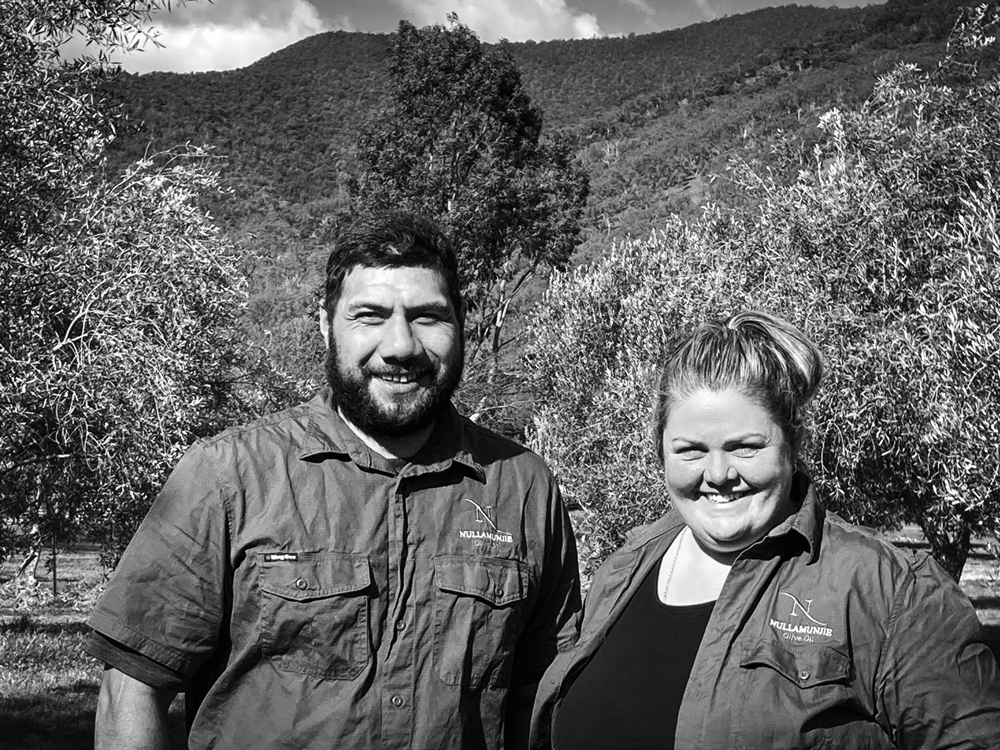 Speaking of harvests, Annie had my team and me in stitches recently during a mirthful Zoom-enabled reunion.
With her irrepressible good humor, she recounted her attempts to hire dependable olive pickers. The usual pool of willing and experienced labor including family, "grey nomads" (older roving farm workers), and the occasional backpacker had all but dried up due to pandemic-related travel restrictions. Her version of the story could've inspired an episode of I Love Lucy. But the resourceful Annie eventually cobbled together a harvest team with "can-do" attitude (including secondary school students on break) that wasn't afraid of hard work and that treated her tender olives with care and respect.
Near perfect weather conditions meant most producers on Australia's east coast enjoyed improvements over 2020 in olive quality and yields. Many Victorian producers—Annie included—enjoyed one of their best seasons in a decade.
Social gatherings are still restricted in parts of Australia, meaning Annie's popular restaurant, The Pressing Shed Café, is temporarily closed. Brisk local sales of her extra virgin olive oils keep her busy, however, and remind her of the renewed interest in home cooking. She also has a new puppy—a rambunctious Cairn terrier—that joyfully joins her on quiet walks in the olive grove.
The extra virgin olive oil you just received is a unique blend created exclusively for members of the Fresh-Pressed Olive Oil Club. It's a very well-balanced and versatile oil, one I know you'll enjoy with your seasonal menus.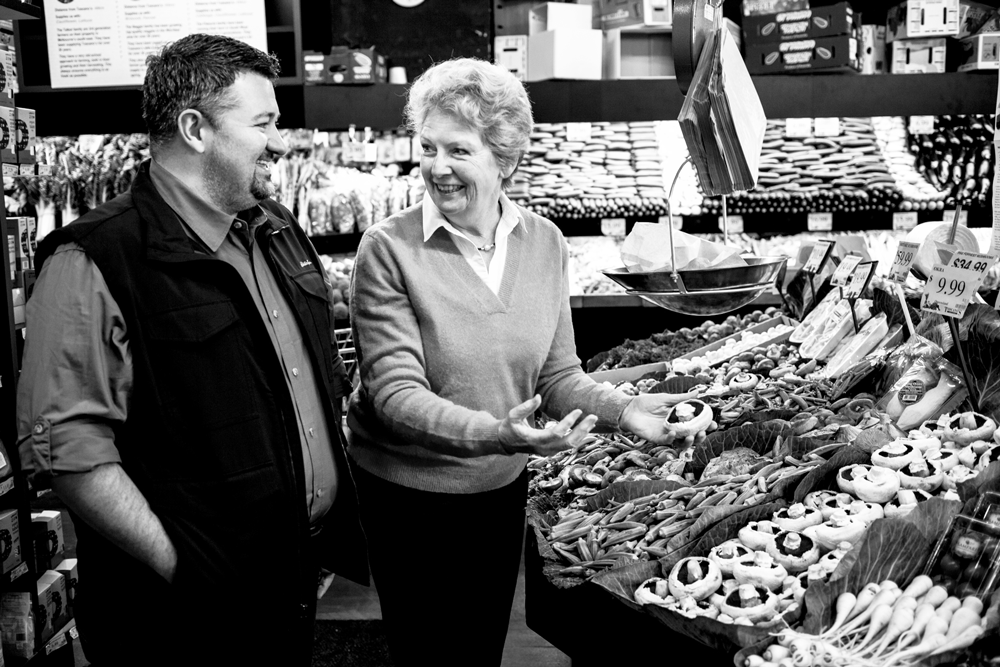 Impressions and Recommended Food Pairings
This exquisite blend is grassy and herbaceous on the nose, delivering fresh basil, thyme, parsley, artichoke, and green almond with pear and baby arugula. Romaine lettuce leads in the mouth. Also wheatgrass, green apple, almond, rosemary, and wild mint. Enjoy a green tea-like astringency on the finish as well as the pepperiness of arugula.
Pair with coarse bread and salt; white beans, lentils, and chickpeas; broccoli; flatbreads; roasted or grilled meats; pesto; oilier fish such as salmon, tuna, or barramundi; sturdy greens; roasted squash, turnips, parsnips, or carrots; roasted pears or apples; charcuterie; and chocolate desserts.
---
This Quarter's Third Selection
Producer: AuLife 2021, Toorak, Victoria
Olive Varieties: Coratina, Correggiola, Picual
Flavor Profile: Bold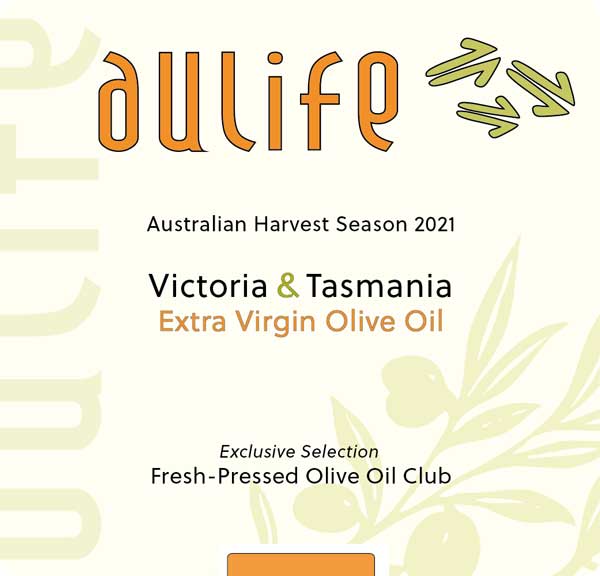 Have you ever enjoyed a dish that was elevated to an entirely different plane by the addition of a minuscule amount of a special, maybe even precious ingredient? I'm thinking, for example, of floral-tasting Persian saffron added to Arborio rice to make Risotto Milanese. Just a few golden-red threads do the trick. Or fresh pasta dusted with delicate shavings of earthy but extravagant white truffle.
The outstanding Tasmanian Picual featured in this distinctive blend is one of those transformative ingredients, the gold dust to Homer's "liquid gold"—the ancient world's term for olive oil. And we have my longtime friend Melissa Wong to thank for this taste experience, dear Club member.
I first met the vivacious Melissa, a Columbia and Harvard alum, in New York when we were both involved with the Food Network. Later, the worldly Melissa (she was born in British Columbia to Chinese immigrants) indulged her entrepreneurial ambitions by opening an Italian restaurant in Beijing with a Michelin 2-star chef. After relocating to Melbourne with her attorney husband, Robert, she founded AuLife to promote Australian olive oils and other fine foods from Down Under.
I could not have predicted that years later, Melissa would play such an important role in my quest to put the world's finest extra virgin olive oils on Club members' tables. She has hosted olive oil tastings for me and my Merry Band of Tasters at her lovely Toorak home, introduced me to several New World olive oil authorities, scouted tirelessly for the best Aussie producers, and managed with her characteristic charm and competence many pesky logistical details.
Melissa's experience and refined palate—not to mention the discovery of the aforementioned Picual—helped me fine-tune this special blend sourced from Victorian and Tasmanian oils. Melissa's extensive contacts, even in a pandemic-challenged year, made it possible.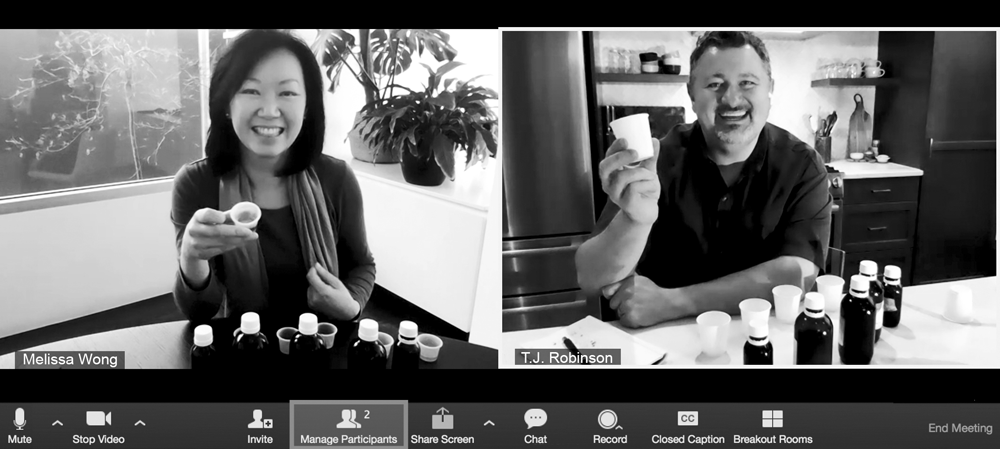 We started with pressings from two award-winning producers, both familiar to us and longtime Club members: an exceptional Coratina from Boort master miller and olive oil expert Leandro Ravetti (read more about him below), and an equally stunning Correggiola from Kyneton Olive Oil. Both varietals are originally from Italy and typically have high polyphenol levels. They make up the bulk of this blend. Though I found the combination brilliant, I craved a tad more structure and intensity. A small dose of a boutique Picual was…well…just what the doctor ordered.
As a matter of fact, Tasmanian producer Fiona Makowski is a medical doctor. She and her husband, Glenn, bought their 50-acre farm (called Freshfield Grove) near Hobart eight years ago. Together, they tend about 1,000 trees, a mix of Picual and Manzanilla varietals, that were planted by the property's previous owners. A diminutive on-site mill enables them to press their olives promptly, often within minutes! Pre-pandemic, they also hosted a popular community-wide pressing for people with smaller quantities of fruit. They hope to resume the tradition next season.
For Fiona, a native of the UK, living in Tasmania—population 500,000—is a dream come true. (Glenn is originally from Hobart.) The island state is the smallest in Australia, separated from the main continent by the Bass Strait. Nearly half the land is dedicated to national parks, wilderness areas, and World Heritage sites. It hosts some of the planet's most eccentric wildlife, including the Tasmanian devil, a cute but famously ill-tempered marsupial about the size of a small dog.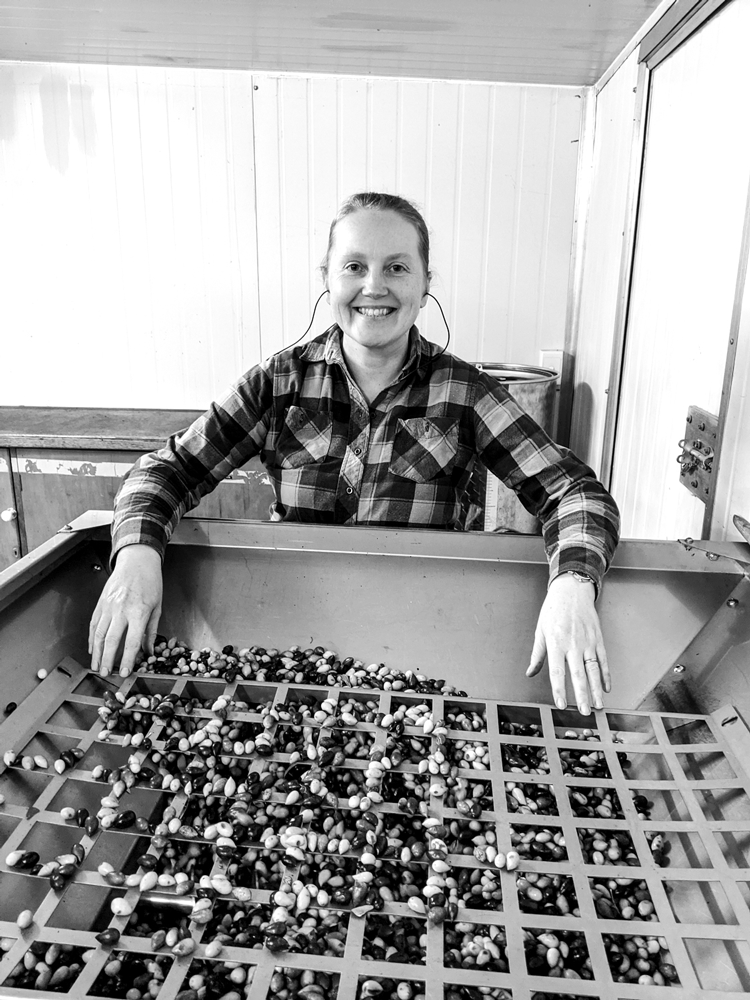 Fiona says she and Glenn knew little about olives when they acquired the farm. But she is an enthusiastic researcher. A week's immersion in Italy's olive oil culture also helped the young couple get their bearings. Still, Fiona found pruning to be intimidating. "I was so afraid I'd kill the trees," she laughed. "And some of them did have a weird shape for a while." Her long-term goal is to maintain the trees' compact shape for easier hand-harvesting. Today, Fiona is the president of the Tasmanian chapter of the Australian Olive Association (AOA) and mentors other less experienced growers. "I am so excited to send our oils to faraway shores," she gushed.
Of all the olive-growing regions in the world, Tasmania is among the most extreme. Leandro Ravetti recalls a certain Tassie slogan: "Cool food from wild places." Frost is a frequent seasonal threat in the higher southern latitudes for the slow-to-ripen olives. Yet Tasmanian oils, Leandro points out, often steal the show at AOA-sponsored competitions.
This is the first time I've had the opportunity to send my Club members a blend containing a Tasmanian Picual and such outstanding exemplars of Coratina and Correggiola. These New World expressions of Old World flavors will be a thrilling addition to your cool-weather table. Please let me know what you think!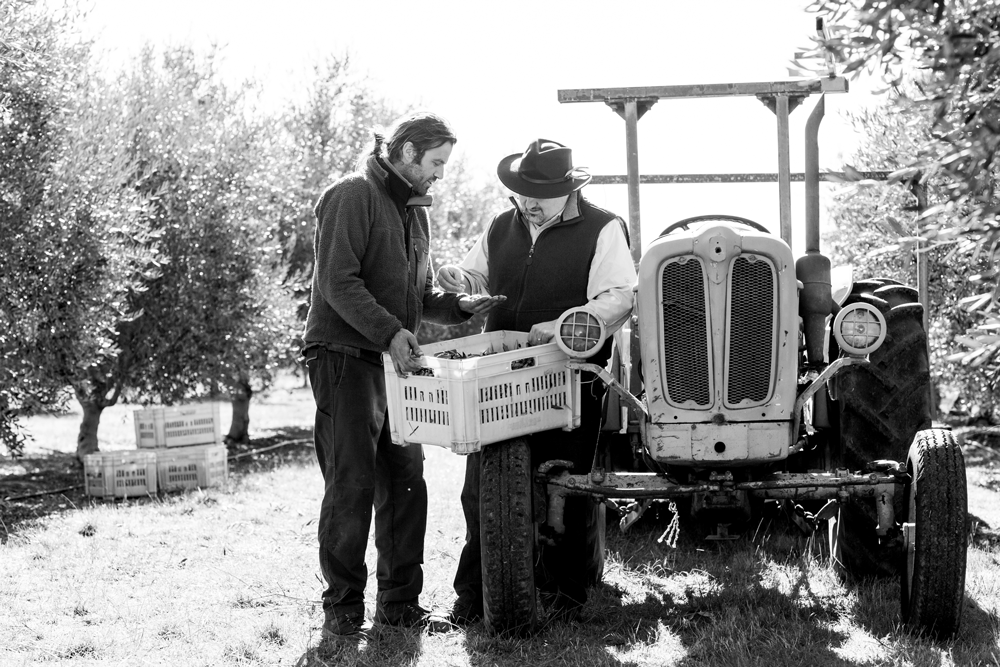 Impressions and Recommended Food Pairings
The grassy olfactory profile of this truly international blend includes Tuscan kale, ripe tomato, kiwi, citrus, thyme, watercress, and a bit of nuttiness. Bitter—almost chewy—in the mouth, but very well-balanced. We tasted lime zest, radicchio, fennel, tomato leaf, dried bay leaf, and parsley. Also the spiciness of watercress and Szechuan peppercorns.
This is a powerful oil, a match for beef or lamb; duck or game birds; salmon or mackerel; tomato-based dishes such as marinara or pizza; aged cheeses; roasted root vegetables; dark, robust greens; cruciferous vegetables; kidney or black beans; and dark chocolate.
---
Olive Oil and Health
The Effects of the MIND and Mediterranean Diets on Parkinson's Disease
Adapted from an article by Dr. Rebecca Gilbert, American Parkinson's Disease Association, May 4, 2021
New research into the best diets for Parkinson's Disease (PD) reveals the Mediterranean and MIND diets may be associated with later age of onset of PD. Components of a Mediterranean diet include vegetables; fruits; whole grains; legumes such as beans, peas, and lentils; nuts; low-fat proteins, such as fish and poultry; and olive oil.
Another diet, known as the Dietary Approaches to Stop Hypertension (DASH) diet, was designed to help treat and prevent high blood pressure and emphasizes many of the same principles as the Mediterranean diet. More recently, experts suggested a combination of the Mediterranean and DASH diets, meant to maximize cognitive benefits. It is entitled the Mediterranean-DASH Intervention for Neurodegenerative Delay (MIND) diet. Components of the MIND diet include green, leafy vegetables; all other vegetables; berries; whole grains; beans; nuts; poultry; fish; red wine; and olive oil.
The principles of the MIND diet are very similar to the Mediterranean diet, with some notable additions. The MIND diet recommends green leafy vegetables such as spinach and kale as the first choice over other vegetables. Berries (such as blueberries) are specifically promoted, as opposed to fruit in general. A small amount of red wine daily is also encouraged. (Please discuss this with your doctor.)
Why do these diets work?
The scientific underpinnings as to why these diets affect brain health are not fully understood and likely consist of a combination of different positive benefits—some of which have been established and others that have not. It is possible that the established heart benefits of the diets drive some of the brain health benefits. That is, the diets promote healthy hearts and clean blood vessels and therefore support excellent blood flow to the brain. It is well established that vascular disease in the brain can contribute to cognitive decline as well as the motor symptoms of Parkinsonism. Therefore, ensuring that the brain achieves good blood flow has positive benefits on brain health for everyone, especially those who have a disease such as PD.
In addition, specific components of the foods encouraged in these diets may work on the cellular level to protect neurons from cell death or decrease neuroinflammation. But knowing which elements are conferring the benefit is not straightforward. To date, researchers have not been able to identify a specific nutritional supplement that achieved the type of benefits in clinical trial demonstrated in this diet study. Currently, therefore, the best way to ingest the nutrients that protect the brain is through a comprehensive dietary plan and not by taking a defined group of supplements.
Takeaways
A new study has demonstrated that the MIND and Mediterranean diets are associated with a delay in onset of PD symptoms
Both of these diets emphasize vegetables, fruits, whole grains, legumes, nuts, and olive oil
The MIND diet adds green leafy vegetables and berries as important elements
Reference: Metcalfe-Roach A, Yu A, Golz E, et al. MIND and Mediterranean diets associated with later onset of Parkinson's Disease. Mov Disord. 2021;36(4):977-984. doi: 10.1002/mds.28464.
---
Kudos from Club Members
Like a child at Christmas


I must tell you that since I first started using your olive oil, I get excited like a child at Christmas time every quarter, waiting for the arrival of my new shipment. It is delicious. I use it for most everything I cook, including eggs. My favorite side—escarole sautéed in your olive oil and chopped garlic. (I call that "Italian collard greens").
---

Recipes