Introducing Three Magnificent Fresh-Pressed Extra Virgin Olive Oils from Australia, the "Lovely Island"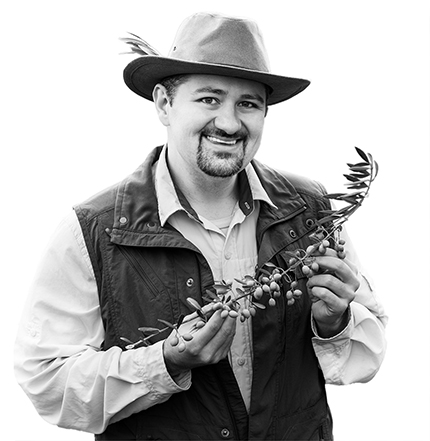 Created exclusively for Club members by the Olive Oil Hunter and award-winning Aussie producers, all have been rushed to you at their peak of freshness and flavor.
An independent lab has certified these oils to be 100 percent extra virgin.
This dazzling trio represents an exciting range of flavors with a unique New World flair.
Accompanied by astute food-pairing suggestions and tantalizing recipes, these exquisite oils will invigorate your autumn menus!
---
G'day, mate! Greetings from Down Under, my favourite source of the finest olive oils on earth this time of year. 'Strewth! I'm thrilled to be heading home (logging 20,000 miles round trip) with three gorgeous, harvest-fresh, and healthful oils, each an exclusive collaboration between me, your globe-trotting Olive Oil Hunter, and expert Aussie artisans I know and trust.
Australia is home to a lively and thriving extra virgin olive oil culture characterized by its attention to quality and generous collegial spirit. In my annual visits over the past decade I've seen Aussie olive oil production transform from scrappy small-time hobby farmers (many of whom started raising olives as a "second-home" tax break and found they loved it) into an award-winning roster of artisanal producers—still scrappy, always collaborative—who implement some of the most advanced growing and pressing techniques on the globe.
One man, above all others, has been instrumental in helping maintain the quality-focused movement in Australian olive oil production: my dear friend and longtime collaborator Leandro Ravetti. Whenever I'm in 'Straya I hope to collaborate with Leandro, if he's on the continent—a master miller, horticultural scientist, and expert panel judge, Leandro is always in high demand. Any given moment might find him evaluating EVOOs in Japan or consulting with olive growers in California.
This Harvest, No Worries
My scouts sent word that Oz had seen a good harvest this year. "Good" is relative, of course, as Mother Nature is fickle—our dear friend Annie Paterson, the irrepressible proprietress of Nullamunjie Groves and a perennial Club favorite, did not have such luck, so as soon as I'd landed in Melbourne she and I made a point of collaborating on lunch instead.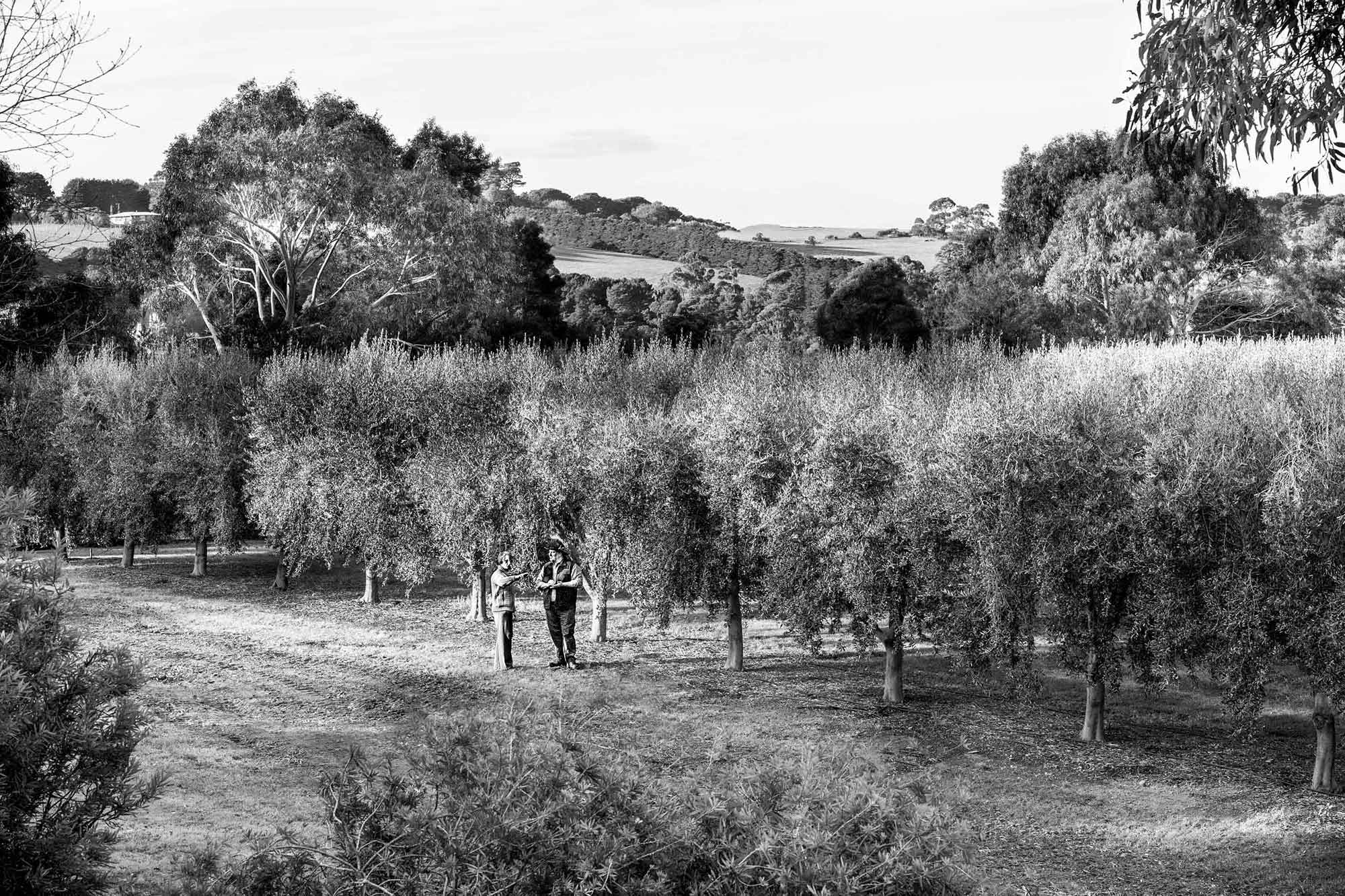 The weather this season was normal, with no extremes of temperature, no heavy rains, a mild autumn, and no premature frost. A few areas were drier than usual. Several producers experienced that the super-green fruit I prefer was difficult to pluck from the trees, but they persevered because they know how passionate I am about early-harvest olive oil. Leandro attributed the issue to green fruit's lower levels of ethylene, a natural hormone in plants that induces fruit to be released from the branches. (When you smell the sweetness of an overripe banana, that's ethylene.)
Ordinarily, if I'm presented with ten EVOOs that are considered "great," I'll find few that impress me. Yet so many of the Aussie offerings this season were truly outstanding. It was an embarrassment of riches.
Our first stop was to consult with expert taster and Australian olive guru Jill Barson, who sits on the board of the Olive Wellness Institute, an organization dedicated to educating the public about the health benefits of EVOO. My Merry Band of Tasters and I journeyed about an hour outside Melbourne to visit with Jill at her stunning home and olive groves in Mornington, a lush, green enclave I compare to the Hamptons. Jill's home is extraordinary—a hybrid of modern and classic, it has a nearly panoramic view of her groves, with the sea in the distance.
Jill loves to get her hands in the soil, raising flowers and vegetables as well as olives. She also has a brood of about 30 hens, a rare breed with feathered feet (they look like they're wearing shaggy boots), and shares their eggs with her neighbors in Toorak, the Melbourne suburb where she lives in the off-season. (Back in Toorak, Jill is a walking buddy of our close friend, longtime Club collaborator, and honorary member of the Merry Band of Tasters, Melissa Wong. Learn more about Melissa below.)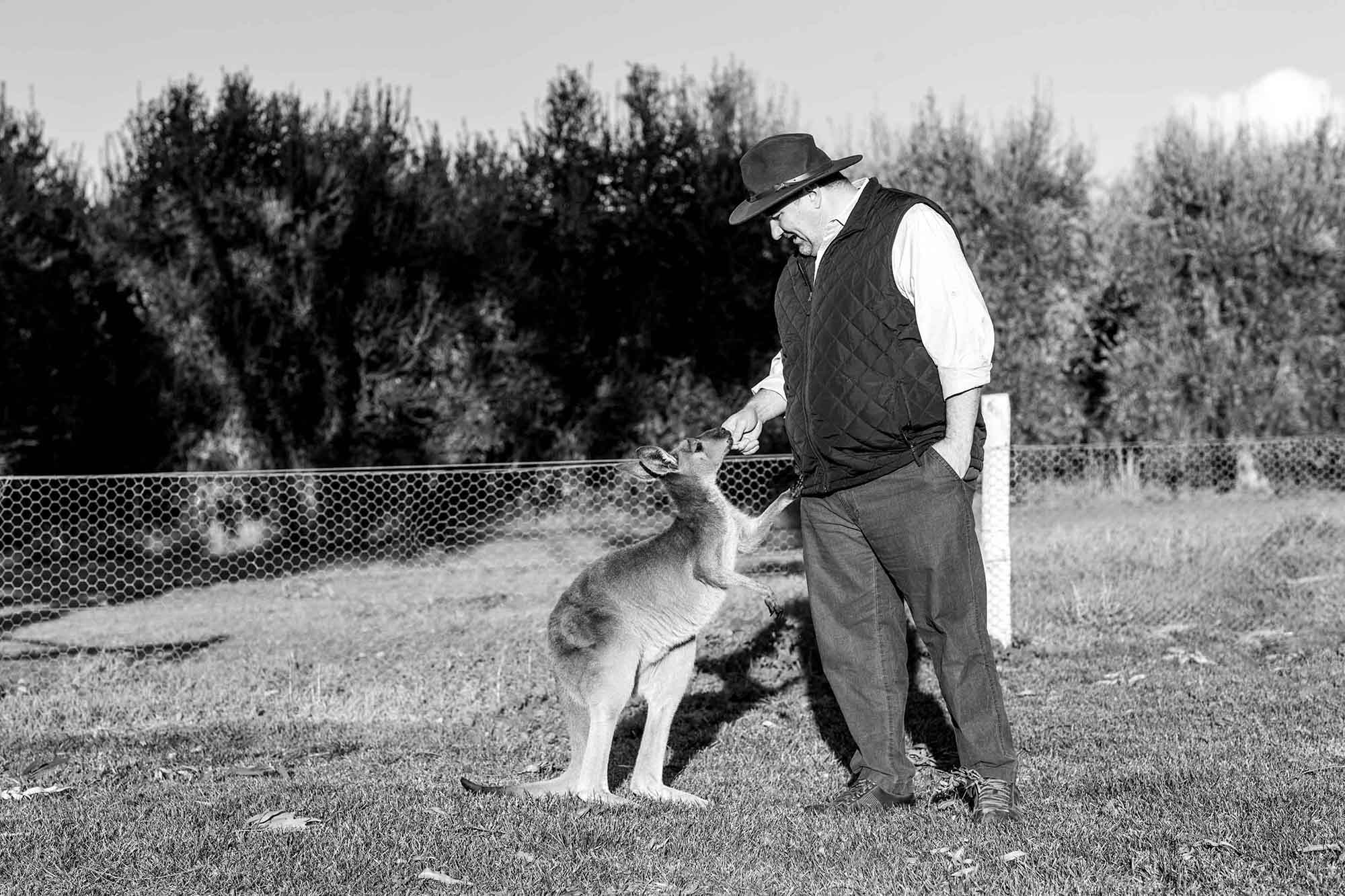 Jill treated us to a scrumptious lunch she dubbed a "pick and dip," with several tasty Middle Eastern meze dishes, including roasted eggplant and tomato with a spicy red pepper relish, smoked Tasmanian trout and salmon, pickled carrots, and crusty local bread. Everything was made even more delicious with generous drizzles of just-pressed olive oil.
Kangaroos and Olives, Too
Another key figure on the Aussie olive oil scene is Lisa Rowntree, past CEO of the Australian Olive Association (she served from 2011 to 2017). Created in 1995, the AOA helped jump-start modern Australian olive oil production and set the standards for EVOO quality.
Lisa, her husband Jim (an engineer), their four children, and their children's partners live and work on their olive farm, Longridge Olives. "It's like a kibbutz," Lisa quips. An eight-hour drive from Melbourne, Longridge is near the town of Coonalpyn, in the state of South Australia. Last year the Roundtrees built their own mill—true to the resourceful Aussie spirit, they bought high-quality components from fellow producers and combined them (with the family's engineering expertise) into a truly state-of-the-art mill.
The family shares its space with an active animal menagerie: three dogs; two goats (the billy may saunter through the kitchen when the door is ajar); and kangaroos. Lisa works with a local animal rescue to foster baby kangaroos, which she bottle-feeds. You can see me with one of the 'roos, Melly, in the photo above.
Finally, we made our way back up to collaborate with our good friends at the Kyneton groves. The estate manager, Mick Labbozzetta, whose parents came from Italy, and an Italian master miller, Davide Bruno, combine an Old World sensibility with New World practices to create a great Australian synergy. That seems symbolic to me, as it was Mediterranean immigrants who brought the first olives to Australia, with cuttings smuggled inside the lapels of jackets, in order to plant trees from their homeland in the soil of their future.
The three dazzling Down Under discoveries that await you are bursting with personality and polyphenols. How they will enliven your fall-weather menus! (Get your culinary inspiration flowing with the enticing recipes below.) And know that each of these exquisite oils is the product of the passion and dedication of artisans halfway around the world. Oath!
Happy drizzling!


T. J. Robinson
The Olive Oil Hunter®

---
This Quarter's First Selection
Producer: Leandro Ravetti 2019, Boort, Victoria
Olive Varieties: Picual, Koroneiki
Flavor Profile: Mild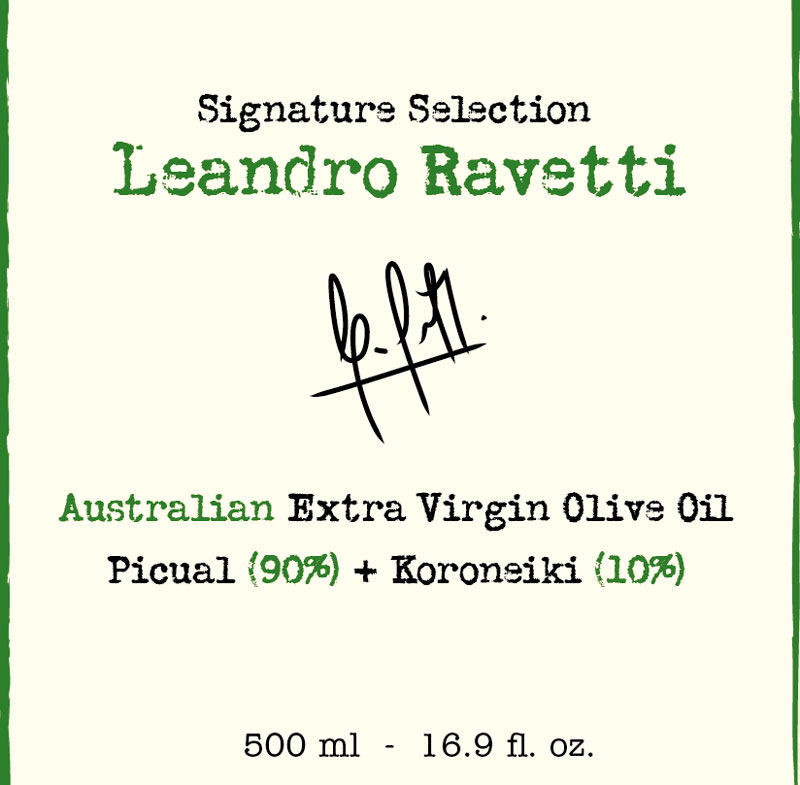 "What?" you might be thinking, about the descriptive details above. "Picual? As a mild selection? Is this an upside-down world?"
Well, yes, it is, in more ways than one. Australia takes great pride in its idiosyncrasies, whether inscrutable slang or mammals that lay eggs. Here, water drains counterclockwise, autos drive on the left, and, to my delight, olive varieties often take on pleasingly different aromatic and flavor traits from their Old World counterparts.
Veteran Club members may note that my global Picual selections over the years have traditionally occupied the "bold" position in the trio. More than a few times I've described a robust Picual as "pesto in a bottle." So how has this olive variety accomplished such a stretch—as if an operatic baritone could also sing coloratura soprano?
Enter Leandro Ravetti, longtime dear friend of the Club, master miller, and international olive oil expert. Among his multiple global engagements, Leandro is the technical director of Modern Olives, a uniquely influential company in Lara, Victoria, that provides consulting services to olive growers and conducts cutting-edge horticultural research with its on-site olive nursery and laboratory. A native of Argentina, Leandro came to Australia in 2002 to help launch the company, anticipating that he might stay for a couple years. He's lived in Victoria ever since and has played a leading role in shaping the contemporary Australian olive oil scene.
As my Merry Band of Tasters and I pulled up to Leandro's grove in Boort, Victoria, our jaws dropped simultaneously as we witnessed hundreds of olive trees uprooted, ripped out of the ground, lying on their sides. I nearly had a panic attack! Imagine gigantic toy soldiers toppled over—but olive trees, with their root systems like huge, dirt-encumbered boots. I could see that the trees were healthy and alive, but nonetheless I steeled myself. (No one can say I'm not a worrier!)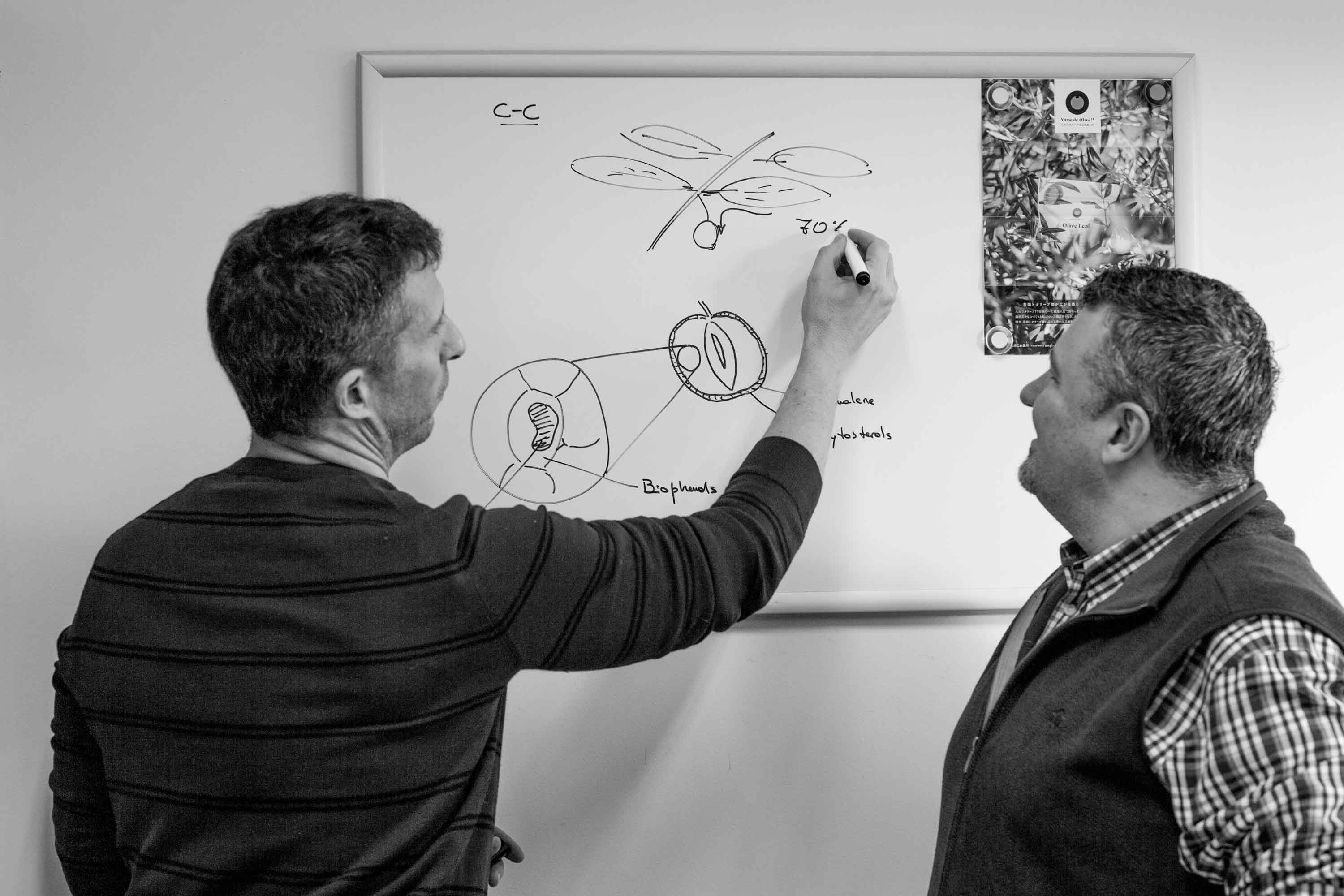 In mellow, typical Aussie style, Jay Brown, one of Leandro's team, reassured me, "No dramas. Everything's good." As it turned out, these were all Barnea trees. Leandro explained that Barnea is a finicky olive tree, prone to botanical maladies, so over the past several seasons his team has systematically removed the Barnea trees, plot by plot, replacing them with different olive varieties.
One of those plots was replanted with Picual trees in 2015. This is their debut harvest—the first season their fruit has been ready for pressing. And what a triumphant debut! "They had the best-looking fruit," Leandro praised. "Just perfect, green, with just a hint of pink in the flesh."
Each time Leandro and I collaborate on an exclusive oil for my Club, I learn something (actually, often several things). This time around, I encountered the surprising "young tree" aspects of Picual—lighter, with a fruitiness you don't get from a robust, early-harvest Picual, which is traditionally all about the dark-green aromatics. The young Picual still puts forth a very green roster, including the characteristic green tomato and tomato-leaf qualities, but it manifests different, more delicate variations on the expected theme.
We added a bit of Koroneiki to the blend to enhance the complexity and increase its polyphenol content. The Koroneiki, too, amazed me with its unexpectedly fruit-forward nature Down Under.
Leandro, my Merry Band of Tasters, and I celebrated another brilliant collaboration with lunch at a café inside Federal Mills, a mixed-use industrial space in the nearby town of Geelong. The popular destination houses offices, artist studios, and restaurants inside a massive former woolen mill. We enjoyed grilled lamb over salad, Aussie beef burgers, and a vegan platter with hummus, falafel, and stuffed grape leaves, all enhanced with exuberant splashes of this exceedingly food-friendly blend!
Impressions and Recommended Food Pairings
A sweet, subtle perfume is released when you open the bottle. Most prominent on the beautiful nose is the scent of wheatgrass, along with green banana, golden apple, white pepper, celery, the herbal notes of wild mint and parsley, tomato leaf, and butter lettuce. In the mouth it's pleasantly creamy, presenting green banana, green tomato, fennel, macadamia nut (native to Australia), and vanilla bean. Exhibits a delicate bitterness, like celery leaf or romaine lettuce, and mild pepper. The finish is fruity, long, and nuanced.
My tasters and I envision this beguiling oil on fruit, root vegetables (especially carrots, parsnips, beets, and sweet potatoes), pumpkins, acorn or butternut squash, tomatoes, rice or cauliflower rice, mashed or roasted potatoes, poultry, lobster, shrimp, and mild white fish. It would also be great in banana bread or olive oil cake (see a recipe below). Try it drizzled over yogurt, ice cream, or cottage cheese.
---
This Quarter's Second Selection
Producer: AuLife 2019, Toorak,Victoria
Olive Varieties: Coratina
Flavor Profile: Medium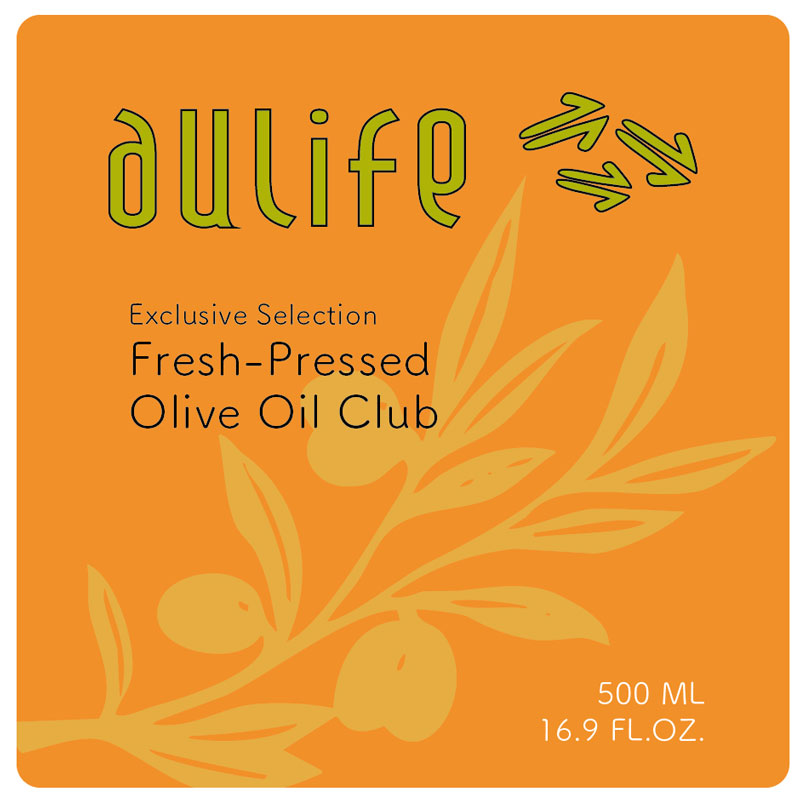 One of my most valuable olive oil resources on the Australian continent is the stylish and worldly Melissa Wong, whom I met at the original Food Network studios years ago when we were both living and working in New York City. Little did we know she would become my high-heeled "boots on the ground" when I initiated my search for the Southern Hemisphere's premium extra virgin olive oils.
Few people Down Under have more experience in sourcing superior specialty foods than Melissa, particularly olive oil. Born to immigrant parents in Vancouver, Canada, the former Hong Kong resident exhibited her multicultural moxie when she partnered with a 2-star Michelin chef and opened an Italian restaurant—Ristorante Sadler—in Beijing. Eager to re-establish active connections to the food world when she and her husband, Robert, relocated to Melbourne, Australia, Melissa founded AuLife to promote the country's extraordinary olive oils and other top-shelf food products.
Thanks to her, I've become acquainted with some of the most influential people in Australia's close-knit olive oil community, including authorities Lisa Rowntree, the former CEO of the Australian Olive Association, and Jill Barson, a board member of the Olive Wellness Institute. Read more about these two accomplished women above.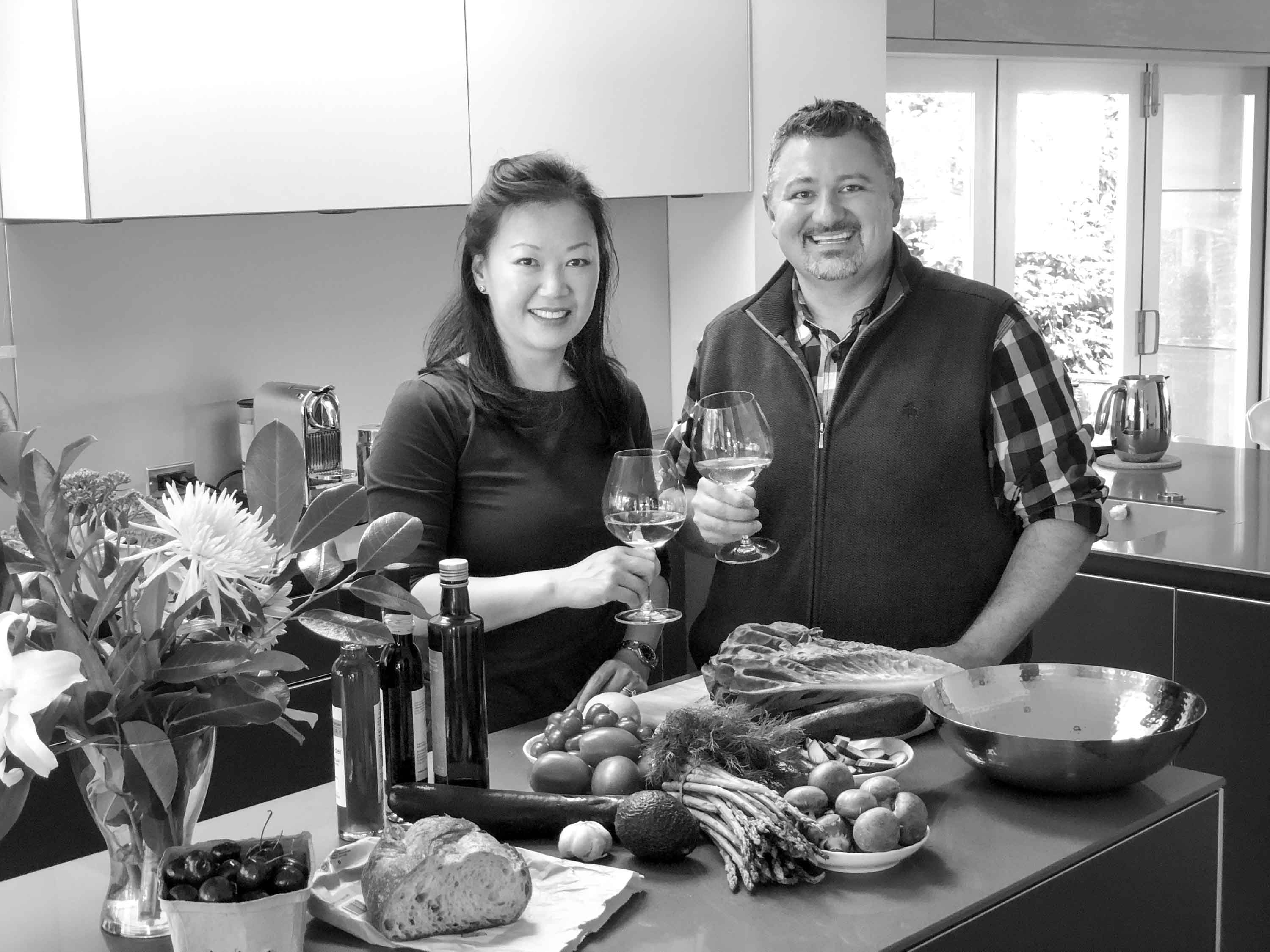 Today, Melissa and Robert, a lawyer, live in Toorak, an affluent suburb about three miles from Melbourne's Central Business District. With a population of about 12,000, it's well known for its posh boutiques, cafes, and restaurants. Toorak is like the Beverly Hills of Melbourne, its postal code of 3142 as coveted as 90210. (The fictional Jed Clampett family might have taken up residence in one of Toorak's surviving eighteenth-century Victorian mansions had the Beverly Hillbillies been filmed in Australia.)
Many times, Melissa has hosted grand tastings for my Merry Band of Tasters and me in the couple's beautiful home. This year, thanks to careful planning and advance work by dedicated scouts like her, I already had several promising producers and olive varieties in my sights when I landed at Melbourne's Tullamarine Airport.
One olive variety that intrigued me was proposed by Melissa herself. Through her many contacts among Australian olive oil producers, she discovered two potentially exceptional Coratinas being produced by skilled millers—one in northern Victoria, and one farther south. Once pressed, either oil, she reasoned, might meet my extremely high standards (with which she is well-acquainted).
The Coratina cultivar, which has adapted well to Victoria's soil and Mediterranean climate, is originally from Puglia, the heel of the Italian boot. It can be described as both spicy and fruity, and often exhibits high levels of phenolic compounds. (It is these compounds that contribute to fresh-pressed olive oil's much-touted health benefits.)
When I finally tasted the two Coratinas, I liked both samples very much. Each one brought something different to the table. It was an easy decision to combine them, creating a unique boutique blend that is truly greater than the sum of its parts. Never before have I been able to offer Club members a single varietal Australian Coratina. This is an exciting oil, one I know you'll enjoy with fall menus.
Speaking of cooking, Melissa and I celebrated our latest successful olive oil collaboration in her well-appointed kitchen. (See the photo above.) We shopped for dinner at one of the city's gourmet markets, deciding on a main course of grilled barramundi. (Barramundi is a sustainable fish native to Australia and the Indo-Pacific that is also known as Asian sea bass.)
Of course, we were eager to pair our fresh-pressed Coratina blend with food. It did not disappoint! A simple vinaigrette made with fresh lemon juice and zest, a sweet apple cider vinegar, and fresh herbs showed off the Coratina's intrinsic spiciness and rich mouthfeel. We used the vinaigrette three ways—as a marinade for the fish, a dressing for the arugula and tomato salad, and as a sauce. (Veteran Club members, you know what I always say: Fresh-pressed olive oil is Mother Nature's finest sauce!) For a recipe, see below. I can't wait to try this versatile oil with pumpkin, root vegetables, and roasted meats.
Impressions and Recommended Food Pairings
The aroma of fresh-cut grass is evident in this marriage of two Coratinas, followed by chopped fresh culinary herbs, green pear, green peppercorn, arugula, lime zest, kiwi, and celery leaf. We sense a minty freshness and the subtlety of artichoke and green almonds. In other words, this oil is a green dream! The verdant theme continues on the tongue with walnuts, endive, fennel, arugula, green apple, artichoke, dandelion greens, and fresh thyme. Well-balanced, exhibiting both fruitiness and bitterness, with a spicy kick of Szechuan peppercorn on the prolonged finish.
This oil is a perfect companion for Italian dishes, from eggplant to chopped salad with crusty bread to pasta and stews. We'd love it with pork, lamb, or chicken, green beans, eggs, white beans, broccoli, broccoli rabe, braised onions, kale, a fennel/citrus salad, stuffed peppers, ripe tomatoes, aged cheeses, tuna or salmon steaks, or fresh sardines.
---
This Quarter's Third Selection
Producer: Kyneton Olive Oil, 2019, Bylands, Victoria
Olive Varieties: Corregiola, Frantoio, Coratina, Leccino
Flavor Profile: Bold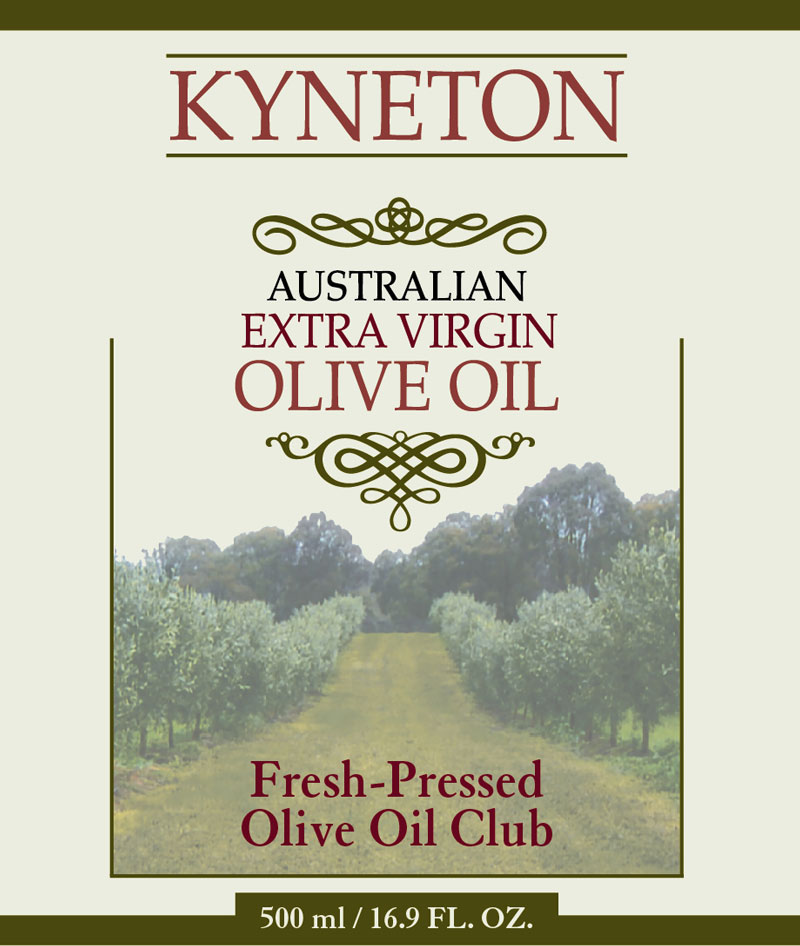 About an hour north of Melbourne lies the rural community of Bylands, population 136 at last count.
Rolling in a rental van on the Northern Highway with my Merry Band of Tasters, my destination is Kyneton Olive Oil. It is a storied farm, circumscribed by the hopes, dreams, and hard work of several intergenerational Italian families. When I enter the now familiar gates, it feels as if I've magically found in Central Victoria a portal to Italy and the Old World.
Upon arrival, we're met by Mick Labbozzetta, the genial general manager of Kyneton. He belongs to the extended Calabrian-Sicilian-Australian family that acquired the Kyneton name and assets from Sam and Sandra Trovatello, including an impressive Pieralisi olive mill, in 2016. I enjoyed working with the Trovatellos, of course, and frequently selected their oils for my Club members. But the new team, led by Mick, has already earned my respect. Last year, Kyneton took home an impressive 33 awards in olive oil competitions in the Southern Hemisphere.
One of the contributors to Kyneton's success is Italian master miller Davide Bruno. Heis "on loan" for the two-month Australian harvest from his native Liguria. Davide is joined by Carmelo Tramontana, who learned his way around olive trees in his native Calabria, but who has lived in Australia for about eight years. We had a lively discussion about the differences between the Italian and Australian approaches to growing and pressing olives.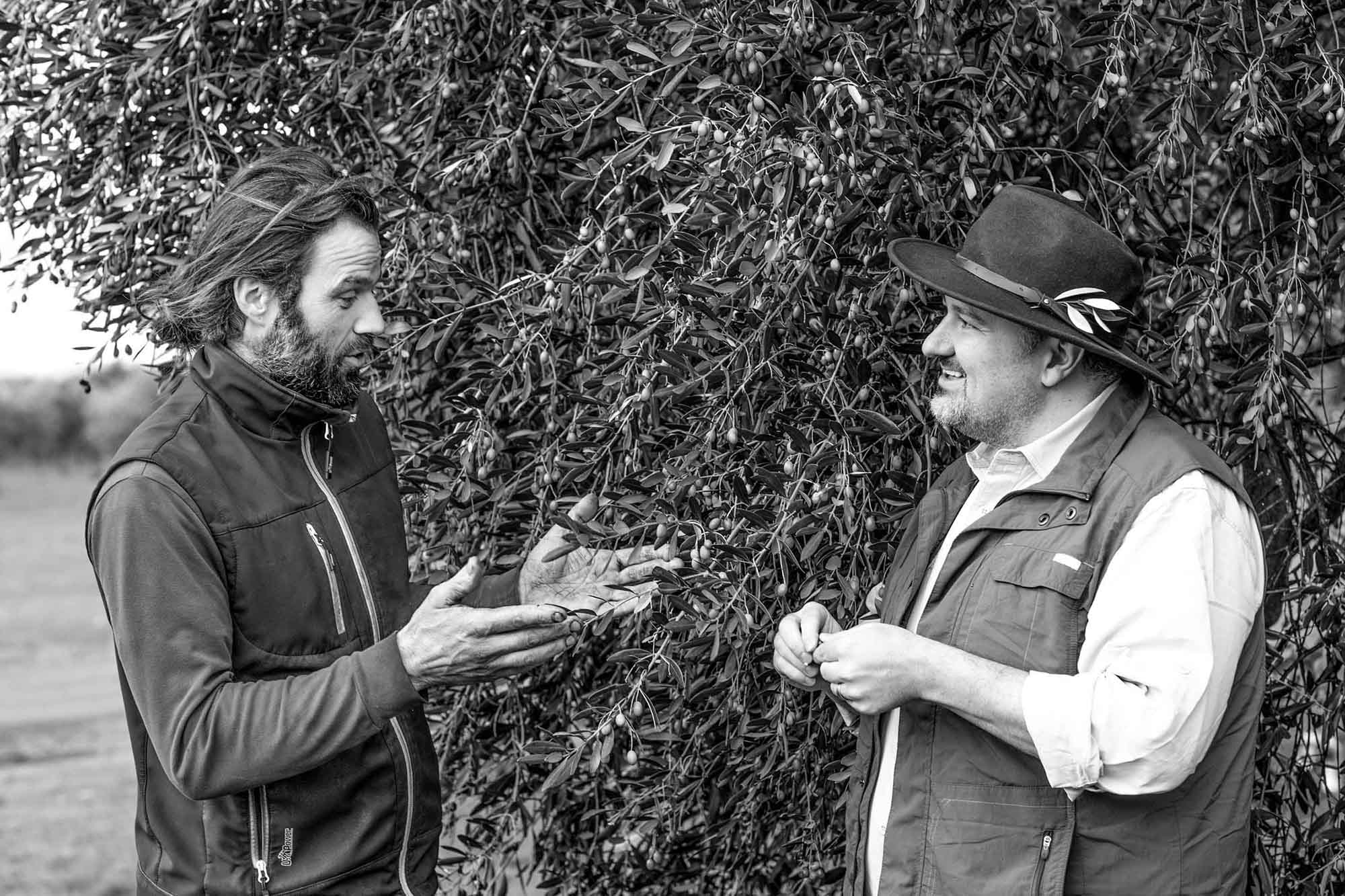 The primary difference, Davide observed, is "quality versus not-quality." Many Italian olive farmers, he explained, continue to do things the way their grandfathers did them. This is particularly true in northern Italy, where olives are picked by hand and languish until they can be pressed at the community frantoio (mill). In contrast, most Australians monitor their olives at every stage and do whatever possible to ensure the oils are of the highest possible quality. Because of the distance that separates them, many Aussie farmers have installed their own mills, meaning they can minimize the time between picking and pressing. They have readily embraced technology or new methods when they have the potential to improve their oils.
Though he is an agent for the cross-cultural pollination of ideas and methods, Davide hasn't abandoned the old ways entirely. Before his arrival on the farm, Davide said, Mick had been submitting olive samples to a lab to pinpoint the optimum time for picking. The lab pronounced the olives "too green." Using his Old World know-how, Davide squeezed a few of the olives between his fingers. He determined the flesh was separating from the pits, and declared that the harvest had to begin immediately! We shared a good laugh over the accuracy of his "Charmin test." I'm sure Davide will relish telling that story when he returns to Liguria for the upcoming harvest.
Mick, too, grew up around olive trees and exhibits the kind of passion I always look for in the producers I work with, wherever they might be in the world. He oversees some 7,000 olive trees, most of them Tuscan varietals. Their well-being is his highest priority as a farm manager and drives his attention to detail. This year, he said, yields were down by 50 percent over last year, due to localized higher-than-normal summer temperatures combined with lower-than-normal rainfall. (I noticed the water level of the beautiful palm tree-rimmed lake on the property appeared to be down since my visit last year.) Luckily, the Kyneton trees are irrigated with ground water. If not extreme, controlled water deprivation can actually improve the quality of the fruit by concentrating the flavors and aromas of its oils. Which—happily!—is what happened.
Here's an interesting side note: Half the farm's olive trees are irrigated with a drip system, and half with sprinkler heads. Soon, Mick said, the sprinkler heads will be replaced with drip hoses. Not only is the drip system more efficient—there's less evaporation, and the water gets to the trees' root systems where it's needed most—but in the long run, the system will be less costly to maintain. Every morning, you see, the grove is invaded by a gang of kangaroos that sometimes destroy the sprinkler heads by inadvertently jumping on them. That's one thing Davide won't have to worry about in Liguria!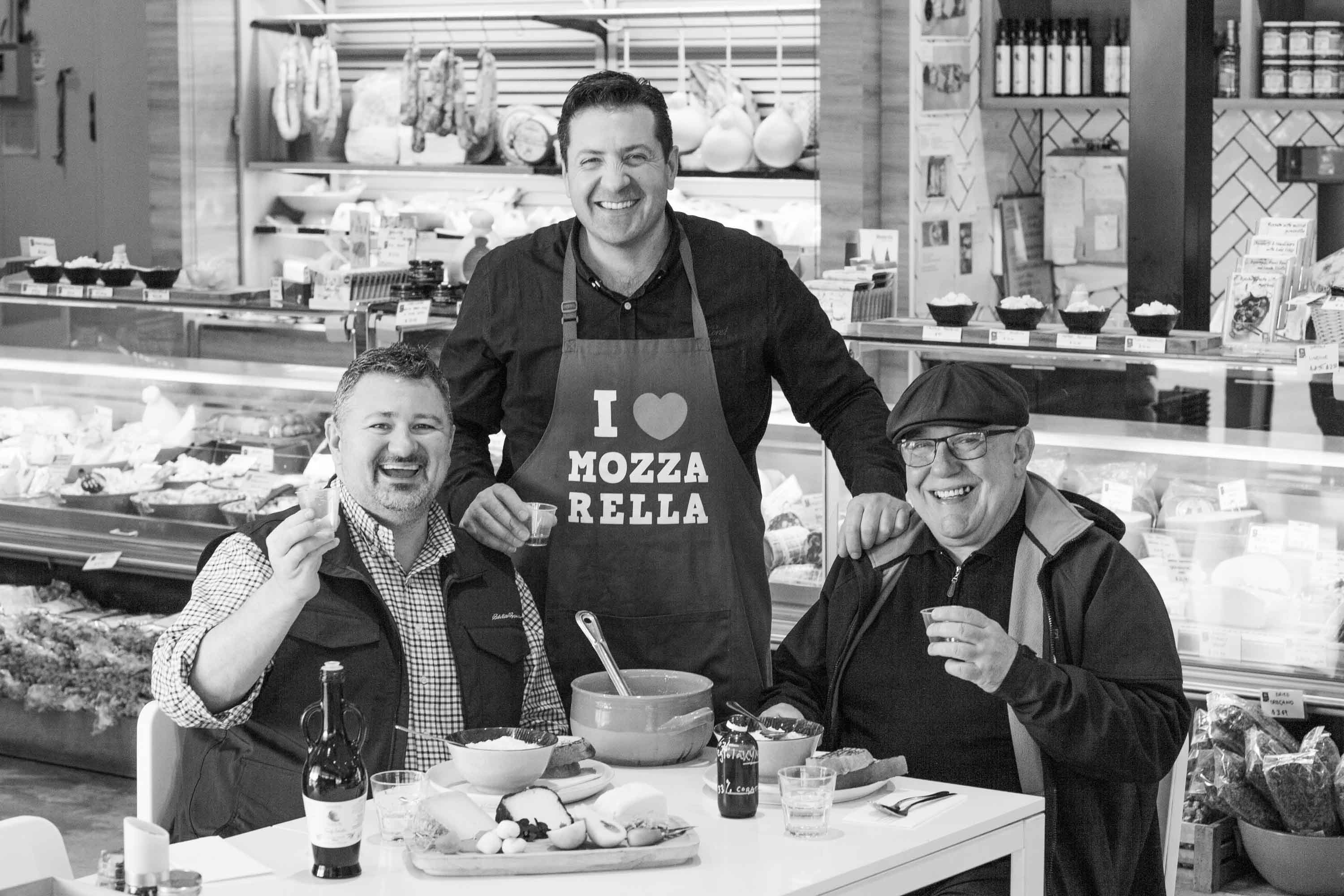 This year, the spicy Corregiola varietal appeared to be the beneficiary of the 2019 growing season's idiosyncrasies. It became the backbone of the delightful, robust Tuscan-style blend Mick and I created for you with the help of Davide and Carmelo. This is not, as you'll discover when you taste it, your grandfather's oil.
Impressions and Recommended Food Pairings
The most robust oil in this quarter's trio, it's loaded with healthful polyphenols. Inhale its fragrant aromas, and you'll pick up the dark green influences of wheatgrass and Tuscan kale, as well as minerally hints of baby spinach. We also noticed sweet almonds, green tea, baking spices, green tomato, rose petals, and walnut skin. Intense, yet very well calibrated. Embrace the bitterness, and allow it to bloom in the mouth into lime zest, arugula, watercress, radicchio, rosemary, oregano, and freshly ground black pepper. The finish is sensational and long-lasting, with a peppery pinch in the throat.
This muscular, herbal oil is the one to reach for when grilled meats and/or vegetables are on the menu—beefsteak, lamb shoulder or chops, kebabs, etc. It will also complement sautéed bitter greens; cabbage; baked, pan-fried, or roasted potatoes; tomato sauce; wild mushrooms; black bread; mackerel or bluefish; or stronger cheeses. We also urge you to try it with premium dark chocolate. Amazing!
---
Olive Oil and Health
Vegetables' health benefits increase when cooked with extra virgin olive oil
Adapted from an article from the University of Barcelona, June 13, 2019 
Cooking the vegetables in sofrito (the traditional Spanish sauté of garlic, onion, and tomato) with extra virgin olive oil increases the absorption and release of the bioactive compounds in the vegetables, according to a study conducted by a research team from the Faculty of Pharmacy and Food Sciences at the University of Barcelona (UB), from the Physiopathology of Obesity and Nutrition Networking Biomedical Research Centre (CIBERobn), and the Diabetes and Associated Metabolic Diseases Networking Biomedical Research (CIBERDEM), led by Rosa M. Lamuela-Raventós. These results, published in the scientific journal Molecules, allow for insight into the mechanisms by which gastronomy could play a relevant role in the health-improving effects of the Mediterranean diet.
The Mediterranean diet, which involves a high consumption of phytochemicals from vegetables, fruits, and legumes, has been correlated to health-improving effects in cardiovascular and metabolic health. This correlation has largely been established by findings from the extensive PREDIMED study, a multicenter clinical trial carried out from 2003 to 2011 with more than 7,000 participants.
However, the healthful effects of the Mediterranean diet have been challenging to reproduce in non- Mediterranean populations—possibly, according to the researchers, because of differences in cooking techniques. With this study, researchers have attempted to assess whether the Mediterranean gastronomy imputes its health benefits not only via its food components but also via the way those foods are cooked.
The objective of the study was to assess the effect of the extra virgin olive oil on bioactive compounds in tomato, onion, and garlic—the traditional ingredients in sofrito, one of the key cooking techniques in the Mediterranean diet. According to the researchers, this sauce has forty different phenolic compounds and a high amount of carotenoids, and its consumption is associated with an improvement of the cardiovascular risk parameters and insulin sensitivity.
"The main result of the study is that cooking vegetables with extra virgin olive oil [allows] the bioactive compounds, such as carotenoids and polyphenols, that are present in vegetables we find in sofrito to move to the olive oil, which enables the absorption and bioactivity of these compounds," says Lamuela -Raventós, director of the Institute for Research on Nutrition and Food Safety (INSA-UB).
The study also identified a new property of olive oil. Previous researchers had noted that the combination of olive oil and onion produces isomers of certain carotenoids. These isomers are more bioavailable and have a higher antioxidant content. This study found that olive oil facilitates this process not only with carotenoids but also with polyphenols, which are transferred from the vegetables to the oil.
These results could explain earlier findings by this research group that the presence of olive oil increases the anti-inflammatory effects of sofrito. "We saw that this increase can occur due to the migration of bioactive compounds (carotenoids and polyphenols) from the tomato, onion, and garlic to the oil during the cooking process, which [improves] the absorption of these compounds," concludes José Fernando Rinaldi de Alvarenga, INSA-UB member and lead author of the paper.
Reference: de Alvarenga JF et al. Using extra virgin olive oil to cook vegetables enhances polyphenol and carotenoid extractability: a study applying the sofrito technique. Molecules. 2019;24(8): DOI: 10.3390/molecules24081555.
---
Kudos from Club Members
Compliments and kudos!!! I just want to start off this morning by thanking you for the wonderful olive oil and the great pressing report about your hard work and dedication! Because of your great oil, nothing compares to staying at home and trying new recipes!

Recipes