Three Incredible Extra Virgin Olive Oils from the Chilean Harvest for Your Warm-Weather Dining Pleasure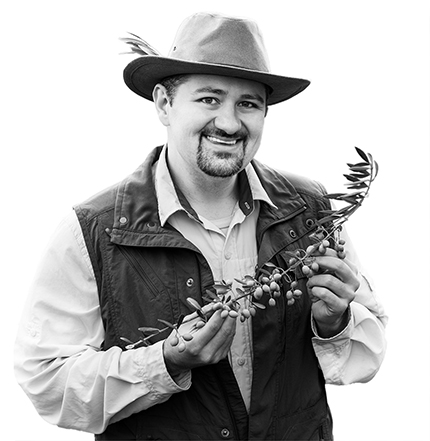 Enticingly fresh, these sensational just-pressed olive oils from award-winning producers are the perfect complement to summertime menus. They're game-changers!
All three are Club exclusives, hand-selected in Central Chile by the Olive Oil Hunter.
All were rushed to the US by jet to preserve their amazing flavors, intoxicating aromas, and healthful antioxidants.
An independent lab has certified all three to be 100 percent extra virgin olive oil.
---
Awaiting takeoff, I rechecked my electronic ticket. Yup. Confirming Santiago International Airport, SCL in airline parlance. This was my first trip—highly anticipated—since 2019 to one of my favorite olive oil destinations.
Finally, the band was getting back together. I couldn't wipe the grin off my face.
"The band," of course, refers to my Merry Band of Tasters, the trained palates that helped me select this quarter's beautiful trio of premium olive oils and so ably channeled me when I was grounded by the pandemic. Joining me and my wife, Meghan, in Chile were Duccio Morozzo della Rocca, a world-renowned olive oil expert from Rome, my longtime friend and logistical genius Tjeerd Beliën, who divides his time between the Netherlands and Canada when he's not traveling, and Chilean olive oil expert and judge Denise Langevin. (Read more about Denise below.)
Reunited!
It was thrilling to see each other in person once again. We instantly picked up the threads of our friendship as if we'd never been apart, reminiscing about our shared experiences and memories of past trips. Food is never far from our minds, either—particularly foods that can be enhanced with extra virgin olive oil. We're not shy about putting our own just-pressed oils on tables everywhere, from casual roadside eateries to fine dining establishments such as celebrity chef Francis Mallmann's Fuegos de Apalta, where we lunched one afternoon.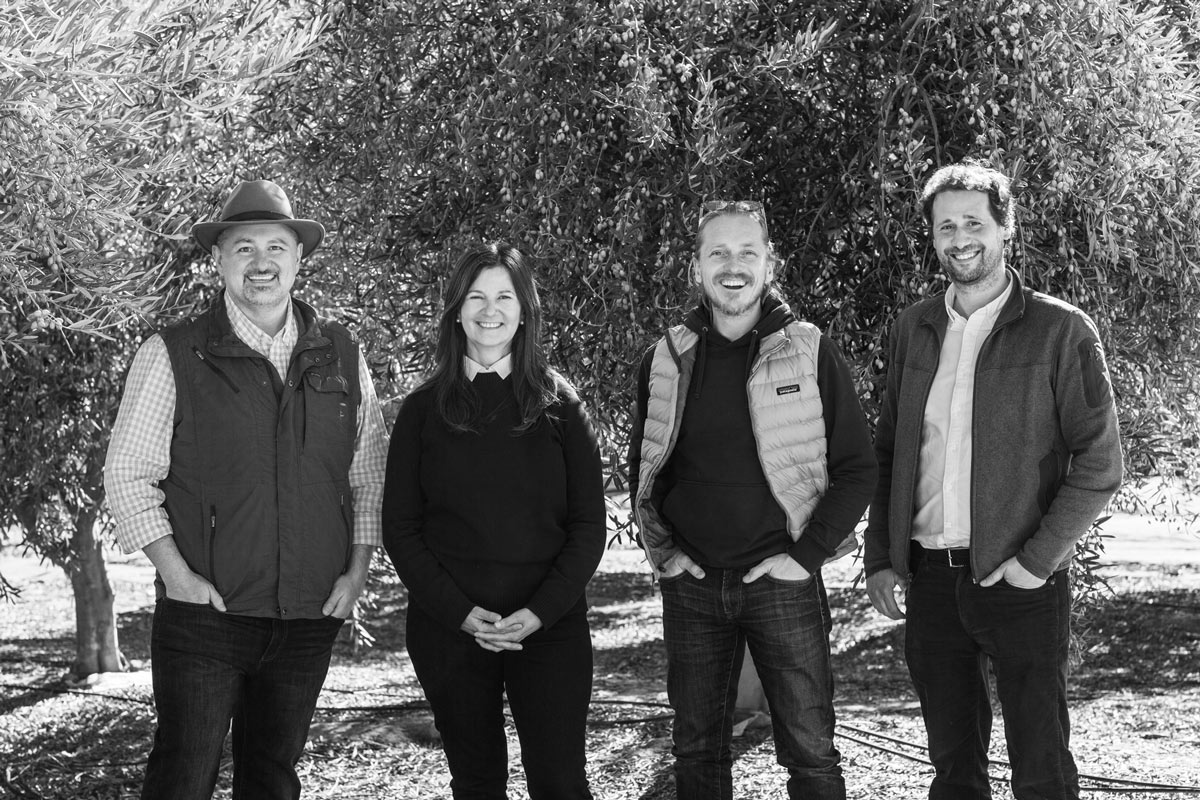 Above all, we prize invitations to eat at family tables—something I dearly missed when I was unable to travel. We enjoyed several such feasts, where a stimulating exchange of ideas always takes place, including one where we met octogenarian Abel Alonso for the first time. Abel is the patriarch of the Alonso clan, which has been producing premium extra virgin olive oil for more than a decade. On the menu? Smoked salmon, a mâche salad, ripe tomatoes, avocados, a Chilean take on shepherd's pie, and a refreshing array of fresh fruits for dessert.
A Magnificent Triumvirate: The Farmer, the Miller, the Taster
This quarter, I'm paying homage to the extraordinary people whose efforts put these oils in your hands: The trio includes the farmer (el agrónomo, Juan Carlos Pérez); the miller (Miguel Ángel Molina); and the taster (Denise Langevin). All play critical roles in the olives' journey from tree to bottle.
You would be hard-pressed to find Chilean oils on US grocery store shelves. Few Americans have tasted them. When I first visited this skinny-as-a-necktie country in 2005, I fell in love with the way farmers were putting a New World spin on Old World olive varietals, particularly in Central Chile, with its Mediterranean-like climate. I've been sharing my antipodal finds with Club members ever since. Lamentably, the cost of building their own brands was too high for some of these olive oil pioneers, forcing them to sell their oils to the bulk market. It saddens me, as there were award-winners among them. The protracted lack of rainfall hasn't helped.
The Best Olive Oil Producers Prevail, Overcome Challenges
Wherever my Merry Band and I went, the topic of water—and its scarcity—came up. Officially in its thirteenth year, the "mega-drought," as it's called by NASA, is the worst in more than 1,000 years. Consequently, this year's olive fruits are smaller and drier, decreasing yields. The water stress has, however, raised polyphenol levels—a good thing. Fortunately for you and me, rain fell on the Agricola Pobeña farm at an opportune time—days before the harvest—practically a miracle!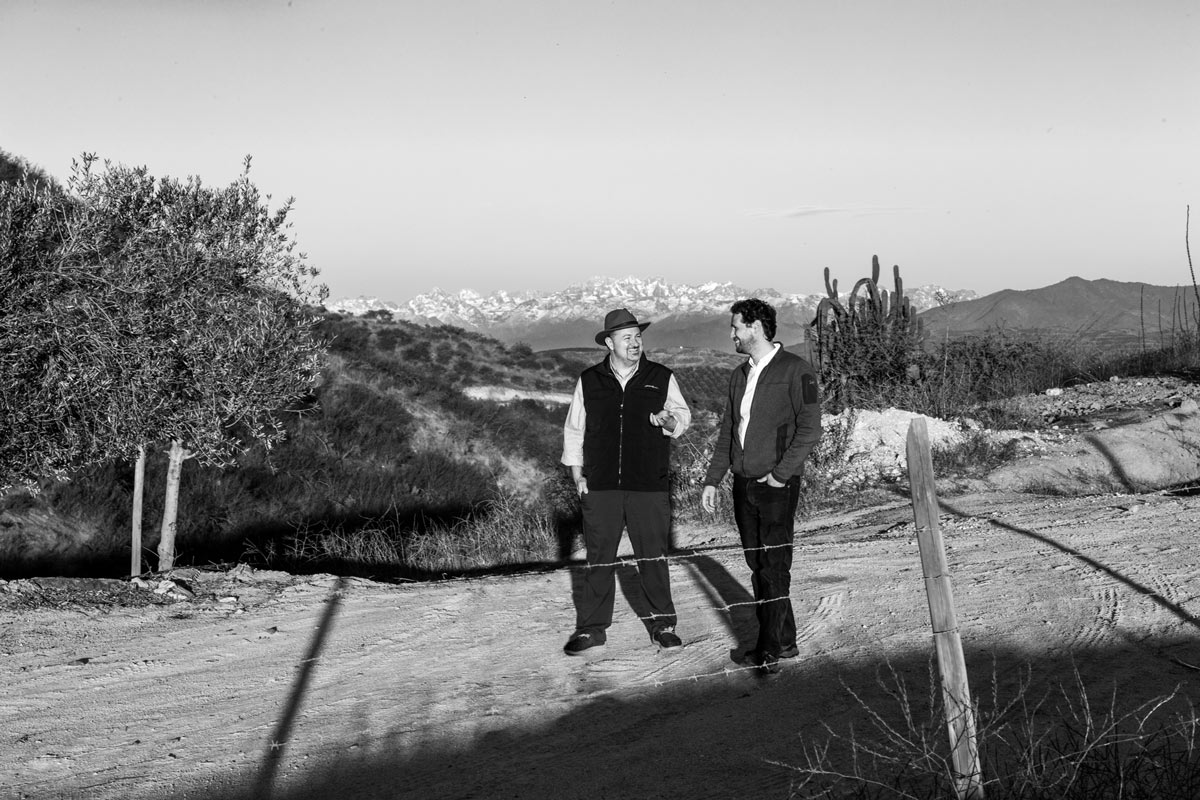 The producers I work with practice extreme water conservation, collecting water whenever possible and limiting evaporation. For example, Olivares de Quepu pays for rights to snowmelt channeled from the Andes. A reservoir services the Agricola Pobeña olive groves; the farm has even been known to engage in extreme pruning of trees to reduce water needs. And it's not only rural populations that are affected. Officials in Santiago, a city of 6 million people, are anxiously watching water levels in the Maipo and Mapocho Rivers and developing contingency plans.
Happily, the exceedingly dry weather has not diminished Chile's breathtaking fall beauty. Late one afternoon, I witnessed the sun setting on the magnificent Andes, bathing its imposing peaks with pink and orange light. (As the Pacific does on the west, the Andes range protects the eastern borders of this remarkable country, even helping the directionally challenged—me!—keep their bearings. Andes on the right? You're heading north.)
Whether you're a charter member or new to the Club, I hope this timely collection of sensational extra virgin olive oils from award-winning farms bring summer joy and good health to you, your family, and friends.
Happy drizzling!


T. J. Robinson
The Olive Oil Hunter®
---
This Quarter's First Selection
Producer: Denise Langevin Exclusive Selection, Agricola Pobeña, Comuna de La Estrella, O'Higgins Region, Chile 2022
Olive Varieties: Arbequina, Koroneiki, Coratina
Flavor Profile: Mild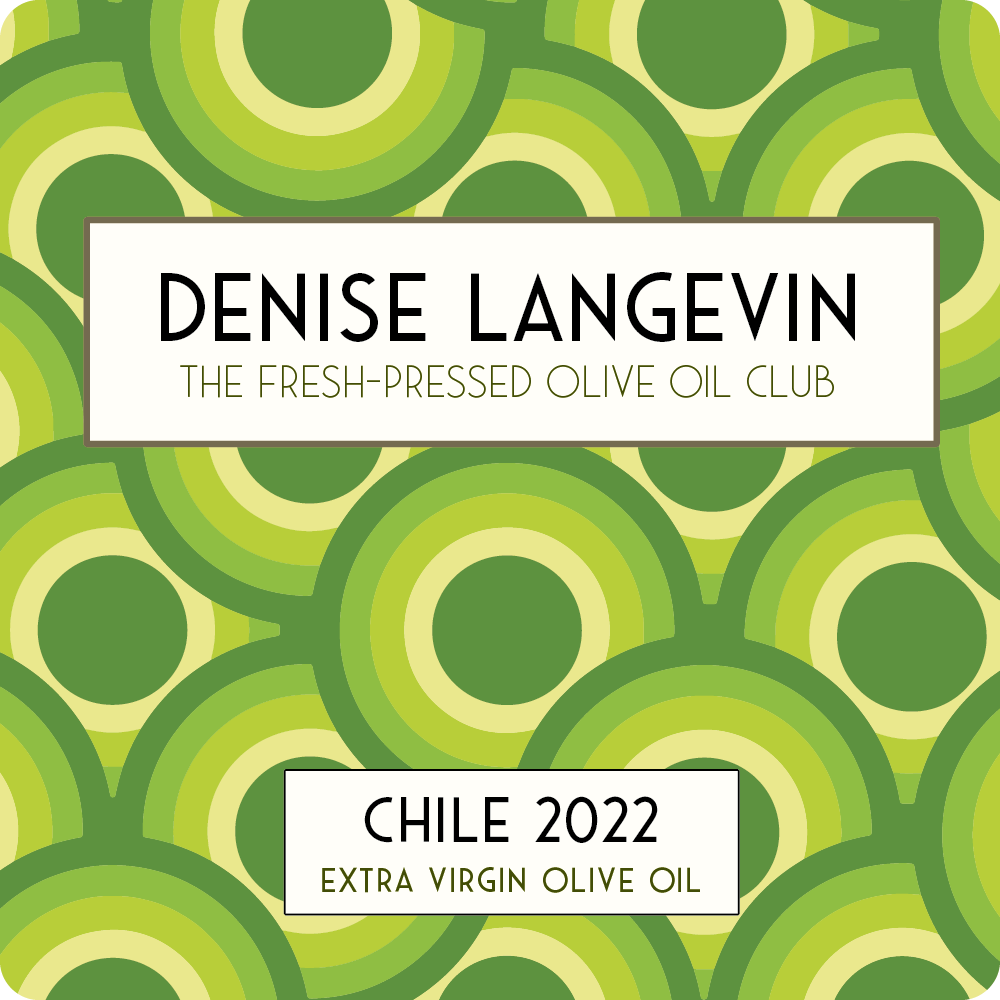 After a drive through the parched countryside from Santiago, catching sight of Agricola Pobeña, the expansive, award-winning farm managed by the Alonso family, was akin to Dorothy seeing the Emerald City. I was delighted—almost giddy with anticipation—at the thought of being able to sit down next to Denise Langevin instead of comparing tasting notes through Zoom as we had during the pandemic.
Club members know that Denise is a luminary in the olive oil world, crisscrossing the globe to judge at the most prestigious competitions. She's in constant demand because of her technical skills and discriminating palate—she has an enviable taste memory! Denise had just returned from the 19th Olive d'Or Competition presented in Montreal by SIAL Canada, organizers of the country's largest food show, and it was fun to hear her impressions of recent international offerings.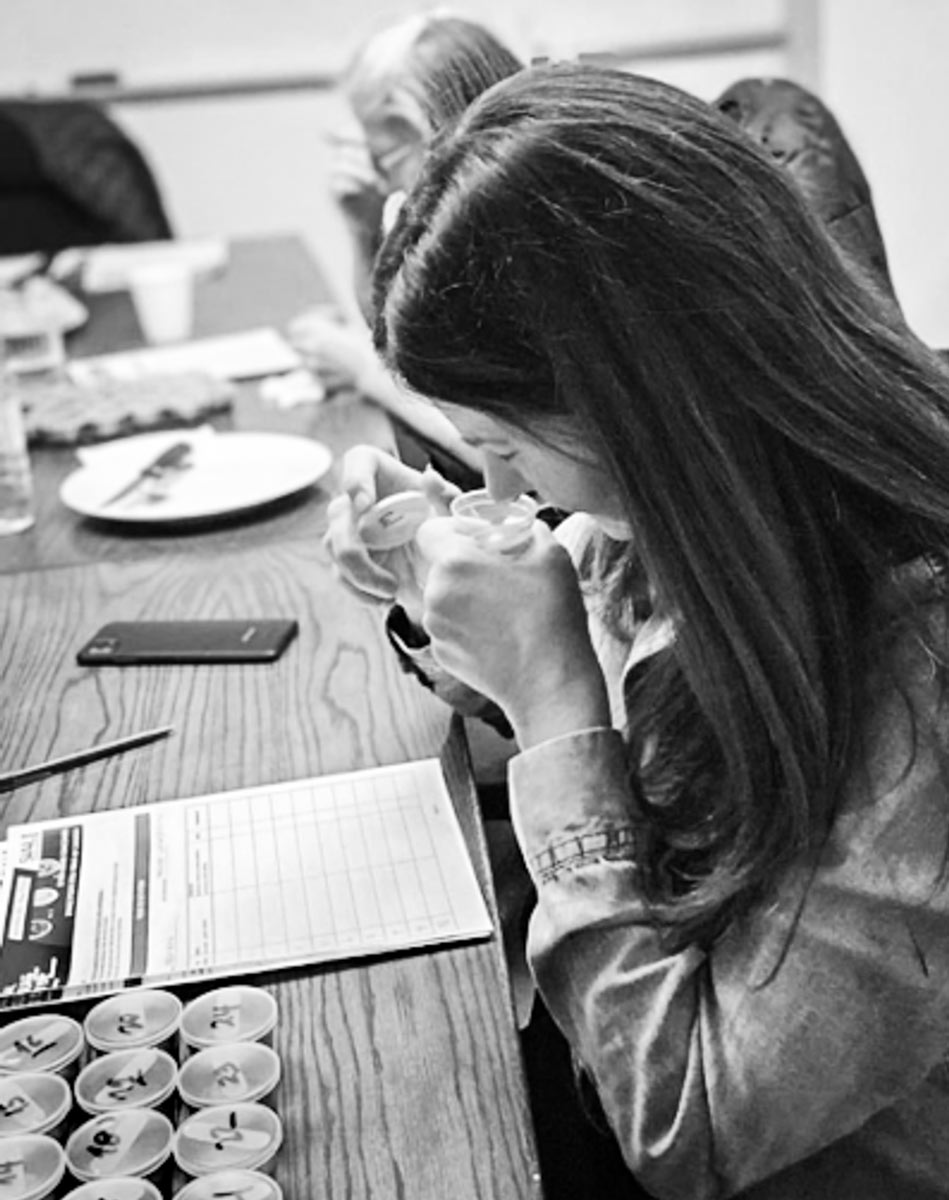 As the leading Chilean authority on olive oil, Denise has been an invaluable part of my hunt for the very best EVOO for three years now, though we've known each other for much longer. She is passionate about her connection to our Club, proud to be part of our mission, and excited to help showcase her country's finest oils in another elixir bearing her name. For all her professional stature, Denise is warm, gracious, down-to-earth, and generous of spirit. She just started a healthy food movement, complete with a vegetable garden, at one of the schools in the town of Rancagua, near her home. Her goal is to teach the children about fresh foods by getting their hands in the soil—they will grow a dozen vegetables! It's a program she hopes to expand to help combat the country's child obesity crisis.
First on the agenda for my Merry Band of Tasters and me was enjoying a beautiful lunch with Denise and our Chilean olive oil family. That always includes Juan José and Ignacio Alonso, brothers who together took on the job of creating and running the olive farm their father Abel bought for all five of his children.
No matter how many times I return to the Pobeña farm, I always marvel at the fact that one property can have so many diverse microclimates, each imparting unique qualities to its olive oils and, in turn, to the distinctive blends I create for the Club. We spent several hours experimenting to find the perfect combination of flavors—ultimately, a blend of two Spanish Arbequinas, gathered from different areas of the farm. Combined in equal amounts, the Arbequinas are enhanced by a big splash of Koroneiki, a Greek varietal, and just the right amount of Coratina, an Italian varietal, to give this blend its distinctive personality and broaden its flavor profile. This is what gets me so excited about the Chilean olive oils: we have the ability to put together cultivar combinations unheard of in the Old World and deliver them to the Northern Hemisphere in time to enliven the summer's bounty.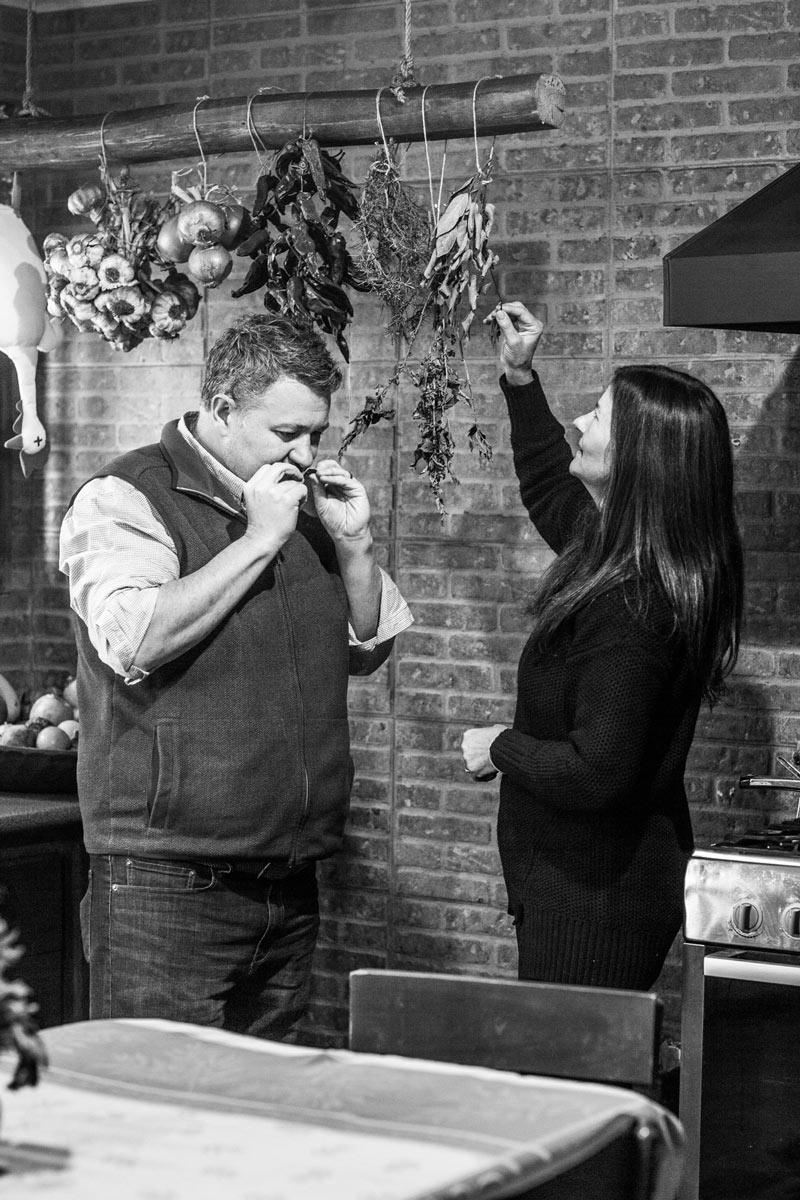 We couldn't wait to test-drive Denise's signature blend at Fuegos de Apalta, the restaurant of fire-obsessed Argentinian chef Francis Mallmann. It's an extraordinary restaurant, nestled in the most exquisite setting—the center of the Montes winery. We shamelessly drizzled the oil we'd brought with us on five-star dishes such as charred eggplant, skirt steak with vegetables, roasted beets with grapefruit and cheese, and pork with grilled cabbage and mustard. Divine!
The oil's dazzling versatility was in full bloom a few days later when we journeyed to Denise's house for a spectacular four-course meal she and her husband Luis prepared. We started with large green olives stuffed two ways—with blanched almonds or jamón, all marinated in the Denise Langevin Exclusive Selection—and Denise's own sun-dried (and slightly warmed) tomatoes on bruschetta, topped with the oil. We next drizzled it on silken asparagus soup, our wonderful second course.
The entrée was a luxurious prime rib, prepared in a special Chilean broiling oven. We anointed the carved slices with the oil—a delicious counterpoint to the crusty edges of the beef. The oil also dressed both a warm spinach salad with bacon, walnuts, and blue cheese, and a second salad of the sweetest cherry tomatoes I'd ever tasted and a mix of greens that, like the spinach, came from Denise's own garden—a splash of red wine vinegar added the perfect acidic note. Dessert was an indulgent platter of six different French and Chilean cheeses with syrupy vinegars from Denise's journeys to France—the olive oil, so fruity, was perfect on the younger cheeses. We were all blown away by the oil's mild yet complex, full flavor and how it enhanced every dish in a different way. And now it's your turn to savor it!
Impressions and Recommended Food Pairings
This blend is fresh and clean, rather sweet on the nose (think vanilla and dried banana), presenting fresh-cut grass, green apple, pear, lettuce, almond, and wild mint. The fresh, sweet impressions continue in the mouth, joined by parsley, thyme, sweet pea shoots, lime zest, and the well-balanced spicy/bitter notes of escarole and baby arugula.
Pair this mild but nuanced oil with scrambled, fried, or hard-cooked eggs; simple pasta dishes (including pasta salads); chicken; mild fin fish, lobster, or shrimp; fresh mild cheeses; salads made with tender greens or avocados; stuffed or sautéed mushrooms; peas, carrots, green beans, sweet corn, summer squash, or asparagus; white beans; rice or other grains; fresh fruit smoothies; yogurt or ice cream; melons; bread or focaccia; or sweet baked goods, such as quick breads.
---
This Quarter's Second Selection
Producer: El Agrónomo, Agricola Pobeña, Comuna de La Estrella, O'Higgins Region, Chile 2022
Olive Varieties: Picual, Coratina, Koroneiki
Flavor Profile: Medium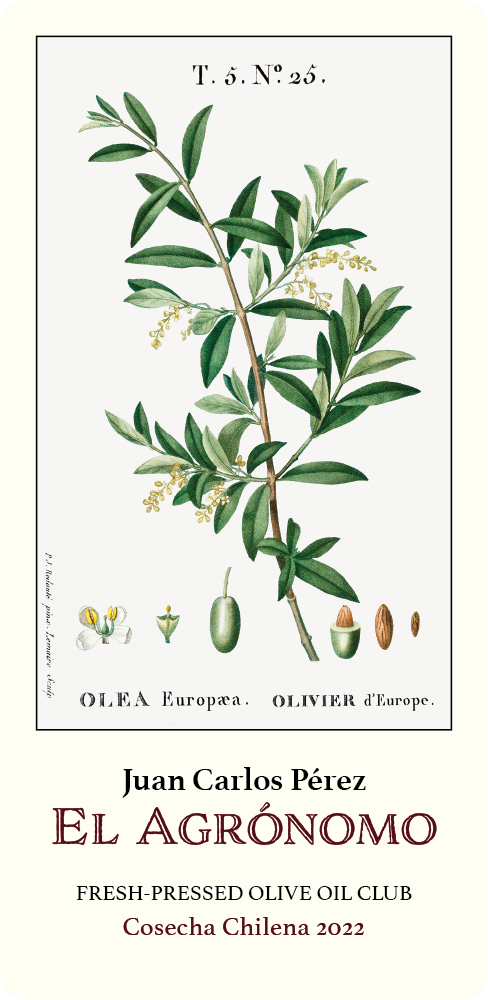 The Olive Oil Hunter is proud to feature for the second consecutive year a signature extra virgin olive oil named "El Agrónomo" to honor the work of one of Chile's most talented young agronomists, Juan Carlos Pérez. (Agronomy requires extensive knowledge of biology, chemistry, physics, economics, earth science, genetics, mathematics, ecology, research protocols, and other related disciplines. Whew!)
His colleagues at Agricola Pobeña respectfully refer to Juan Carlos as "the boss of the farm." Quiet, with a humble demeanor, you'd never assume he carries on his shoulders the responsibility for 1,100 acres of olive trees and the success of the harvest. (You must have great fruit to make great olive oil!) On a typical day, he tours the property, establishes work-related assignments, and meets with his team, which swells to 80 people during the harvest. He is the final arbiter of which olives get picked, and when.
The story of how Juan Carlos found his current position is an interesting one. After graduating from college, he worked for Olave, a pioneer in Chile's olive oil industry, as well as another well-known farm in the fertile O'Higgins region in Central Chile. While some people would appreciate the security of working for well-established companies, after 14 years, Juan Carlos craved new challenges. He longed to get involved with an olive farm that was being built—quite literally—from the ground up.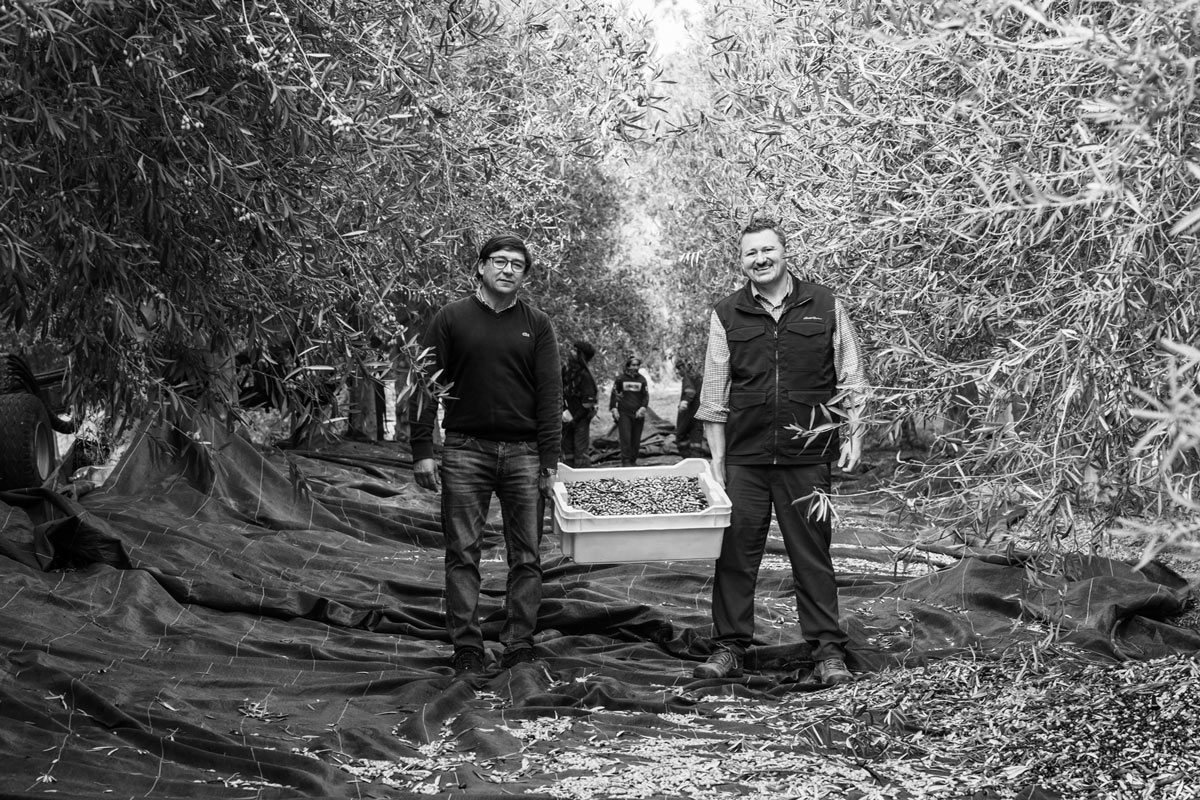 As a matter of fact, that ground, well-suited to growing olive trees, was conveniently located directly on the other side of the fence. Yes, the newly acquired property of the Alonso family was adjacent to the land owned by Juan Carlos's employer. Intrigued, he tracked down a phone number for the family and made a cold call. He reached Juan José Alonso (aka "Juanjo," with a soft "j"). The two Juans hit it off immediately. Their conversation lasted more than an hour, Juan Carlos said, ranging in scope from business topics to the best places to surf on the nearby Chilean coastline.
The timing was perfect. Juanjo was eager to hire an experienced, quality-driven agronomist before varietals were selected and olive trees planted, and Juan Carlos found the "from scratch" opportunity appealing. After consulting his family, Juan Carlos accepted the job. He was eager to put all he had learned into practice and to help the farm, now known as Agricola Pobeña, avoid the mistakes he had seen other olive oil producers make.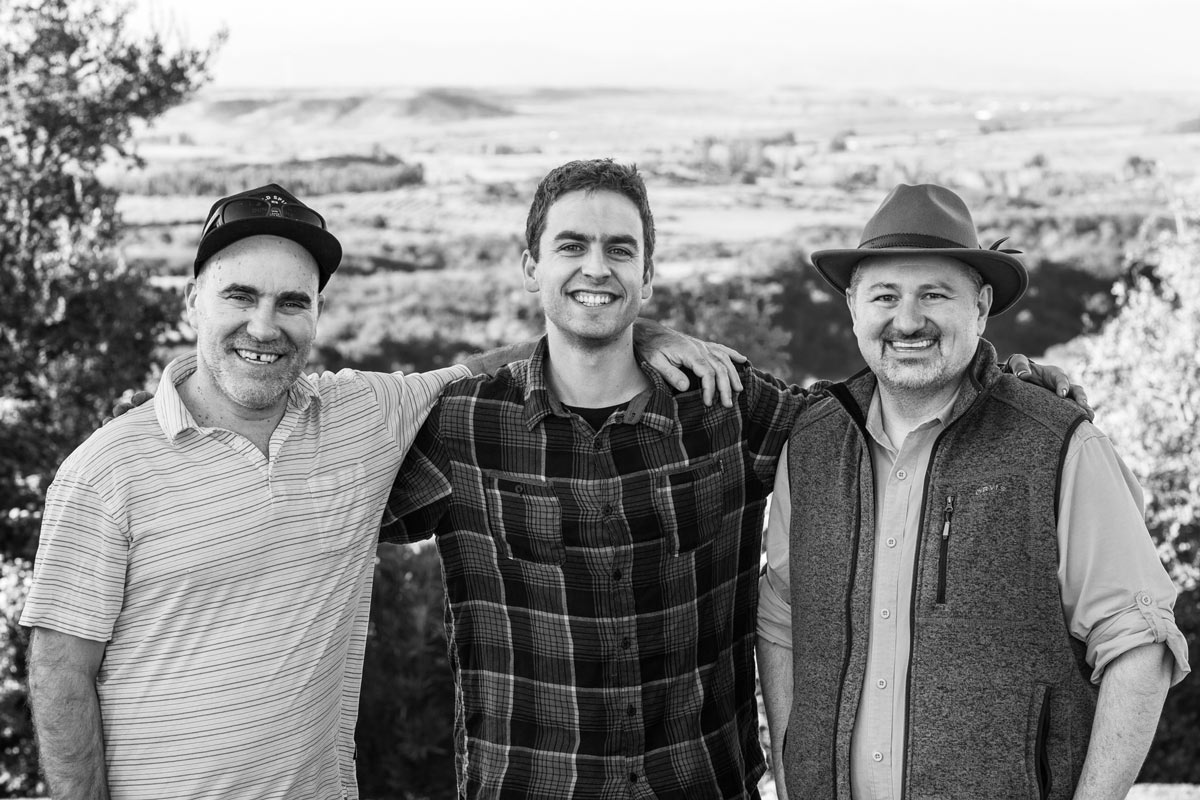 Today, Juan Carlos has a dozen Agricola Pobeña olive harvests under his belt. Water shortages have accompanied all of them. Though the farm has a 55-acre lake, two reservoirs, and 20 wells, the prolonged drought is worrisome to everyone involved in Chile's agricultural community, especially those sectors that require large quantities of water. (Five pounds of avocados, for example, require an estimated 63 gallons of water.) To capture and conserve water, Juan Carlos's team has dug earthen trenches to channel run-off and direct the water to their groves. Currently, new tree stock is often planted in more traditional formations to give the roots more room to search for moisture. Last year, some trees were drastically pruned—Juan Carlos called it the "bonsai" treatment—to reduce their water consumption.
Thanks in no small part to Juan Carlos's dedication to promoting tree health, the farm's per-acre yield of olives has remained consistently high. Agricola Pobeña's strategy (which I heartily endorse) is to maximize oil quality by picking the olives while relatively green, a technique known as "early harvesting." The olives' oil content is typically lower at this point of the growing season, but an abundance of fruit helps compensate. Early harvest oils typically have a higher concentration of healthful polyphenols as well as more vibrant flavors and aromas.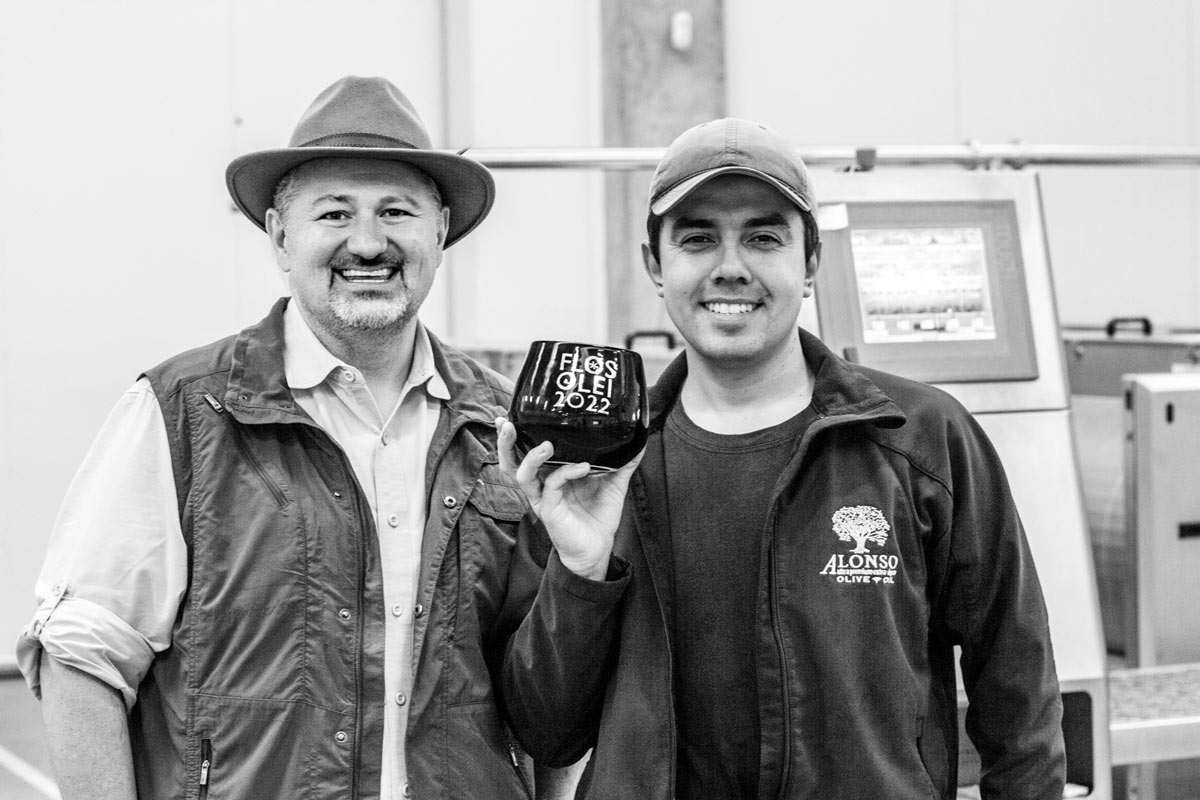 I had the opportunity recently to visit the Pérez family home, where Juan Carlos lives with his wife, Romina, and two young daughters, ages 5 and 14. A tour of the couple's amazing garden confirmed what I already knew—Juan Carlos is blessed with a green thumb! I have never seen such a magnificent backyard plot, replete with fruit trees, walls of living succulents, herbs, vegetables, and lettuces that are lovingly nibbled by a pet rabbit. Naturally, there are olive trees on the property as well; Juan Carlos boasts that his daughters have been consuming olive oil since birth. The family loves olive oil on salads, tomatoes, bread, and a dish made with corn called humitas—very popular in Chile.
I can't wait to hear how you and your family use this splendid oil. Juan Carlos is so proud to have one named after him that will be enjoyed by discriminating Americans.
Impressions and Recommended Food Pairings
Intoxicatingly green on the nose, this blend evokes wheatgrass, Tuscan kale, almond, lettuce, spinach, basil, chicory, green banana, celery, apple, and green tomato. In the mouth, my tasters enjoyed the oil's herbaceous qualities ("pesto in a bottle"), as well as tomato, artichoke, dark leafy/bitter greens, and rosemary. Expect a kick of black peppercorns on the long, complex, well-balanced finish. It blurs the line between "medium" and "bold."
This oil is full-flavored, robust enough to complement a wide range of foods. Pair it with grilled vegetables (it's wonderful with fire-roasted brussels sprouts, sweet corn, celery root, fennel, or cabbage); charcuterie platters; pizza; tomato-based salads or pasta dishes; tuna, salmon, or arctic char; lamb; pork; duck; beef or veal; stronger-flavored cheeses; pesto or herbaceous sauces like chimichurri; bruschetta; and dark chocolate.
---
This Quarter's Third Selection
Producer: Don Miguel, Olivares de Quepu, Maule Valley, Chile 2022
Olive Varieties: Favolosa, Picual, Arbequina
Flavor Profile: Bold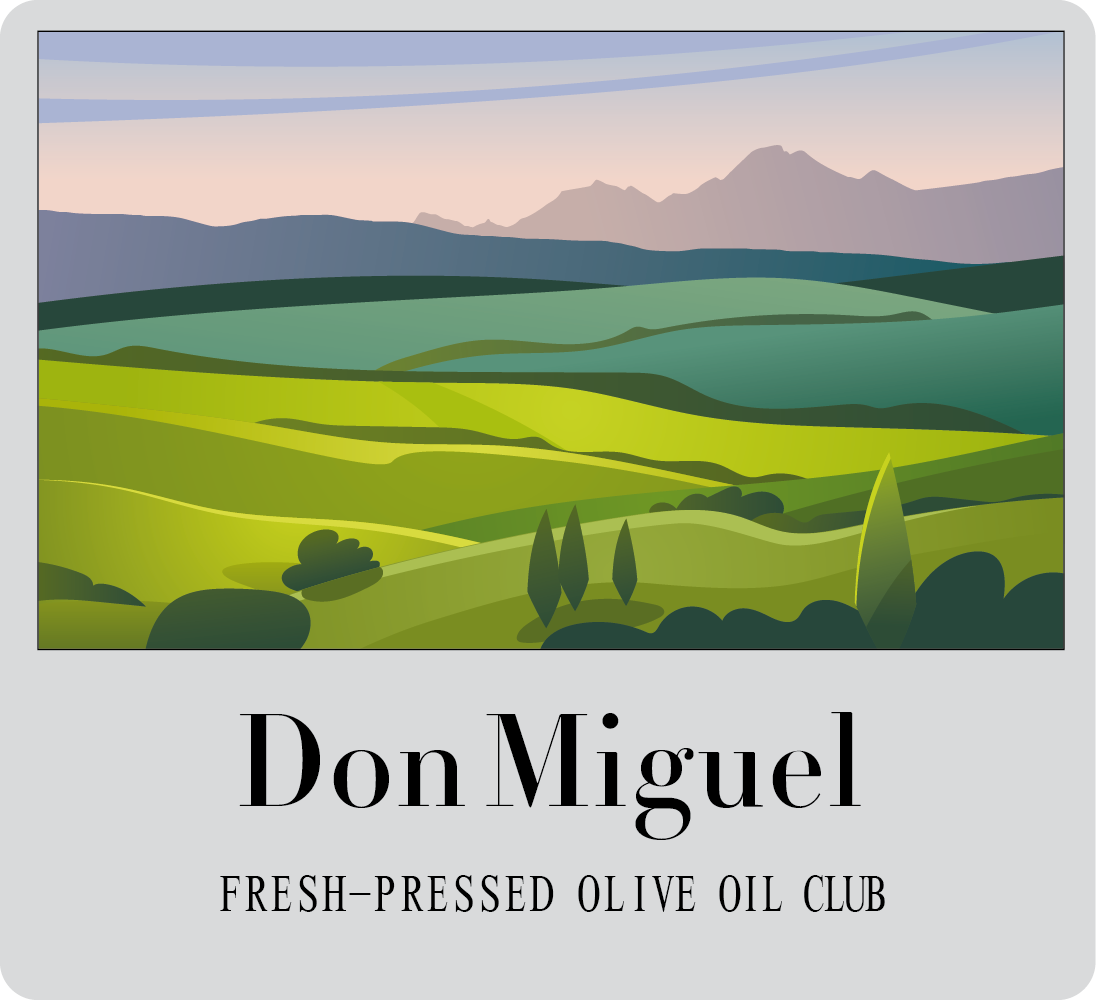 The saying goes that there are just six degrees of separation between each of us, but when it comes to my world of olive oil, I say it's more like just two or three! This selection, named for Miguel Ángel Molina, the master miller with whom I worked to bring you this amazing, unlikely combination of oils, is the perfect example of such close connections.
Longtime Club members know Miguel as the genius behind previous selections that bore the name "El Favorito," the favorite of the man whose palate perfectly aligns with my own. In each of those harvests, we were in complete agreement over the farm's crown jewels—I've called him the olive whisperer for years.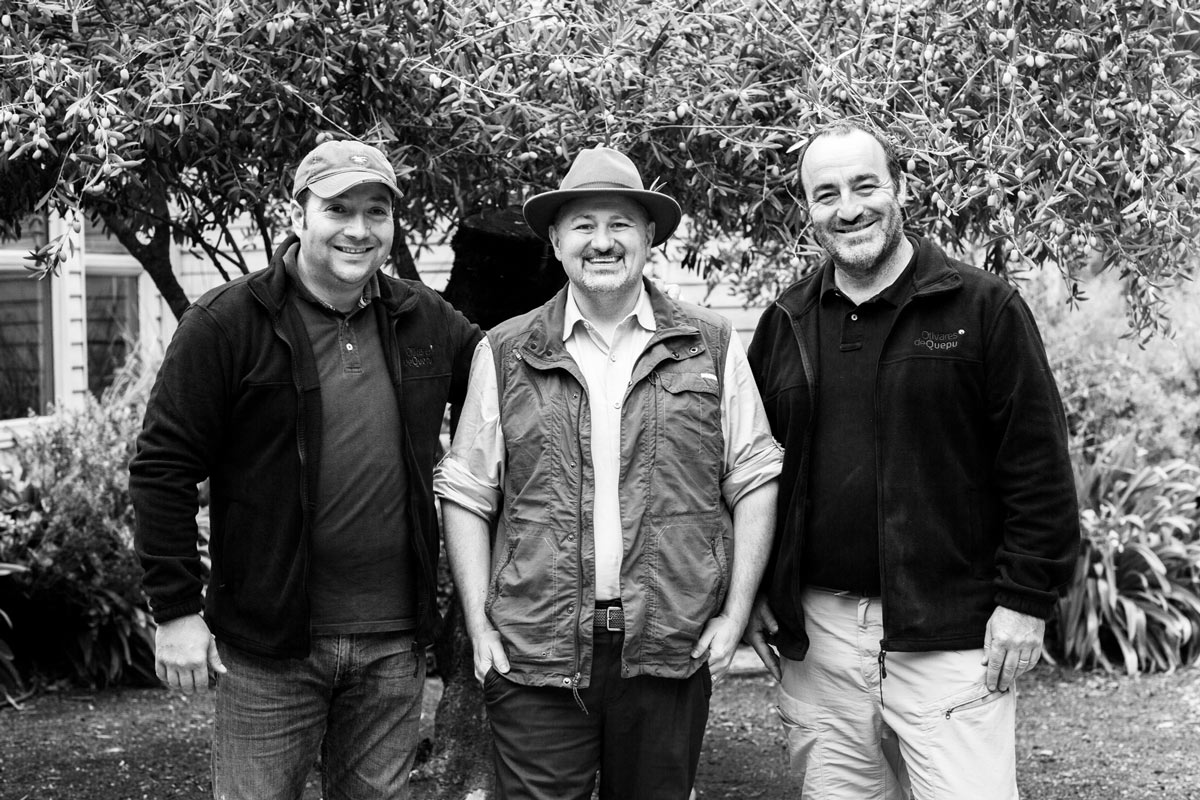 Those exclusives were created when Miguel was with the Alonso family farm—he would diligently drive the two and a half hours north from his home in Talca for the workweek, then drive back to spend weekends with his family. When all our lives were upended by the pandemic, Miguel knew he didn't want to be away from his family on a regular basis anymore. Talca lies within Maule Valley, the southernmost of Chile's renowned wine-making regions, and also happens to be the location of one of its most forward-thinking olive farms, Olivares de Quepu, run by the talented agronomist Álvero Ignacio Ried Roncagliolo. Álvero brought on Miguel to manage the mill a year and a half ago, starting the journey that ultimately led to this outstanding selection for the Club.
Álvero, too, has deep roots in Talca, where he studied agronomy before earning a master's degree in business innovation and entrepreneurship in New Zealand. His return to Chile was perfectly timed—Chilean olive oil was just about to step onto the world stage. When Álvero first joined Quepu and embraced their mission of creating ultra-premium olive oils, he visited Old World producers around the Mediterranean to learn from global generations of experience. And because Álvero believes in nurturing talent, he arranged for Miguel to go on a similar journey of Mediterranean mills. Miguel's knowledge of olives and olive oil deepened even further after he worked with a leading miller in Portugal for an intensive six-week harvest.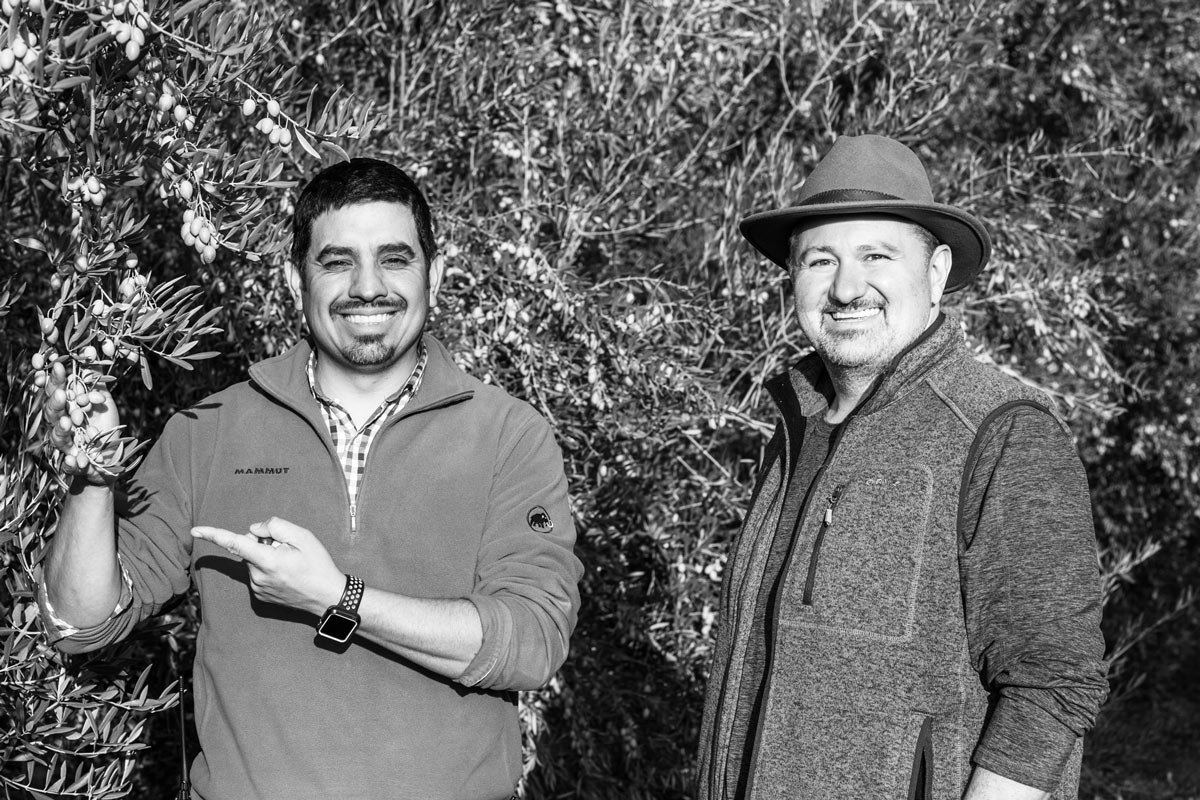 I'm just as impressed by Quepu's company-wide commitment to the land. After each pressing, the olive pits are dried and sold as biomass fuel, and the other organic byproducts are composted and put back into the earth in a virtuous circle. Farm manager Manuel Barrera shared these details when my Merry Band of Tasters and I toured the farm with him, the late afternoon light creating a tapestry of colors on the slopes. He and Miguel work hand in glove, because great olive oil starts in the grove. "Most people think olive oil is made in the mill, but it's more about the farm and the fruit because if you have bad fruit, you have bad oil," said Manuel. "We must analyze the conditions continually and make adjustments when there's not enough rain."
Another amazing aspect to Quepu is how they've handled water needs. As Club members know well, water is ever scarce in Chile, where the drought is in its thirteenth year. Though olive trees need less water than other crops—3,000 cubic meters per hectare compared to 6,000 for grapevines, 9,000 for nuts, and a whopping 12,000 for cherries—they still need it. When Quepu was established, they were able to buy access to the Pencahue water channel that runs from the snow-capped Andes some 80 kilometers away. It runs partly underground, under the nearby Lircay River and under roads. Water storage in the farm's own reservoir allows Quepu to meet the changing climatic conditions.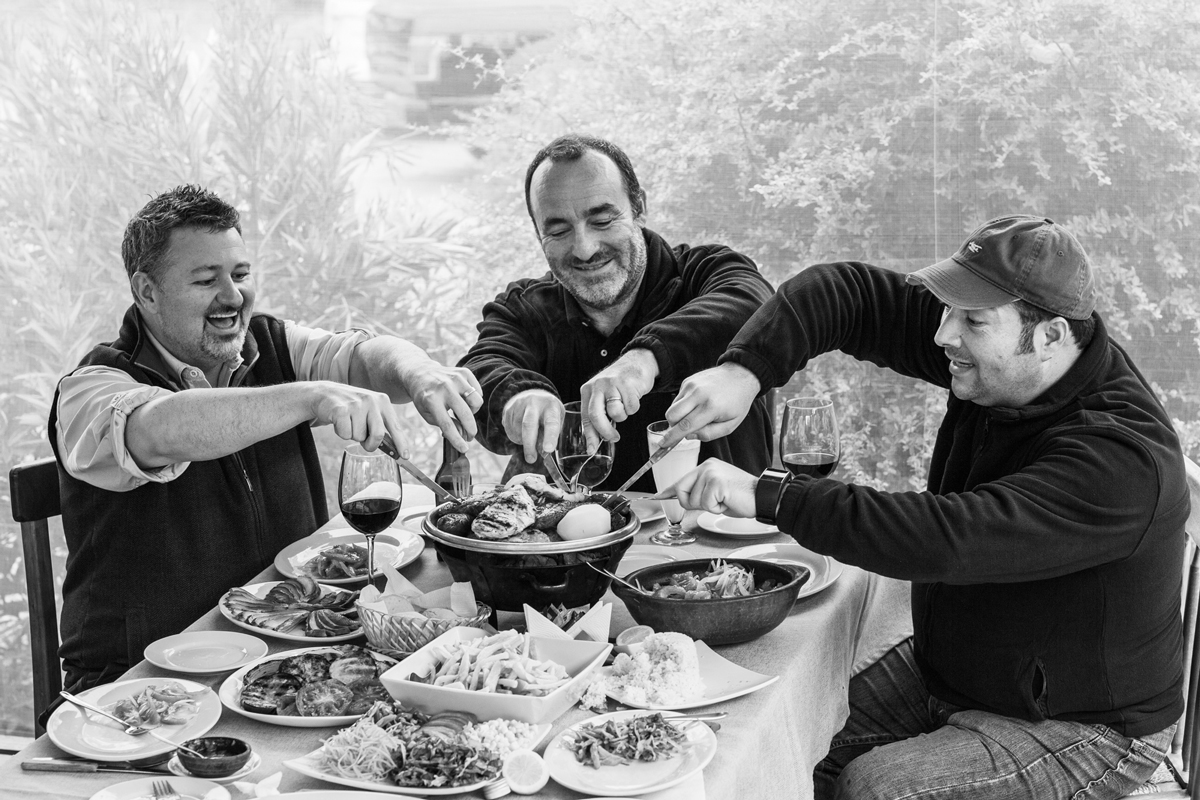 Of course, the proof of all these efforts is in the pudding or, in this case, the oil. Working with Miguel, I created a unique blend of Favolosa, Picual, and Arbequina, refined over the course of many tastings. I'm especially pleased about the inclusion of the Favolosa varietal, which we're bringing to you for the first time.
We'd been looking forward to working with the talented Quepu team for many years, and my elation at realizing that dream by presenting you with this alluring and food-enhancing extra virgin olive oil is best echoed in Álvero's words: "I'm so happy and excited for Club members to taste all our efforts in every drop of this olive oil."
Impressions and Recommended Food Pairings
My tasters and I realized we were about to experience a powerful oil when from our tasting glasses wafted the unmistakable scents of artichoke, tomato leaf, celery, fennel, and frisée, underscored with the nuttiness of almonds and hazelnuts and the concentrated sweetness of dried stone fruits. In the mouth, the bitterness of chicory, radicchio, dark greens, celery leaf, and walnut skins harmonized with the spiciness of green peppercorns, watercress, and, surprisingly, cinnamon and bay leaf.
Play up this assertive oil's best qualities by serving it with aged cheeses; cured meats; salads featuring bitter greens and toasted walnuts; padrón or shishito peppers or other chiles; oily fish like sardines, mackerel, or bluefish; shakshuka; game meats; spicy stews or soups; chargrilled steaks or beef or lamb kebabs; grilled or sautéed onions or leeks; broccoli or broccoli rabe; and chocolate mousse.
---
Olive Oil and Health
Fresh-pressed extra virgin olive oil provides multiple health benefits
Polyphenol-rich extra virgin olive oil, on its own and as part of the well-studied Mediterranean Diet, has demonstrated significant positive effects on the body and mind.
Heart: Consuming more than 1/2 tablespoon of olive oil a day translates to a "14% lower risk of cardiovascular disease (CVD) and 18% lower risk of coronary heart disease (CHD). Replacing 5 grams a day of margarine, butter, mayonnaise, or dairy fat with the equivalent amount of olive oil was associated with 5% to 7% lower risk of total CVD and CHD."1
Brain: The Mediterranean Diet has positive effects for "both cognitively impaired and unimpaired older populations, especially on their memory, both in the short and long run." Plus, boosting the diet with additional intake of foods "such as extra-virgin olive oil…might have a more significant impact on the improvement of cognitive performance among seniors."2
Gut: EVOO lowers levels of bad bacteria and stimulates good bacteria: "The gut microbiota and health of the intestinal environment are now considered important factors in the development of obesity, metabolic disease, and even certain neurodegenerative conditions via the gut-brain axis. Recently, data are emerging which demonstrate that the health-promoting benefits of EVOO may also extend to the gut microbiota."3
Biological Aging & Bone: People who stick more closely to the Mediterranean Diet "are on average almost 1 year biologically younger than their chronological age, as compared to those with low adherence," thanks to its polyphenol-rich foods like extra virgin olive oil. Polyphenols are also linked with higher bone mineral density. "In particular, high consumption of extra-virgin olive oil leads to lower risk of osteoporosis-related fractures."4
Skin: Olive oil works well in beauty formulas and may enhance your skin because it "provides a safe and stable emulsion delivery system. The antioxidant activity of olives makes them a candidate for moderating the effects of the aging process on the skin by limiting biochemical consequences of oxidation." Simple translation: It seems to help guard against the ravages of the environment.5
References:
Guasch-Ferré, M., et al. "Olive Oil Consumption and Cardiovascular Risk in U.S. Adults." Journal of the American College of Cardiology, April 2020; https://doi.org/10.1016/j.jacc.2020.02.036.
Klimova, B. et al. "The Effect of Mediterranean Diet on Cognitive Functions in the Elderly Population." Nutrients, June 2021; doi: 10.3390/nu13062067.
Millman, JF, et al. "Extra-Virgin Olive Oil and the Gut-Brain Axis: Influence on Gut Microbiota, Mucosal Immunity, and Cardiometabolic and Cognitive Health." Nutrition Reviews, December 2021; doi: 10.1093/nutrit/nuaa148.
Esposito, S., et al. "Dietary Polyphenol Intake Is Associated with Biological Aging, a Novel Predictor of Cardiovascular Disease: Cross-Sectional Findings from the Moli-Sani Study." Nutrients, May 2021; doi: 10.3390/nu13051701.
Gonçalves, S. and Gaivão, I. "Natural Ingredients Common in the Trás-os-Montes Region (Portugal) for Use in the Cosmetic Industry: A Review about Chemical Composition and Antigenotoxic Properties." Molecules, August 2021; doi: 10.3390/molecules26175255.
---
Kudos from Club Members
I was never a big fan of olive oils until I opened my first club bottle, the Cladium from the Spring selection, and smelled the freshness of this EVOO. Once I tasted it, I couldn't get enough and was putting it on everything. I dreamed about it all night and started eating it by the spoonful first thing in the morning. I've never had such a delicious olive oil. Can't wait to see what next quarter brings.
---

Recipes