Easy Pizza Dough for Personal Pies Recipe, Spotlight on Pizza, White versus Wheat Flour, Why Thinking is Exhausting and Why Daily Exercise is Not
Who doesn't love pizza? The problem is that it's often saddled with the "unhealthy" label. But I'm here to tell you that homemade pizza can be delicious and nutritious. It all depends on the ingredients, and by that I of course mean the toppings! And I have some more food for thought: Why thinking is exhausting and why daily exercise nuggets are not (they're actually invigorating!).
Easy Pizza Dough for Personal Pies
Easy Pizza Dough for Personal Pies

Using bread flour is the secret for crusty pizza—one that holds up to a lot of sauce and toppings! You can make two large rounds from this dough, but making individual pizzas is more fun. Note: If you're able to find instant yeast, you can streamline the technique even further, as it can be mixed with the other dry ingredients for a few seconds before adding the water and oil, before proceeding with the kneading as described.

Ingredients

1 1/2 cups warm water, about 110-115°F, plus more as needed
1 teaspoon sugar
2 1/4 teaspoons (or one envelope) active dry yeast
1 teaspoon coarse sea salt
4 cups bread flour, plus more as needed
4 tablespoons olive oil, divided

Directions

Step 1

Place the water, sugar, and yeast in the bowl of a stand mixer with the dough hook attached. Turn it on for a few seconds to mix and then wait 5 minutes for the yeast to bubble up.

Step 2

With the mixer on the lowest setting, add 3 tablespoons of olive oil, the salt, and the flour to the bowl. Once a doughy mass forms, slowly raise the speed and continue kneading until the dough ball is smooth and elastic, about 8 minutes. If the dough feels too dry, add more water, a scant tablespoon at a time. If too wet, add more flour, a scant tablespoon at a time.

Step 3

Lift the dough out of the bowl, remove the dough hook, and pour in the last tablespoon of olive oil, coating the bowl thoroughly. Place the dough back in the bowl, cover it with plastic wrap, and let it rise for about 60 minutes or so (depending on how warm your kitchen is) until double in size and spongy.

Step 4

Preheat your oven to 450° or 500°F, depending on how high it goes. Gently transfer the dough from the bowl to a large piece of parchment paper. Use a knife or pastry cutter to cut the dough into quarters. Transfer three of the pieces onto their own sheets of parchment. If the dough is sticky, first sprinkle the parchment paper with flour or some cornmeal. One piece at a time, stretch out the dough with your hands, rotating it by quarter turns until it reaches your desired thickness. The shape—round, rectangle, or oblong—is up to you, but keep a slight lip all along the perimeter. Transfer the pizzas to large baking sheets (you should be able to fit two per sheet). Use scissors to trim the parchment to within two inches of the dough.

Step 5

Working in batches as needed based on your oven capacity, bake the pizzas for 8 minutes. Carefully take them out of the oven, add your desired toppings, and return to the oven for another 8 to 10 minutes or until bubbly.

Yields 4 individual pizzas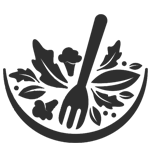 Healthy Ingredient Spotlight
"Healthify" Your Pizza
One of the things I love most about making individual pizzas is that everyone can customize their pie. I like to "healthify" my pizza with loads of veggies, like onions, mushrooms, Brussels sprout halves, and broccoli rabe. Cherry tomatoes are a fun addition when there's no time to make sauce (or even in addition to it). Topping your pizza right as it comes out of the oven with arugula and a drizzle of olive oil gives it a fresh and slightly peppery finish. Of course, almost any ethnic dish that you'd eat with bread, from chicken tikka marsala to shish kebab, can top your pizza for a delicious twist.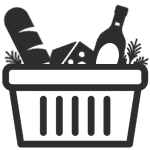 Healthy Kitchen Nugget
White versus Wheat Flour
Another trick to making pizza good for you is replacing about 25 percent of the white flour with whole wheat or whole wheat pastry flour. Because these flours are the least processed, they retain fiber and nutrients. At the other extreme is 00 pizza flour. It's been getting more attention lately as Italian brands become more readily available (there's also 00 flour for pasta, and they're not interchangeable). It has the silkiest, smoothest texture of all flours and, consequently, retains virtually no fiber. Since, as always, the proof is in the pudding, you might do your own taste test to see the difference and even experiment by using 00 along with some whole wheat flour.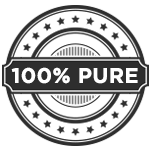 For Your Best Health
Don't overthink it!
New research has found that too much mental effort can be as exhausting as physical labor. What's more, it can cause toxin by-products to build up in the brain (fortunately, they can be recycled during down time).
Study co-author Mathias Pessiglione, PhD, of Pitié-Salpêtrière University in Paris, France, explains: "Our findings show that cognitive work results in a true functional alteration—accumulation of noxious substances—so fatigue would indeed be a signal that makes us stop working…to preserve the integrity of brain functioning."
To better understand what mental fatigue really is, Dr. Pessiglione and his colleagues used magnetic resonance spectroscopy to monitor brain chemistry over the course of a workday. They looked at two groups of people: those who needed to think hard and those who had relatively easier cognitive tasks.
They saw signs of fatigue only in the group doing hard thinking. Those participants also had higher levels of glutamate in synapses of the brain's prefrontal cortex. This supports the notion that glutamate accumulation makes further activation of the prefrontal cortex more costly, meaning that cognitive control is more difficult after a mentally tough workday.
Is there some way around this limitation of our brain's ability to think hard? "Not really, I'm afraid," Dr. Pessiglione says. "I would employ good old recipes: Rest and sleep! There is good evidence that glutamate is eliminated from synapses during sleep." He also advises people to avoid making important decisions when they're tired.

Fitness Flash
Weight Training in Daily Spurts
We all know how important weight, or resistance, training is—having strong muscles is essential to staying self-sufficient, especially as we get older. But you may have a hard time getting enthused about going to the gym for heavy-duty pumping iron sessions. New research from Australia's Edith Cowan University (ECU) found that small amounts of daily activity could well be the most beneficial approach for muscle strength.
For their study, researchers from ECU in collaboration with Niigata University and Nishi Kyushu University in Japan had three groups of participants perform an arm resistance exercise (eccentric bicep contractions) using a weight training machine, and then the researchers measured and compared changes in muscle strength and muscle thickness.
Each group followed a different training schedule across the four weeks of the study. Two groups performed 30 contractions per week, with one group doing six contractions a day for five days a week (the 6×5 group), while the other crammed all 30 into a single day, once a week (the 30×1 group). The third group only performed six contractions on just one day each week.
After four weeks, the group doing six contractions once a week did not show any changes in muscle strength or muscle thickness. The group doing 30 contractions in a single day did not show any increase in muscle strength, though they had a slight increase in muscle size. The 6×5 group saw an increase of greater than 10 percent in muscle strength along with a slight increase in muscle size.
ECU Exercise and Sports Science Professor Ken Nosaka, PhD, says this and other studies suggest very manageable amounts of exercise done regularly can have a real effect on strength. "People think they have to do a lengthy session of resistance training in the gym, but that's not the case. Just lowering a heavy dumbbell slowly once six times a day is enough. We only used the bicep curl exercise in this study, but we believe this would be the case for other muscles also, at least to some extent," explains Dr. Nosaka, adding, "Muscle strength is important to our health. This could help prevent a decrease in muscle mass and strength with ageing. A decrease in muscle mass is a cause of many chronic disease, such as cardiovascular disease, type 2 diabetes, some cancers, dementia, plus musculoskeletal problems such as osteoporosis."
He stresses that it's also important to include rest in an exercise regimen. "In this study, the 6×5 group had two days off per week," he points out. "Muscle adaptions occur when we are resting; if someone was able to somehow train 24 hours a day, there would actually be no improvement at all. Muscles need rest to improve their strength and their muscle mass, but muscles appear to like to be stimulated more frequently."
Dr. Nosaka also believes that there needs to be more emphasis on making exercise a daily activity, rather than hitting a weekly minute goal. "If you're just going to the gym once a week, it's not as effective as doing a bit of exercise every day at home," he says. The study was published in the Scandinavian Journal of Medicine and Science in Sports.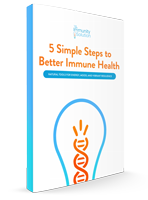 A New and Exciting Health Event
Is Your Immune System in Prime Shape?
While we tend to think of the body's immune system as our first defense against the flu and other viruses, it's responsible for so much more. That's why I'm excited to share news about a brand-new online series called The Immunity Solution led by Austin Perlmutter, MD, the internationally recognized educator on the neurobiology of mood and decision-making, and Jeffrey Bland, PhD, the integrative health pioneer.
These well-respected experts know that an imbalance in your immune system can hurt your health, sap your energy, and bring down your mood. It's also been linked to poor gut health, painful joints, brain fog, skin problems, and more. But they also know that there's a lot you can do to improve immunity…and they've put together a new 12-episode event to show you how.
Joining Drs. Bland and Perlmutter for this groundbreaking new series are leading experts on health, nutrition, and the immune system. You'll learn how to beat fatigue and increase energy, improve mood, and optimize your health so that you feel great, all by making some simple diet and lifestyle changes.
Consider this your personal invitation to attend this incredible event for FREE!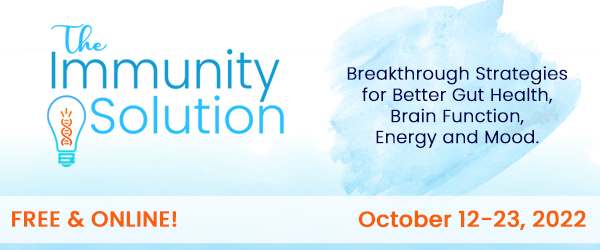 From October 12 to 23 at absolutely no cost to you, you will have the opportunity to learn about the latest discoveries and breakthroughs in immunity and get powerful tools that will work fast and last for the rest of your life. Here are just a few of the featured experts and topics in the 12-episode series:
Dr. David Perlmutter: The Brain Immune Connection
Dr. Daniel Amen: Mental Health in the Modern Day
Dr. Uma Naidoo: Food and Mood Connection
Dr. Mark Hyman: The Longevity Immunity Connection
Dr. Austin Perlmutter: Nature, Sleep, Exercise
Dr. Jeffrey Bland: Food, Nutrients, Supplements, and Energy Immune Connection
JJ Virgin: Women's Health and Immunity
Dr. Tom O'Bryan: The Incredible Gut-Immune Connection
Dr. Anna Cabeca: Inflammation: What Is It? And Why Care?
To learn more about this unique series hosted by Dr. Austin Perlmutter and Dr. Jeffrey Bland, go to The Immunity Solution.
Get More Recipes In Your Inbox!