From the Other Side of the World, Flown Here at Their Peak of Freshness: Three Food-Friendly Australian Extra Virgin Olive Oils for Your Fall Table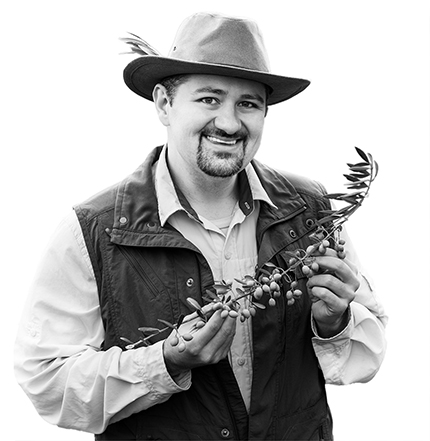 Crafted by award-winning artisanal producers who meld Old World traditions with state-of-the-art techniques, these exclusive oils are among the freshest on the planet, delivered to the US by jet for you to enjoy with friends and family.
Personally selected by your Olive Oil Hunter and available nowhere else, this trio will enhance every meal and elevate your fall and holiday dishes.
All three oils have been certifi ed by an independent lab to be 100 percent extra virgin olive oil and rich in polyphenols, prized for their healthful benefits.
---
One of the greatest taste pleasures in life comes from the annual trek your Olive Oil Hunter makes to Australia. For me, "the great Oz" isn't the wizard who helps Dorothy and Toto get back home in the L. Frank Baum classic but the enchanting land in the Southern Hemisphere. (Australia's beloved nickname "Oz" comes from the quick pronunciation of its first three letters.) I like to think of its beautiful, shimmering olive groves as mini "emerald cities," and as its wizards, the men and women who create the liquid gold that I jet home for you.
With opposite seasons to countries in the Northern Hemisphere, Australia is the perfect place to source fresh-pressed olive oil this time of year. And no matter how knackered—local lingo for exhausted—I am from the 20,000-mile round-trip odyssey, I look forward to it every year. Once you taste the magic in these three bottles, you'll understand why.
The Olive Oil Culture Down Under
Oleiculture— the production and processing of olives—Down Under has a history dating back more than two centuries, albeit with fits and starts. By the turn of the 20th century, 60 different olive cultivars were thriving in their new home, primarily on a specially designed farm with a research station in Wagga Wagga, in the heart of New South Wales, the Aussie state that's also home to Sydney and the country's capital, Canberra. But despite the best of intentions, over the course of that century, olive cultivation came close to the point of completely faltering. In 1995, the Australian Olive Association (AOA) was formed to revive it and set standards for EVOO quality. There was new interest—and investment—in Australian olive oil, especially in Victoria, considered the country's garden state because of its temperate, Mediterranean-like climate that is conducive to farming.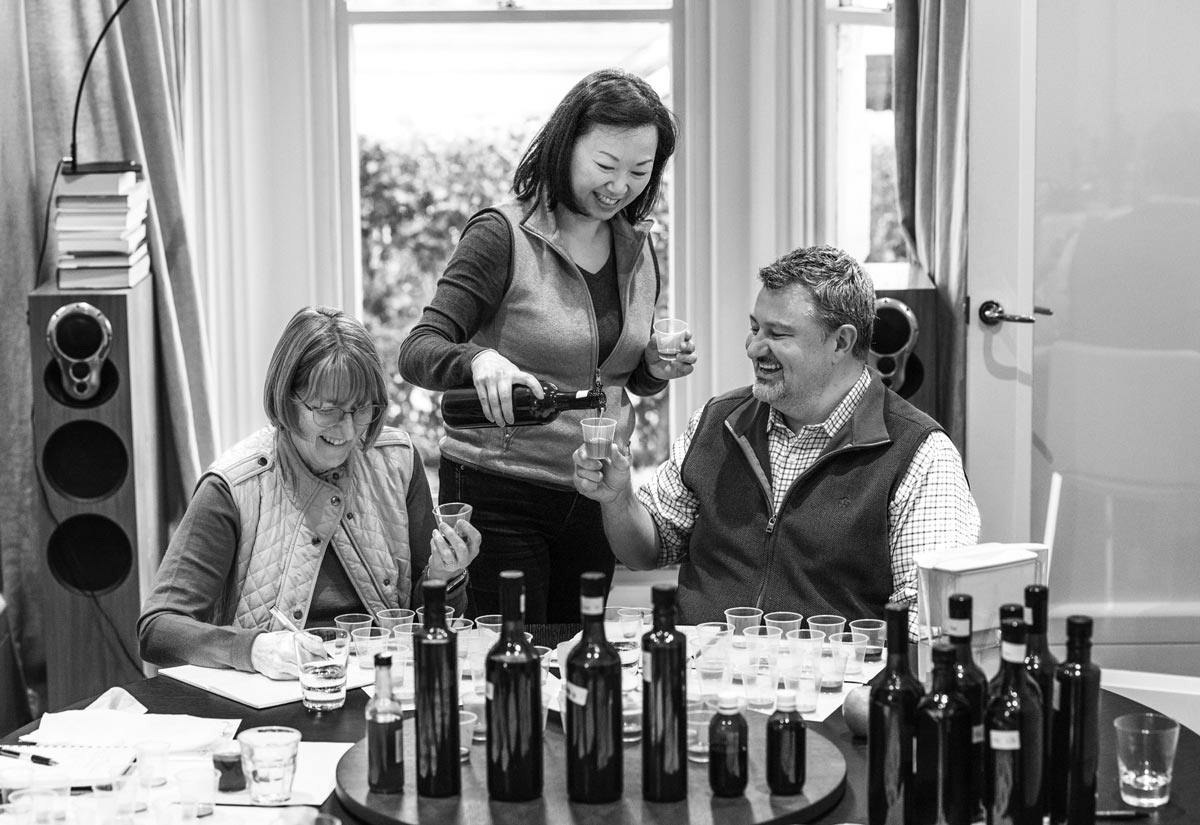 The parallels to the Australian wine industry are remarkable. Not long after the first olive trees were planted in the 1800s, grape cuttings from Spain and France were introduced to the region. Yet it wasn't until the end of the 20th century that the country's wines reached the international stage. Wine connoisseurs now rave about Aussie Shiraz, Cab Sauv (their shorthand for cabernet sauvignon), Pinot Noir, Chardonnay, Riesling, and the uniquely aged white Semillon. For olive oil connoisseurs like me, it's the Australian Picual, Coratina, and Frantoio olives, among others, that get my attention and are taking their place in the spotlight.
A Land of Extremes, A Buffet of Cuisines
With six different climate zones (plus numerous microclimates, important for growing olives), Oz lets me enjoy the sun at Sydney's Bondi Beach and, after a day's drive, witness snow in the Australian Alps along the Great Alpine Road from Wangaratta to Metung.
What makes the country even more fascinating to me is that, throughout its contemporary history, Australia has attracted immigrants not only from England but from all corners of the globe—from waves of Italians and Greeks in the 1800s and again after World War II to more than 3 million newcomers since 2000, many from across Asia, including China, Vietnam, the Philippines, Malaysia, and India. Their cultures and cuisines are now all part of the Oz landscape. Some of the most delicious meals I've ever had were in small family-run restaurants from Sydney to Melbourne, and they inspired many of the dishes in the recips below.
My Network of Amazing Aussie Experts
I've spent nearly two decades developing and strengthening relationships with the most important olive oil influencers on the continent to ensure that I can always bring you the finest, freshest oils for this quarter. My Merry Band of Tasters swells in Oz to include our close friend and longtime Club collaborator, Melissa Wong—we've known each other since our days at the Food Network in New York in the '00s! Few people Down Under have more experience in sourcing superior specialty foods than Melissa, a former Michelin-star restaurateur and fine food aficionado.
I also love reuniting with Australian olive guru and esteemed taster Jill Barson, who sits on the board of the Olive Wellness Institute, an organization dedicated to educating the public about the health benefits of EVOO. I always look forward to gaining insights from John and Marjan Symington of Oasis Olives, who
are both committee members of the Victoria-based Goulburn Strathbogie Olive Oil Association and whose expansive farm often serves as our logistics hub.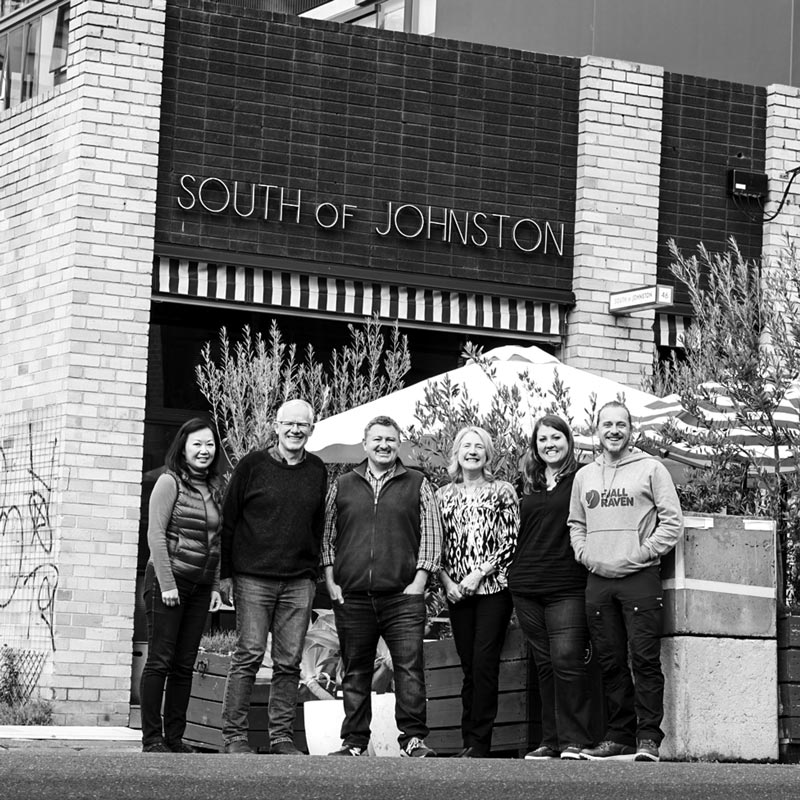 In Oz, ultra-premium olive oil producers understand that making artisanal olive oil is both an art and
a science and will incorporate Old World sensibilities into the modern practices on their family farms. In the following paragraphs, you'll meet them: Kyneton's estate manager, Mick Labbozzetta, whose own parents came from Italy; Annie Paterson, founder of Nullamunjie Olive Groves, one of the most passionate growers I know; and my dear friend Leandro Ravetti, a master miller, international panel judge, and olive oil consultant who racks up even more frequent flyer miles each year than I do!
Though their respective oils might compete to be part of the Club's selections in any given year, all these award-winning producers share my goal of bringing you the tastiest, freshest oils. And this quarter was yet another triumph.
Happy drizzling!


T. J. Robinson
The Olive Oil Hunter®
---
This Quarter's First Selection
Producer: Leandro's Master Miller Exclusive Selection, Boort, Victoria, 2023
Olive Varieties: Picual, Coratina
Flavor Profile: Mild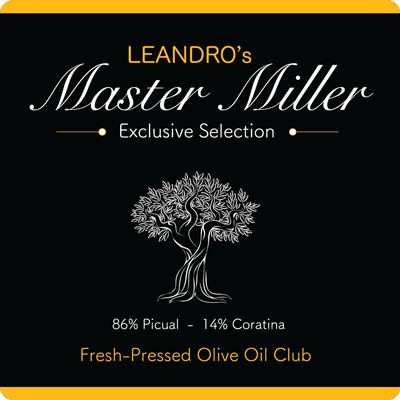 My longtime friend Leandro Ravetti is one of the most influential olive oil experts in the world. His oils have won top awards in the most prestigious competitions on earth, from Tokyo to Los Angeles to Madrid and beyond. He was even a keynote speaker at what is Mount Olympus for the planet's olive oil producers: the New York International Olive
Oil Competition.
Leandro is my ace in the hole when I hunt fresh-pressed olive oil Down Under. Like an alchemist, Leandro has helped me put some of the most exquisite Australian extra virgin olive oils into the hands of discriminating Club members for more than a decade.
One of the many notable things about Leandro is his consistency. No matter what obstacles he encounters, weather-related or otherwise, he manages to vault over them, coaxing the best fruit from his trees—and, from that fruit, the best extra virgin olive oils.
Leandro is a master miller, one of only a handful in the world. He graduated with an honors degree in agricultural engineering from the National University of Catamarca, doing post-graduate work in Spain and Italy before returning to his native Argentina to assist its fledgling olive industry. Leandro is uniquely qualified to straddle the olive oil cultures between the old and new worlds. In 2001, he accepted the position of technical director at Modern Olives in Lara, Victoria. This science-based company interfaces with Australian olive growers and maintains a state-of-the-art laboratory to study planting and cultivation techniques, natural flavor and aroma optimization, tree health, harvest efficiencies, and milling methods. There is virtually no facet of olive cultivation and olive oil production that Leandro is not intimately familiar with. One of his most laudable accomplishments was drafting the Australian Standard for Olive Oil, which set some of the highest standards among all olive-growing countries.
You can understand why it's such a delight to spend time with this scientist, technical whiz kid, and artisan on his home turf. I always learn something new.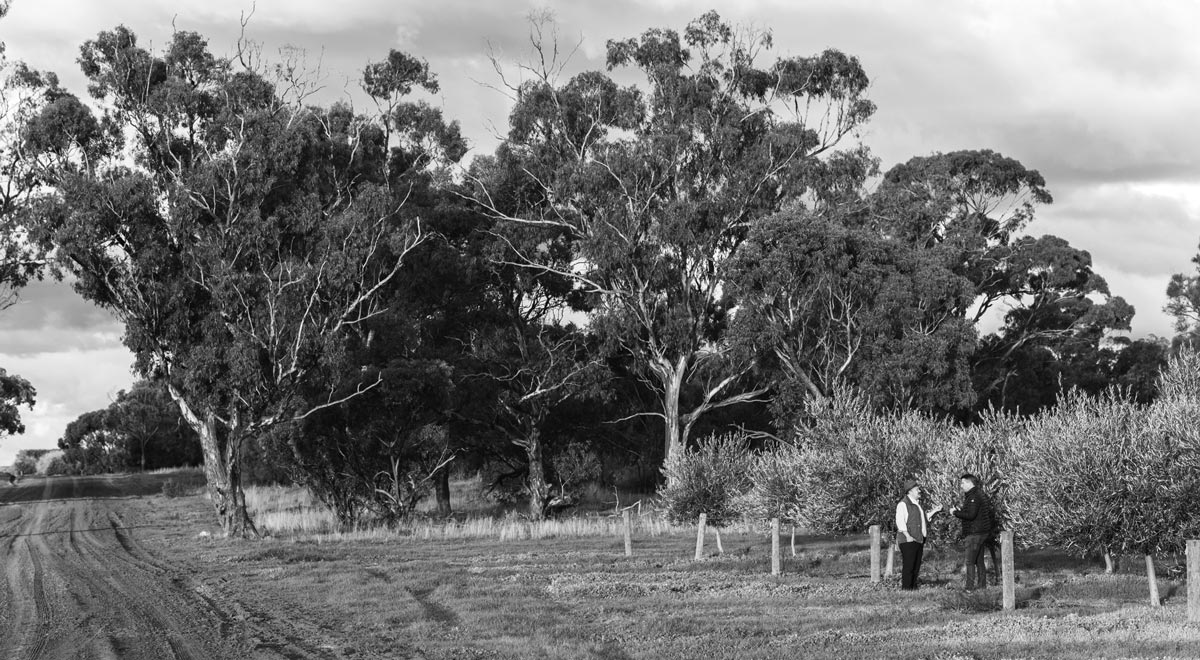 During a trip to his olive groves, Leandro explained the season's peculiarities to us. An unseasonably cool, damp spring delayed the olive trees' flowering by about two weeks, meaning the fall harvest was delayed as well. (The olives were slow to ripen, which can be a good thing, as it gives the fruit a chance to develop more complex flavors.) Producers like Leandro, who prefer early-harvest oils, avoided the rains that bedeviled some harvest teams.
I was especially eager to tour the mill at Boort, as it underwent a complete renovation since my visit in 2022. Because the project was completed just before the harvest, it was a bit of a nail-biter. I was very impressed. The mill is an example of the technological edge Oz has been honing for 25 years. Most intriguing was a device that sorts olive fruit. Guided by cameras and preset parameters, this "inspector" culls less-than-perfect fruit from the herd, banishing it to a separate bin with a well-aimed puff of air. It's fun to watch!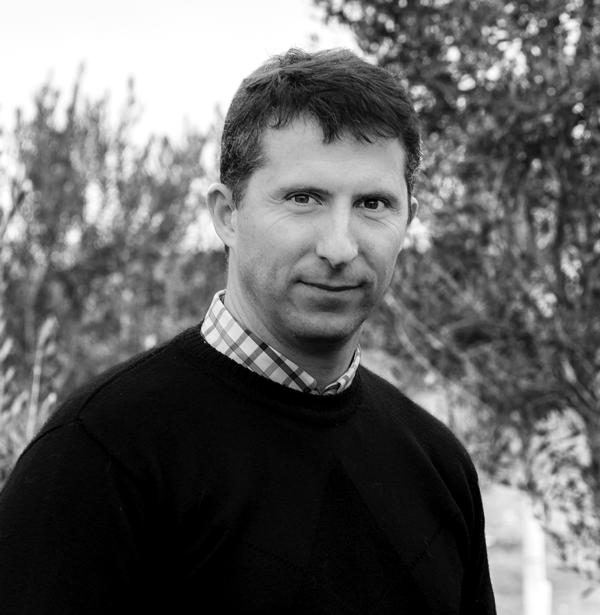 Leandro promotes extra virgin olive oils with the fervor of a Southern-born evangelist. He hopes refined oils with misleading descriptors like "Pure" or "Light" will disappear from market shelves—those oils have been altered by heat and/or the addition of chemicals, destroying their healthful properties.
Leandro is an avid home cook and an ardent user of olive oil in his own kitchen in the coastal city of Geelong. He's especially proud of his schnitzel, aka "schnitty"; carrot cake with cream cheese and olive oil icing; and a version of Italy's bagna cauda ("hot bath"), enriched with heavy cream and served with crudité.
Just writing about this oil and its accomplished producer makes me excited to get back to my kitchen to find new ways to use this fresh and flavorful extra virgin. Once you taste it, you'll find my enthusiasm contagious!
Impressions and Recommended Food Pairings
My tasters and I agree this oil, though mild, has loads of personality. Exceptionally fragrant, evoking tomato vine and the fruitiness of Asian pear and green banana. Notes of celery leaves and white pepper are accompanied by the nuttiness of walnuts and the freshness of mint. Pleasantly green and grassy in the mouth, with the mild bitterness of green walnuts and Belgian endive and the subtle spiciness of celery leaves. Floral notes—fresh rose petals?—ride the long finish.
This Picual and Coratina blend has range. I recommend it for salads featuring pears or walnuts; bread; roasted tomatoes or root vegetables; stir fries; mild fi n fi sh; lobster or other shellfi sh; chicken; pork; brie, camembert, or even aged cheeses like pecorino; eggplant; eggs; legumes; rice; popcorn; smoothies; vanilla ice cream; panna cotta; or baked goods.
---
This Quarter's Second Selection
Producer: Nullamunjie Blend, Tongio, Victoria, 2023
Olive Varieties: Frantoio, Coratina, Leccino
Flavor Profile: Medium

Annetta "Annie" Paterson, the founder of Nullamunjie, credits an unknown benefactor with ultimately changing her life.
She was about six years old when bookshelves and books to fi ll them appeared at her one-room schoolhouse in the Victorian bush. The new "library"—likely part of what Aussies call a "clear out" (a rummage or estate sale)—fascinated Annie, especially the books on Greek history and mythology. Later, after graduating from the University of Melbourne, Annie splurged on a trip to Greece.
Today, she can still describe in detail the view from her tour bus window as it wheezed up the steep slope of Mt. Parnassus to Delphi, famed home of the Oracle: the silvery, grey-green leaves of the olive trees rustling in the breeze, the sun-kissed Aegean Sea just beyond their crowns. For Annie, it was love at fi rst sight. She intuited that olive trees would thrive on her family's East Gippsland ranch. Unconvinced by her argument that the Mediterranean-like climate (warm days and cool nights) and rocky, mineral-rich soil would support olives, Annie's father urged her to table her dream.
Fortunately for us, dear Club member, the story didn't end there. In 1998, Annie—by then married and the mother of four—purchased land bisected by the Tambo River at the base of Mt. Stawell. She started out small, initially planting a few hundred olive trees—all Italian varietals. Now a septuagenarian, Annie shows no signs of slowing down. She recently added 300 acres to her holdings, planting them with 2,500 olive trees. No leisurely afternoon games of mahjong for this remarkable woman! You're more likely to find her deep in the olive grove, wielding a chainsaw and wearing a hard hat over her perfectly coiffed hair, her outfit accessorized with a string of South Sea pearls. "I like to prune," Annie admits. If I failed to schedule a visit with Annie during a trip to Oz (unthinkable), my Merry Band of Tasters would mutiny! She is down-to-earth yet patrician in her bearing. ("I feel like I'm with royalty when we're together," I told a friend.)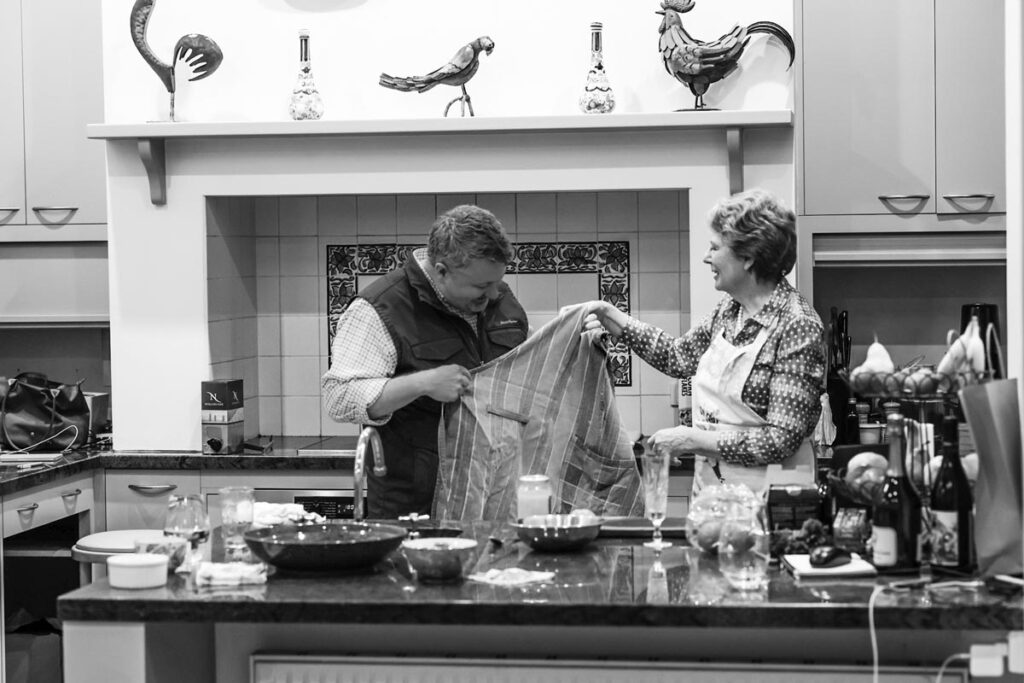 Laughter is always on the menu when my Merry Band of Tasters and I join Annie Paterson, the effervescent proprietress of Nullamunjie, for a meal. On the evening these photos were taken, Annie invited us to her lovely antique Victorian home near Melbourne's CBD. A talented cook, for years Annie ran a popular café at her farm called The Pressing Shed (Aussie-speak for an olive mill). Her Flourless Chocolate Hazelnut Cake is a favorite at my house.
With the help of Riley, her new operations manager, Annie's in the process of adopting regenerative farming techniques. This government-backed program goes beyond sustainability. Its goal is to sequester carbon in the soil and promote biodiversity.
Dining at Annie's table is something my Merry Band of Tasters and I always look forward to. During our recent visit, we gathered at the beautiful home she shares with her husband, John, near Melbourne's central business district (CBD). A classic Victorian, this architectural antique features the intricate gingerbread trim common to houses built in the latter half of the nineteenth century as well as stunning pressed-tin ceilings that reverberate with laughter when we're together.
We relish our trips to the farm, too, some 250 miles northeast of the city. The home Annie and John built there is an example of Australia's "rammed earth" construction. After a day at the mill, it's a pleasure to stargaze from the veranda. Though deep in the bush, we even found a great little pizzeria whose pies went exceedingly well with Annie's just-pressed olive oil!
One evening, over a typically mirthful dinner of stuffed mushrooms, olive oil–poached salmon with capers, roasted fennel and tomatoes, and a salad of pear and seasonal greens—all accompanied by stellar Aussie wines—we devoted ourselves to catching up.

Annie's beloved trees, she said, endured another unusually cool, wet, overcast summer, delaying the olives' ripening by two weeks. However, the East Timorese harvest crew arrived at the prearranged date as per their contract. Was their early arrival a problem? Not for me: Longtime members of the Fresh-Pressed Olive Oil Club know my strong preference for early-harvest oils, with their complex fl avors and higher polyphenol counts.
It's thrilling for Annie to imagine Club members tasting her extra virgin olive oils, lovingly crafted from her favorite varietals. (Usually, it's a privilege only locals have!) She is so very proud of their versatility and their ability to elevate nearly every food they touch. I predict this oil, produced by a plucky but determined grandmother, will soon become your favorite "secret ingredient," taking your cooking to glorious new heights.
Impressions and Recommended Food Pairings
This Italian-varietal farm blend refl ects the geniality, beauty, and elegance of its producer, Annie. It's incredibly food-friendly, as you'll discover. Almond is predominant on the nose, supported by Belgian endive, golden apple, citrus zest, freshly ground black pepper, oregano, fennel seed, and cinnamon. A whiff of baby spinach lends mineral-like grace notes. Very harmonic on the palate, blending green almonds, wild mint, and the complex bitterness of radicchio, green tea, and walnuts. Arugula and black pepper appear on the spicy tail.
Pair this exceptionally versatile oil with salads featuring winter greens (like kale) and nuts; curries; bruschetta; white pizza; pesto; lamb; turkey; roasted new potatoes or sweet potatoes, pumpkin or other squash, radicchio, broccoli, brussels sprouts, or caulifl ower; white beans; steamed green beans or edamame; mushrooms; yogurt; granola; or ice cream.
---
This Quarter's Third Selection
Producer: Kyneton Olive Oil, Bylands, Victoria, 2023
Olive Varieties: Coratina, Frantoio
Flavor Profile: Bold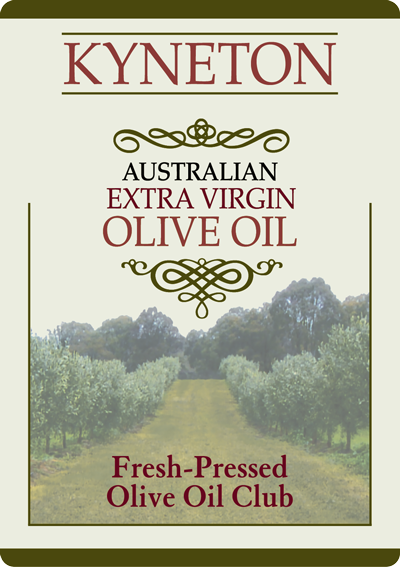 Each time I prepare to taste the just-pressed oils from the Kyneton farm—a destination for me and my Merry Band of Tasters since 2009—I feel an adrenaline rush of what I can only describe as Christmas-morning anticipation. It's the same feeling I got as a child, wondering what could be inside a mysterious package that had appeared under the tree overnight. Was it that special gift I had wished for? Or was it something else—possibly even more wonderful?
Since 2016, Kyneton has been tended by the genial and generous estate manager Mick Labbozzetta, whose team presses the top-quality Kyneton olives as well as those from several other artisanal farms. "You can't rely on just one grove," Mick says, nodding to the fickleness of Mother Nature and also to the smaller-scale operations of Australian olive farms, many of which do not have a mill on site. With its state-of-the-art Pieralisi olive mill, Kyneton is the destination for the finest fruit in the area.
I think of Kyneton as a mini Italy in rural Victoria. Mick, whose family immigrated to Oz from Calabria, is supported year-round in the groves by a fellow Calabrian, Carmelo Tramontana. They join forces each harvest season with an Italian master miller, Davide Bruno. Together, this trio merges Old World character with New World practices to generate a great Italian-Australian synergy They are faithfully carrying on Kyneton's Italian lineage: the original grove was planted by Calabrian transplant Felice Trovatello and stewarded expertly by his children until it was acquired, in 2015, by the Inturrisi family, originally from Sicily—to whom Mick is related by marriage.
Nineteenth-century Italian immigrants brought the first olives to Australia, with cuttings smuggled inside the lapels of jackets, in order to plant trees from their homeland in the soil of their future. The largest waves of Italian immigration to Victoria were during the postwar period, especially the 1950s and '60s.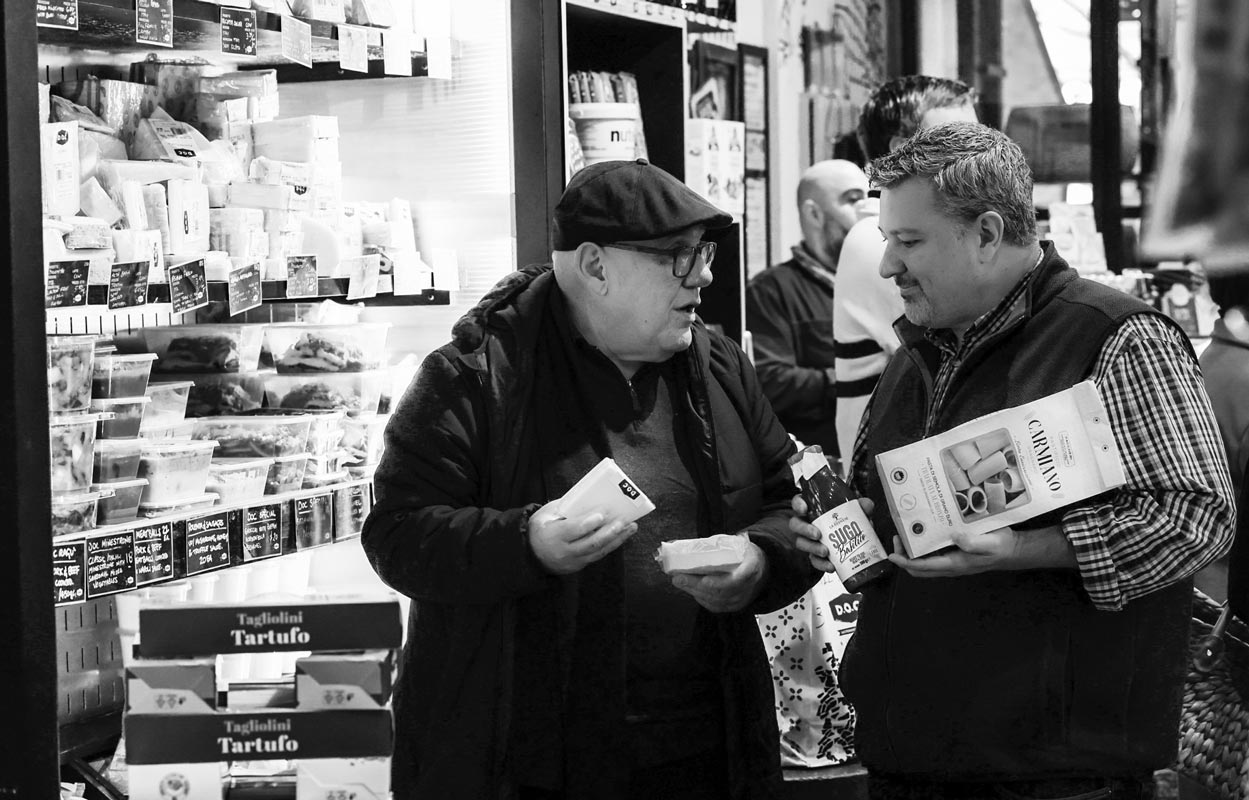 As we caught up at D. O. C. Espresso, an old-school Italian café on Lygon Street in Victoria, I asked Mick what it was like when he was a boy. "Every couple of months," he said, "there were boatloads of Italians arriving." He reminisced about the ships that transported the newcomers, switching effortlessly between his gentle Aussie lilt and mellifluous Italian: the Achille Lauro, the Angelina Lauro, the Sydney, the Galileo Galilei, the Marconi. Many of these migrants—most hailing from the southern Italian regions of Sicily and Calabria—became entrepreneurs in their new country.
"All the flavors and traditions from back home were imported, along with the families," Mick recalled. Immigrants opened Italian bakeries, cafes, delicatessens, and restaurants that created and sustained a thriving Italian-Australian culture in Victoria for decades.
You're no doubt wondering—as I was—about the olive oil. As Mick explained, in the '60s and '70s, all the olive oil was imported. Mick's grandfather wanted to make olive oil for his family, so he planted about 20 trees in his backyard in Adelaide. "I remember picking the olives," Mick smiled. Those olives were pressed into oil at a neighbor's home.
Mick's grandfather would be incredibly proud that his grandson now oversees about 7,000 trees at Kyneton, most of them Italian varietals. Since 2018, master miller Davide Bruno, a gifted and passionate Ligurian native, has collaborated with Mick during the harvest. As Davide's visa permits him to work in Australia for three months out of the year, he arrives in time to monitor the olives' development and then pinpoint what I term the "magic window," the ideal time to press the fruit in order to maximize the perfumes and flavors in the resulting oils.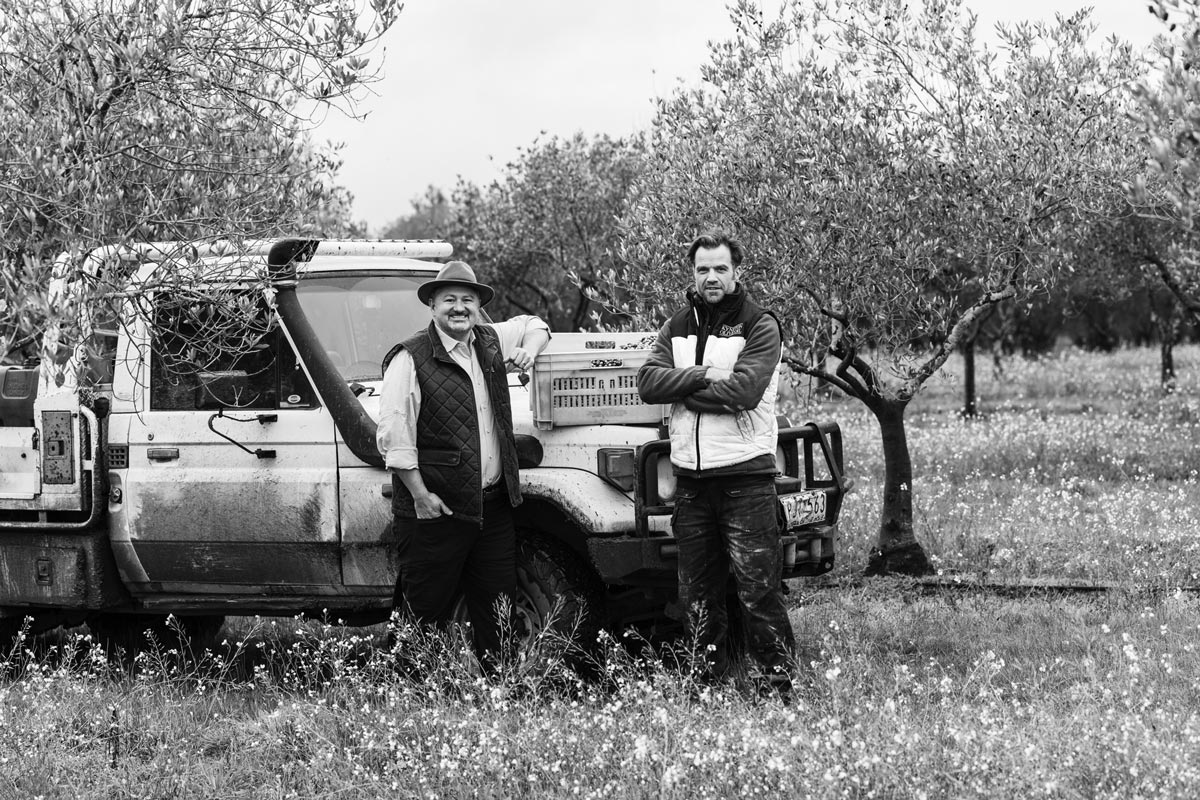 When I arrived at the farm, the Kyneton team presented eight different Coratina pressings for me and my Merry Band to taste, each of them distinct. I tinkered with them and added a small but strategic amount of an excellent Frantoio to craft a harmonious, one-of-a-kind bold selection for the Club.
Mick expressed what an honor it is to work with our Club, as he continues to learn from me, and from you, about the qualities we seek in premium EVOO—the healthful polyphenols, the range and nuance of perfumes and flavors. He and his team hold their plans until they know whether a Kyneton oil will be a Club selection. "You're very important to us," he said, a sentiment I echo right back. We are thrilled to share this exclusive Italian-style blend with you.
Impressions and Recommended Food Pairings
Dominated by the assertive Coratina varietal, this oil leads with the herbal scents of thyme and sage (for me, the latter always flags a desire for cool-weather cooking), as well as green tea, almond, banana, escarole, and green peppercorns. It's bold on the palate but with an intriguing, well-integrated bitterness. We noted rosemary, macadamia nuts, cocoa nibs, lemon zest, and bay leaf. The bitterness of arugula and dandelion greens and the spicy tingle of Szechuan peppercorns deliver a vibrant finish.
This oil is perfect for fall, a great complement to your seasonal menus. I urge you to try it with grilled or roasted meats; jacketed baked potatoes; pizza; hearty soups, stews, and braises; tomato-based sauces, like Bolognese; meat pies (see a recipe for this Aussie favorite below); Chinese broccoli; duck; game meats; Japanese eggplant; or chocolate desserts.
---
Olive Oil and Health
Dementia: Olive oil could help protect brain health, according to new study
Adapted from the original research and an article by Robby Berman in Medical News Today, August 2, 2023
Consuming half a tablespoon of olive oil per day could substantially lower your risk of dying from dementia, a new study shows.
According to a presentation on July 24 at the NUTRITION 2023 conference in Boston, the study found that people who consumed half a tablespoon or more of olive oil daily had a 25% reduced risk of dying from dementia compared to people who did not consume olive oil.
What's more, higher olive oil intake was linked to greater brain benefits. "We found a clear linear dose-response association between higher daily olive oil intake and lower risk of fatal dementia," said presenter Anne-Julie Tessier, RD (registered dietician), PhD, a postdoctoral fellow at the Harvard T. H. Chan School of Public Health.
This US-based study is the first to investigate the relationship between diet and dementia-related death. The investigators analyzed the health records from 1990 to 2018 of more than 90,000 people in the US who did not have cardiovascular disease or cancer at the start of the study. During the study's 28 years of follow-up, 4,749 participants died from dementia.
Replacing even a single teaspoon of margarine or commercial mayonnaise with olive oil was also associated with a 5-12% reduced risk of dying from dementia, according to the research team. These benefits were not seen with other vegetable oils.
The link between higher olive oil intake and lower risk of dying of dementia was observed regardless of the overall quality of people's diets. This may indicate that components of olive oil provide unique benefits for brain health.
"Some antioxidant compounds in olive oil can cross the blood-brain barrier, potentially having a direct effect on the brain," said Dr. Tessier. "It is also possible that olive oil has an indirect effect on brain health by benefiting cardiovascular health." She noted that only a few individuals in the study consumed more than 15 mg (about 1 tablespoon) of olive oil daily.
A body of previous research has established an association between olive oil intake and a lower risk of heart disease, and incorporating olive oil as part of the Mediterranean diet has also been shown to help protect against cognitive decline.
Dr. Tessier reflected on the characteristics of olive oil that may confer its effects on the brain: "Olive oil may play a beneficial role in cognitive health through its rich content in monounsaturated fatty acids, which may promote neurogenesis [growth of brain cells]. It also contains vitamin E and polyphenols that have antioxidant activity."
The research team advised that an observational study such as this is only able to identify an association and does not prove that olive oil is the cause of the reduced risk of dying from dementia. Randomized, controlled trials are needed to confirm the study's findings and to help establish the optimal quantity of olive oil to consume in order to experience the most benefits.
Reference: Tessier JA, Yuan C, Cortese M, et al. Olive oil and fatal dementia risk in two large prospective US cohort studies. Poster presented at NUTRITION 2023 conference, Fairfax, VA, July 24, 2023.
---
Kudos from Club Members
I feel like part of a larger family


Hi Folks: There was a Facebook post asking if you could have fresh pressed olive oil only one way, what would it be? I have to say in a tablespoon straight from the bottle. This is still my favorite way to enjoy our oil. Also, I was concerned about the quality during the travel restrictions due to TJ, et al, being "here" and not "there." However, when I read about the oils, I realized that Duccio Morozzo, Paco Vaño, and others are really our friends and care just as much about making our oils special. I favour the stronger oils, but the selections this year have been superb, and I feel like part of a larger family and I trust our friends overseas. It's a great feeling.
---

Recipes