Three Spectacular Chilean EVOOs from One Extraordinary Farm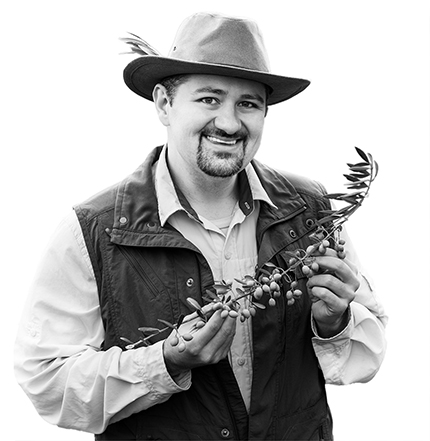 Custom-blended to attain perfect harmony, balance, and food-friendliness, these just-pressed oils will be the stars of your summer table.
All three were rushed to the US by jet to preserve their vivid, tantalizing flavors and healthful properties.
All three have been certified by an independent lab to be 100 percent pure extra virgin olive oil.
All three are Club exclusives, available nowhere else!
---
I've just returned from the vibrant, fertile land of Chile, with its world-class olive groves, generous people, fantastic local food, and plenty of la buena onda—good vibes. I'm thrilled to present you with the fruits of my most enjoyable labors: three glistening bottles of the freshest, finest extra virgin olive oil on Earth right now.
Heading South
Shaped like a rumpled necktie, Chile undulates along 2,600 miles of the Pacific coast of South America and lies more than 5,000 miles due south of the US east coast. Its antipodal orientation means, of course, that its seasons are the opposite of ours—when we are entering spring in the Northern Hemisphere, Chile is experiencing autumn and, with it, the annual olive harvest. At this time of year, with the Mediterranean harvests several months off, I head below the equator to hunt for liquid gold for my Club members.
My first journey, in 2005, was to assess "the Chilean threat," as anxious European producers dubbed the fledgling ultra-premium olive oil scene in Chile. Starting in the early 2000s, Chilean upstarts bypassed centuries of Old World tradition, employing state-of-the-art growing and milling techniques to wow olive oil connoisseurs around the globe with their high-quality, fresh, fragrant EVOOs.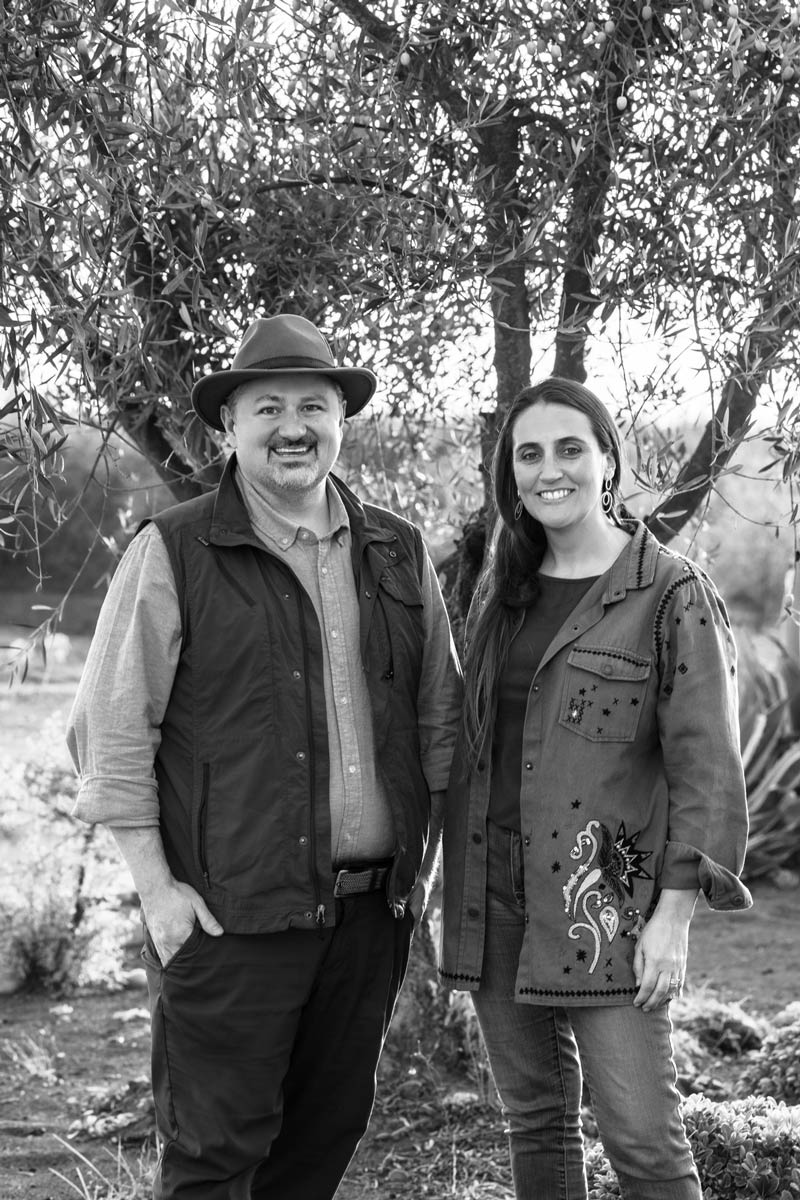 In the intervening years, I have collaborated with many of the quality-obsessed Chilean pioneers, and these connections have deepened into friendships. We share delicious meals, hearty laughs, big dreams, hot tips, occasional fears, and an abiding passion for olive oil. (Sometimes we even share surfboards – see the photo below.)
Duccio Morozzo della Rocca, longtime friend of the Club and key member of my Merry Band of Tasters, met up with me and the rest of the band when we landed in Santiago. Before anything else: food. At a little local chain called Tip y Tap, I devoured a lomito Italiano, my favorite sandwich, with roast pork, avocado, and tomato, slathered with house-made mayonnaise and piled on a crusty Chilean roll. So, so good.
A Break from Megadrought
If you folded a paper map of the globe along the equator, Central Chile's latitude (between 32 and 35 degrees) would line up with that of Southern Europe. Its climate is accordingly Mediterranean style, with hot, dry summers, mild winters, warm days, and cool nights. This agricultural powerhouse bursts with mouthwateringly lush, outsize fruits and vegetables, including celery stalks the size of baseball bats and the best avocados in the world.
But, for more than a decade now, the Chilean agricultural sector has battled a megadrought—a long-term lack of rain, the worst in a thousand years. Olive growers with irrigation systems have managed to compensate for the lack of rain, but every season has been a nail-biter. Last year, in which Mother Nature not only served up dry and blistering heat but also threw in an early frost, was one of the worst on record for Chilean olive growers.
In a miraculous turnaround, this year Chile enjoyed a fantastic olive growing season and harvest. The weather was ideal—a genial spring; a hot summer, but not so intense as to cause concern; and a temperate autumn with a well-timed rain at harvest time, just enough to plump the olives without diluting the intensity of their oil. Chilean producers were ecstatic, as was I.
A quick primer on current EVOO-nomics: global prices for bulk-commodity-level oil are the highest they've been in a generation, owing to the dismal most recent harvest in Spain, the world's largest source of olive oil. Many Chilean producers, who've suffered in recent years, strategized by leaving the fruit on the trees longer, which maximizes the oil yield. Given this dynamic, I suspected that finding the early-harvest, super-herbaceous Chilean EVOO I prize might be a challenge.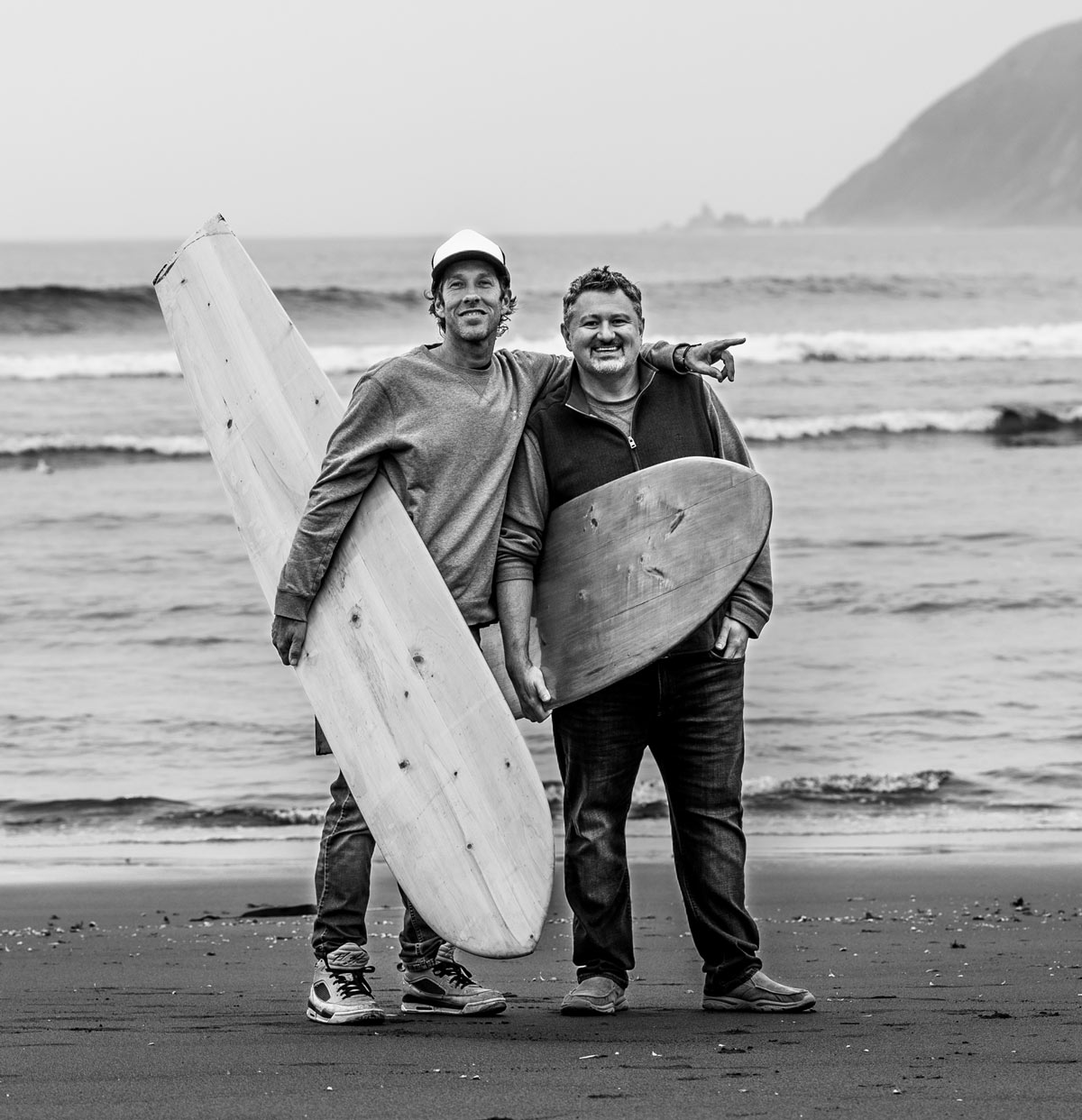 Quality, Not Quantity
As we traditionally kick off the Chilean quest, Duccio had arranged a Grand Tasting, at which we sampled dozens of harvest-fresh oils. Seven single-varietal olive oils quickly emerged as winners – we pronounced them "near perfect." In an extraordinary turn of events, all were produced by the same farm, Agricola Pobeña. I have worked many times with the multitalented Pobeña team, so I had anticipated their oils would be excellent. But for every single contender to come from the same groves, reflecting such a range of varietals, flavors, and personalities, was astonishing.
Agricola Pobeña is the joyous, innovative, 100 percent-quality-focused, and immensely successful venture of the Alonso family. The Pobeña mill pressed its first EVOO in 2014 and almost immediately drew international accolades, with more than 140 prestigious awards to date. Last year, Pobeña was named one of the Top 20 Olive Farms in the World by Flos Olei, the international guide to ultra-premium EVOO.
With olive groves carpeting 850 acres of land in Chile's agriculturally blessed O'Higgins Region, as well as a 10-acre lake and multiple rain wells, Pobeña grows a veritable Ellis Island of Southern European olive varietals: Italian, Spanish, and Greek. The farm's many microclimates foster nuance and contrast, not just among the cultivars but within them—the same olives grown at various elevations will take on subtly different flavor profiles.
How to improve upon near-perfection? Teamwork. I was thrilled at this opportunity to collaborate with three of my favorite EVOO impresarios: Denise Langevin, Duccio Morozzo, and Juan Carlos Pérez. Read on to learn about these multitalented and passionate producers, and whet your appetite with Chilean-inspired recipes and food pairing suggestions. I can't wait for you to taste these magnificent oils!
Happy drizzling!


T. J. Robinson
The Olive Oil Hunter®
---
This Quarter's First Selection
Producer: Denise Langevin Exclusive Selection, Agricola Pobeña, Comuna de La Estrella, O'Higgins Region, Chile 2023
Olive Varieties: Arbequina, Koroneiki
Flavor Profile: Mild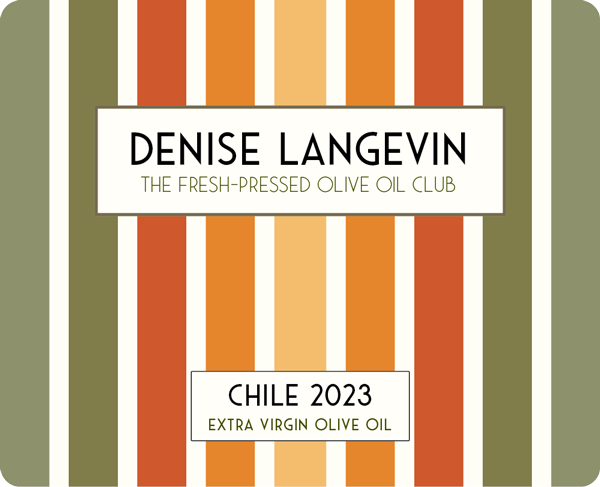 Before treating me and my Merry Band of Tasters to a lavish lunch showcasing her just-pressed extra virgin olive oil blend, Denise Langevin drove us to a local grade school that benefits from an initiative she spearheaded—a program that promotes healthy eating among schoolchildren. (It's similar to the "Edible Schoolyard Project" started in Berkeley by restaurateur Alice Waters, of Chez Panisse fame.) As the olive oil-obsessed daughter of a Chilean fruit farmer, Denise delights in acquainting the students with the joys of gardening and eating what they grow. Currently, a dozen vegetable varieties are being cultivated in raised beds built by Denise and her husband, Luis. During summer break, each child—hopefully, future olive oil lovers all—is given a tomato plant to nurture.
It was a pleasure to witness in person her exuberant schoolyard reception. "Tía Denise! Tía Denise!" shouted the children as they mobbed my friend on the playground. Denise is clearly a hit with the youngsters in the town of Codegua, some 45 miles south of Santiago. Tía (aunt) and tío (uncle) are the proper Spanish words to respectfully address teachers, Denise explained.
As expected, garden-fresh vegetables starred in the multi-course lunch. But the MVP award went to the oil: it elevated each dish. Starters included almond-stuffed olives and Denise's addictive oil-cured sundried tomatoes, followed by a velvety pumpkin soup, a green salad, seafood and spinach crepes, an Andean corn casserole called pastel de choclo, and, for dessert, profiteroles.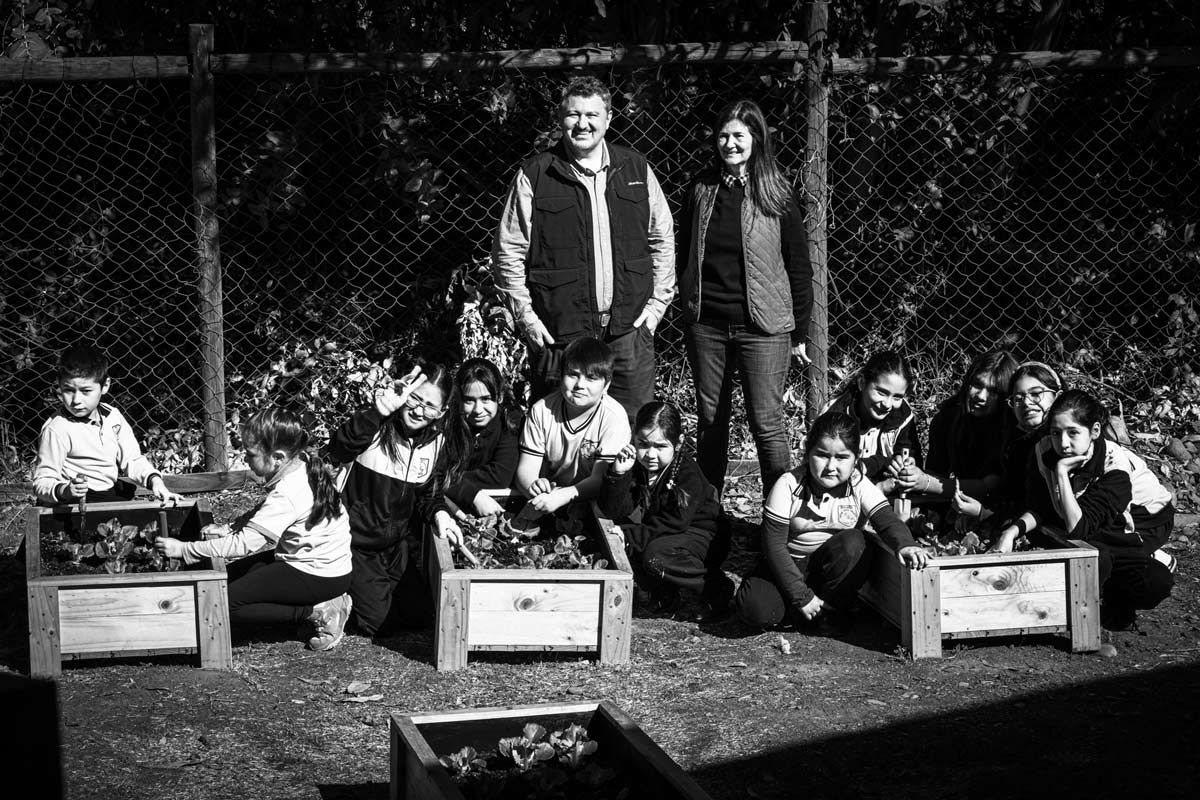 I first met Denise, a diminutive dynamo, a decade ago during a visit to a Chilean olive farm where she was the director of exports. She is a self-made woman who parlayed a keen interest in olive oil into a successful career as a global olive oil consultant. Like me, she found her first taste of fresh-pressed extra virgin olive oil to be life-changing—so different from the supermarket oils she was accustomed to. She wasted no time in educating herself, honing her formidable tasting skills by traveling extensively, and building experience in sensory evaluation. Soon, invitations to judge international olive oil competitions began arriving at her home—which she shares with her husband, maintaining fruit trees, an enviable garden, and a small menagerie. Among competitions she judged this past year were the prestigious Olive d'Or competition in Montreal, Canada, as well as a contest in glamorous Monte Carlo.
Thanks to an exceptional harvest, yours truly, Denise, and my Merry Band of Tasters had a stunning palette of fresh-pressed extra virgin olive oils to work with when creating this blend, all wrought by the amazing Pobeña farm and its passionate and talented team.
(Not to mention the well-timed rain in advance of the harvest, courtesy of Mother Nature.) The 2023 Denise Langevin Exclusive Selection features two outstanding early-harvest Arbequinas, each pressed from olive fruit that matured in different microclimates. A bit of Koroneiki adds balance and complexity. I have named our mild blend after Denise in honor of her immense past and present contributions to the Club. Its flavor profile mirrors her gentle demeanor and soft-spoken nature, yet is enticingly bright and vibrant, even a little spicy. Denise is enthralled with the result and named for us her three favorite uses for this elixir: salads, cakes, and ice cream.
I can't wait to hear how you and your family use this splendid extra virgin olive oil. Denise is so proud to have one named after her that will be enjoyed by discriminating Americans.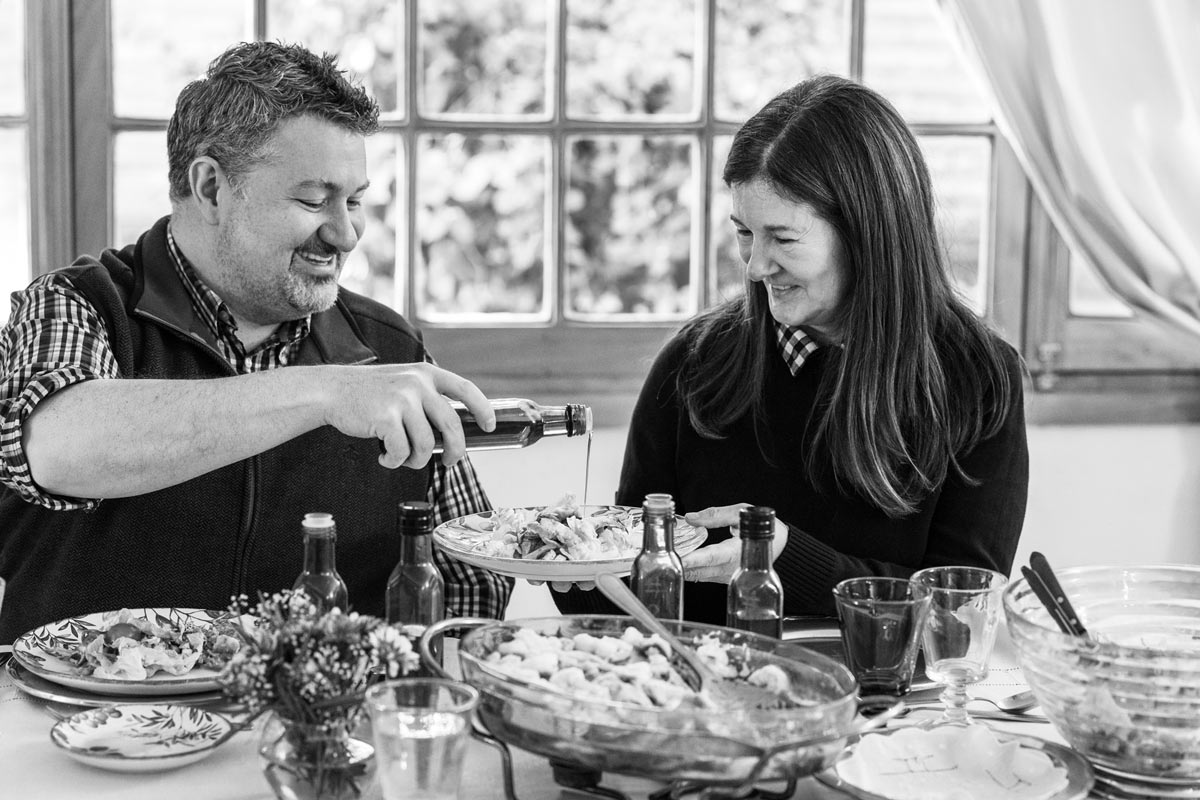 Impressions and Recommended Food Pairings
The aroma wafting from our tasting glasses leads with fruit, featuring green banana, apple, lettuce, and tomato leaf. Also thyme and hints of citrus zest and vanilla. On the palate, we detected the bitterness of green walnuts, Belgian endive, and baby spinach. Expect a celery leaf and black pepper-like spiciness on the finish, which is surprisingly long for a mild oil.
Suggested food pairings include vanilla ice cream; smoothies; fruit salads; chicken; shellfish, such as lobster, shrimp, or scallops; mild fin fish such as halibut or sole; eggs; mild cheeses like burrata or mozzarella; bread; creamy or cold soups; simple pasta dishes; rice; boiled potatoes; prosciutto-wrapped melon like cantaloupe or honeydew; fresh corn or peas; strawberries with mascarpone or whipped ricotta; and quick breads.
---
This Quarter's Second Selection
Producer: Duccio Morozzo Signature Selection, Agricola Pobeña, Comuna de La Estrella, O'Higgins Region, Chile 2023
Olive Varieties: Frantoio, Coratina, Leccino
Flavor Profile: Medium

Once again, I am indebted to the man with the mellifluous name—Duccio Morozzo della Rocca—who helped me create for you one of the most dazzling fresh-pressed extra virgin olive oils in memory. Custom blended exclusively for our Club, this oil is an eloquent expression of Chilean olives, featuring an enchanting quartet of fruitiness, sweetness, bitterness, and spice.
At the same time, this selection, as Duccio insists, has a "Tuscan soul." The label fronts a unique blend of olives native to Italy and thriving on the Pobeña farm, namely, Frantoio, Coratina, and Leccino: it's a beautiful marriage of varietals. There were no "or forever hold your peace" objections—only plenty of enthusiastic toasts—from me and my Merry Band of Tasters to this delightful, almond-forward EVOO.
Longtime Club members are acquainted with master miller Duccio Morozzo, one of the world's most highly respected olive authorities and in-demand judges of international olive oil competitions. If you are new to the Club, let me introduce you: a 2005 graduate of the Università of Pisa olive oil quality and cultivation program, Duccio quickly established himself as an olive and olive oil consultant. An International Olive Council (IOC) taster and recognized professional, he now travels the world, using his knowledge in nearly every country that is hospitable to olive trees—Japan, Australia, South America, the Middle East, the Mediterranean, and other locations. I know no one with a more profound knowledge of olives and olive oil than Duccio.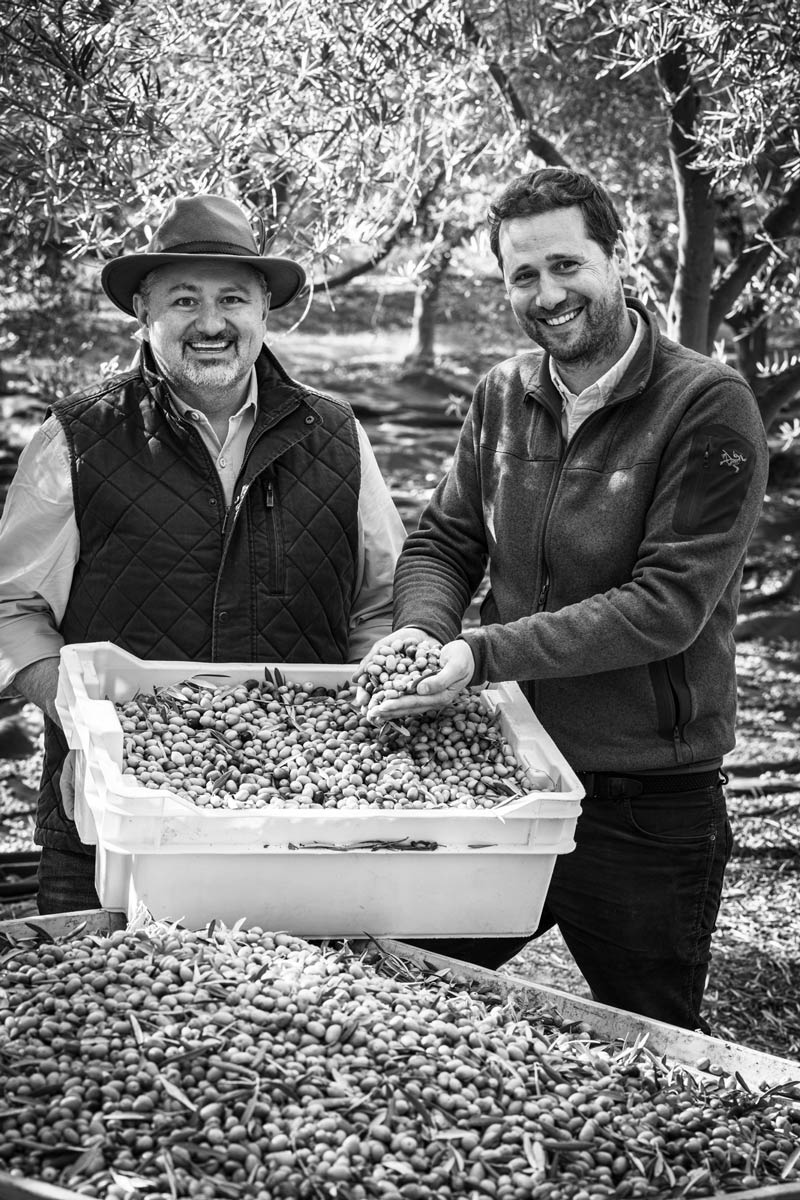 I first met this agricultural impresario in 2010 during a farm visit to Central Chile. And what a serendipitous meeting it was! Duccio, I learned, shared my belief that early-harvest oils are the best, deigning to work only with the world's top producers. He's like my brother from a different mother.
But it wasn't just his knowledge that impressed me: I loved his unbridled enthusiasm for the fresh-pressed juice of olives and the joy he brought to the mill and the table. He was so hands-on when we toured olive groves together, leaping out of whatever vehicle we were driving to examine the fruit up close, tasting it to gauge its ripeness and oil content. His valuable post-grad experience with mill manufacturer Alfa Laval cemented the deal. Alfa Laval is the manufacturer of the equipment used at the Alonso mill, one of the finest mills in South America.
A side note: before immersing himself in the study of olive oil, Duccio was a degreed musical composer. Duccio brings a musician's appreciation of harmony, interplay, and resonance to the creation of an optimal olive oil blend, keenly attuned to any sensorial changes in olive oil. Add a drop of another cultivar to a tasting glass, for example, and he will detect it immediately.
Duccio's extensive experience with Old World varietals allows him to expertly contrast and compare their Chilean offspring. Yes, the trees share the same DNA with their Old World ancestors, but the transplants have changed and evolved. It's similar to the way wine grapes are influenced by their terroir. Duccio's remarkable taste memory, his extensive knowledge of Chilean olive oils, and his blending genius make him an ideal collaborator.
This year, he assured me, we would be working with "near perfect" olive oils that, when blended with simpatico olive oils, would yield an oil greater than the sum of its parts. I was thrilled that Duccio was able to join me and my Merry Band in Chile and was grateful for his help in organizing the Grand Tasting that kicked off this year's second-quarter odyssey. (Read more about the Grand Tasting below.)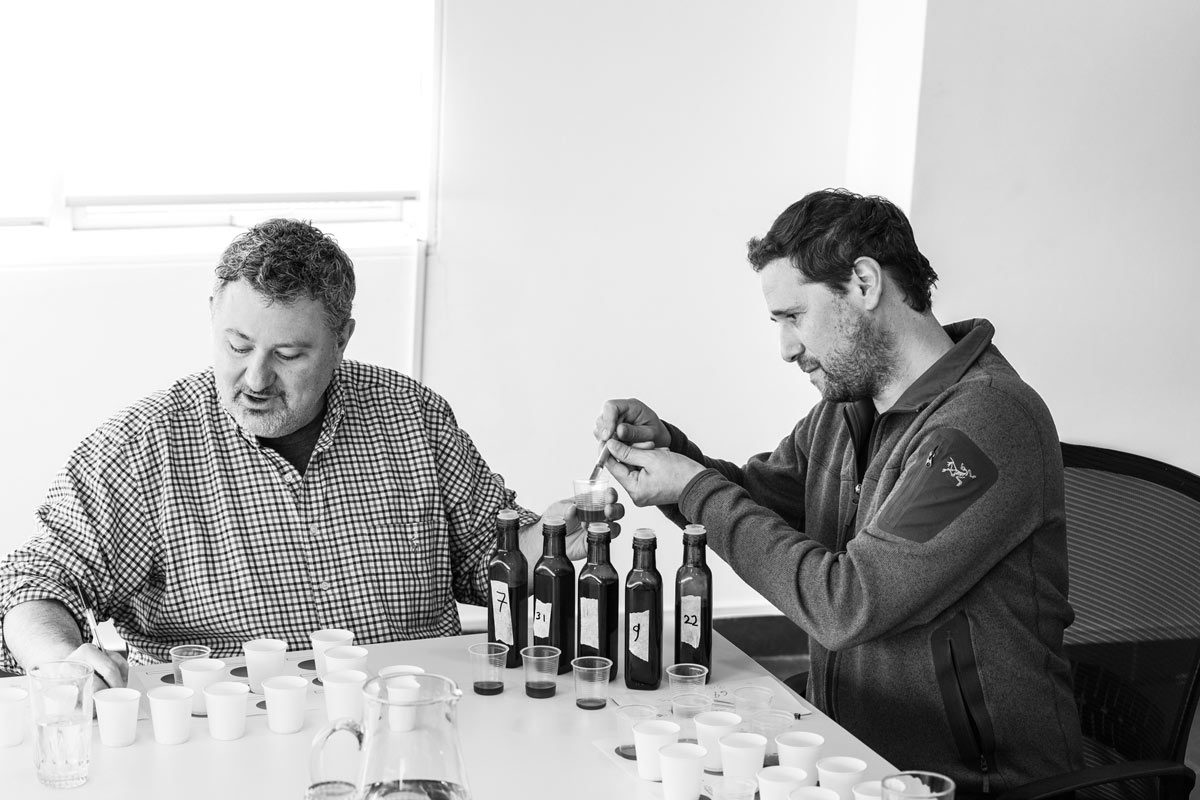 In a private conversation with me, Duccio credited the Alonso family's success—they've won dozens of awards—to their New World willingness to adapt and disengage from entrenched Old World ways that don't always produce the finest olive oils.
This is one of the most delightful Chilean fresh-pressed olive oils I've sent to Club members. As Duccio would say, "Buon appetito!"
Impressions and Recommended Food Pairings
Although Chilean, this oil, comprised of Frantoio, Coratina, and Leccino olives, has an Italian pedigree. Almonds, fresh-cut grass, hops, and mint tease the nose, along with green apple, kiwi, baby arugula, black pepper, chopped sage, and a touch of cinnamon. In the mouth, we tasted the complex bitterness of radicchio, dark chocolate, and green almonds. The finish showcases the astringency of green tea and mint as well as the freshness of raw fennel and the pepperiness of nasturtiums and Szechuan peppercorns.
Try this beautiful oil with grilled meats, fish, or vegetables, as the flame-kissed food will benefit from the oil's well-calibrated bitterness. Perfect with chicory, endive, or Swiss chard; green beans; summer squash; carrots; yams; salads featuring nuts, especially almonds, walnuts, or hazelnuts; white beans or bean dips; guacamole; crudités; chocolate desserts; and truffles.
---
This Quarter's Third Selection
Producer: El Agrónomo, Agricola Pobeña, Comuna de La Estrella, O'Higgins Region, Chile 2023
Olive Varieties: Picual, Arbequina, Koroneiki
Flavor Profile: Bold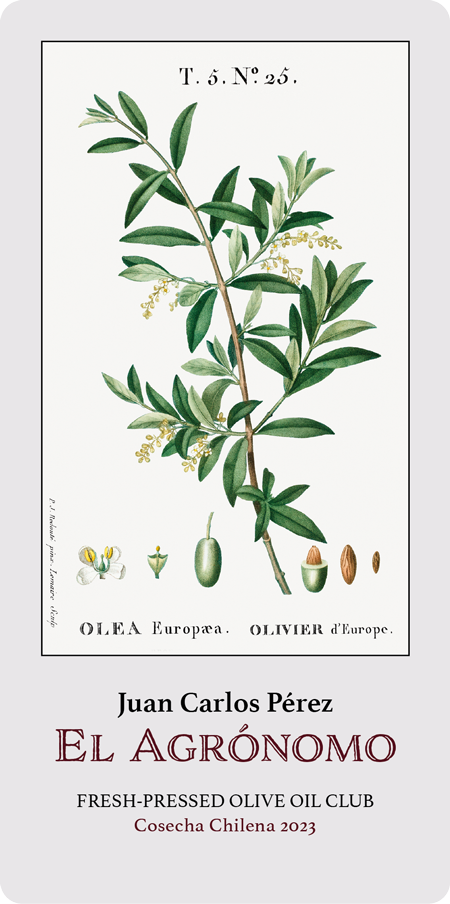 Agricola Pobeña is the model for anyone daring enough to attempt to grow olives, and a key reason for its success is the man in charge of all 1,100 acres, Juan Carlos Pérez. I always look forward to reconnecting with Juan Carlos—it's exciting to work with someone as obsessed as I am with creating the perfect EVOO for you. He knows that great olive oil starts on the tree and is finished in the mill—that all the work done in the field has a direct correlation to the quality of the oil produced. Even the most gifted miller can't work his magic if the olives themselves aren't of the highest quality.
As longstanding Club members know, Juan Carlos is one of Chile's most talented agronomists. That title means he's trained in all the fields required for optimal cultivation: earth science, ecology, and genetics, plus biology, chemistry, physics, economics, and more. 2023 marks Juan Carlos' 14th year at Agricola Pobeña—he's been there practically from day one—and the third consecutive year that your Olive Oil Hunter is presenting you with a blend named in his honor, "El Agrónomo" (The Agronomist).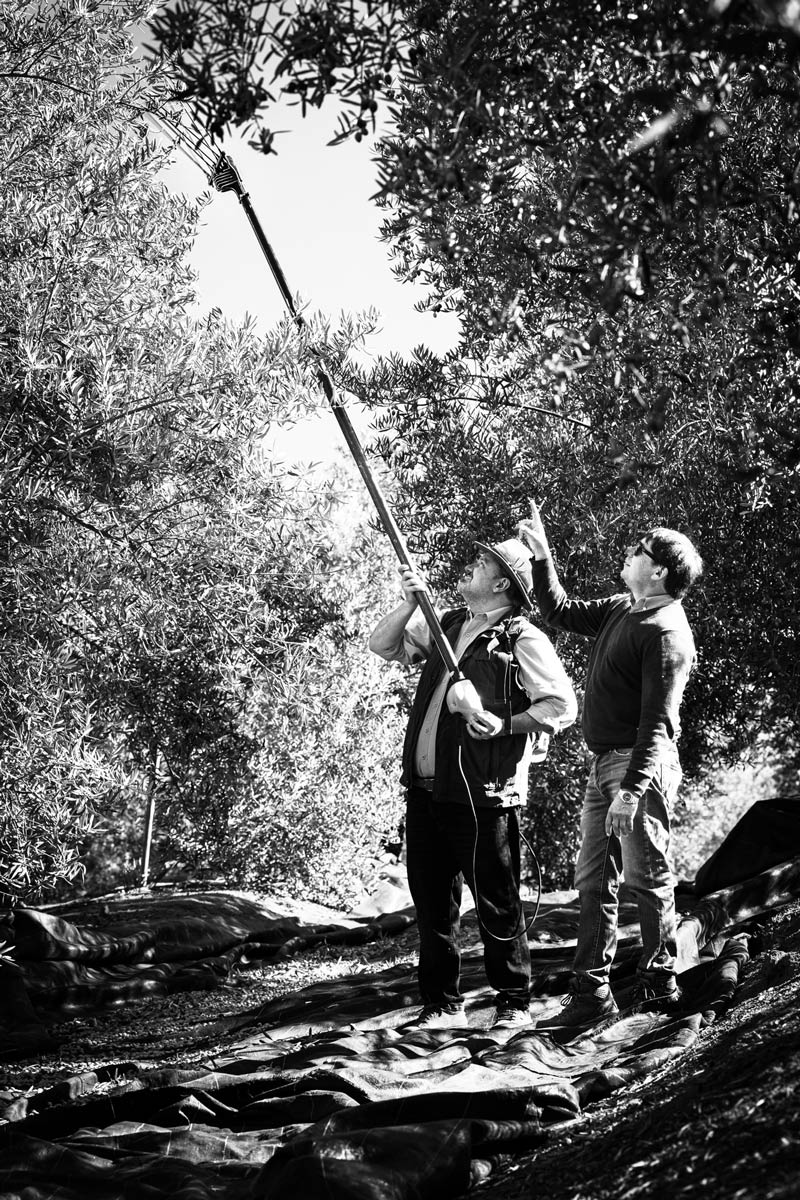 For Juan Carlos, growing the finest olives is not merely a job. It's who he is; it's in his DNA. Dubbed "The Boss" at Agricola Pobeña (and he is much like Bruce Springsteen in the way he leads an amazing band of talented professionals), he spends his weekends farming his own land—the ultimate busman's holiday. On an impressive five hectares (more than 13 acres) that have been in his family for over 100 years, he grows olives (of course), grapes, cherries, and peaches as well as walnuts. His recent nut harvest was snapped up by an Indian buyer, but Juan Carlos kept enough for us to sample. They were the best I had ever tasted!
At Agricola Pobeña, Juan Carlos' meticulous oversight of the groves, which he was instrumental in planning and planting, is in evidence everywhere you look. I loved being able to feast my eyes on and savor so many varieties of olives, not only the Picual, Arbequina, and Koroneiki that so masterfully come together in this quarter's Bold selection, but also Frantoio, Leccino, Coratina, and more. Only in the New World do Italian, Greek, and Spanish varieties grow alongside each other. Each has its own magic window for harvesting, depending on where and at what elevation it is on the farm—just imagine all the permutations that come along with that!
Each bountiful harvest for Juan Carlos and his team of 80 dedicated workers is rooted, literally, in his dedication to promoting tree health and anticipating solutions for variables beyond their control (yes, you guessed it, the weather). While the aim is always to have enough water for the whole farm—optimally, one million cubic meters, or roughly the equivalent of 400 Olympic swimming pools—you can be smart about it and plan. There's no way to control Mother Nature, but sometimes you can outfox her. We reminisced about last year, when three frightening nights of frost right before the harvest had threatened to damage the olives (remember that their seasons are the opposite of what we have here in the Northern Hemisphere—as you were enjoying spring and looking toward summer, their fall was coming to a close and, along with it, the worry over a premature gust of winter). "This year, as a country, we started harvesting earlier to avoid the consequences of an early frost," Juan Carlos told me.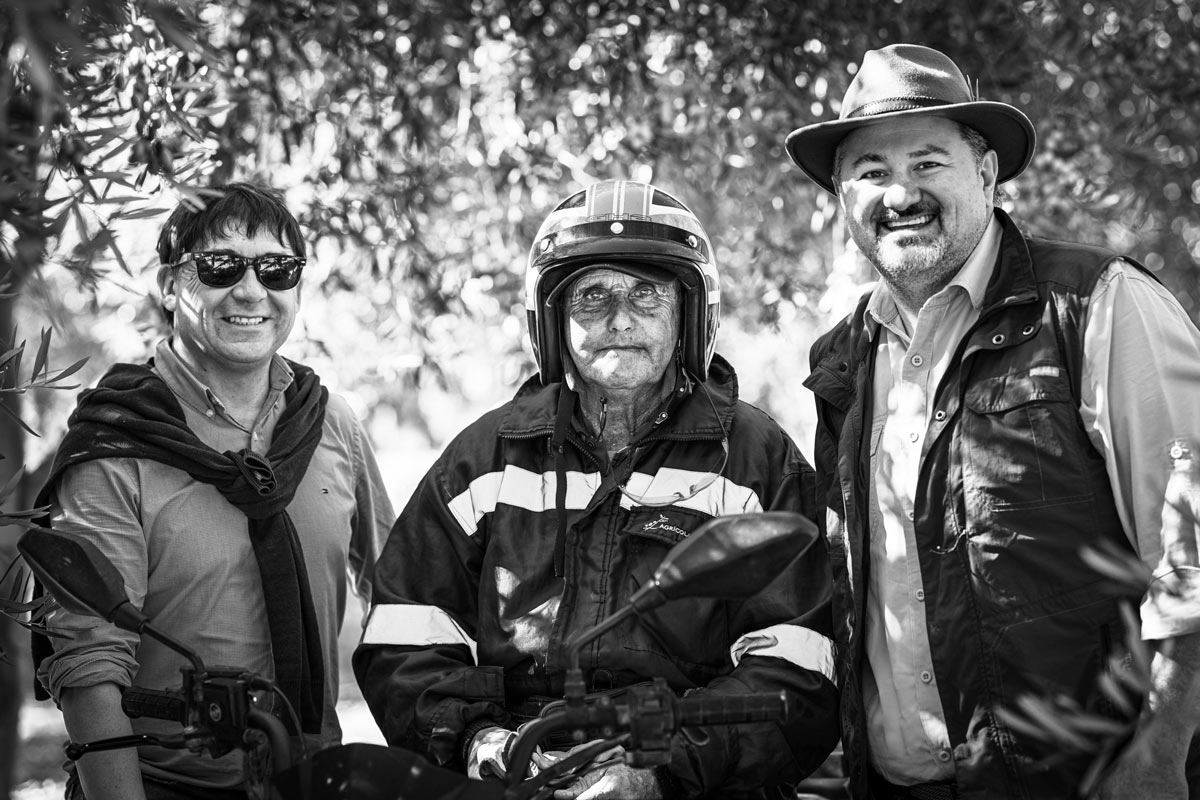 He and I are of one mind when it comes to Agricola Pobeña's strategy of picking the olives when they're relatively green and have a higher concentration of healthful polyphenols as well as more vibrant flavors and aromas—exactly why Club members appreciate them so much. This technique of early harvesting translates to the best tasting and freshest EVOO. The olives' oil content is much lower at this point in the growing season than it will be later on, so, producers who prioritize quantity over quality are happy to wait, envisioning the green of dollar signs rather than that of premium olive oil.
Last year's El Agrónomo blend was our Medium selection. This year it is our Bold, with an entirely different flavor profile. With Picual, the Andalusian standout, at its core, it has a decidedly Spanish personality. Though in supporting roles, the Arbequina and the Koroneiki are no wallflowers—you can taste so many distinct and harmonious notes in this blend! This robust oil will tingle your tastebuds.
Impressions and Recommended Food Pairings
My tasters and I were enthusiastic about the abundant tomato leaf we discovered on the nose, as well as Tuscan kale, pear, parsley, basil, and green pepper. Bold, grassy, and herbal on the palate, evoking fresh chopped culinary herbs, artichokes, and wild mint. Bitterness is represented by notes of chicory and dark chocolate. You'll experience a spicy symphonic finish featuring crushed green peppercorns and watercress.
We recommend splashing this robust oil on a caprese or panzanella salad (very good in vinaigrettes, especially green goddess dressing); bruschetta; pasta or potato salad; broccoli rabe; cabbage; pesto; tuna, salmon, or swordfish; fresh or sun-dried tomatoes; aged cheeses or a charcuterie board; bell peppers or shishito peppers; ratatouille; kale salads; game meats; lamb; duck; chocolate ice cream; or yogurt.
---
Olive Oil and Health
Olive oil is shown to improve brain health and memory in individuals with mild cognitive impairment
Adapted from an article by Matt Crouch, Auburn University (auburn.edu), March 6, 2023
Extra virgin olive oil may have positive effects on individuals with mild cognitive impairment, according to a recently completed study published in the journal Nutrients. The study's findings suggest that compounds found in olive oil positively affect brain health and help improve the blood-brain barrier.
In the study, 25 adult participants experiencing mild cognitive impairment consumed 30 ml (about three tablespoons) of olive oil per day for six months. Thirteen of the participants consumed extra virgin olive oil (EVOO) and 12 consumed refined olive oil (ROO), as a control group. EVOO is rich in phenols, while ROO has been purified of phenols.
Study participants took several tests before and after consuming olive oil, including MRI scans, cognitive tests, and blood analysis to measure biomarkers related to Alzheimer's disease.
This study evaluated the blood-brain barrier and its permeability—the degree to which it protects the brain. The blood-brain barrier, a network of blood vessels and tissue made up of closely spaced cells, plays a vital role in maintaining a healthy brain by protecting the brain from exposure to blood-related neurotoxins and in the clearance of brain waste products.
The study also measured levels of beta-amyloid and tau, two proteins associated with Alzheimer's disease. In people with Alzheimer's disease, levels of beta-amyloid and tau are increased.
The benefits of olive oil consumption were more pronounced in the EVOO group, but participants in the ROO group experienced improvements as well: Both EVOO and ROO improved cognitive function, as determined by the improved clinical dementia rating and other behavioral scores. Additionally, "our findings showed that EVOO and ROO altered two major biomarkers related to Alzheimer's disease," said Kaddoumi. "These alterations collectively could have played a role in improving the blood-brain barrier and improving function and memory."
This study in individuals with mild cognitive impairment is the first to evaluate what happens to the human brain as a result of consuming olive oil.
"These results are exciting because they support the health benefits of olive oil against Alzheimer's disease," said Kaddoumi. "Based on the findings of this study and previous preclinical studies… we can conclude that adding olive oil to our diet could maintain a healthy brain and improve memory function."
Reference: Kaddoumi A, Denney TS, Deshpande G et al. Extra-virgin olive oil enhances the blood-brain barrier function in mild cognitive impairment: a randomized controlled trial. Nutrients. 2023;14(23):5102. doi.org/10.3390/nu14235102.
---
Kudos from Club Members
Compliments and kudos!!! I just want to start off this morning by thanking you for the wonderful olive oil and the great pressing report about your hard work and dedication! Because of your great oil, nothing compares to staying at home and trying new recipes!
---

Recipes