Adapted from an article by Denise Myers, October 10, 2018.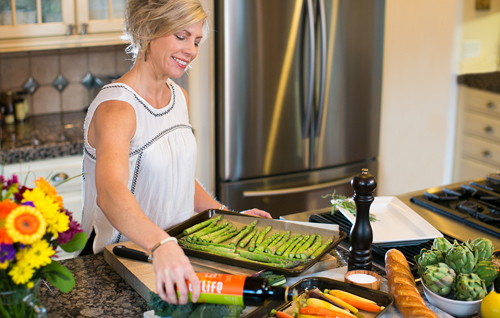 Yale's Olive Oil and Health symposium drew a deeply invested group to New Haven this month—chefs, growers, importers, scientists, and associations of producers, entrepreneurs, and business people—to celebrate this amazing fruit juice and begin mapping out a new olive institute at the Yale School of Public Health.
Olive oil is the cornerstone of Mediterranean nutrition, and speaker after speaker cited its vital role in better health outcomes throughout that region.
"There is no greater crisis in public health today than diet, diabetes, and cardiovascular diseases," Sten Vermund, dean of the Yale School of Public Health (YSPH), told the gathering in Winslow Auditorium in his opening remarks for the two-day event that began on October 3, 2018.
An olive oil institute at the Yale School of Public Health would include research in chemistry and metabolomics to develop assays and datasets to enhance further health research. "We are extremely excited about the interest from around the world in participating in an interdisciplinary and multidisciplinary institute that will fill such an important void, said Professor Vasilis Vasiliou, chair of the YSPH's Department of Environmental and Health Sciences.
Health benefits
Olive oils high in oleocanthal have high profiles for bitter taste receptors and have a peppery effect at the back of the throat. This pungency is associated with many health benefits—a reduced risk for cancer, Alzheimer's disease, and other neurodegenerative diseases and added protection against viruses, said Catherine Peyrot des Gachons of the Monell Chemical Senses Center in Philadelphia.
In addition to prevention of neurodegenerative diseases, Amal Kaddoumi, a professor at the Harrison School of Pharmacy at Auburn University in Alabama, has found that EVOO increases the activity of the drug donepezil, which is used to treat the progression of dementia.
Mary Flynn, an associate professor at the Miriam Hospital and Brown University in Rhode Island, has studied the effects of a plant-based olive oil diet since the 1980s. Albeit small in sample size, numerous comparative studies among cancer patients consistently show improved weight loss compared to National Cancer Institute diet plans, and when the patients are given the opportunity to self-select which diet to follow for the final period of the study, they largely choose the olive oil diet. Her data reflect improved weight, insulin, blood pressure, and triglyceride levels.
By shifting to more plant-based meals on this diet, Flynn also finds that the money saved on groceries ($14.36 per week) not only reduces food insecurity but also results in weight loss and reduced blood glucose. "Most Americans eat too much protein and that turns to fat," said Flynn. With the decrease in fasting blood glucose, people don't get hungry."
"We have a population in dire need of dietary correction," said Joseph Profaci of the North American Olive Oil Association in New Jersey. "If 20 percent adhered to the Mediterranean diet, we'd save $20 billion from 10 major health outcomes," he said. Currently, only 40 percent of American households regularly use olive oil.
The group that convened formed a planning group to work toward developing the mission, vision, and structure of the YSPH olive institute.