Fava Beans with Jamón Serrano Recipe Plus 15 Delicious Ways to Reap the Benefits of Olive Oil
The health benefits of olive oil, both on its own and as part of the well-studied Mediterranean Diet, are wide-ranging. So, how can you reap more of these benefits? While vinaigrettes and marinades are great for getting more extra virgin olive oil into your daily diet, there are so many additional ways to make it part of everyday cooking and eating. Here are 15 ideas, plus a luscious fava bean recipe.
Fava Beans with Jamón
Fava Beans with Jamón

This recipe for creamy fava beans is a springtime favorite on the Iberian peninsula—enjoy it with a glass of fino sherry or a vinho verde from Portugal. In a pinch, you can substitute prosciutto or even bacon for the jamón, Spain's famed dry-cured ham.

Ingredients

3 ounces thinly sliced Jamón Serrano
2 pounds fresh fava beans, weighed unshelled
3 tablespoons extra virgin olive oil
1 small onion, diced
2 cloves garlic, peeled and crushed
1/2 cup dry white wine
1/2 cup chicken stock, or more as needed
Crusty bread, for serving

Directions

Step 1

Preheat your oven to 350°F. Line a rimmed baking sheet with heavy-duty aluminum foil and place an oven-safe wire rack on top of it. Arrange the slices of jamón on the rack in a single layer. Bake the jamón just until crisp, about 10 minutes. Set aside to cool.

Step 2

Shell the fava beans. Bring a saucepan of water to a boil and add the shelled beans. Cook for 2 minutes, then drain and transfer to an ice water bath. Remove the outer skin from each bean. Set aside.

Step 4

Heat a sauté pan over medium heat and add the olive oil. Add the onion and garlic and cook until both are translucent but not browned. Add the fava beans and the wine and cook over high heat until the liquid is reduced by half. Add the stock, reduce the heat to medium-low, and cook for 10 minutes. Uncover and simmer for another 10 minutes, or until the fava beans are tender and most of the liquid has evaporated (add more stock if they need more cooking time). Transfer the fava beans to a shallow earthenware dish, such as a cazuela. Crumble the crisped jamón over the beans. Serve with crusty bread.


Yields 4 appetizer servings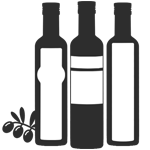 15 Delicious Ways to Reap the Benefits of Olive Oil
Drizzle it on your morning oatmeal, yogurt, or berries, or any combination.
Use it when making grilled cheese sandwiches.
Sauté cutlets for chicken piccata or parmesan.
Toss potato wedges in olive oil and roast instead of deep frying them.
Brush on bread as your condiment when making sandwiches.
Add zest to vanilla ice cream with a pour.
Use it in place of all or half the butter when baking layer and loaf cakes.
Enhance smoothies by adding a spoonful to your blender.
Dress cold pasta salads with olive oil, vinegar, and herbs, and skip the mayo.
Marinate fresh mozzarella or goat cheese in olive oil and red pepper flakes to serve on crusty bread.
Make your own hummus and finish with a drizzle.
Add a tablespoon to your favorite salsa and dip baked pita chips
Brush on fish fillets before grilling or broiling and drizzle on more before eating.
Melt with chocolate for a rich and quick fudgy sauce.
Drizzle on freshly steamed or grilled corn at summer BBQs.
Get More Recipes In Your Inbox!