The Foamiest Master Froth, Cappuccino and Latte Recipes, Plus Frothing Made Simple with Your Favorite Milk and Favorite Coffee
You'd have to be a bear in hibernation to have missed Starbucks' recent announcement of new olive oil–enhanced coffee drinks, which the company will be selling in California beginning this spring. The concept includes blending olive oil into the milk used to create foam. But there's no need to wait (or travel cross-country!) to enjoy the benefits of EVOO in your favorite brew. Here's the Fresh-Pressed Olive Oil Club's Master Foam recipe and ideas for creating your own barista-style drinks in a snap.
It Starts with the Right Tool
Frothing made simple
The key to a voluminous olive oil–milk foam is to vigorously whip the two ingredients in order to create an emulsion—much like when olive oil and vinegar become a vinaigrette. There are many tools available to make fast work of this. An elegant option is an electric milk frother like Nespresso's Aeroccino 4 with numerous settings, including hot and cold foam, the latter being perfect for iced and frozen coffee drinks. Breville and other small appliance companies make versions too. You simply add the milk and olive oil to the frother cup and press a button. In seconds, you'll get a very thick and rich foam reminiscent of lightly whipped heavy cream, even when made with fat-free milk!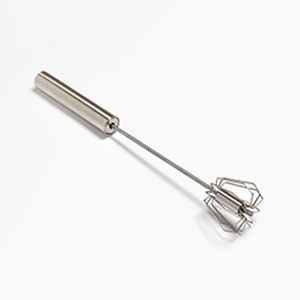 Another option is a low-tech and very inexpensive hand-push whisk (also called a rotary or spring whisk and often used to prep eggs for scrambling). You add the milk and oil to a tall container, place the whisk end in the liquid, and pump the top of the handle vigorously to spin the whisk. It takes less than a minute to get creamy foam.
Note: A traditional immersion blender will work for larger quantities but is less successful for the small amount of liquid needed for one or two servings. A slimmer immersion stick made specifically for drinks is a better alternative.
Pick Your Milk, Pick Your Coffee
Your favorites will do nicely
You can use just about any type of milk, dairy—full-fat, fat-free, or anything in between—or nondairy, from almond milk to oat milk. If using a nondairy milk, choose an unsweetened variety to avoid added sugars.
You can enhance any type of coffee you like, whether you use pods or go old school with a French press, and whether you go full-caf, half-caf, or decaf. While strong coffee is recommended to hold up to the richness of our Master Foam in the latte and cappuccino recipes, you don't need a dedicated espresso machine to enjoy these brews.
Master Foam Recipe
Master Foam Recipe

It's a given that anytime you reach for olive oil rather than cream for your coffee, you're replacing saturated fat with unsaturated fat brimming with polyphenols. With my Master Foam, you're also getting a richness that deeply satisfies. Once you taste the full-bodied creaminess of frothed milk and EVOO, you may never go back to what you used before. As you experiment, start with a mild olive oil before trying a medium or bold one.

Ingredients

3 tablespoons milk
11 tablespoons extra virgin olive oil

Directions

Emulsify the milk and oil with your preferred frothing tool until thick and nearly double in volume. It's ready to pour right over your favorite hot or iced coffee in a cup or heatproof glass—perfect for seeing all the layers.

Yields 1 serving
Luscious Latte
Luscious Latte

If you like a little coffee in your milk (rather than a little milk in your coffee), this one's for you.

Ingredients

2 ounces or shots of espresso or strong coffee
Sweetener as desired
6 ounces hot milk
1 Master Foam recipe
Cinnamon or unsweetened cocoa to taste (optional)

Directions

Pour the coffee into a 12-ounce cup and whisk in any sweetener. Add the hot milk and whisk lightly. Top with the Master Foam. If desired, sprinkle with cinnamon or cocoa.

Variation: For a mochaccino-style drink, whisk 2 tablespoons of natural cocoa powder into a small amount of the hot milk; when incorporated, add it along with the rest of the milk to the coffee and proceed with the rest of the directions.

Yields 1 serving
Dreamy Creamy Cappuccino
Dreamy Creamy Cappuccino

Stronger in coffee flavor than a latte, cappuccino is great for an afternoon refresh or with dessert (switch to decaf if caffeine keeps you up at night).

Ingredients

2 ounces or shots of espresso or strong coffee
1 Master Foam recipe
Cinnamon to taste (optional)

Directions

Pour the coffee into a low cup and top with Master Foam. If desired, sprinkle with cinnamon.

Yields 1 serving
Get More Recipes In Your Inbox!