Magic on Your Table: Introducing Three Ravishing, Harvest-Fresh Extra Virgin Olive Oils From the Land Down Under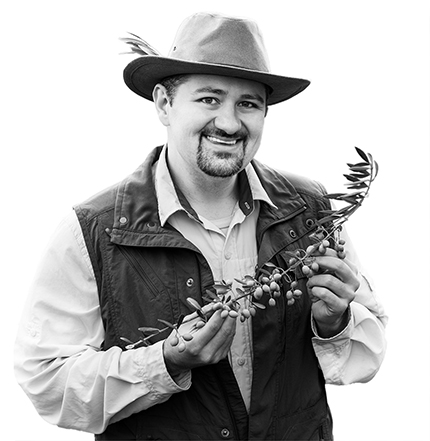 This trio of extra virgin olive oils from award-winning Australian producers is exceedingly food friendly and will partner beautifully with the meals you enjoy when the weather cools.
Personally selected by the Olive Oil Hunter, these exclusive oils have no equals on supermarket shelves: they are available nowhere else.
All have been rushed to the US by jet to preserve their aromas, flavors, and healthful qualities.
All have been certified by an independent lab to be 100 percent extra virgin olive oil.
---
Greetings—or should I say, "G'day, mate!"— from your Olive Oil Hunter, who has found three stunning Australian extra virgin olive oils from the current harvest for your fall table.
It was fantastic to be back in this vibrant, charismatic country. Its idiosyncrasies—and there are many—charm me. Aussie slang, for example, much of it derived from shortening English phrases: n'erries (no worries); brekkie (breakfast); cab sav (Cabernet Sauvignon).
Its unique wildlife—koalas, kangaroos, and egg-laying mammals like the echidna and platypus. Melbourne's confounding road rules, including hook turns and P-turns.
I made my first trip to 'Straya in 2005. My motivation for traveling nearly halfway around the world—9,823 miles each way—was (and still is!) the freshness factor. Only in the Southern Hemisphere, where the seasons are the antipodal opposite of those in the Northern Hemisphere, could I find extra virgin olive oils this time of year that would satisfy my high standards.
Olives are a seasonal crop, harvested just once a year. Olives grown in the Northern Hemisphere still have months to go before they can be picked. That is why it's such a joy to share—right now!—oils from Australia's top producers. You'll enjoy matching them to your favorite cool weather menus. (You'll see my tasting notes and food pairing recommendations in the pages that follow.)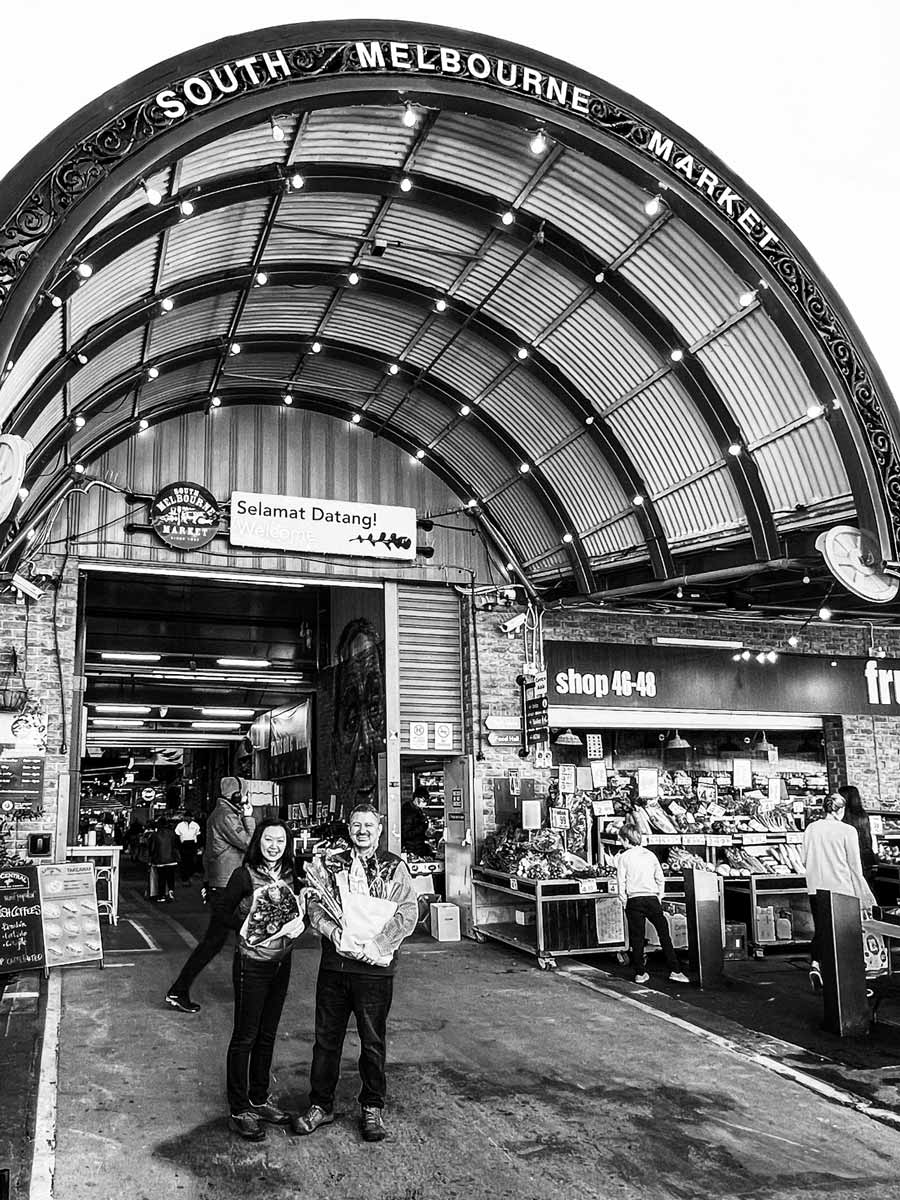 Australian Olive Oil Surprises
Whenever I gift people with bottles of my fresh-pressed extra virgin olive oils, the recipients are often surprised to learn that Australia, aka "The Lucky Country," produces "liquid gold." But it wasn't luck that enabled Australian olive oil producers (including the ones I collaborated with this quarter) to win nine gold and four silver awards at one of the most prestigious olive oil contests in the world, the annual New York International Olive Oil Competition (NYIOOC). They're innovative, technically savvy, and above all, passionate.
While the modern olive oil industry in Oz is less than 30 years old, the country has a much longer history with olea europaea (the scientific name for olive trees). In the 1800s, Italian and Greek immigrants, the story goes, smuggled live olive cuttings in their neckties and the inseams of their trousers before they boarded ships. To their delight, the newcomers discovered southeastern Australia's climactic temperament was similar to that of their homelands. (The country's opposite latitudes, between 30° and 40°, are friendly to olives.) The oils the immigrants pressed were mostly for home use, as Australia's European populace at that time preferred to cook with animal-based fats like lard.
Reunited and It Feels So Good
Because Australia produces just 1 percent of the world's olive oil (nearly all of it—95 percent—qualifies as extra virgin), few Americans have tasted olive oils from this island continent. If you are new to the Club, know how delighted I am to introduce you to these extraordinary oils, produced by some of the most dedicated, detail-oriented producers I have met anywhere. If you are a veteran Club member, you know you're in for a very pleasant experience!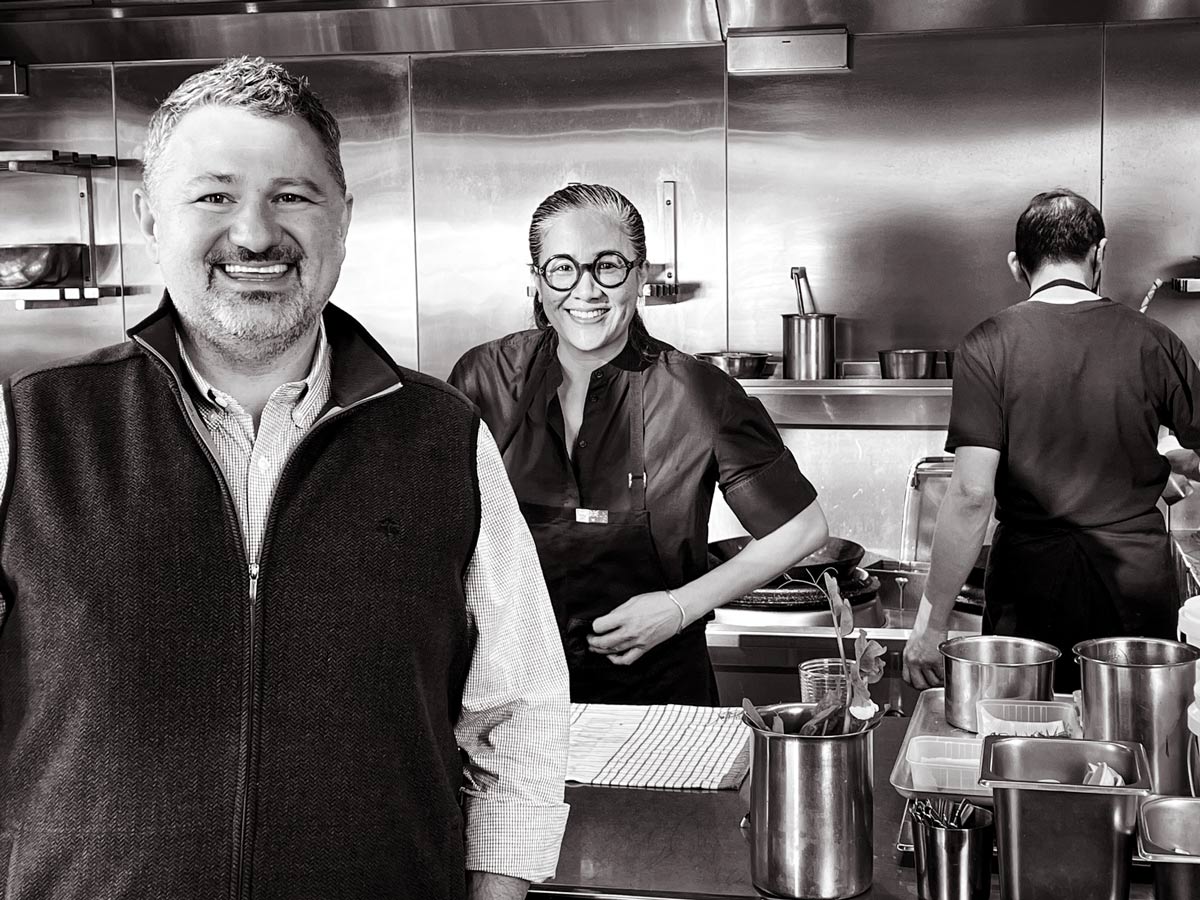 Featured in this quarter's trio are oils from the award-winning Victorian groves of Oasis, Kyneton, and Leandro Ravetti. My Merry Band of Tasters and I, driven by my dear friend, Melissa Wong, traveled hundreds of miles in Melissa's SUV to meet with the producers in person. I first became acquainted with Melissa, a consummate foodie, two decades ago at the Food Network studios in New York City. Today, Melissa lives in Melbourne. With her husband, Robert, she graciously hosted olive oil tastings for me and my team as well as marvelous dinners at her home. She never seemed to tire of squiring me to her favorite markets, cafes, and restaurants. Nearly too many to mention! As the founder of Australian specialty food purveyor AuLife and, more recently, The Good Soup Club, Melissa is well-connected to southeastern Australia's thriving food culture. For years, she has been invaluable in helping me identify Oz's best olive oil producers—my trusted "boots on the ground" whenever I need her assistance. (She did yeoman's duty when travel was restricted.)
I was so happy to see everyone again and to put my own boots on the ground. (I recently invested in a pair of Tasmanian Blundstones—excellent for tramping in olive groves.)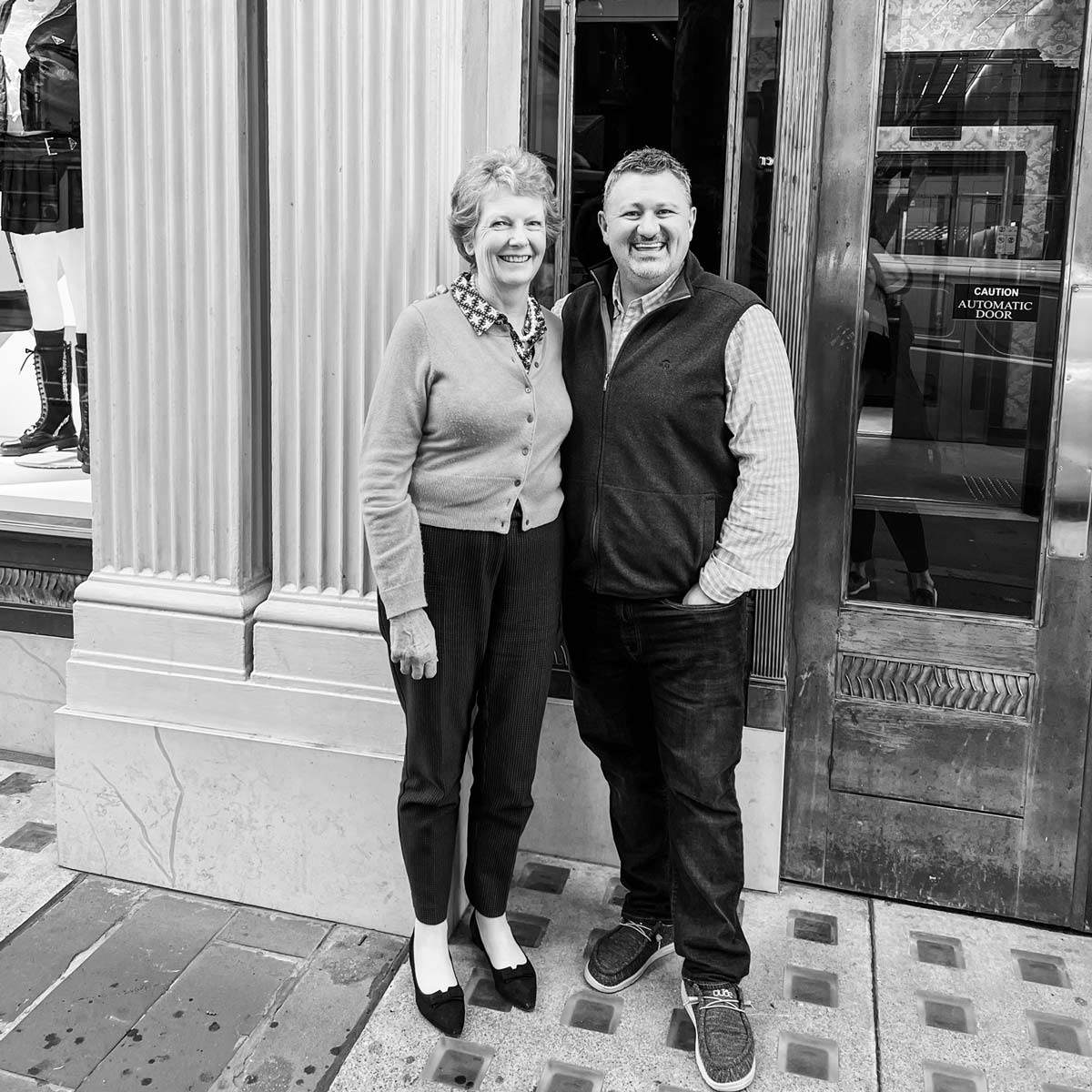 One of the many high spots of our trip was getting together with Annie Paterson, the irrepressible proprietress of Nullamunjie. Dressed in her signature pink sweater and South Sea pearls, Annie hosted a luncheon for me and my Merry Band at the posh Alexandra Club in Melbourne. Annie's oils have long been Club member favorites, but they were compromised this year by persistent rain and naughty cockatoos, which Annie chased away from her olive trees with a drone. Her telling of the bird story unleashed yet another round of laughter at our table. (We laugh a lot when we're with Annie.)
Expand Your Taste Library
These sensational extra virgin olive oils will be honored guests at your table, enhancing cooler weather foods like pumpkin and other squashes, braised meats, fresh seafood, fall fruits, charcuterie platters, and more. Meals, from casual suppers to holiday dinners, will become even more festive. And talk about a conversation starter! As you taste, savor, and use these exquisite oils in your seasonal cooking, please remember the proud Aussie producers halfway around the world who helped me put them on your table.
Happy drizzling!


T. J. Robinson
The Olive Oil Hunter®
---
This Quarter's First Selection
Producer: Leandro Ravetti, Boort, Victoria, 2022
Olive Varieties: Picual
Flavor Profile: Mild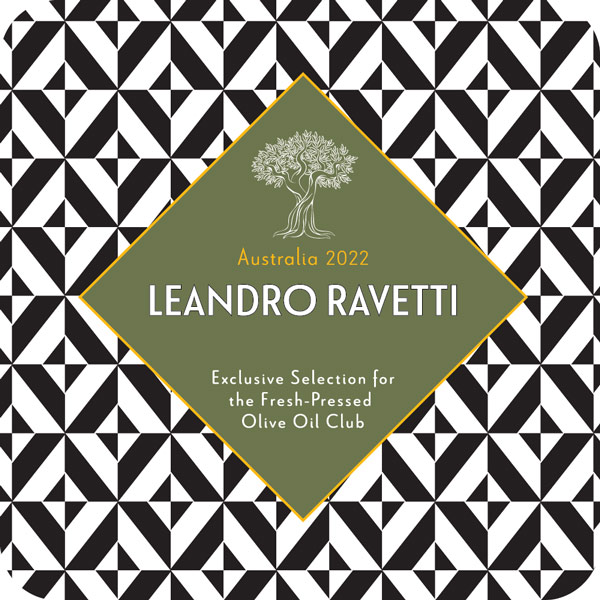 As the late, great baseball player Yogi Berra would say, "It's déjà vu all over again."
I'm once again lunching, three years after my last visit, with olive oil
expert Leandro Ravetti in a brick-walled restaurant at the Federal Mills
complex, a very cool mixed-use industrial space (formerly a woolen mill) in the port city of Geelong, some 40 miles southwest of Melbourne. (Geelong, which is near Leandro's office, is Victoria's second largest city. It is pronounced "juh-long," and was originally settled by the Wathaurong, a First Nations people.) Lined up in front of us are three sample bottles of this master miller's finest extra virgin olive oils from the current harvest, his nominees this quarter for the Club, that if selected, will bear his name. We taste them individually, ritually inhaling their aromas; then "slurping" a small mouthful, a noisy, impolite process that involves drawing air into the mouth as if trying to cool a too-hot spoonful of soup (yes, we do this in public places); swallowing; and finally, evaluating the oil's finish. Are its flavors fleeting or do they linger? (For more on how to properly taste olive oil, see below.)
The final test—and this is very important—is tasting the oil(s) with food. Leandro and I have both ordered a "power bowl" from the menu: a colorful, gluten-free mélange of roasted pumpkin, quinoa, fennel salad, hummus, and pepitas. (Find a recipe for Pumpkin Hummus on below.) For me, one oil "hit it out of the park," to continue the baseball reference.
Drum roll, please: it was the Picual. And it was, in my opinion, the perfect candidate for the "mild" position in the Club's third quarter trio. Leandro agreed.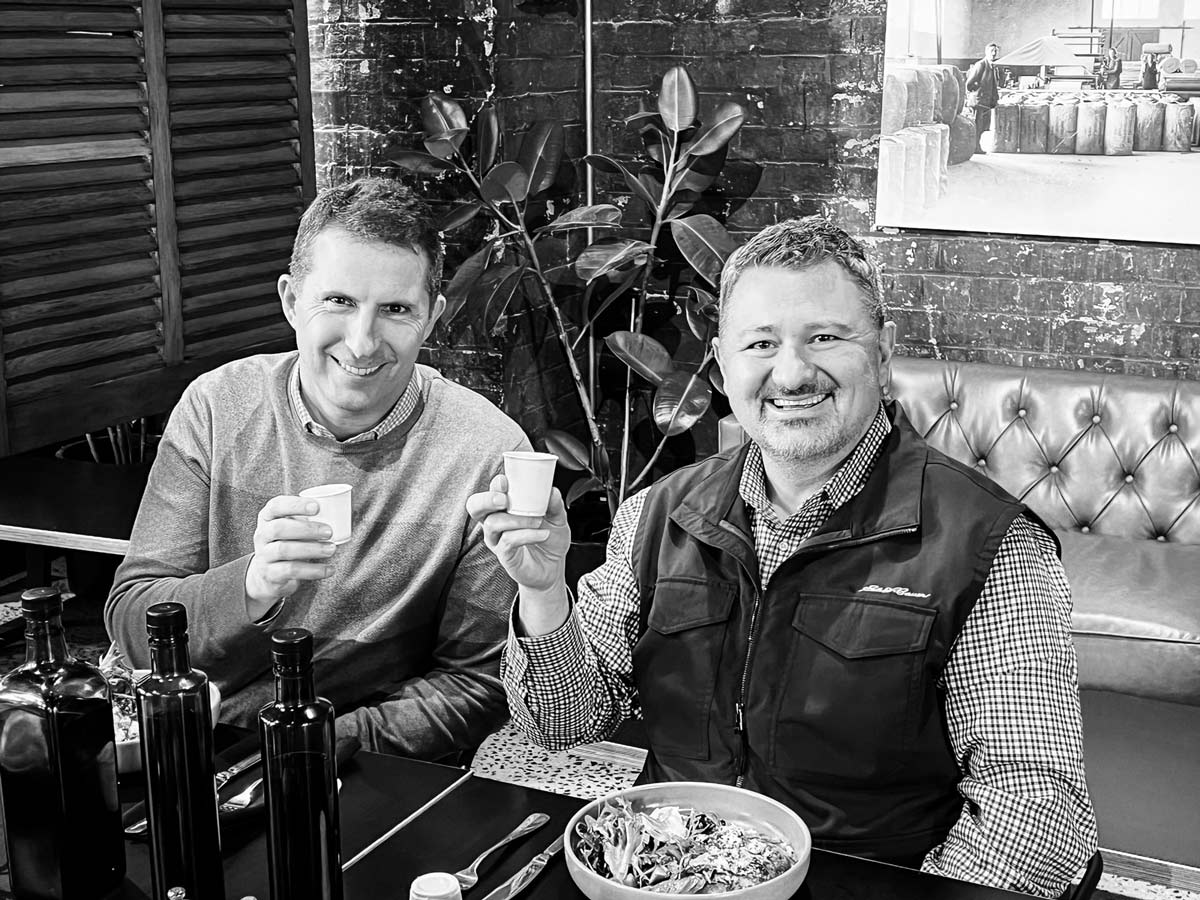 If you're a veteran Club member, you'll remember that Picual, whether on its own or fronting a blend, has generally occupied the "bold" slot in my global selections over the years. This cultivar's Spanish progenitors might not recognize its Aussie kin. Though they share that desirable "tomato, tomato leaf" nuance prized by many olive oil lovers, the New World Picual Leandro's been nurturing is more delicate than its Old World counterparts. In fact, I've pegged it as "mild" three years' running.
I feel a bit proprietary toward the young trees that produced this lovely fruit; I was on site when some of them were planted back in 2015. For olive oil producers—any farmer, really—nearly every year brings its own challenges. This year, Leandro chuckled, snow fell early on Victoria's Australian Alps, a region that attracts sports enthusiasts from around the globe. The backpackers he hired for the harvest couldn't resist the fresh powder in the mountains, sometimes giving only an hour's notice before leaving their jobs to ski or snowboard. On occasion, Leandro resorted to operating the farm's harvester himself.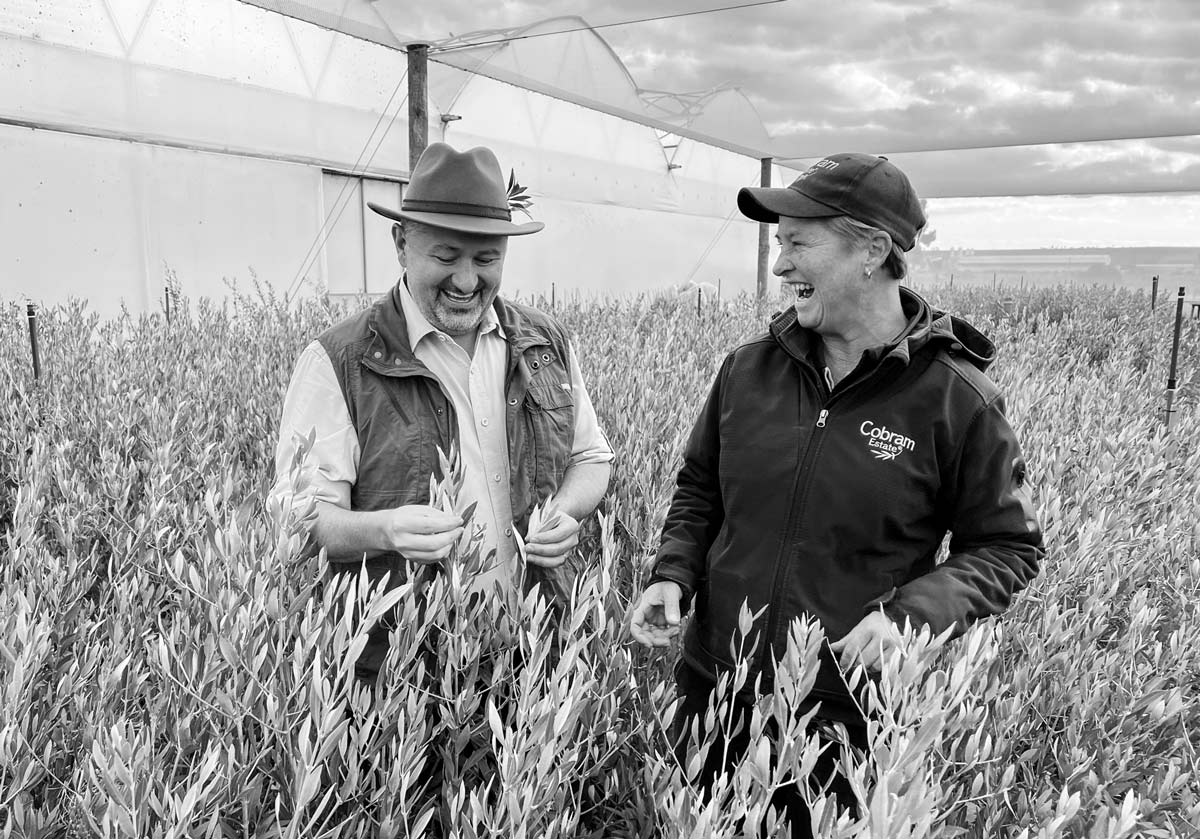 In hindsight, the timing of my first trip to Oz, in 2005, couldn't have been better. The Australian Olive Association (AOA), which was founded in 1995 to resuscitate Australia's olive industry, was just developing traction in its mission, even making introductions on my behalf to some of the country's up-and-coming producers. Meanwhile, a passionate agricultural student with Italian roots was just finishing up his studies at the National University of Catamarca in Argentina. (That was Leandro, of course.) He did post-graduate work in Italy and Spain before returning to Argentina, where his accomplishments brought him to the attention of Modern Olives in Lara, Victoria. In 2001, Leandro became the technical director of the company, overseeing its olive tree nursery, laboratory, and budding relationships with Australia's novice olive growers.
No one—least of all, Leandro, who is also an avid cook—could have predicted what an impact he would have on the world's olive oil industry. Now a much sought-after expert who travels the globe, Leandro was instrumental in convincing producers to print "use by" dates on their oils. He has also railed against subjective marketing terms like "light" or "pure," and championed some of the highest olive oil standards globally—standards that cannot be ignored by Old World producers. (My wife, Meghan, and I bumped into this intrepid world traveler at the airport when we were leaving Australia for home after a wonderful visit. He was headed to northern California—UC Davis—where he teaches milling and horticultural classes.)
When Leandro and I put our names on a bottle of extra virgin olive oil, you can be assured it's very, very special. We can't wait for you to taste this versatile oil on cooler-weather foods.
Impressions and Recommended Food Pairings
This Picual is a mono-varietal native to Spain. It is so fragrant you'll want to dab it behind your ears. You'll inhale the essence of sun-ripened tomatoes, tomato leaf, fresh-cut grass, butter lettuce, celery, dried tropical fruits, warm baking spices, vanilla, Asian pear, and green peppercorns. On the palate, it continues to dazzle, invoking artichokes, fresh basil, tomatoes, and fennel. Presents just the right amounts of bitterness (walnut skins), spiciness (arugula), and bright notes (lime zest). With a peppery pinch, it bids you a lingering farewell, leaving you longing for another taste.
Exceptionally food friendly, this oil generated a tsunami of pairing suggestions from my tasters: scrambled eggs; granola; pizza and tomato-based pastas or salads; vinaigrettes; bruschetta; charcuterie platters; fresh or mild cheeses; yogurt; sweet potatoes (any potato, really); mild fin fish and shellfish; starches like rice, couscous, and bread; turkey and chicken; quick breads; and vanilla ice cream.
---
This Quarter's Second Selection
Producer: Oasis Olives, Kialla, Victoria, Australia, 2022
Olive Varieties: Coratina
Flavor Profile: Medium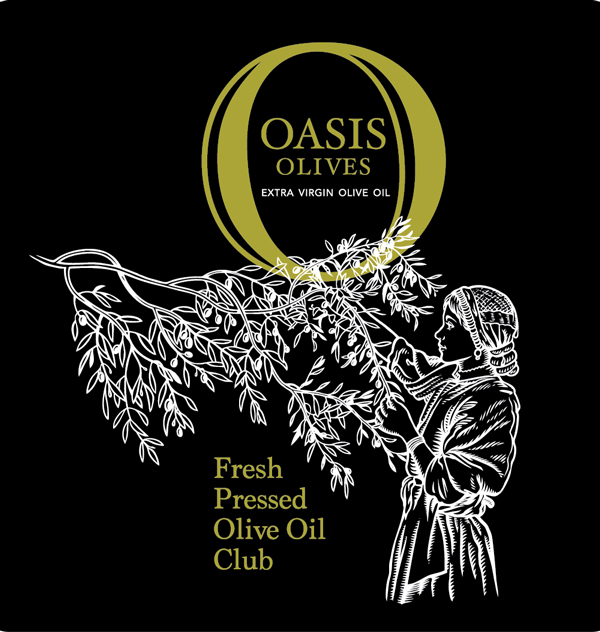 With Zoom meetings behind us, I eagerly anticipated my reunion with Oasis owners John and Marjan Symington. I really missed being with them over the last two years, so it was especially exciting for me to be the "boots on the ground" at their expansive—and expanding—farm this year.
With Melissa Wong behind the wheel, my Merry Band of Tasters traversed the 117 miles north from bustling Melbourne to rural Kialla, population sub-7000. The area is the country's sweet spot for olives with its warm summers, just enough rain, and (usually) mild winters. But when the Symingtons first bought their farm 12 years ago, I don't think even they could have envisioned the amazing success that lay ahead. At the time, the property was somewhat ramshackle, the groves were a tangle of unkempt trees, and whatever irrigation system had been in place was in disarray.
The small Oasis team brought the trees back to stellar condition with strategic pruning and better irrigation. As longstanding Club members know, it took a mere two years for them to start winning accolades and coveted awards, with the most recent being Grand Prestige Gold at the 2022 Mediterranean International Olive Oil competition held in Jerusalem.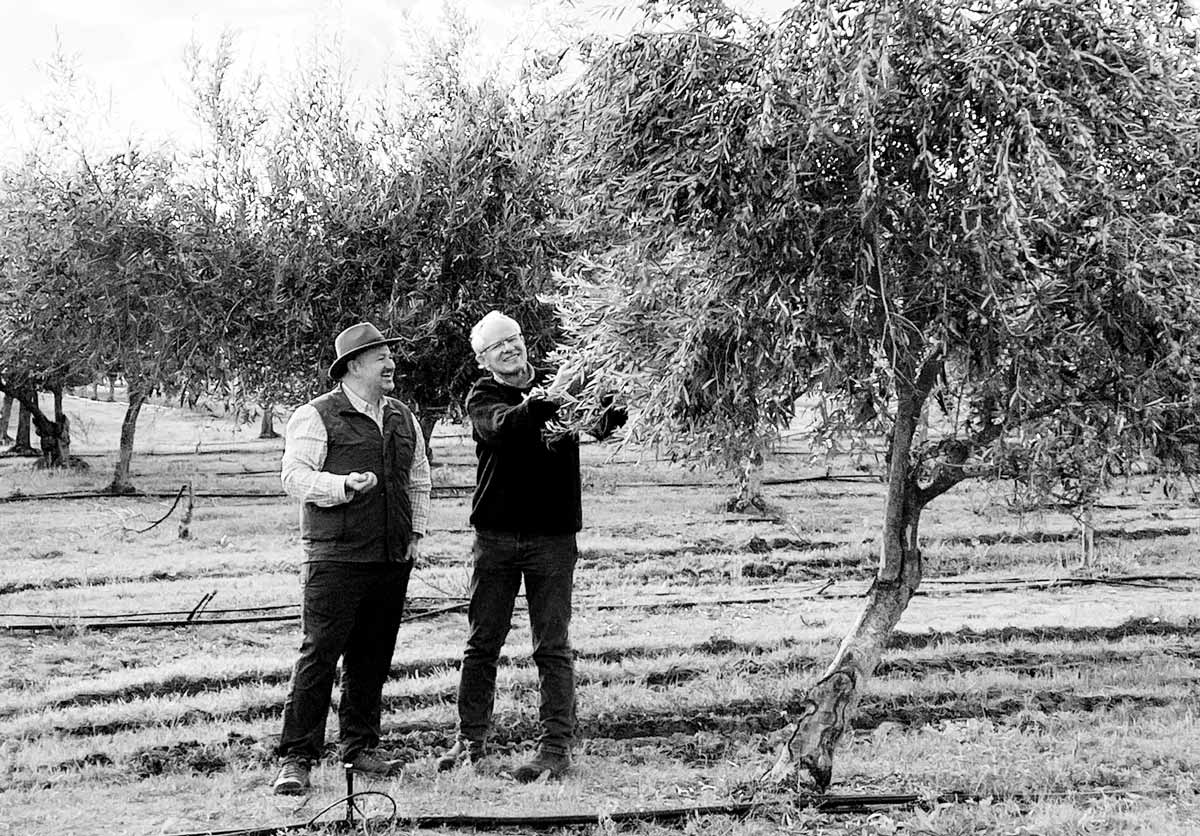 Still, John, whose first career was in IT with its very predictable outcomes, will tell you his second career is far more challenging and also far more emotionally rewarding. You may do everything right, but Mother Nature could still have other plans for you! This year's harvest, however, presented a happy surprise: The usually very short "magic window" for harvesting was rather long, allowing more time to be meticulous.
The Coratina stayed incredibly green throughout the harvest period, and I loved it so much that the Club selection I proudly present to you is a single varietal: 100 percent Coratina extra virgin olive oil. I asked John whether its extraordinary quality could be attributed to this year's ideal weather or to his latest equipment upgrade, a new Amenduni mill from Italy. This is one of the most well-respected brands of milling equipment, yet the purchase came with some drama of its own—it had to be shipped in separate cargo containers, the second of which arrived with barely enough time to assemble and test it before the harvest!
"This season was certainly easier for quality than last year, as with colder temperatures, most of the olives stayed green right through to the end of the season," John said. This was in contrast to last year, when the team had to struggle to keep up with extraordinarily rapid ripening. "The greener harvest was probably something of a reversion to more normal conditions we have had most years on the grove, though with climate change, who knows what 'normal' will be in the future?," John mused.
Never content to sit back and relax, John and Marjan recently purchased the neighboring property. Like their first acquisition, it was in need of a lot of TLC. "The Picual, Leccino, and Arbequina responded well to the care, and we'll get a reasonable crop next year," John predicts. He's adding more Hojiblanca, a Spanish varietal. "My favorite blend is Coratina, Frantoio, and Hojiblanca—we will be able to do that in the future," said John. He's also excited about adding another variety to the grove, Del Morocco, renowned for the quality of the fruit it bears. "The oil is really, really good, so I planted it here," he told me. Stay tuned!
As we drove around the new section in John's white Land Rover, I felt like we were on safari. I expected to see their flock of sheep—the farm's 500 "workers" that prune the grass between the olive trees—but not the mobs of kangaroo, as large groups of the animals are called. More exotic still are the echidnas, also known as spiny anteaters—hedgehog lookalikes, but a totally different species of mammal that lays eggs.
Another unusual sight are massive dead trees that look like fantastic sculptures dotting the landscape. Australia doesn't allow them to be removed because they create nesting places for birds. One was filled with crows, giving it a very stark, almost Hitchcock-esque appearance!
I continue to admire John and Marjan's quest for perfection and appreciate that they always ask me to send them the trio of oils from the Club's other quarterly selections. This gives them context and enables them to appreciate what other growers around the world are able to achieve.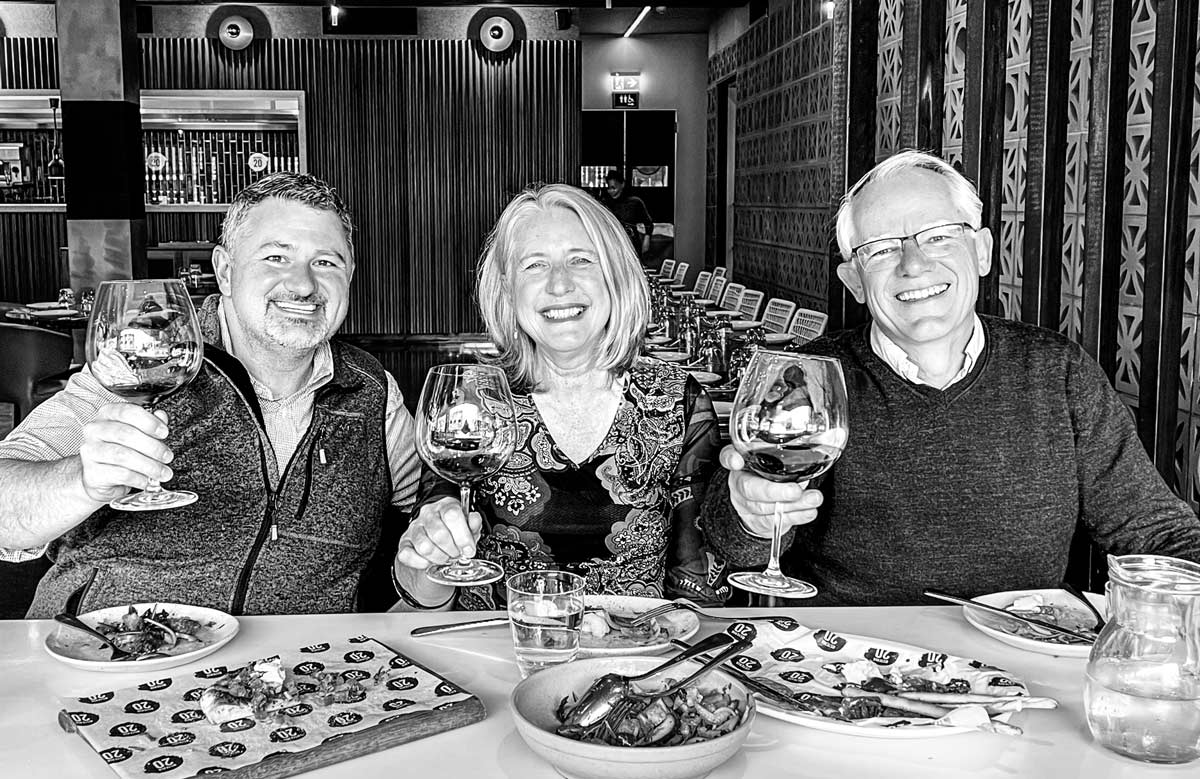 Impressions and Recommended Food Pairings
You'll love this beautiful oil pressed from Coratina olives. The nose is intoxicating. Expect hints of artichoke, green almond, green banana, wheatgrass, lime zest, fresh mint, thyme, and parsley. Take a sip. Notice the appealing bitterness of radicchio and celery leaves, baby spinach, hazelnuts, and the bright, citrusy zest of grapefruit. The finish, reminiscent of Sichuan peppercorns, is pleasantly long, with the astringency of green tea.
Pair this intriguing oil with hummus and other bean-centric dishes; fried eggs; artichokes; pesto; salads made of fall fruits and sturdy greens, such as pears, kale, and blue cheese; avocado toast; roasted root vegetables; risotto; "steak fish" like tuna, salmon, and swordfish; pork, veal, and beef; aged cheeses (plus goat cheese); dark chocolate; brownies; and peasant breads.
---
This Quarter's Third Selection
Producer: Kyneton Olive Oil, Bylands Estate, Central Victoria, 2022
Olive Varieties: Frantoio, Correggiola, Coratina
Flavor Profile: Bold

"Making olive oil is not just about how much love and care you put into that fruit juice at pressing, but also about how much love and care you give to the trees all year long," said Mick Labbozzetta, the general manager of Kyneton. Just an hour north of Melbourne, Kyneton has a storied history and expansive grove—I love combining their many varietals to create bold Australian olive oils for you.
I've worked with Mick and his team for a half-dozen years now, since his extended Calabrian-Sicilian-Australian family, notably his daughter Melissa and son-in-law Robert Inturrisi, acquired the Kyneton name and assets from the Trovatello family. (Longstanding Club members will remember how delightful their oils were, too, when I worked with them.)
I love Kyneton's philosophy: "Australian made, Italian heritage." That's also a way of life in this area because the region has attracted a large number of Italian immigrants. Being here is like taking a mini field trip to Italy! There are so many producers of delicious Italian specialties—olive oil, cheeses, salumi, to name just three—and they thrive in part because of the vibrant Italian-Australian community.
Mick shared a wonderful example of unity from last year. Kyneton partnered with the award-winning That's Amore Cheese to celebrate the olio nuovo, the first-pressed extra virgin olive oil harvested at the start of a season. The event included many food producers showcasing their products, making it a wonderful culinary celebration. Besides watching a live olive oil pressing (Kyneton set up a small mill!) and learning about extra virgin olive oil, attendees were able to bid on a charity auction of the first 20 liters of the olio nuovo. Mick was so proud that all the proceeds were donated to the Olivia Newton-John Cancer Wellness & Research Centre, prescient considered the Australian superstar's passing this summer.
The farm's secret weapon is the Italian master miller Davide Bruno, who travels from Liguria to work the harvest and stays afterward to set up the grove for the following year. Davide has a foot in each hemisphere, drawing on both Old World and New World methods and techniques. While he honors his Italian roots, he also believes in taking beneficial modern approaches. These include monitoring the olives at every stage of development, responding to the trees' needs, and investing in farm-owned harvest and milling equipment, thereby minimizing the time between picking and pressing. He's also been blessed with a unique sensibility that enables him to determine the optimum time for harvesting—for you, my dear Club members, that translates to maximizing flavor and health-promoting polyphenols.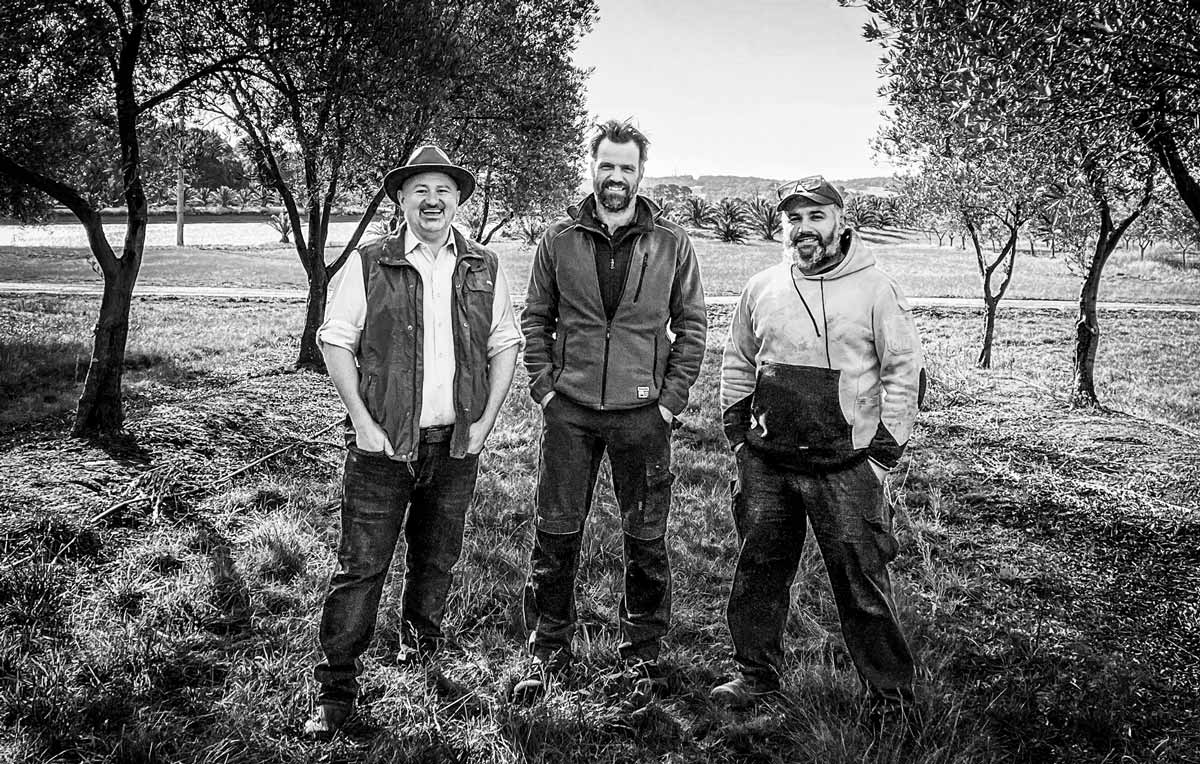 I'm always mesmerized as I watch Davide at work. He continually follows each batch of olives through processing and rarely leaves the mill—when he does, it's with a timer in hand so that he'll never be away for more than precisely two minutes! At his side is Carmelo Tramontana, an Italian ex-pat from Calabria who has lived in Australia for a decade. By Carmelo's calculations, this year's harvest was twice the volume of last year's, a season plagued by heavy rains—even trying to get the harvester through the grove had been a monumental challenge, as it kept getting stuck and required the farm's excavator to pull it out. This year, there was "Goldilocks" rain—not too much and not too little. Kyneton's harvest season lasted two and a half months, each day a labor-intensive 6 am to 8 pm (or as late as 10 pm), seven days a week. "You push and you push," said Carmelo, because the time is finite.
It helps that there's a decided method to counter the madness of an olive harvest, with the careful planning of varietals that are picked in succession. For instance, Frantoio and Correggiola, which form the essence of my bold selection for you, are pressed first. Then the team moves on to Coratina, whose vibrant green flavor added the perfect boldness to my blend. It was a reminder of the fact that many people still haven't had the opportunity to experience the zest of an early-harvest fresh-pressed green oil or enjoy its powerful polyphenols. Know that I will continue to tantalize your taste buds with the most extraordinary extra virgin olive oils as I travel around the world with my Merry Band of Tasters!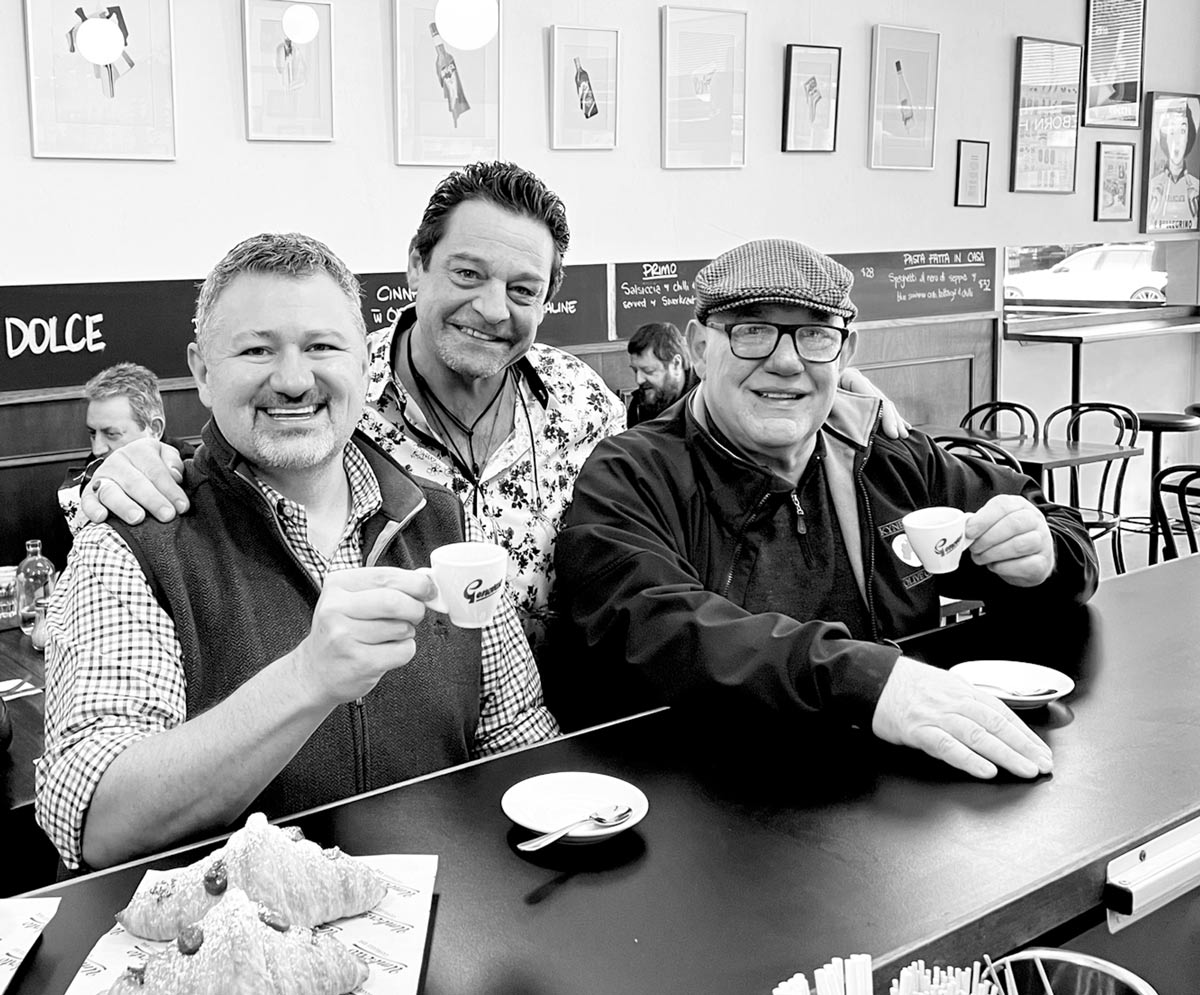 Impressions and Recommended Food Pairings
My tasters and I were blown away by this powerful Tuscan-style blend. On the nose, it's green, grassy, and fruity. You'll be reminded of arugula, endive, wild mint, and fresh chopped culinary herbs. There's an undercurrent of nuttiness, too. Like walnuts. On the palate, it's dynamite. Bold, but well-calibrated. This is what emerald green tastes like. Descriptors include artichoke, Swiss chard, walnuts and almonds, escarole, spearmint, and spicy green peppercorns. The finish is long.
Distinctly bold, this oil complements grilled, braised, and roasted meats like lamb, beef, and veal; roasted vegetables, like brussels sprouts and squash; fried peppers and eggs; focaccia; cold-weather soups and stews like cioppino and minestrone; Asian dishes; salads featuring bitter greens; and dark chocolate desserts.
---
Olive Oil and Health
Mediterranean Diet Significantly Reduces Depression
Reprinted from an article in Science Tech Daily, May 26, 2022
Young men with a poor diet saw a significant improvement in their symptoms of depression when they switched to a healthy Mediterranean diet, a new study shows.
Depression is a widespread mental health issue that affects roughly 300 million people globally each year. It is a substantial risk factor for suicide, the largest cause of mortality among young people. The 12-week randomized controlled trial, conducted by experts from the University of Technology Sydney, was recently published in the peer-reviewed American Journal of Clinical Nutrition.
According to lead researcher Jessica Bayes, a Ph.D. candidate at the UTS Faculty of Health, the study was the first randomized clinical trial to examine the influence of a Mediterranean diet on depressive symptoms in young males (aged 18 to 25).
"We were surprised by how willing the young men were to take on a new diet," Bayes said. "Those assigned to the Mediterranean diet were able to significantly change their original diets, under the guidance of a nutritionist, over a short time frame."
"It suggests that medical doctors and psychologists should consider referring depressed young men to a nutritionist or dietitian as an important component of treating clinical depression," she said.
The link between food and mood
The research contributes to the emerging subject of nutritional psychiatry, which seeks to investigate the impact of particular nutrients, foods, and dietary patterns on mental health. The study's diet was rich in colorful vegetables, legumes, and whole grains, as well as oily fish, olive oil, and raw, unsalted nuts.
"The primary focus was on increasing diet quality with fresh whole foods while reducing the intake of 'fast' foods, sugar, and processed red meat," Bayes said. "There are lots of reasons why scientifically we think food affects mood. For example, around 90 percent of serotonin, a chemical that helps us feel happy, is made in our gut by our gut microbes. There is emerging evidence that these microbes can communicate to the brain via the vagus nerve, in what is called the gut-brain axis."
"To have beneficial microbes, we need to feed them fiber, which is found in legumes, fruits, and vegetables," she said.
Roughly 30 percent of depressed patients fail to adequately respond to standard treatments for major depressive disorder such as cognitive behavioral therapy and antidepressant medications. "Nearly all our participants stayed with the program, and many were keen to continue the diet once the study ended, which shows how effective, tolerable, and worthwhile they found the intervention," Bayes concluded.
Reference: Bayes J, Schloss J, Sibbritt D. The effect of a Mediterranean diet on the symptoms of depression in young males (the AMMEND study): a randomized controlled trial. Am J Clin Nutr. 2022;116(2): 572-580. doi:10.1093/ajcn/nqac106
---
Kudos from Club Members
I was never a big fan of olive oils until I opened my first club bottle, the Cladium from the Spring selection, and smelled the freshness of this EVOO. Once I tasted it, I couldn't get enough and was putting it on everything. I dreamed about it all night and started eating it by the spoonful first thing in the morning. I've never had such a delicious olive oil. Can't wait to see what next quarter brings.
---

Recipes