From the Historic Olive Groves of Andalucía to Your Mesa—a Superlative Trio of Extra Virgin Olive Oils from Spain!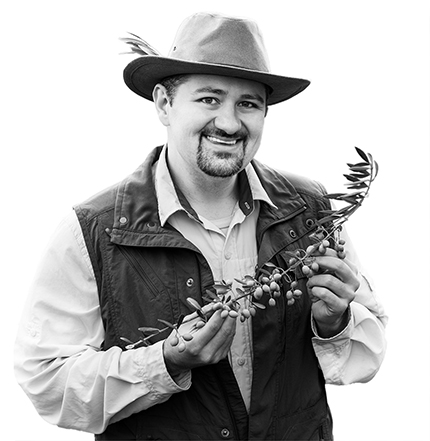 Brimming with vibrant flavors and health-promoting antioxidants, these dazzling early-harvest oils have been rushed to you by jet at their peak.
All are from award-winning producers and custom-blended by yours truly.
All have been independently lab-certified to be 100% extra virgin.
All are Club exclusives, available nowhere else.
---
¡Hola! I am delighted—encantado—to report that I, your trusty Olive Oil Hunter, was able to journey to Spain on your behalf for the first time since 2020. After three years away, it was deeply gratifying and soul-nourishing to collaborate in person with my loyal and talented friends, to savor the incredible Iberian cuisine, and to fulfill the Club's mission, with my boots on the ground, of sourcing for you the finest, freshest, most healthful extra virgin olive oils on Earth right now.
The World's Olive Oil Well
I like to say that Spaniards have olive oil coursing through their veins. Spain is the world's largest olive oil producer, providing almost half the world's supply in a normal production year. The majority of that olive oil comes from Andalucía—specifically, from the province of Jaén (an area about the size of the state of Connecticut), which by itself usually yields more olive oil than either Italy or Greece.
Yet most Spanish olive oil is a subpar bulk product that I would never allow on my table (except as a paperweight to keep the menu from flying away at an outdoor taberna). Don't get me wrong—there are also extraordinary ultra-premium olive oils milled in Spain, some of the finest in the world, and that's why I was longing to return.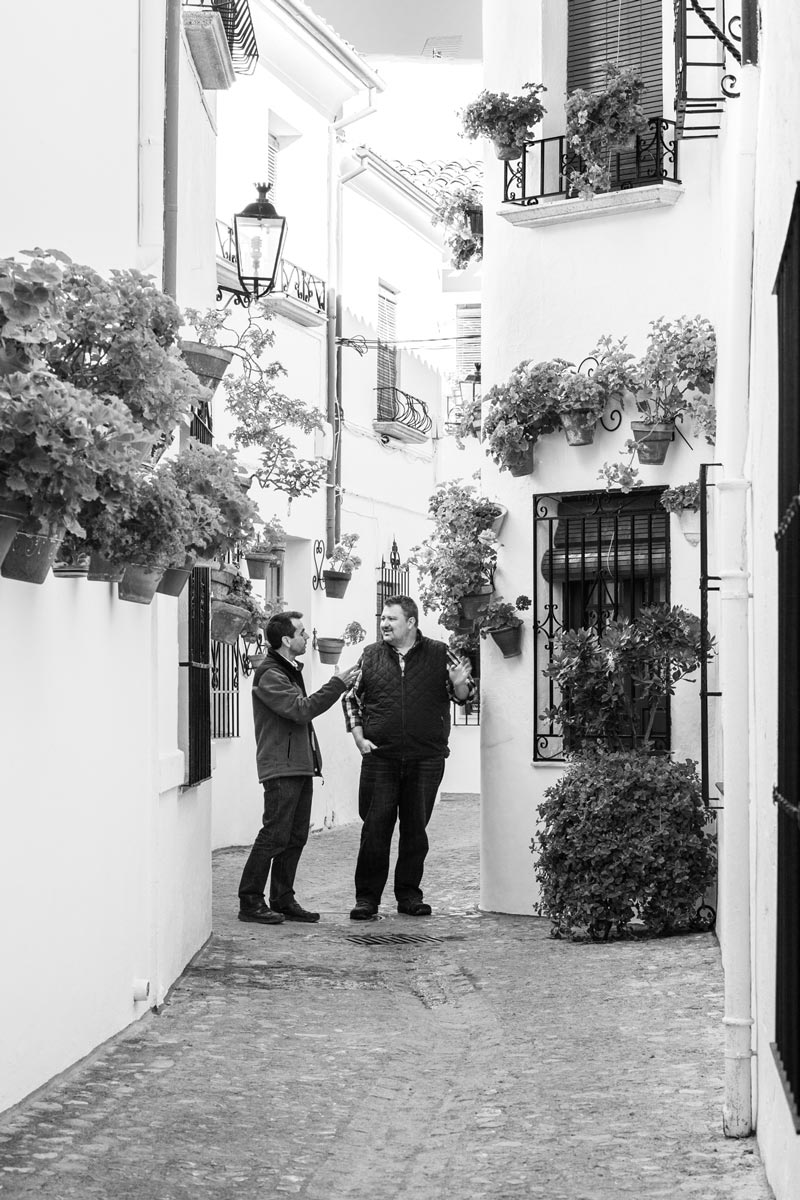 Quality Time
Almost two decades ago, a tiny, core group of quality-focused olive oil producers in Spain turned their sights to producing excellent early-harvest EVOO, emphasizing local varietals, high polyphenol content, and extraordinary flavor. In the intervening years, these pioneers—who represent only about 1 to 2 percent of the producers in Spain—have re-envisioned the possibilities for Spanish olive oil, crafting some of the most celebrated oils in the world as well as creating a high demand for them, locally and internationally.
I began scouting for early-harvest EVOO in Spain in 2005, when I first visited the groves (and castle) of Francisco "Paco" Vaño. (Read more about Paco below.) The network of ultra-premium Spanish producers is tight, and, as new producers distinguish themselves, my friends recommend groves to visit so I can sample their oils. Building these relationships over time is a key aspect of my work as the Olive Oil Hunter, as you never know when the stars will align in a brilliant collaboration.
No Rain in Spain
You may have seen the catastrophic headlines, from Olive Oil Times ("Producers in Andalucía Brace for Second Worst Harvest on Record") to the New York Times: "The Olive Oil Capital of the World, Parched." Spain and Portugal endured a record-breaking year of drought, characterized by some scientists as the region's worst in a thousand years. Eight months without rain meant that only irrigated olive groves had a chance at producing enough fruit for a harvest.
Extreme heat also blasted the Iberian olive crops. In Jaén, temperatures in May hit the mid-90s, which scorched many olive blossoms, causing them to wither—then, the lack of water during the hottest summer on record stunted the development of the remaining fruit.
Spain's olive harvest this year was down 50 percent nationally, 60 percent in Jaén. Many farmers' livelihoods were crushed—bulk producers and artisanal growers alike were impacted in devastating ways.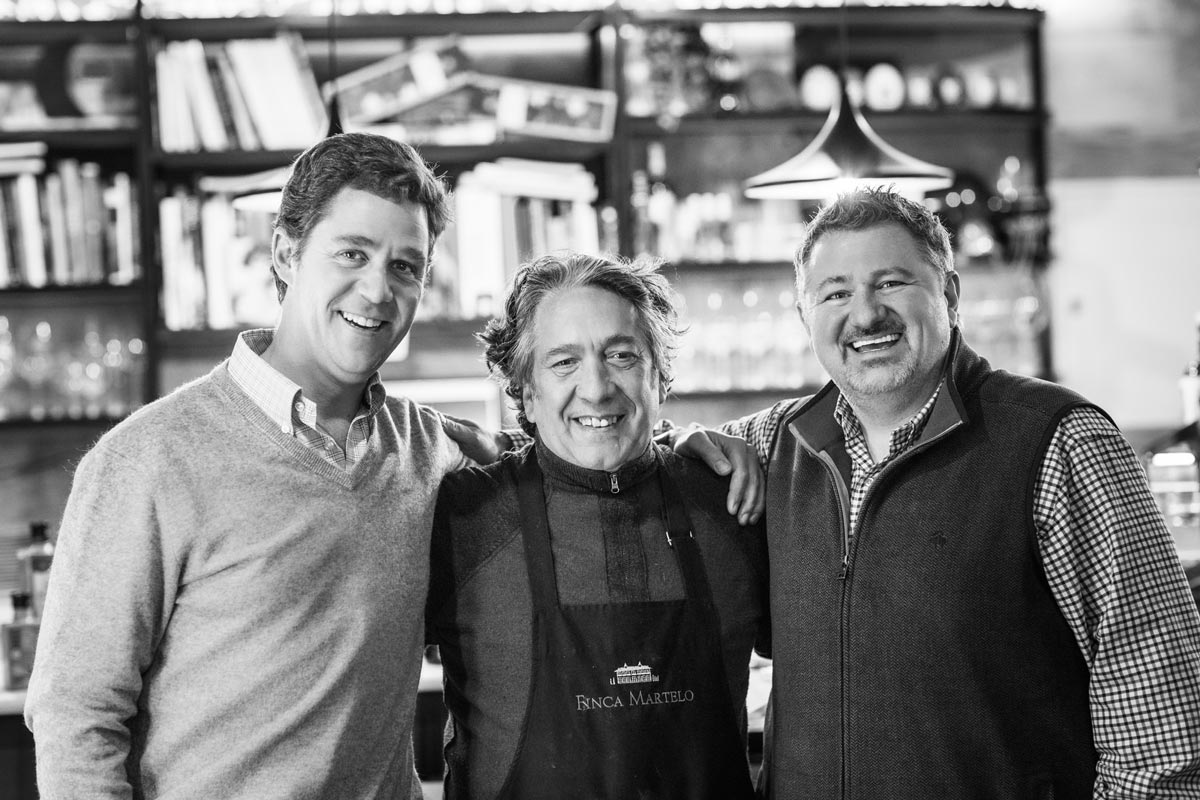 With a Lot of Help from My Friends
To put it in perspective, longtime friend of the Club Filipe Madeira de Albuquerque, in Portugal, brought in only one-tenth of his usual crop. (Experienced Club members will be familiar with the fragrant, delicate oils from the Madeira groves—which, owing to their mountainous location, are not irrigated.) Filipe, a seasoned veteran of the cruel whims of weather and climate, has faith that next year will be better, and we hope to collaborate on a beautiful oil for the Club when Mother Nature permits.
In short, for the producers, this olive growing season was a nightmare. For you, though, my lucky Club member, the trio of oils I've selected is incredible, with a wealth of aromas and perfumes as well as health-enhancing polyphenols and other antioxidant compounds. (These are beneficial outcomes of water stress on the trees.)
All three producers—Castillo de Canena, Finca Gálvez, and García-Molina—have appeared multiple times in the Top 20 of Flos Olei, the connoisseur's guide to the world's best olive oils. These resourceful, highly skilled master artisans extended themselves with stunning generosity on behalf of our Club, reserving their best oils for us and giving us room to taste and tinker with our blends. Our bold selection features a Club debut by García-Molina, a quality-focused farm I've been scouting since 2015. This was their year to shine.
How did I manage to secure three outstanding oils in such a challenging season? One word: friends. I was overjoyed to see my longtime friends, to break bread together, to enjoy meals together. And, dios mío, the food—we shared so many mouth-watering dishes, including the best local shrimp ever, each plate splashed with our harvest-fresh olive oils. The absolute standout was braised Ibérico pork cheeks in a garlic-onion reduction that I cannot stop thinking about. I may return to Spain just to have it again. I wish you could come with me.
Meanwhile, read on for details about these talented and innovative producers, as well as tasting notes, food pairings, and regionally inspired recipes to enhance your enjoyment of these dazzling oils. Savor them with your friends, family, and guests in good health. ¡Salud!
Happy drizzling!


T. J. Robinson
The Olive Oil Hunter®
---
This Quarter's First Selection
Producer: Castillo de Canena, Selección Especial, Jaén, Andalucía, Spain
Olive Varieties: Arbequina
Flavor Profile: Mild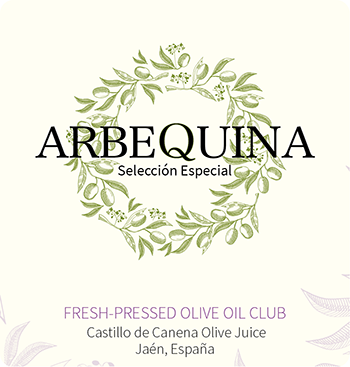 The apocalyptic headlines coming from Southern Europe were alarming: "Drought and Heat Drain Spanish Reservoirs," said Reuters. "Spain and Portugal Suffering Driest Climate for 1,200 Years," reported The Guardian.
Prior to my trip to Spain, I sought another update from my friend, Francisco "Paco" Vaño, the cofounder, with his sister, Rosa, of Castillo de Canena, one of the most respected olive mills in the world.
"It has been the hardest and most complicated harvest of my life," he said. "But don't worry." Yields were going to be lower than normal, he explained, but the quality of the fruit was high. Paco assured me he would do whatever he could to accommodate the needs of the Club. True to his word, he gave me access to his finest Arbequinas, a finicky varietal that is in extremely short supply this year.
Named after the Vaño family's 15th-century castle, an imposing, turreted edifice that overlooks thousands of acres of olive groves and the picturesque village of Canena, this artisanal producer's early-harvest oils have garnered the world's most coveted olive oil awards. Though they celebrated their first harvest in 2003, the family has been connected to olive groves for more than two centuries. In 2019, Castillo de Canena was inducted into the prestigious Flos Olei Hall of Fame, one of only eight producers out of hundreds to receive the honor.
Always seeking new ways to grow, the family continues to invest in improvements. For example, they started construction in 2019 on a magnificent state-of-the-art mill, the steel-and-glass embodiment of brainstorming sessions with the entire team. Now fully operational and featuring four separate lines and a temperature-controlled receiving area, the mill dwarfs the structure I toured when I first visited Castillo de Canena in 2005.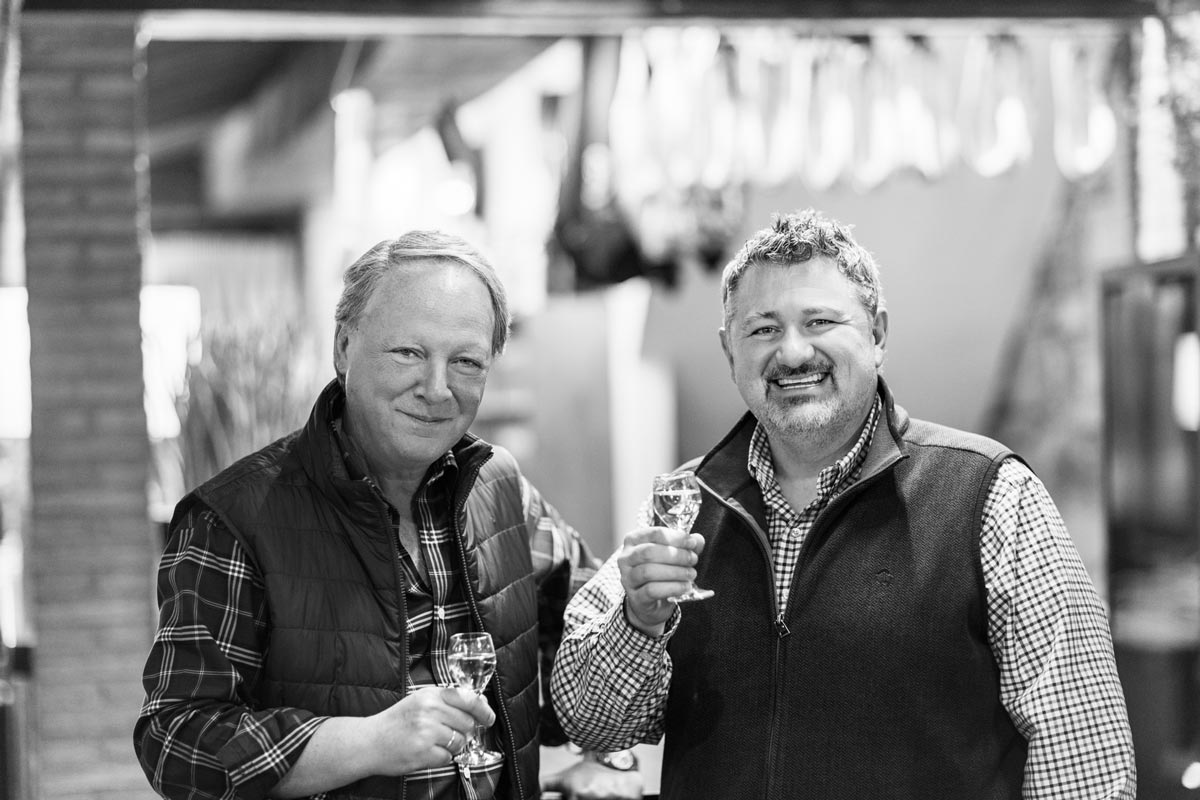 Naturally, I was eager to learn in person what innovations Paco and his staff had implemented during my absence.
My Merry Band of Tasters and I hit the ground running when we arrived at the mill. We were delighted with the sensational Arbequina blend we developed using the cream of Paco's crop. Later, we rendezvoused with Paco at Taberna El Pajáro ("tavern of the bird") in Baeza, a restaurant we've visited many times before. Over an uncharacteristically long lunch—three hours—we celebrated another successful collaboration with this incredibly skilled producer. During the meal, Paco affirmed his commitment to quality, which he defines broadly to include acting with purpose and integrity, sharing accumulated knowledge, respecting the community and the environment, and tirelessly promoting biodiversity. Among his many projects is the planned publication of four coffee table–type books featuring the property's abundant flora and fauna. (In association with the University of Jaén, a stunning volume featuring 117 bird species that inhabit the groves has already been published.)
Conversations in Andalucía usually gravitate to the drought that continues to plague Southern Europe. A summer heatwave exacerbated the problem. Many provinces have restricted water usage as rivers and dammed reservoirs recede. Paco, who maintains his own reservoir but also relies on river water, is encouraged by a government plan to loosen water restrictions in advance of the olive trees' spring blossom-setting season. Heat also continued to bedevil olive farmers throughout the harvest, Paco said, with temperatures sometimes soaring as high as 104 degrees. Each day, his crews began working before dawn, quitting at noon. Happily, water-deprived olives were blessed with timely rains, which restored their balance and improved their flavor profiles.
One highlight of our trip that was unrelated to olive oil was a surprise visit organized by Paco to a distillery called Cacao Pico. Founded in 1824 in Jerez, it's known for its unique chocolate-flavored liqueur. (Paco served it to guests at his wedding last year.)
It was such a joy to catch up with Paco, whose many accomplishments as a premium olive oil producer make me so very proud. I treasure our relationship and the benefits it has produced for Club members. Most notably, this superb blend of premium Arbequinas. My wife, Meghan, and I have been enjoying it with a multitude of dishes, splashing it on everything from eggs to ice cream. We're eagerly awaiting the arrival of fresh asparagus, ramps, and morels—all mood-lifting harbingers of spring.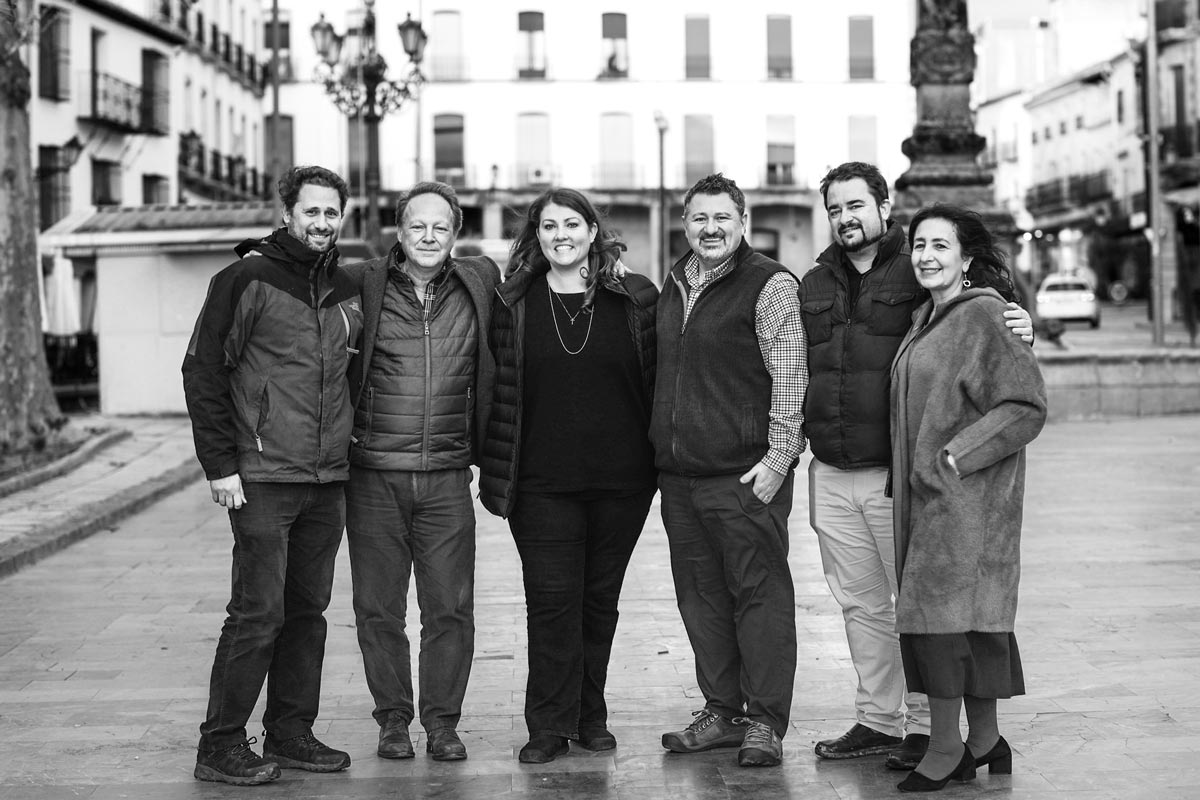 Impressions and Recommended Food Pairings
This exquisite and aromatic Arbequina makes a lovely first impression. It is grassy on the nose with hints of green banana, golden apple, kiwi, celery, vanilla, mint, and basil, punctuated by Belgian endive and white pepper. Elegant in the mouth, echoing the grassiness and green banana along with the bitterness of endive, the warmth of cinnamon, and a walnut-like nuttiness. Expect a long, mild, peppery finish.
From your mid-morning smoothie to a late-night snack of ice cream, this versatile oil will enhance many foods, particularly those with an intrinsic sweetness. These include carrots, asparagus, beets, sweet potatoes, squash, and peas; salads featuring fruit and/or nuts; creamy soups; lobster, shrimp, scallops, and mild fin fish; chicken; bread; rice; scrambled eggs; yogurt; quick breads; and fruit-based desserts.
---
This Quarter's Second Selection
Producer: Finca Gálvez, Jaén, Andalucía, Spain
Olive Varieties: Picual
Flavor Profile: Medium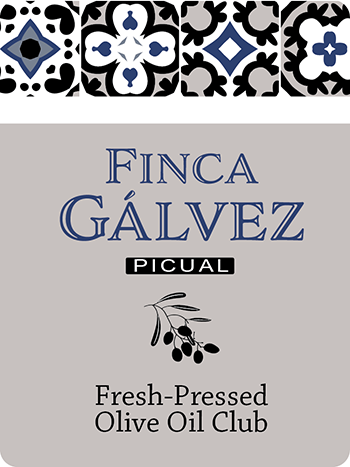 When my Merry Band of Tasters and I arrived at Finca Gálvez, the dramatic stone-and-brick façade of their state-of-the-art mill was a welcome sight after my three-year absence. Of course, the real delight was seeing the Brothers Gálvez, José and Andrés, catching up on their news, and sharing memorable meals at our favorite local restaurants.
Longstanding Club members know that my relationship with the Gálvez family dates back to the early '00s. It began just a few years after José and Andrés's father made the decision to change the family's livelihood from masonry—the area's red clay is responsible for those vibrant bricks fronting the mill—to creating the finest extra virgin olive oil. He correctly predicted that there would be a surge in demand for ultra-premium quality oils.
In truth, I'm not sure José and Andrés would ever have been as passionate about bricks as they are about their groves and oils. Over two decades, they've amassed dozens of awards, including coveted gold medals in the New York International Olive Oil Competition (NYIOOC), Olive Japan, and the London International Olive Oil Competition. And they've been named among the top 20 oils in the world numerous times by Flos Olei, the global guide to the finest EVOO, including in 2022 and 2023. But they're certainly not resting on their laurels. They've expanded their mission to include sharing their knowledge of olive oil to make the public better-informed consumers, making them more aware of the different varietals of olives, how to enjoy each one, and how to appreciate olive oil as a true fruit juice with amazing health benefits—a mission that Club members know I share.
And that explains the renovations we saw underway on our way to the groves: their main office will move to the new building so that their current one can become a dedicated visitor center for classes and tastings, complete with a kitchen for cooking demonstrations. "When you visit a wine cellar, you taste the wine not only on its own but also paired with cheese and other foods," said José. "Our visitors want that kind of sophisticated, elevated experience, not a run-of-the-mill tourist stop."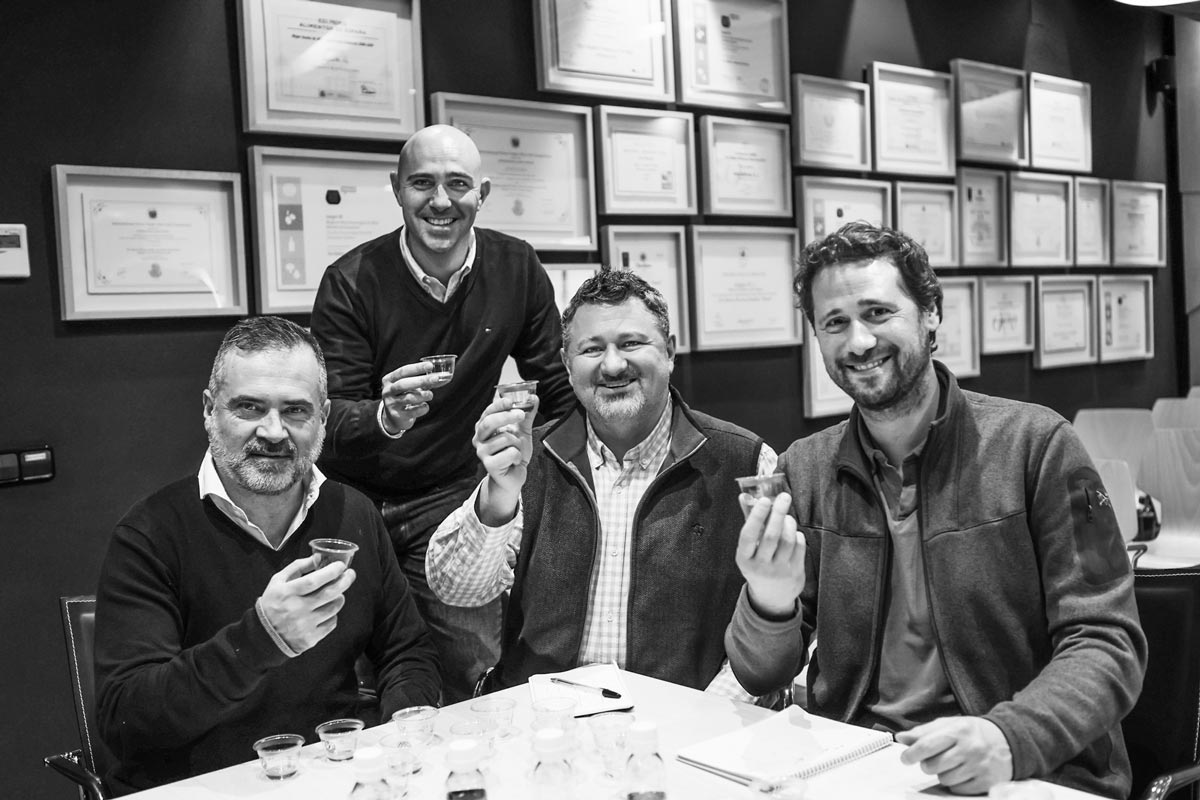 Another thing I admire about the team at Finca Gálvez is that they're always guided by the groves—the highest-quality oil is what gets bottled, no matter the quantity. That means their annual yield can vary based on growing conditions, and this season gave them their greatest challenge yet. When I look back at my past quests for EVOO in Spain, there have certainly been many tricks played by Mother Nature—she doesn't always make it easy for us to receive her gift of liquid gold! Last year, producers were stymied by a lengthy drought and blistering hot temperatures during the growing season. Yet, somehow, this year was even more challenging. Many areas had no rain for eight months, a refrain we'd heard since we arrived in the country.
Those without the kind of sophisticated irrigation system that Finca Gálvez has didn't stand a chance. Even with one, production was lower, and everyone was scrambling to meet demand. A low volume of olives means that grocery stores will be flooded with a lot of inferior oils three times the usual price and, worse still, often passed off as EVOO.
I never commit to a producer before an olive oil is in my tasting cup, but any worries melted away soon after my Merry Band of Tasters and I sat down in the tasting room. Ten Picual samples were presented to us, each tantalizingly distinctive—with 5,000 acres in the Guadalquivir River Valley, the Finca Gálvez groves represent many different terroirs. José and Andrés had set aside much of their top premium oil for our Club.
In past years, a Picual from Finca Gálvez has been our bold selection; however, as we narrowed the delicious array of tasting cups from 10 to four, we knew we had the makings of a well-rounded, harmonic blend that would be perfect for the medium profile. Coincidentally, it was a medium Picual that had captured a Best in Class for Finca Gálvez at the NYIOOC just a few years ago! The Gálvez brothers opened their cellar door to us and let us play in their house so that you, dear Club member, can savor this very special oil. The final result showed once again just how skilled they are—they navigated all the curveballs of the season to hit a home run.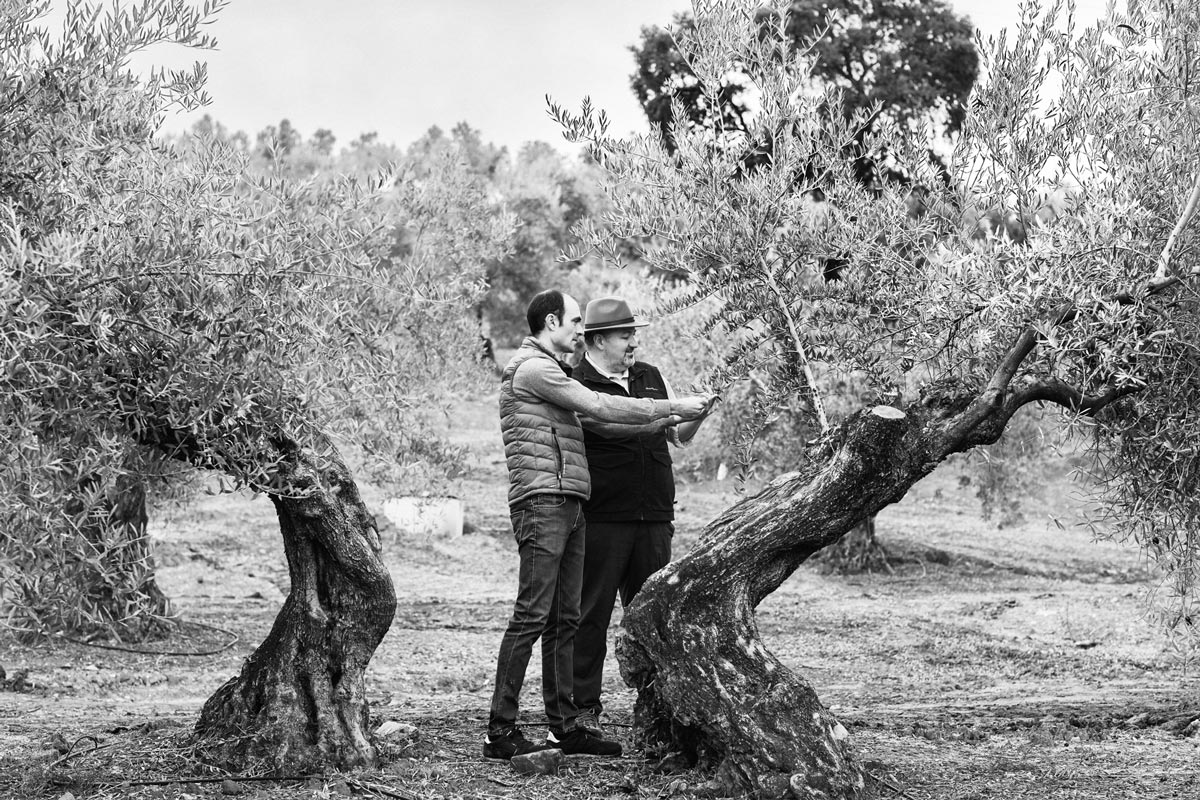 Impressions and Recommended Food Pairings
This Picual is an Andalucían beauty. Complex and herbaceous on the nose. My tasters and I detected tomato leaf, basil, rosemary, oregano, fresh-cut grass, arugula, hazelnut, black pepper, and eucalyptus. Even more beguiling on the palate, evoking green tomato, spinach, and the bitterness of rosemary, escarole, green tea, and cocoa nibs with the spiciness of celery leaves. The finish goes on and on.
I urge you to play up this oil's best qualities by coupling it with tomato-based dishes such as bruschetta, caponata, pasta, or pizza. Pair with aged hard cheeses; charcuterie boards; grilled meats (pork or lamb); grilled fish (tuna, salmon, or swordfish); white beans; mixed green salads; potatoes; broccoli, cauliflower, or brussels sprouts; and fried eggs.
---
This Quarter's Third Selection
Producer: García-Molina, Ácula, Granada, Andalucía, Spain
Olive Varieties: Hojiblanca, Arbequina, Picual
Flavor Profile: Bold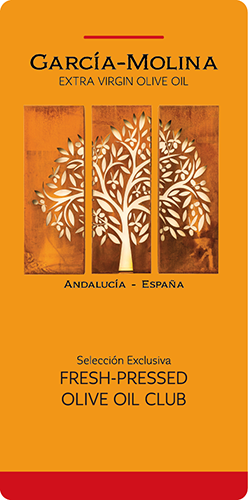 It's a funny thing about hunches—sometimes you have to wait to act even though you're excited about forging ahead. That pretty much sums up the interest I've had in this innovative producer since I first met Juan de Dios, known as Juande, and his sister, Paula. I recognized great promise in these dynamic siblings years ago. But who would have imagined that the right moment to make them the newest artisanal producer to supply amazing extra virgin olive oil to Club members was during one of the most challenging Spanish harvests in 20 years?
This passion project started with their father, also named Juan de Dios. As children, the siblings accompanied their dad to family-owned olive groves in Jaén, an easy drive from their home in Málaga. They even spent school holidays pruning olive trees! Later, just as they started to follow in their father's academic footsteps, earning degrees in pharmacology, Papa indulged his lifelong dream of buying an olive mill! It was mostly a hobby at first, one that produced olive oils for friends and family and the bulk market. But Juande and Paula saw the potential to elevate the oils and approached their father with a bold plan: press premium olive oils and introduce them internationally to a very select group of chefs who wanted only the finest ingredients in their kitchens. They asked for four years to prove themselves.
"It was really hard," Juande admits. Even though they were traveling nearly 20 days a month, they sold nothing for the first year. When they made their first sale, it was because the buyer "felt sorry for them." But it was a start! The turning point came in 2016 when a German publication, Stiftung Warentest (similar to our Consumer Reports), tested 26 olive oils. Only one—guess which one—was given a high rating. And just like that, their mill was off and running.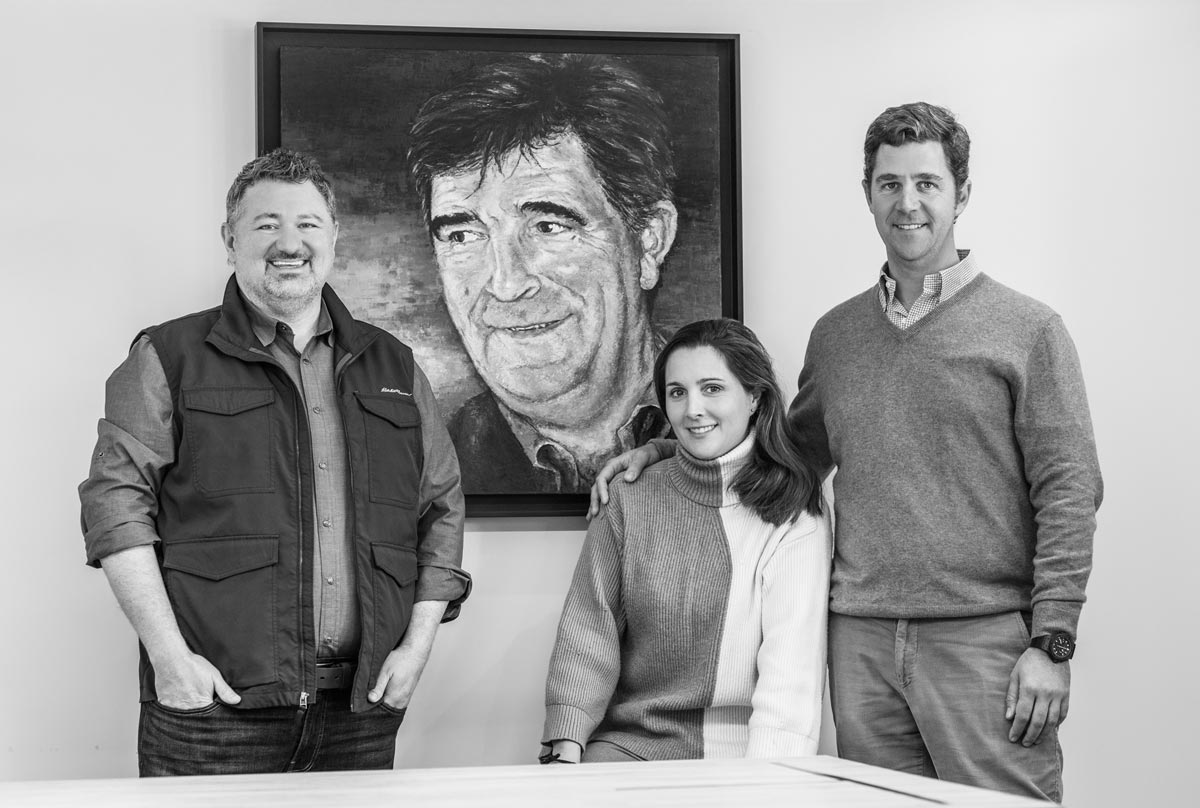 The elder Juande did not live to see this milestone—he passed away in 2014, just 10 years after buying the grove—but the family honors him at every harvest, gathering around an olive tree they planted in his name and celebrating his life, his incredible energy, and his passion for olive oil. Juande's five young grandchildren endearingly call him Abuelo Olivo (Grandpa Olive), and his legacy continues to inspire the family.
I was equally impressed by how seriously Juande follows the well-documented impact of EVOO on dementia, cardiovascular disease, hypertension, and more, and how he continues to use his pharmacology background as an asset. He even sells his own fresh-pressed olive oil in the pharmacy he owns. The family's grounding in a scientific field, I believe, has led them to be very methodical when problem-solving in the groves and in the mill.
The siblings' olive oils, under the name O-Med, have received many prestigious awards in Spain and abroad, including a gold medal at the New York International Olive Oil Competition (NYIOOC), multiple "Top 20" inclusions in Flos Olei (Italy's premier guide to the world's olive oils), Olive Japan, and the Los Angeles International Extra Virgin Olive Oil Competition.
During our visit, one of our most memorable meals was at Luciano's, the local restaurant that provided sustenance during those early, difficult days: Juande ate there so often that the proprietors gave him room and board when he was putting in 20-hour days at the mill, even making him dinner regardless of the hour. It was a kindness he has never forgotten. So, it was especially meaningful for me to enjoy a meal there with him. (I am determined to get the recipe for their delectable pork rib stew, so comforting on a chilly day.) Juande also treated my Merry Band of Tasters and me to a magnificent meal at Taberna
Belmonte in Granada, where the chef, Paco Aguilar, showcases O-Med oils. He, too, is close to the family, and even traveled with them to Japan to exchange skills with foreign chefs.
Hojiblanca anchors this exquisite blend, exclusive to us. It is a hardy cultivar, enhanced by Arbequina and Picual. To honor Juande and Paula's father and his lifelong dream, we have created a special label, García-Molina, invoking their ancestral family name. Juande and Paula know their father would be proud that the family's oil will be enjoyed by the discriminating palates of Club members. I'm proud, too! To quote the famous line at the end of the Hollywood classic Casablanca, I think this is the beginning of a beautiful friendship.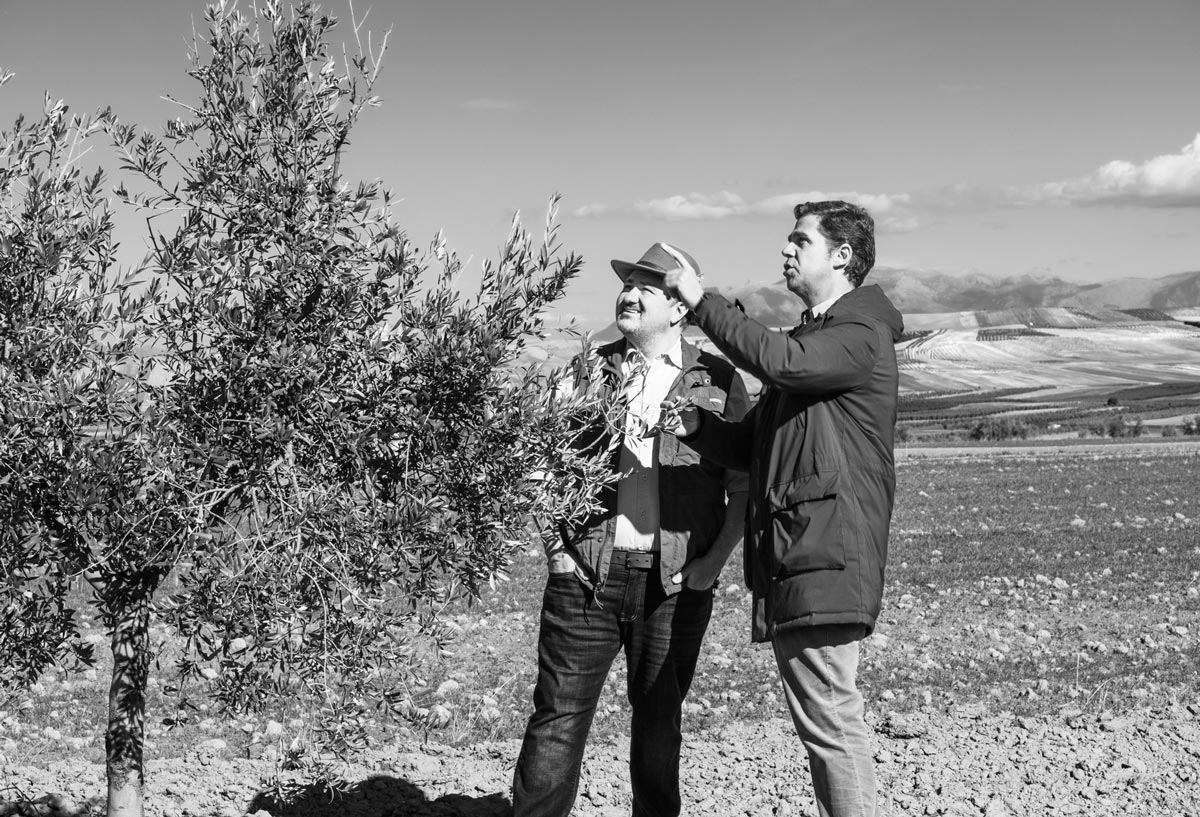 Impressions and Recommended Food Pairings
Bold and beautiful, this blend of Hojiblanco, Picual, and Arbequina is intoxicating in the tasting glass. Black Tuscan kale came to mind, followed by wheatgrass, watercress, celery, and fresh thyme. A pear-like fruitiness complements the nuttiness of walnut and the freshness of lime zest. Weightier
in the mouth and more viscous than the mild and medium oils, this bold oil is incredibly harmonic. It's a masterful symphony of flavors—tomato leaf, artichoke, parsley, and walnut. Bitterness is represented by microgreens and spiciness by nasturtium and green peppercorns. Savor the languorous finish.
Reach for this assertive oil when you compose salads of bitter greens with nuts and aged cheeses; grilled beefsteak or game meats; oilier fish, such as mackerel, bluefish, or sardines; hummus; shakshuka; bean or vegetable soups; and desserts featuring dark chocolate.
---
Olive Oil and Health
Olive oil is beneficial for maternal-fetal health
Adapted from Cortez-Ribiero et al (2022) and an article by Liji Thomas, MD, in News Medical, January 3, 2023
Numerous studies have shown that olive oil can have positive effects on pregnancy.
A recent systematic review published in the journal Nutrition Research is the first to summarize the evidence for the protective effects of EVOO consumption on maternal-fetal health.
Introduction
Nutrition plays a vital role in the health of a pregnant woman and the outcome of her pregnancy. Olive oil is a healthy source of monounsaturated fatty acids (MUFAs) and phytochemicals such as polyphenols that promote favorable outcomes in pregnancy. In addition, olive oil is linked to lower rates of gestational diabetes mellitus (GDM), preeclampsia (a sudden, dangerous rise in blood pressure), and small-for-gestational-age (SGA) or large-for-gestational-age (LGA) infants.
A systematic review included nine studies from Europe, the UK, and Argentina, conducted between 2008 and 2020. Study sizes ranged from 30 to 35,000 women.
Six studies were interventional, including five randomized controlled trials, and three were observational (case-control or cohort studies).
Maternal-fetal outcomes evaluated included SGA, LGA, GDM, premature birth, preeclampsia, and cardiovascular risk.
The intervenional studies evaluated the effects of EVOO, while the observational studies did not specify the grade of olive oil.
What did this study show?
EVOO in particular, and olive oil in general, is associated with a reduction in the risk of maternal and fetal adverse effects, including GDM, SGA, LGA, prematurity, and preeclampsia.
EVOO supplementation was associated with favorable cardiovascular effects in pregnancy, including a decrease in triglyceride levels.
What are the implications?
SGA increases the risk of poor fetal outcomes, while LGA increases the risk of birth complications. Both SGA and LGA were reduced in association with EVOO intake.
Both GDM and prematurity were reduced in one or more of the interventional studies. The anti-diabetic effects of EVOO may be attributed to the activity of polyphenols, which can improve insulin sensitivity.
Two studies evaluated the risk of preeclampsia: increased EVOO consumption reduced the risk in one study; the other did not find a reduced risk of preeclampsia but reported a reduction in gestational weight gain, a risk factor for preeclampsia.
This systematic review is an important, first-of-its-kind summary of the evidence that EVOO can confer protective effects on pregnancy outcomes. More studies focusing on the impact of olive oil consumption on maternal-fetal outcomes are needed.
Reference: Cortez-Ribeiro, AC et al. Olive oil consumption confers protective effects on maternal-fetal outcomes: a systematic review of the evidence. Nutr Res. 2022;110:87-95. doi.org/10.1016/j.nutres.2022.12.013.
---
Kudos from Club Members
I love you, Olive Oil Hunter!


I can't begin to describe how much I love being a member of the Olive Oil Hunter's Club. My husband and I are vegetarians and salads are a staple part of our lives. These incredibly flavorful and delicious olive oils are a mainstay in our meals. My father had an olive ranch in Northern California when I was a child, so the taste of real olive oil, tasting like real olives, is a part of my DNA. Over the years I have despaired because olive oils have become no more than the equivalent of barely digestible engine oil. When the first batch of olive oil arrived, I seriously almost wept. No olive oil sold in stores these days anywhere—and I mean ANYWHERE—can compare in flavor or aroma as these small-ranch pure olive oils. We so look forward to when our oil shipment arrives. We set it up to taste-test, and then as I prepare dinner, my husband reads to me the description and background information the Olive Oil Hunter writes for each olive oil that he offers, so we know exactly what we're getting, from where, and by whom. This olive oil subscription is the best thing I've discovered in a long, long time! I love you, Olive Oil Hunter!
---

Recipes