T. J. Robinson and his new 2022-2023 Artisanal Vinegar Collection
I'm thrilled to share my new collection of this year's four most outstanding barrel selections from Europe's top vinegar masters.
These four sensational vinegars were hand chosen by me for their distinctive appeal and offer the full taste range from mild to highly acidic and from sweet to tart.
Each vinegar is made from the finest fruit, and each in its own way will elevate your cooking and dining enjoyment, adding depth of flavor. You'll taste their makers' passion in every spoonful.
From appetizers and aperitifs to entrées and desserts, I've created two dozen recipes that will please your palate.
Once you experience the vinegars in this exclusive, curated collection from award-winning estates, you'll never again be satisfied with store-bought, mass-produced vinegars.
These vinegars also make unique and thoughtful gifts for any foodies or home cooks on your gift list for Easter or Passover.
Yours to try 100% risk-free … and you needn't return them if you request a refund. That's how confident I am that you'll love these vinegars!
This is a one-time offer, not a club. Quantities are strictly limited. RSVP if you'd like to try them 100% risk free
Dear Lover of Fine Food,
I and my Merry Band of Tasters recently returned from our annual pilgrimage along the European Vinegar Trail. Oh, what treasures we've brought back for you!
Adventuring through France, Italy, Austria, and Germany, we were on a mission to discover the best four selections among Europe's most prized handcrafted artisanal vinegars. We narrowed down more than a hundred contenders and chose the best four—extraordinary master-made vinegars that will take your culinary creations to new heights of flavor and delight.
Last year's four selections proved so popular among home cooks that rave reviews poured forth like water from the Trevi Fountain. In fact, as soon as we released those rare vinegars, word spread on foodie social networks, and we were quickly sold out. I suspect the same will happen with this year's selections because there's just nothing like these amazing vinegars in US stores. And the supplies we secure are always limited.
What Do My Artisanal Vinegars Have That Mass-Produced Supermarket Vinegars Lack?
The short answer is age and deep, rich, complex flavors.
Supermarket vinegars are made in huge volume using high-speed machinery to produce vinegar in just one to three days.
Sadly, with this high-speed process, the vinegar never reaches its flavor potential because it isn't given time to develop the innate characteristics of the ingredients—the wine or fruit, for example—from which it is made.
In contrast, artisanal vinegars are created by masters who start with fine wine or luscious fruit. Then they lovingly age their vinegars for years in wooden barrels. This unhurried, traditional process preserves and deepens the flavors of the original ingredients. The result is vinegar with deep, rich character and complex flavor. As you'll taste for yourself, this makes all the difference when you add it to your favorite salads, stews, soups, sauces, desserts, and more.
That's Why I'm a Purist—and I Invite You to Be One, Too!
As a professionally trained chef, I'm a vinegar purist, old-fashioned in my tastes. That's why, when members of the Fresh-Pressed Olive Oil Club began clamoring for properly aged artisanal vinegars to complement their extra virgin olive oils, I set out to find the best that Mother Nature makes, helped along, of course, by the artisans at the great vinegar houses. I think of them as vinegar vintners because they do the same exacting work that wine vintners do.
I'll introduce you to them in a moment. But first…
Just Some of the Ways These Vinegars Will Take Your Cooking to the Next Level
As an acid, vinegar brings lively brightness and zest to dishes in the same way a squeeze of lemon does. But a lemon offers just one flavor. Each of the four vinegars in my curated collection has a unique and deliciously complex flavor profile. Just like a professional chef, you'll now have a whole new palette of interesting new tastes to enhance a vast range of culinary creations. You'll have so much fun and enjoyment discovering the possibilities. For example:
Delicious Sauces in a Jiffy—with Deglazing. Use any of these vinegars instead of (or even in addition to) wine to deglaze a pan and turn the fond (the crisp brown bits left after sautéeing) into a rich and quick sauce.
Mouthwatering Enhancements of Classic Dishes. Vinegar is an amazing addition to beurre blanc and béarnaise, to name just two classic butter sauces. With sugar, it creates the ultimate sweet-and-sour sauce known as gastrique.
Juicier Grilled Meats When Marinating. Because vinegar is acidic, it helps break down and tenderize protein fibers, for juicier grilled meats.
Deeper Flavors from Pickling. These vinegars don't merely preserve foods but also impart a much more delectable tartness.
Drizzles That Dazzle. A few drops of any of these vinegars will enhance just about any dish, from a risotto to a charcuterie plate to berries and ice cream.
Fast and Fantastic Finishes. With just a single splash, you'll add such flavorful notes to finish a tossed salad or braised greens. In seconds, you can elevate any soup or stew from good enough to glorious. You'll have so many interesting ways to transform your marinades, vinaigrettes, sauces, desserts—and even your cocktails and mocktails!
Did I Say Cocktails? Oh, Yeah! You're Gonna Love My Shrub Coolers!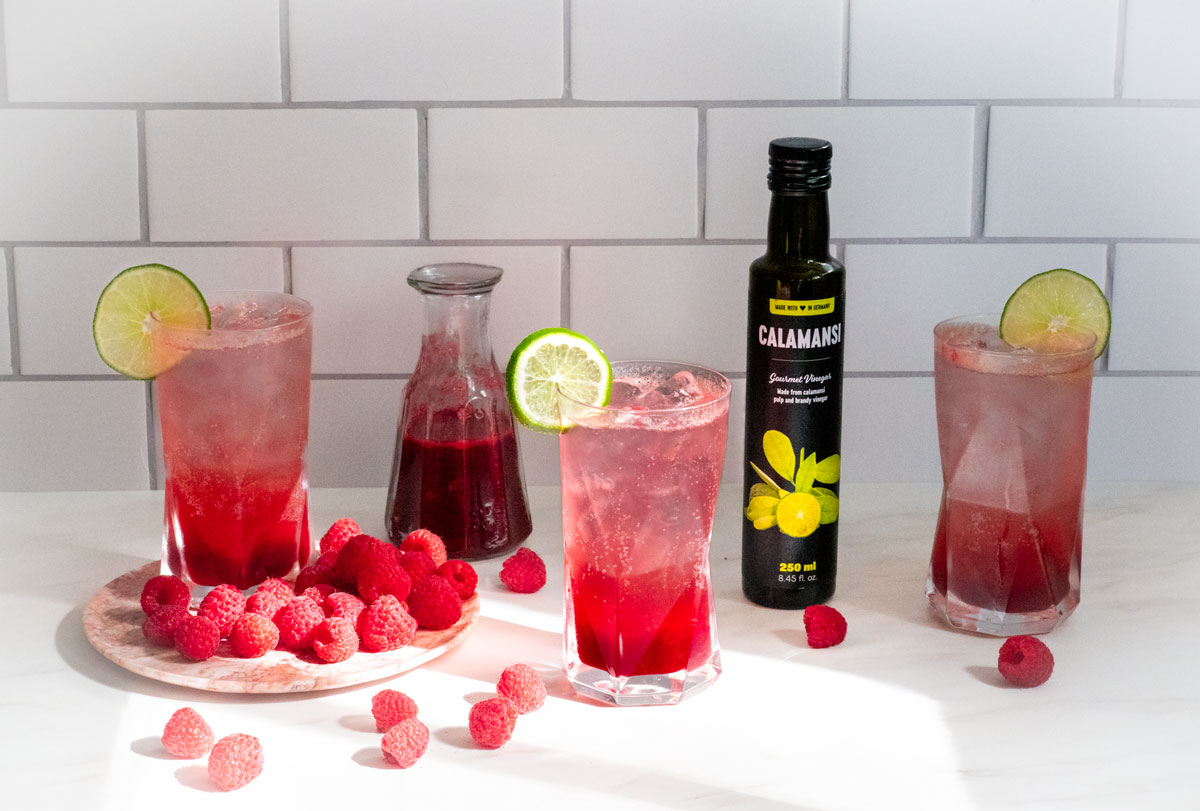 As you may have noticed, from corner pubs to the highest-end restaurants, the popularity of artisanal vinegar cocktails is exploding. You'll understand why when you try the recipes I'll provide for my favorite "Shrub Coolers."
Shrub is an old-fashioned sugar-and-vinegar syrup that's having a renaissance. The two recipes I'll share with you are a fabulous alternative to lemonade and other coolers. Enjoy them as mocktails or—to turn them into killer cocktails—just add a jigger of your favorite spirit.
And we're just getting started!
In fact, nothing will inspire your creativity in the kitchen more than the combination of fresh-pressed olive oils and your new 2022-2023 collection of world-class vinegars.
How These Vinegars Have Been Carefully Chosen to Complement My Fresh-Pressed Olive Oils to Enhance So Many Meals
You'll love how my mild vinegars pair so perfectly with your milder olive oils, so neither overwhelms the dish you're serving.
If you're using one of the Club's bold olive oils, you'll immediately taste how perfectly it pairs with my bold red wine vinegar or my zesty calamansi vinegar.
If you're making a salad with bitter greens, you can add the perfect touch of sweetness with a sweeter vinegar, like either my balsamic or pear vinegar.
If you're making a chopped salad with provolone and salami, use my red wine vinegar to balance the richness of the meat and cheese.
As you'll see in the recipes includes with your 2022-2023 Collection, having a variety of delectable vinegars gives you so many interesting ways to complement not only your olive oils, but virtually all your favorite foods.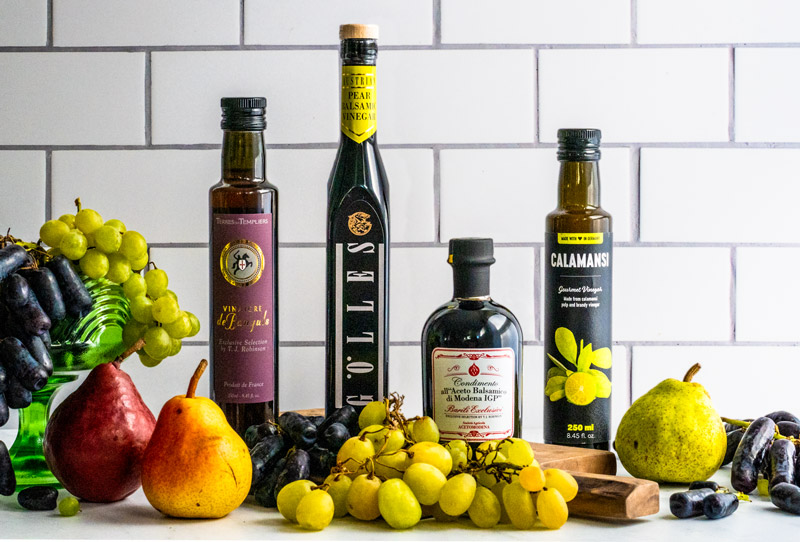 Meet the Four Vinegars in My 2022-2023 Collection—from Sweet to Tart
Like other chefs, I insist on having a selection of vinegars from sweet to tart in my pantry, and you will too. Sometimes I want a sweeter note. Other times, nothing but a tart vinegar will do. Having the full range gives you maximum versatility to enhance virtually every food you'll serve. From salads to sautés, you'll get a different flavor profile from each vinegar.
From more than a hundred master vinegars we tasted, here are the four finalists we've chosen for this 2022-2023 collection of all-star artisanal vinegars:
Vinaigre de Banyuls, a red wine vinegar, adds a bright and strong tang to balance rich foods.
Barili Exclusivi Condimento, a balsamic vinegar, adds sweet richness and complexity, especially as a finishing touch.
Pear Balsamic Vinegar adds fruitiness and subtle acidity for a sweet-tart taste.
Calamansi Gourmet Vinegar adds a bracing citrusy note that's zestier than lemon or lime.
In the special Vinegar Report that accompanies your 2022-2023 vinegar collection, I'll give you all the guidance you'll need to use each vinegar like a master chef.
I'll also show you how to combine vinegars. Here's just one example: for a vinaigrette with enchanting complexity, use half balsamic for sweetness and half red wine vinegar for tartness. Then combine with a vividly bright, fresh-pressed extra virgin olive oil for a vinaigrette that soars above the ordinary! In fact, just saying these words to myself, I begin to imagine the glorious flavors of these amazing ingredients on my palate! I can't wait for you and your guests to taste them yourselves.
With the four exceptional vinegars in this collection, you'll have so much fun discovering a wide variety of pairings that you, your family, and guests will relish in the months ahead.
And now let me introduce you to the four top vinegars I and my Merry Band of Tasters have sourced for you this year…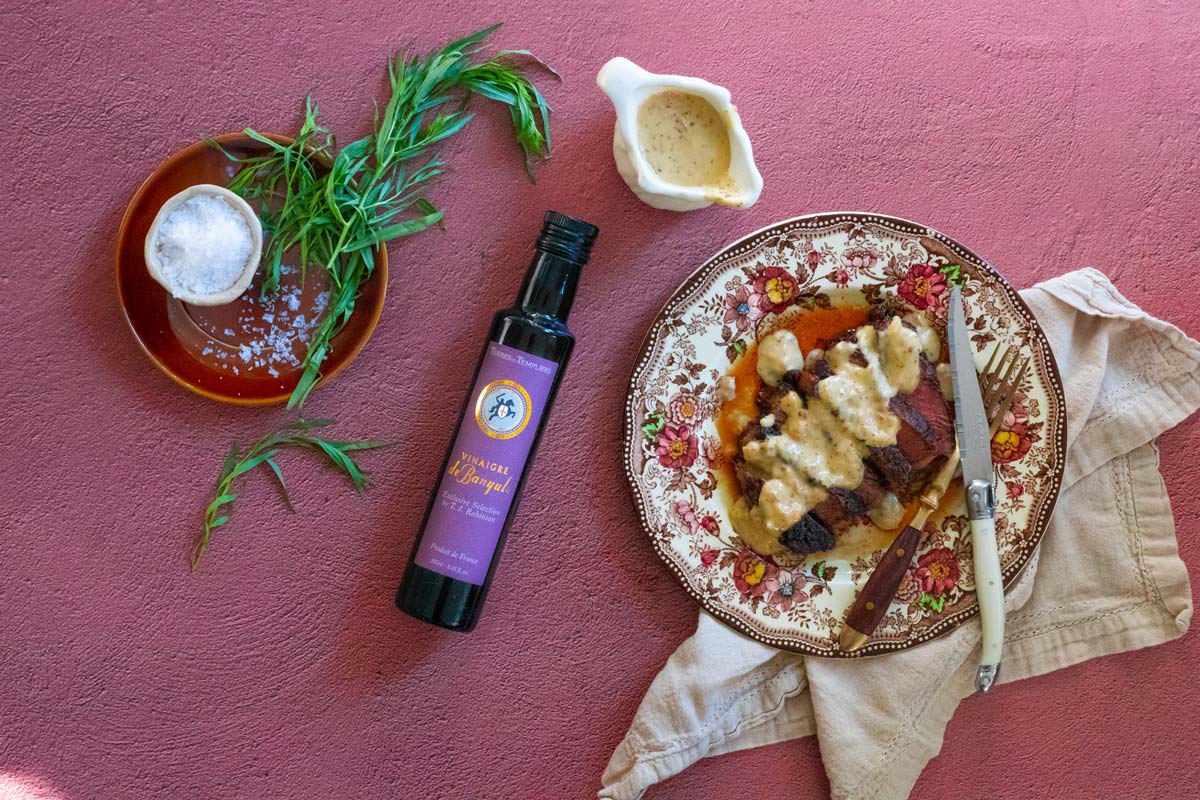 Artisanal Vinegar #1 in Your 2022-2023 Best-of-the-Best Vinegar Collection:
More Than 2,000 Years of Cultivation in Every Drop
Vinegar Variety: Vinaigre de Banyuls
Flavor Profile: Rich and sweet
Producer: Terres des Templars, Banyuls-sur-Mer, Languedoc-Roussillon, France
Vinegar Vintner: Jauffrey Canier, Cellar Master
When you think of the South of France, you probably picture the glitzy Riviera on the eastern side, toward Italy. Yet the Mediterranean area to the west is equally dazzling. Driving along this scenic route where the Pyrenees mountain range meets the sea, I was utterly charmed by my surroundings, especially as we neared the seaside town of Banyuls-sur-Mer.

More than a fabulous summertime destination, this is the home of famed Banyuls wines and Banyuls wine vinegars. The region has been granted the French certification of appellation d'origine contrôlée (AOC) or controlled designation of origin. Growers must follow strict standards designed to ensure their grapes will have certain unique characteristics based on terroir, the French term that comes from the word terre, or land. It's used to describe the impact on a crop—grapes and olives, for instance—of the climate and temperature, the soil and topography, other environmental conditions, and farming techniques.
For wine in general, these elements all greatly, and often uniquely, impact aroma and flavor. For Banyuls in particular, both the wine and the vinegar made from it, the terroir creates a distinctive sweetness.
It was awe-inspiring to tour these majestic vineyards, as they have existed for more than 2600 years, from the time the Phoenicians planted vines along the coast. Over the course of centuries, the Greeks, the Celts, and the Romans added their know-how to the way the grapes were cultivated, passing down their secrets from generation to generation. In the 13th century, the Knights Templar arrived (Terres des Templiers translates to "Land of the Templars") and introduced outdoor barrel aging to the wine-making process to impart even greater aromatic richness. It's the combination of long aging outdoors and then indoors that helps give character to Banyuls wines and, in turn, to Banyuls vinegars.
How you'll enjoy this vinegar: When you taste this vibrant Vinaigre de Banyuls, you literally taste thousands of years of loving cultivation in every drop. This vinegar has the best elements of both a full-bodied red wine and a finely crafted sherry. On the nose, you get hints of brown butter, rosewater, walnuts and hazelnuts, strawberries, plums, gingerbread, vanilla, and currants. On the palate, it's acidic yet sweet and fresh. You can taste the terroir—there's an appealing earthiness, along with notes of fennel, ginger, currants, toasted walnuts, and raisins. The aromatic finish has just a hint of smokiness from the barrels it was aged in and a spiciness akin to white pepper.
Vinaigre de Banyuls enhances seasonal mixed greens and salads with fruits or with Roquefort and other blue cheeses, warm potato salad, grilled vegetables, cooked kale and other greens, and assorted melons. Use it in a vinaigrette to dress antipasto to balance the fattiness of the meats, or for salade Niçoise or a Lyonnaise-inspired salad with lardons, frisée, and eggs. It's excellent in marinades and sauces. Use it to deglaze a pan, to brighten braises or stews, and to make quick pickled onions or other vegetables.
Tasters' Impressions
"Fit for a Knight!"
"This vinegar is a unique blend of superb aromas with a distinct taste. It's like sipping a fine wine with loads of character. It starts out sweet and then the gingerbread and tartness take over leaving a delicious finish on the palate. Fit for a knight!"— Victor M., Asheville, NC
"All of the vinegars are indeed much more layered in taste than any vinegar I'd tasted before. I used the Vinaigre de Banyuls to deglaze a pan in which I'd seared grass-fed burgers and onions. Then I poured a bit of that sauce over some carrots and beets that had been roasted with coconut oil, cumin and Vietnamese cinnamon—absolutely delicious. Wow! Thank you so much for these beautiful vinegars and for all the information that came with them. What a lovely experience to look at them through your lens."— Cynthia N., Chautauqua, NY
"Omigosh, TJ! I paired the Vinaigre de Banyuls with the Australian Oasis fresh-pressed olive oil for my Caesar salad dressing and what a wonderful culinary experience. The muted sweetness of the vinegar along with the slight bitterness of the olive oil created a very pleasant experience for my palate. Kudos to you."— Ken G., Palm Coast, FL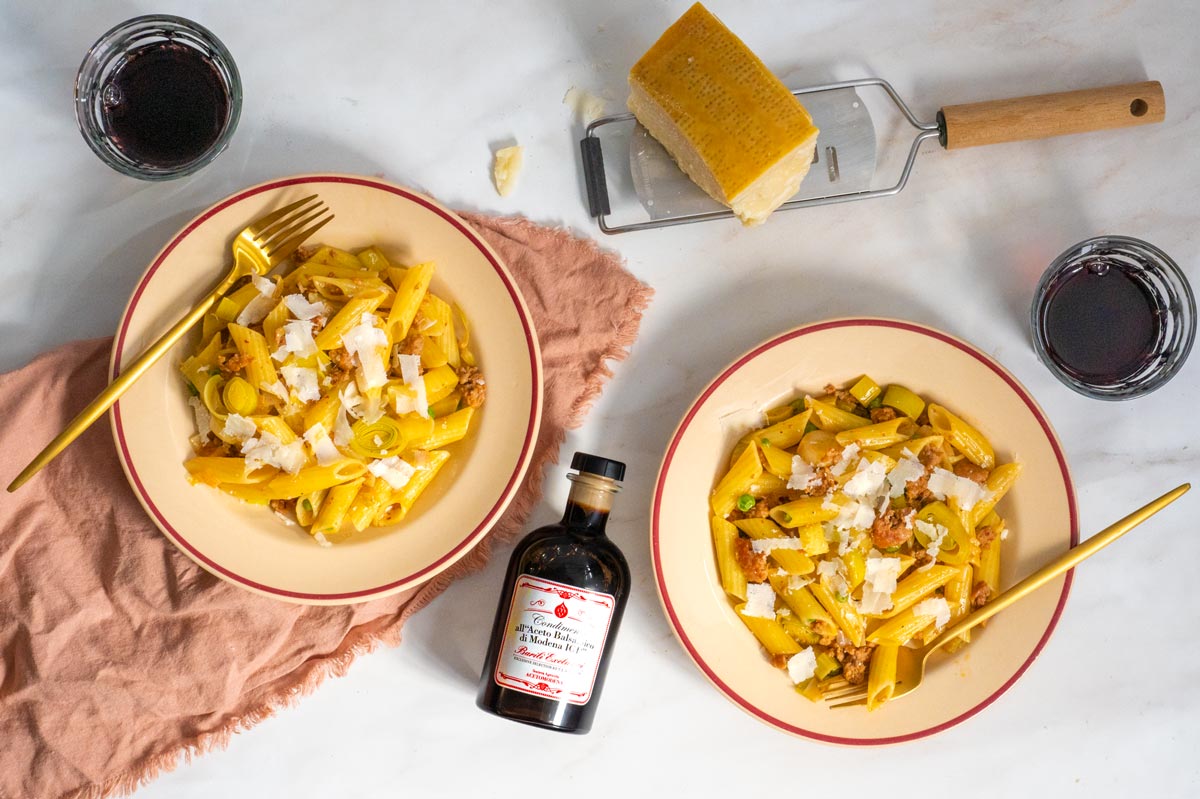 Artisanal Vinegar #2 in Your 2022-2023 Best-of-the-Best Vinegar Collection:
The Ultimate Balsamic
Vinegar Variety: Barili Exclusive Condimento All"Aceto Balsamico di Modena IGP"
Flavor Profile: Rich and sweet
Producer: Società Agricola Acetomodena, Modena, Emilia-Romagna, Italy
Vinegar Vintner: Paolo Vecchi
After a short sojourn in Grasse, the perfume capital of the world—known for its roses and jasmine (a fun diversion from the aromas of fine vinegars)—we pointed our delightfully exhilarated noses toward Modena in Emilia-Romagna, a region in northern Italy known for fast cars and slow food—Parmigiano-Reggiano cheese, Parma ham, and balsamic vinegar. I hadn't been there since my wife, Meghan, and I made it a stop on our honeymoon. We had visited local acetaias, or vinegar cellars, and learned about the history of aceto balsamico, including that when children are born, they are gifted with a "battery" of balsamic vinegar barrels, which will be aged for them over time.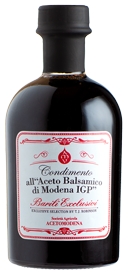 It was a pleasure to continue my relationship with the team at Società Agricola Acetomodena. Founded by the intrepid Paolo Vecchi, whose family has been making balsamic vinegar for three generations, Acetomodena uses its own Lambrusco and Trebbiano grapes (the only permitted varieties). You can see them growing from the huge windows of Acetomodena's modern, earthquake-proof, sustainable building. There's no heating in winter and no air-conditioning in summer so that the interior microclimate is similar to whatever the outside temperature is, but on a more gradual curve than open air—better for crafting balsamic vinegars.
What began as a hobby for Paolo has grown into a passion and a thriving business. There's friendly but fierce competition among those in Modena who produce balsamic vinegar, and this year Paolo won the prized—and not always awarded—title of Gran Riserva at the Palio della Ghirlandina, a challenge open only to local vinegar-producing families.
The condimento aceto balsamico in my previous collection was a tremendous hit, but I wanted to push the envelope even further in terms of flavor, so I really looked forward to working with Acetomodena manager Gary Paton.
I believe you will love the result. My 2022-2023 collection's Barili Exclusivi Condimento All"Aceto Balsamico di Modena IGP" is the perfect balance of acidity, sugar from grape must, and woodiness from the barrel aging. I liken it to when vintners create a cuvée, taking wines from various barrels to create a finished product that is greater than the sum of its parts.
The ultimate quality of the balsamic depends on the skill of the producer, knowing what wood to pick for what period of aging. The smaller cherry wood barrels (Paolo's favorite!) give my Barili Exclusivi a sweetness and allow for more surface contact with the vinegar in the last two years of aging than larger barrels. This process takes the vinegar's flavor to a richer, deeper level than any balsamic I've ever tasted.
How you'll enjoy this vinegar: Inhale the aromas of prunes, dried figs, and sweet dark cherries; dark chocolate; and hints of vanilla, caramel, and toasted oak. On the tongue, Barili Exclusivi Condimento is thick, rich, tangy, and velvety, with a well-calibrated sweetness and tartness that comes in waves. You'll get hints of roasted chestnuts, dark honey, plums, and dried fruits—raisins, blueberries, black cherries, cranberries, and apricots. It's sweet, strong, and luscious with a subtle acidity balanced by heady aromatics—woody and herbaceous notes—and it has a super long and pleasantly tangy finish.
Pair it with your extra virgin olive oils to enhance mature or fresh cheeses, from Parmigiano-Reggiano to fresh mozzarella. Drizzle it over cured meats like prosciutto, speck, and salami as well as cooked salumi, such as mortadella; tomatoes with a sprinkling of Maldon salt; composed salads with cheeses and fruits; cooked vegetables; fish, beef, lamb, and egg dishes; strawberries or pineapple "carpaccio" over vanilla ice cream; flourless chocolate cake and banana or zucchini quick breads; and on French toast along with butter and berries. It can withstand some heat, but use it judiciously in cooking—add it at the very end of a recipe such as a risotto, and then top each serving with a few more drops.
Tasters' Impressions
"Our family can't go back to store bought vinegars"
"Our vinegars from The Fresh Pressed Olive Oil Club arrived and we were impressed with the handsome well-made bottles for each vinegar. With fresh helpings from our local farmers market, we began tasting each. After the first taste of Aceto Balsamico on our favorite summer tomato and basil salad, we could not wait to try the rest of the other vinegars. The flavors are lively, extremely fresh and worldly. I don't believe our family can go back to store bought vinegars as we would be missing the savor these vinegars add to our meals. We look forward to sharing our new vinegars with family and friends. The vinegars are not only savory, but pour so nicely and make each dish all the more delectable!"— Danielle J., Schererville, IN
"The Barili aceto balsamico blew me away! I've always been a fan of Modena balsamics, but this selection is remarkable for its balance. Some of the ones I've had in the past were a bit cloying, but the Barili hit just the right note."— Sandy W., Sharon, CT
"These vinegars are so delicious and all so unique. I have three children who probably didn't even know what vinegar was until our set arrived, and now I can't keep them out of it! They want to drink this balsamic from a spoon. I ordered oil and vinegar for a salad at a restaurant the other day, and the kids were horrified by the vinegar the server brought. I'm now raising olive oil and vinegar snobs, and I couldn't be happier about it!"— Kelly L., Chicago, IL
"I want to drizzle the balsamic on everything, but the others are each delish in their own way."— Alexandra Hempel, Brooklyn, NY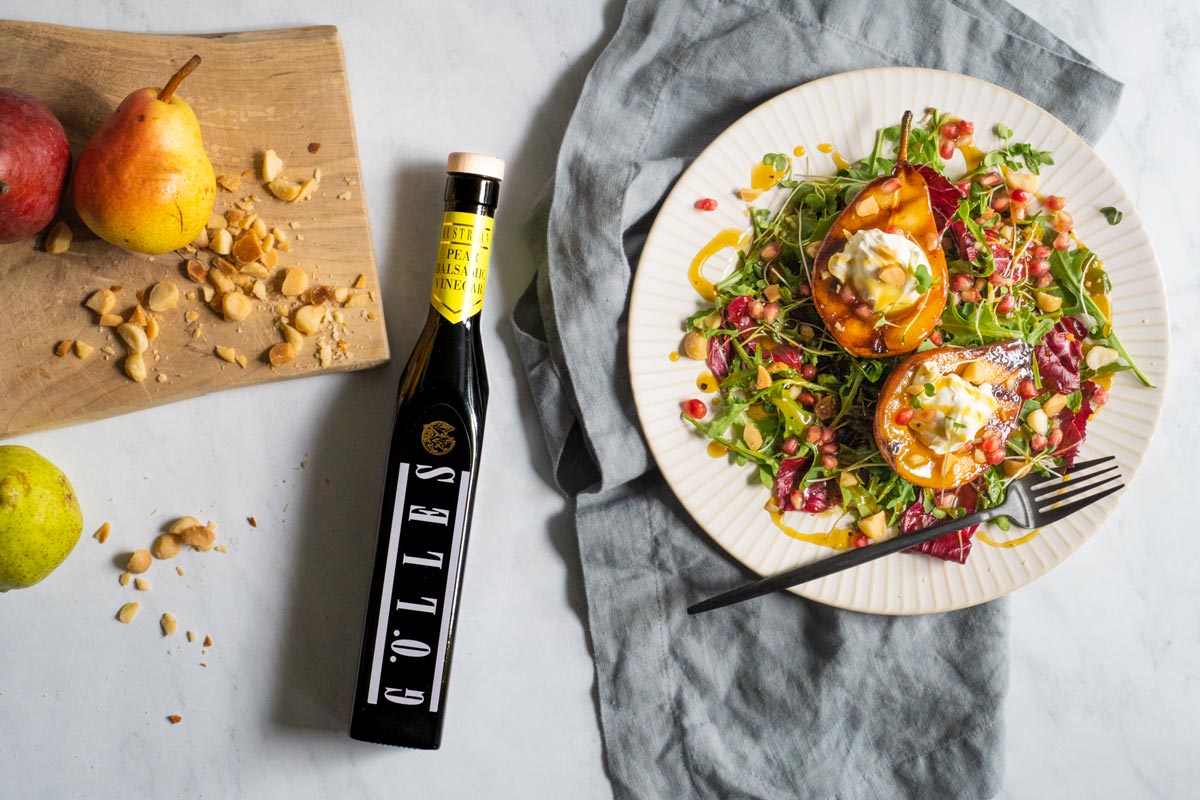 Artisanal Vinegar #3 in Your 2022-2023 Best-of-the-Best Vinegar Collection:
The Austrian Sensation
Vinegar Variety: Pear Balsamic Vinegar
Flavor Profile: Sweet and fruity
Producer: Gölles, Riegersburg, Styria, Austria
Vinegar Vintner: Alois Gölles, Jr
Whoever heard of a balsamic vinegar made from pears instead of grapes? Virtually no one, until Austrian farmer Alois Gölles, Jr. made a trip to Modena, Italy, in the early '80s. After learning how traditional balsamic is made from grapes, Gölles was inspired to make balsamic from apples and then from pears. Both his apple and pear balsamics have become sensations in Europe, beloved for their tart sweetness on everything from bitter greens to cheeses to the classic mozzarella, tomato, and basil salad…and even with desserts.

If you've ever sampled "flavored" vinegars, prepare to be blown away by the taste difference in a vinegar made from real fruit and crafted with time-honored traditions.
This enchanting vinegar starts with one of the local cultivars, the Hirschbirne pear. The Hirschbirne pear had almost disappeared from markets because of its astringent taste, but ironically, that's exactly what makes it perfect for making top-notch vinegar (and spirits).
As a fan of the Gölles operation for over a decade, I couldn't wait to visit their expansive compound in Riegersburg, a tourist destination popular for its famed castle, or schloss, dating back to the year 1138. Styria is called the green heart of Austria because of its verdant, hilly landscape and fertile land, and that makes it perfect for the orchards and vineyards of Gölles.
I'm fascinated by the Gölles operation. It's a sprawling, self-sufficient compound that's beautifully designed and pristinely maintained. The Gölles approach is a model for sustainability—the fruit juices are heated on wood chips from the family's own forest. They've also installed photovoltaic panels for energy and movement-controlled lighting, especially for areas not much used. The lights automatically shut off, saving power, whenever no one is present.
The entire operation is so interesting that visitors from all over the world come to take a tour, an interactive experience complete with special touches like tasting stations, the lively Schnappsbar, and a stylistic tree-shaped sculpture, an homage to the connection between the business and nature, that connects the two floors of the visitor space.
How you'll enjoy this vinegar: The bright, intoxicating sweetness of pears is magnificently captured in this Pear Balsamic Vinegar. Along with the scent of roasted pears, there are notes of malt and caramel, sweet berry jam, figs, chestnut honey, and roasted chestnuts. There's also a slight earthiness reminiscent of vanilla pipe tobacco along with hints of cinnamon and grapefruit zest. On the palate, you get the essence of stewed pears enhanced with delicate notes of vanilla, dried plums, caramel, dark cherries, hazelnuts, orange marmalade, and macadamia nuts.
With its medium viscosity, this balsamic is the consummate finishing drizzle. It brings an element of sweetness to bitter greens, to salads with fruits and/or nuts, and to the classic caprese salad. It adds depth of flavor to any dish that includes fresh or poached pears (add it to the poaching liquid!). Include it in your favorite pork recipes.
Just a few drops brighten savory dishes, especially winter vegetables, like sweet potatoes, brussels sprouts, fennel, acorn squash, and hearty beans. Drizzle it on blue cheeses and on Brie and other white rind cheeses; yogurt and granola parfaits; carpaccio, terrines, eggplant caponata, and bruschetta; grilled fish; and panna cotta-type puddings and vanilla ice cream. It's perfect for deglazing and making a quick reduction—whisk it into pan-melted butter, and you'll have an amazing sauce.
Tasters' Impressions
"As a Food Network Executive, I'm grateful to T.J. for always bringing the best, most unique, and highest-quality products to my pantry!"
"The latest collection of special vinegars inspired me (a self-confessed non-salad eater) to actually make a salad as soon as I tasted the Austrian pear vinegar! I even sent pictures to my foodie friends to brag about how delicious the pear vinegar was in a baby greens salad with goat cheese and your fresh pressed olive oil. As a Food Network Executive, I'm grateful to T.J. for always bringing the best, most unique, and highest-quality products to my pantry!"— Helen T., Brooklyn, NY
"My kids now want pear balsamic and ice cream every night after dinner!"— Kelly L., Chicago, IL
"Sipping this fantastic selection makes me want to grab a juicy pear and chomp down on it. Can't wait to drizzle some on my sweet potatoes or brussels sprouts. My daughter-in-law makes an outstanding charcuterie board, and this pairing would be the coup de grace!"— Victor M., Asheville, NC
"Once again, these vinegars from the Fresh-Pressed Olive Oil Club deserve a place of honor alongside the Club's astonishing olive oils. Last year's apple balsamic vinegar from the Austrian producer Gölles was a particular treat and a revelation, and this year's pear balsamic from the same producer is equally stunning but with its own distinctive flavor. Tasting it, I was reminded of a great off-dry Riesling in which the delicate sweetness is in perfect harmony with the bracing acidity. That made me realize I wanted to drink this vinegar straight from the bottle!"— Jacqueline C., New York, NY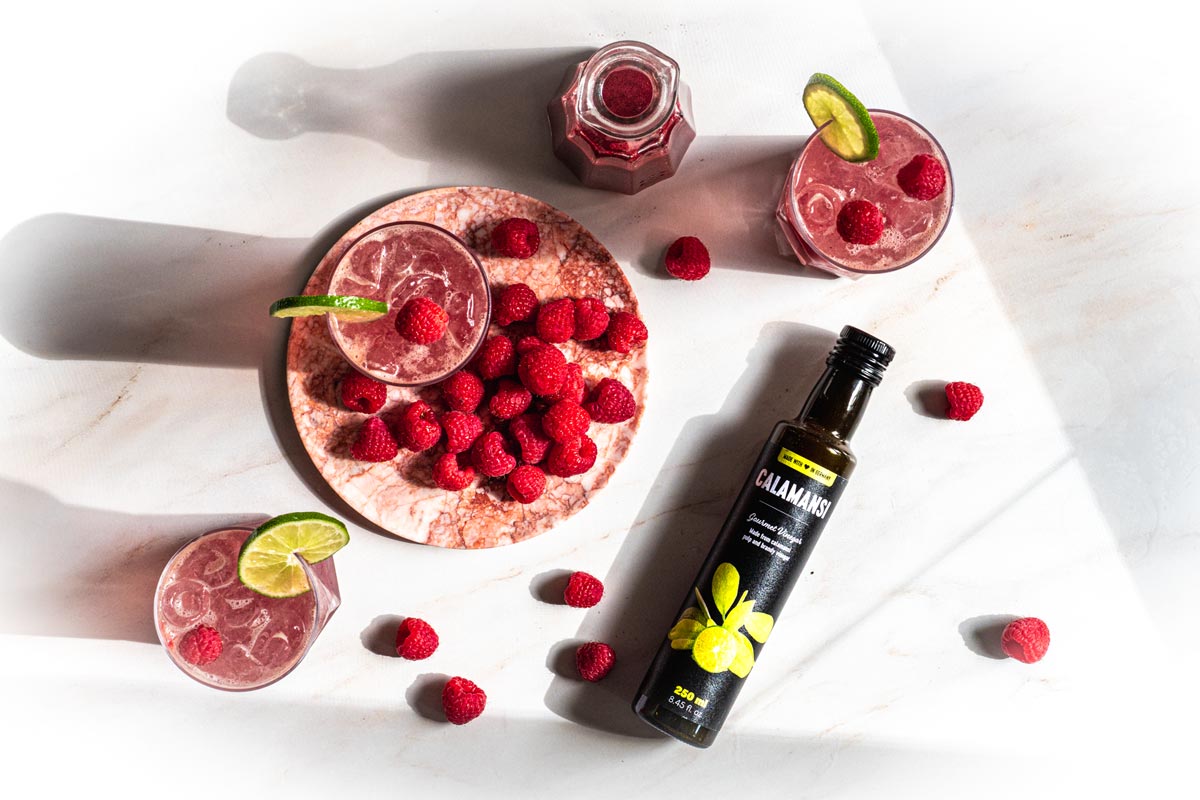 Artisanal Vinegar #4 in Your 2022-2023 Best-of-the-Best Vinegar Collection:
Your Big Surprise
Vinegar Variety: Calamansi Gourmet Vinegar
Flavor Profile: Citrusy and tangy
Producer: vomFass, Waldburg, Ravensburg, Baden-Württemberg, Germany
Vinegar Vintner: Thomas Kiderlen
I know that each vinegar I present to you will delight your palate, but I always want to include one that will completely surprise you. This time, hands down, it's the Calamansi Gourmet Vinegar.
I have to say it took an extremely special vinegar for me to choose one that could be described as "cocktail-style." Truth be told, my wife, Meghan, has been using calamansi vinegars for some time—she loves them in salads and marinades. Still, I was cautious about including one. Would everyone else like it? Which is the best calamansi vinegar available? These were questions I had to answer.
So I gathered samples, introduced them to friends at tasting parties … and watched their eyes light up as their taste buds were tickled. If you're one of the many people who have never even heard of calamansi fruit, much less tasted calamansi vinegar, get ready to experience an explosion of flavor in your mouth!
Just what is a calamansi? It's a citrus fruit often described as a cross between a kumquat and a mandarin orange, though its taste makes me think of exotic yuzu enhanced with a blend of traditional citrus—orange, lemon, and lime.
This Calamansi Gourmet Vinegar is fresh, dynamic, versatile, and made with the same passion that guides the other vinegar vintners we work with. The recipe is a magical blend of fruit pulp, brandy vinegar, and pure cane sugar, all of which preserve and further enhance the fruit's intense and unique flavor while imparting just the right note of sweetness. The fruit is sourced through a partner program in the Philippines that ensures a fair price for small farmers and also supports various school projects for children, and the cane sugar is also fair trade.
"Part of our magic is our careful selection and curation of the finest growers and producers. Most are multigenerational businesses, like ours, who follow the strictest guidelines for cultivation, harvesting, land stewardship, maturation, and extraction practices," says Thomas, who founded the company in 1994. The name vomFass means "from the cask," a nod to the fine barrel aging of many of its products, including vinegars and spirits.
How you'll enjoy this vinegar: On the nose, you'll experience a mélange of citrus zest—the aromas of yuzu, mandarin orange, lemon, and lime, with notes of fresh ginger, lemongrass, lemon verbena, lemon candies, and makrut lime leaves. On the tongue, there's a burst of sweetness that gives way to a citrusy tingle. You'll taste hints of sour orange, key limes, yuzu, florals like jasmine, herbal notes like chamomile and lavender, orange blossom honey, kumquat, and tangerine.
There's a long citrus finish with just a note of the very hard-to-find lemon drop chile pepper. Calamansi Gourmet Vinegar is wonderful in any recipe that calls for citrus. Add a scant teaspoon—the equivalent of a squeeze of lemon—for a punch of flavor. Use it in sweet or savory recipes and in Asian and other ethnic dishes. Drizzle it over seafood dishes, like ceviche and tuna tataki; crudo; vegetable and grain salads; greens (raw or cooked); and roasted vegetables.
It's excellent in a marinade for fish and as a finish for chicken piccata and other recipes with a lemon sauce. Swap it for lemon juice in aioli and homemade mayo and for lime juice in guacamole and mango salsa. It enhances citrus-based desserts, from a granita to a curd-filled tart. For alcoholic and nonalcoholic drinks, try it with a cooler of crushed ice, raspberry purée, and sparkling water or wine. Add it to your favorite caramel recipe, and mix it with honey before drizzling over pound cake or ginger ice cream.
Tasters' Impressions
"The calamansi vinegar is the best I've had."
— Alan Bergo, Menomonie, WI,
James Beard Foundation Award Winner 2022
"Wow! is the easiest way to describe the calamansi vinegar. If you were lucky enough to try the vinegar collection from last year, the bar has been raised. Each of the vinegars is delicious, but the calamansi makes me want to bake a lemon cake, while drinking a calamansi cocktail, and letting some chicken marinate for dinner; ideas that popped into my head after tasting the vinegar and seeing these tempting recipes in The Vinegar Collection Report. Time to start baking!"— Tessie C., Atlantic Beach, FL
"One taste of the brightly flavored calamansi and I knew that I had to make a shrub cocktail! I added a splash of vodka and soda. It's a winner with or without alcohol."— Helen T., Brooklyn, NY
"Every vinegar in this collection is complex and memorable, but my taste buds are still worshipping at the altar of the calamansi vinegar. It tastes like every beautiful and playful piece of summer has been bottled for my pleasure. I want to pour it on anything and everything—or even just sneak a spoonful by itself."— Caroline E., Hendersonville, NC
"I had some heirloom tomatoes, cut them into smallish pieces, just seasoned them with salt and pepper and added a glug of the calamansi vinegar. Simple and delicious. I loved the sharp citrus flavor, and think it would go well with a pineapple fruit salad, pineapple salsa or a dash in a pineapple cocktail. It would also be a refreshing addition to sautéed shrimp. The bottle designs are intriguing and elegant. I can't wait to try some of the recipes, especially the shrubs and the grilled pear salad."— Wendy T., New York, NY
"My wife and I really enjoyed last year's vinegars, so we were incredibly excited to receive this year's selection. We live on the coast of North Carolina, and we love to fish. We had some fresh speckled trout and used one of our favorite recipes to prepare it. We drizzled the calamansi vinegar over the fish right before serving. Wow! We were blown away how it elevated the dish. The citrus flavor of the calamansi fruit really stood out. This is now our favorite vinegar to replace any recipe that calls for citrus. We can't wait to try some of the recipes in The Vinegar Collection Report."— Steve S., Edenton, NC
"Scintillating citrus surprise! Clear favorite after an extended family tasting session. Never heard of a calamansi but want to squeeze one into my gin and tonic! Cannot wait for my wife to turn it into a delicious salad dressing with T.J.'s top-shelf olive oils and to mix it with some guacamole. Thanks for the opportunity!"— Victor M., Asheville, NC
"I'm a home cook. I once thought I was being fancy getting the 'high end' bottles of oil and vinegar at a health food market. That was until I discovered the Fresh-Pressed Olive Oil Club. It has changed my home kitchen space and how I think of flavors to enhance my cooking. I started having gatherings of my friend home cooks when each new bottle arrived so we could explore and ideate about the use of each divine flavor. I was thrilled to see there is a new vinegar collection! I brought the Calamansi Gourmet Vinegar to the table with some veggies. My 7 year old devoured foods that he would normally not eat because he kept dipping them in this citrusy, breathtaking vinegar. I recently experimented with it in the kitchen and added a tablespoon of it to a cream sauce for a parmesan chicken dish, and it woke the whole meal up. My family devoured the sauce as the highlight of the meal. I blame my family's belief that I'm a pretty good home cook on Chef T.J. Robinson's ability to hand select and deliver the finest options that make me, a home chef, feel like I know what I'm doing!"— Missy G., Fletcher, NC
"The bright citrus zing of the calamansi suggests a shrub. My first impression on both the nose and the palate was of fresh citrus, but that was followed by a mellowing sweetness and intriguing complexity. I love it sprinkled on a quick salad of cucumbers, carrots, bell peppers and radishes or any combination of those or other crisp raw vegetables. If you're feeling fancy, the calamansi really perks up tuna salad—or tunafish, as we used to call it. I've never had a vinegar quite like it."— Jacqueline C., New York, NY
Health Benefits of Vinegar
As published in U.S. News & World Report
"The health-related benefits of vinegar aren't a new phenomenon. Back in 400 B.C. the ancient Greek physician Hippocrates reportedly used fruit-derived vinegars to treat wounds, coughs and other ailments. Fast-forward to today, and vinegar is showing promise as a tool to improve blood sugar control and blood lipid (cholesterol) levels—perks that stem largely from the polyphenols and the acetic acid in vinegar, and the probiotics (health-promoting bacteria) that result from the fermentation process."
"Vinegar can do wonders for your blood sugar."
—Bottom Line's Book of Health Breakthroughs
"The scientific evidence of vinegar's blood sugar benefits is strong and consistent," reports Carol Johnston, RD, PhD, professor and assistant director of the School of Nutrition and Health Promotion at Arizona State University, Phoenix.
As Dr. Johnston explains, "A recent statistical analysis of the 11 best studies concluded that consuming vinegar with a meal, compared with having the same meal without vinegar, reduced postmeal blood sugar spikes by an average of 40%."
"Why this matters: Much of the metabolic damage caused by diabetes—and prediabetes—is caused by these spikes.
"Timing: For the best effect on blood sugar, consume vinegar at or near the start of a meal.… For the most reliable effect, dilute two tablespoons of vinegar in a glass of water and drink it with the first bites of the meal."
"Something for everybody"
"We just received our first vinegar shipment and WOW! What a delicious, simple way to elevate home cooked meals, especially roasted veggies, salads, and meat marinades. I was impressed with the variety in one shipment—something for everybody from a thick, sweet balsamic to an energizing red wine. What a fun and flavorful addition to our exquisite olive oil also curated by The Olive Oil Hunter. The only thing better would be if TJ would come cook for us! Until then, we'll flex our 'gourmet' skills with his olive oil and vinegars!" —Caley & Nicholas K., Jupiter, FL
"Leaning on the complexity and quality of these artisan vinegars takes a lot of effort out of the rest of the meal preparation, either with the number of steps or ingredients." —Ryan B., Greenville, SC
"An outstanding homage to one of the 'unsung' heroes of the culinary condiment world, vinegars! Absolutely blown away by these vinegars' intensity and bright, bold pops of flavors that enhanced every dish I splashed them on! WOW on the Calamansi and Aceto Balsamico di Modena ICP!! THANK YOU, Fresh Pressed Olive Oil, for bringing us this extraordinary vinegar collection!" —Sandee Q., Bridgeport, PA
"This new vinegar collection is sublime, absolutely sublime."—Dr. Andrew Wells, Candler, NC
"Because of the immense variety of products at stores, online, etc., the choice is overwhelming. There is no way to know which products are good and which are not. But T.J.'s model is to travel the world tasting, curating, and delivering superior olive oils, and now vinegars. With him doing the work, I don't have to suffer the many duds available on the store shelf that are all promise with no proof.
"I feel blessed to have been able to experience the variety of amazing oils. And now, the vinegars! I mean, put a spoonful of this balsamic on a halved avocado with salt and cayenne. Pour the remarkably lemony Calamansi and some EVOO on a simple salad of shredded cabbage and Bibb lettuce, or any salads now that I think of it. The sweet and the tangy of the Gölles Pear Balsamic are very well balanced, and I can imagine it being an excellent base for a light dressing on endive with candied walnuts and blood oranges. The Banyuls is the lone French selection of the four. It has flavor nuances that develop as it travels across the landscape of your mouth. It is the most wine-like of the bunch in that respect. Quiet. But it has flavors that stand up for themselves. I know that T.J. said he would make a vinaigrette with the Calamansi, but I can just taste it now: a simple dressing of thyme, shallot, and Dijon with this one.
"I've always liked that T.J. called the EVOOs 'sauce.' The same can be said for these vinegars: they are stand-alone sauces. Tasting them is proof; all you need is a spoon. Unlike most store-bought vinegars, these have no nasty after-flavors. No chemical astringency. They taste finished right out of the bottle. As a part of a bigger package, a recipe of wonderful ingredients, these sauces are bound to make your meals nicer."—Christopher M. Craig, Attorney at Law, Asheville, NC
With Easter and Passover Just around the Corner, These Vinegars Are Your Perfect Pantry Additions
In the months ahead, you'll have so many opportunities to enhance your favorite autumn and winter dishes while trying the two dozen kitchen-tested recipes I'll include with your artisanal vinegar collection. Each meal can be a new adventure in elevated flavors.
All four vinegars in your collection are naturally free of fillers, gluten, soy, egg, dairy, nuts, and anything artificial.
Just $98…and You're Protected by Our No-Risk, No-Questions, 100% Money-Back Guarantee
Your purchase is covered by my ironclad, 100% money-back guarantee. If you do not fall madly in love with these artisanal vinegars, just say the word, and you'll receive all your money back, no questions asked. And you won't even have to return a single vinegar. All will be yours to keep.
Special Request:
RSVP Now. This Is a One-Time Offer (Not a Club) and Quantities Are Strictly Limited
My personally curated collection of artisanal vinegars is a one-time offer. It's not a club, so you won't receive any automatic shipments in the future. I have a very limited quantity of these sets. When they're gone, they're gone, and I am announcing them to all 20,000 members of our Fresh-Pressed Olive Oil Club.
I must ask that if you'd like one or more of these sets, please respond right away to avoid disappointment.
Why These Vinegars Are So Special to Me…and Will Be to You!
For years our Fresh-Pressed Olive Oil Club members have been quite vocal in their demand for vinegars as fine as our olive oils. To me, it's always been a paradox that these two foods that match so perfectly on the plate must be crafted so differently on the farm! A great olive oil must be super fresh—right from the harvest—while a great vinegar must age so long in a series of barrels.
Luckily, the world of olive oil is closely tied to the world of vinegar. On my olive oil hunts over the years, I and my Merry Band of Olive Oil Tasters have gotten to know vinegar producers around the globe and have developed relationships, indeed friendships, with them.
I'm thrilled to be able to bring you the best vinegars I've ever tasted from the best of these producers. For this collection, I chose four renowned makers in Europe where crafting vinegar is a high art. Theirs are the vinegars I would bring home from my travels, stuffed into my suitcase, hoping I'd have enough to last until my next visit. I couldn't be more thrilled to bring them to you now!
I can't wait for you to experience these vinegars in your favorite dishes and in the 24 kitchen-tested recipes I'll include in your 2022-2023 Vinegar Collection Report. In your Report, I'll also describe the complete heritage and pedigree of each vinegar. You'll also meet the proud artisans who create these world-class vinegars and hear, in their own words, why they are so passionate about making vinegars that are esteemed as among the finest in the world.
I assure you, once you start enjoying these master-made artisanal vinegars, with their deep, rich, palate-awakening flavors as complex as the finest wines, you'll never go back to the mass-produced, one-note wannabes that fill our supermarket vinegar shelves.
Tasting is believing. That is what I invite you to do now.
Happy drizzling,

T. J. Robinson
Curated Culinary Collections